Many of these hikes are on Aboriginal Country. I acknowledge the respective Traditional Custodians of these areas and their connection to land, sea and community. I pay my respects to their Elders past and present.
---
Almost every time we go hiking, the husband and I have this discussion about our most epic hikes ever.
We usually group them into categories like top 10 hikes of all time or top 30 hikes. Sometimes we even make lists like worst hikes of all time (believe me, this list isn't exactly short…).
But because we're getting old(er) and more forgetful, we end up having to start these discussions afresh every. single. time.
You'd think we could just write the hikes down and be done with it. Well, that's what I'm doing now, starting with our top hikes in Australia.
---
OUR (CURRENT) TOP TEN HIKES IN AUSTRALIA
For a hike to make it into our personal top 10, the trail itself must be scenic, at least in parts, and not just the destination. Sometimes the destination is so incredible that you forgive a boring trail but that's rare for us.
Since the husband has done far more hiking in Australia than I have, he grew up here after all, there are a couple of trails I haven't done but he has. He can be hard to impress so if he says a hike is awesome, I know it is.
I debated listing the trails in terms of their awesomeness but then decided against that. It's too hard and they're all just as fantastic.
They range from short, flat trails to multi-day hikes across five states and territories. I'm yet to go on a hike in South Australia, WA or the ACT but hopefully one day, I'll get there.
1. OVERLAND TRACK | CRADLE MOUNTAIN (TASMANIA)
The popular multi-day Overland Track has been on my hiking bucket list for some time. The husband trekked it a few years ago and counts this hike as one of the best ever.
You can't really go wrong with hiking in Tassie as it's all spectacular but exploring the alpine areas around Cradle Mountain just sounds awe-inspiring to me.
Unfortunately, trekking for six days with a pack is a little outside my hiking ability at the moment but that doesn't stop me from dreaming and keeping this hike right up there on my list of must-do hikes!
Another hike I'd be interested in doing is the new(ish) Three Capes Track in Tasmania's south-east corner.
MORE INFORMATION
2. TARN SHELF CIRCUIT | MOUNT FIELD NATIONAL PARK (TASMANIA)
Back in 2011, we hiked the 13km Tarn Shelf Circuit in Mount Field National Park. It's so close to Hobart that it's easily done as a day trip.
To this day, this hike's one of my most cherished ones… The scenery is simply breathtaking.
Once you hit the treeline, you follow a series of small mountain lakes (tarns) past snow gums, pandanus trees, and a few alpine huts. There's a stack of boardwalks, a bit of rock hopping, and panoramic views across the tarn shelf and into the valleys beyond.
MORE INFORMATION
3. CARNARVON GORGE | CARNARVON NATIONAL PARK (QUEENSLAND)
Carnarvon Gorge is in Queensland's sandstone belt, and there are some beautiful spots and walks along cliffs and gorges. One of the best ones is the hike into Carnarvon Gorge where you actually hike through the gorge rather than just view it from above.
Hiking to the end (Big Bend) at Carnarvon Gorge can be done in a day but it's a big day unless you're 20 and got endless stamina (which I haven't). It's 10km one way with lots of gorgeous side trips but luckily, most of the trail is pretty flat.
The scenery itself is just beautiful as you hike past towering sandstone cliffs, Carnarvon fan palms, and cross Carnarvon Creek several times.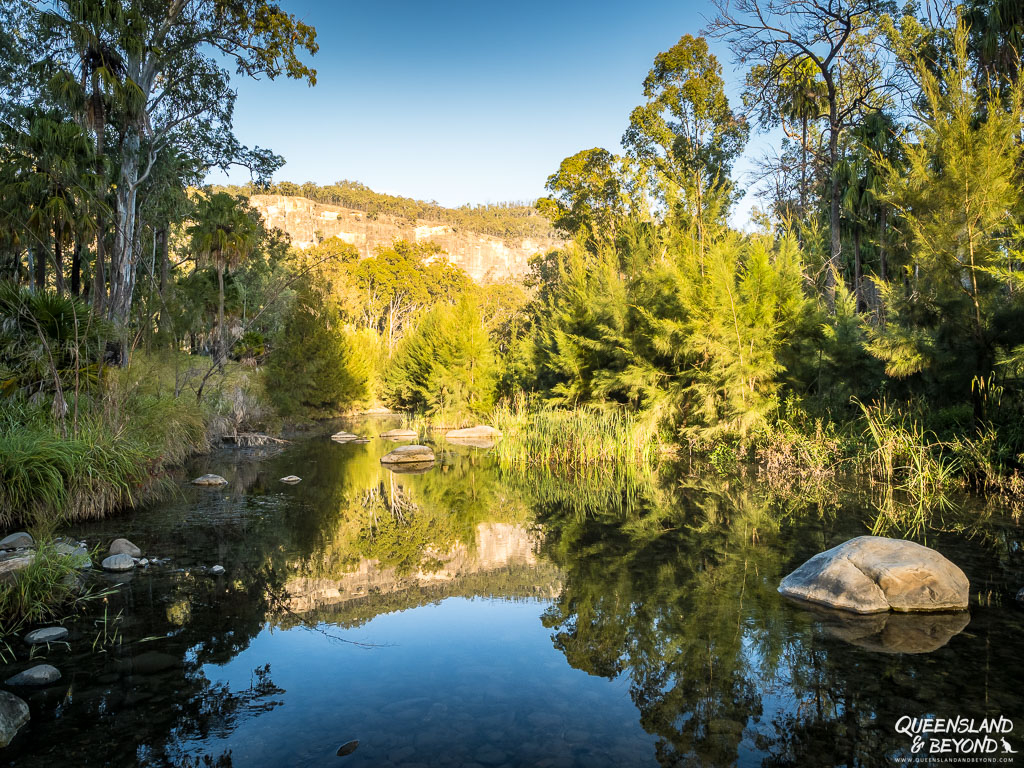 Some people spend a few days at Carnarvon Gorge but you can also do this trail as an overnight hike (in fact, it's part of the longer Carnarvon Great Walk).
There's a small camping area at Big Bend, so it made perfect sense for us to do this as an overnighter, especially since we wanted to explore the canyons, gorges, rock art and moss gardens along the way.
MORE INFORMATION
4. ORMISTON POUND | WEST MACDONNELL NATIONAL PARK (NORTHERN TERRITORY)
It's incredible how diverse Australia is: from the alpine areas of Tasmania and NSW, rainforests in Queensland, high country and coastal walks in Victoria, to arid, sunburnt country in the Northern Territory. Wherever you go hiking, you're bound to encounter fascinating landscapes but the Northern Territory is one spot that completely surprised me!
The half-day Ormiston Pound Walk in the West MacDonnells is easily one of our top 10 hikes in Australia.
Whether you do the hike anti-clockwise (recommended) or clockwise, it's just spectacular as you make your way through the giant crater that is the Ormiston Pound and then into the red cliffs of the gorge.
The vistas here are on a grand, timeless scale that make me ponder life and always help me feel more in tune with my faith – nature has a way of giving me perspective.
MORE INFORMATION
5. MOUNT YULLUDUNIDA | MOUNT KAPUTAR NATIONAL PARK (NEW SOUTH WALES)
From a giant crater bowl in the Outback to a crater-that-isn't-a-crater in northern New South Wales: Mount Yulludunida at Mount Kaputar National Park is a short hike up a steep volcanic ridge line coupled with a rocky scramble at the end.
Again, the views are magnificent as you not only gaze into the volcanic crater below but also into the flatlands beyond.
MORE INFORMATION
6. MOUNT FEATHERTOP | ALPINE NATIONAL PARK (VICTORIA)
Here's another hike I haven't done but the husband has.
Quite a few years ago now, he climbed up to the summit of Mount Feathertop twice, and to this day, he still remembers this hike as one of the best ones he's ever done – so it must be pretty special.
It's often done as an overnight hike, staying at Feathertop Hut but if you're in good shape and the weather is playing along, you can do it in a day.
Being a summit hike in Victoria's high country means splendid views when you're not enveloped in clouds and fog, of course. What makes Mount Feathertop special is that if you choose the Razorback Track to access the base of the summit, you end up walking along a (very exposed) ridge line high above the trees. With views all around – sounds pretty good, right?
It's gets even better when you attempt the summit climb and find yourself engulfed in clouds on your way up, but then come out at the summit to blue skies and a sea of clouds below you!
MORE INFORMATION
7. WALLS OF JERUSALEM | WALLS OF JERUSALEM NATIONAL PARK (TASMANIA)
Since we're talking hikes I haven't done, here's another one: This time it's an incredible wilderness hike in Tassie to the Walls of Jerusalem.
The Walls of Jerusalem National Park is pretty much a remote wilderness playground, there are few marked trails and access isn't exactly easy. But from what I've seen and heard, hiking there is a dream for any outdoorsy, away-from-the-masses-type person so this place is definitely on my must-explore list.
Most hikers camp at least one night in the park, after all since you've made it this far, you'd want to explore as much of the area as you can. You're in alpine country so the scenery is packed with lakes, mountain peaks and forests. Simply stunning, as far as I'm concerned.
Sights along the circuit track are all biblically inspired, from Solomon's Throne, The Temple, the Damascus Gate to Mount Jerusalem (at almost 1,500m). So you don't even have to travel to Israel to get a dose of ancient history! 😉
MORE INFORMATION
8. ULURU BASE WALK | ULURU-KATA TJUTA NATIONAL PARK (NORTHERN TERRITORY)
The Uluru Base Walk is entirely flat, which makes the 13km circuit a lot easier to manage if hiking isn't exactly your thing.
Walking around the base of a giant rock may not sound all that exciting but trust me, it is. Uluru is so much more fascinating than you could imagine: Culturally, historically, geologically, and maybe even spiritually for some. I couldn't help but be touched by the sacred meaning of Uluru.
There's something to discover at literally every corner: Formations in the rock, caves, rock art, the vegetation surrounding it, fascinating changes of colour, permanent waterholes, creation stories, …
And if you go early in the morning, you won't even meet too many people. In fact, a lot of people only take in the shorter Mala Walk, but circumnavigating Uluru feels like an achievement (not to mention being awed by the beauty and ancient history of Uluru) so go for it!
It's a hike that's an experience, and everyone in my family came away with different thoughts and lasting impressions.
MORE INFORMATION
9. LITTLE OBERON BAY | WILSONS PROM NATIONAL PARK (VICTORIA)
Although I haven't been in over five years, Wilsons Promontory remains one of my favourite places in Victoria. Not only is the national park in itself absolutely stunning, there's an abundance of beaches and coves (complete with squeaky, white sand), mountain peaks, wildlife, and plenty of hikes.
A great short walk is the Tidal Overlook Circuit as you glance down Tidal River, into the valley and towards Norman Beach – stunning, even on overcast days. I also really love the hike out to Tongue Point, and if you go in winter, you'll hardly meet anybody out there.
But one of my favourites is the walk from Norman Beach around to Little Oberon Bay. The hike itself is really picturesque as the trail winds around Norman Point and you get views over the bay and various island groups. The views both into Little Oberon Bay and coming back to Norman Beach are terrific.
MORE INFORMATION
10. THE JUNCTION | GIRRAWEEN NATIONAL PARK (QUEENSLAND)
The Junction at Girraween National Park is more of a short walk but it is a fantastic one so I had to include it here.
Girraween is in Queensland's granite belt so the landscape is choc-a-bloc with giant granite boulders and rocks strewn everywhere.
The Junction Track takes you past chilly rock pools where you meet – surprise! – the junction of two creek beds: Bald Rock and Ramsay Creek. After heavy rain, these can gush with water but outside the wet season, the beds are mostly dry, granite playgrounds full of free-standing boulders, corners, nooks and crannies that just beckon to be explored.
If you've never seen granite riverbeds, it's quite something.
MORE INFORMATION
---
SUMMING UP
So, here we are: Ten of the best hiking trails we've explored in Australia.
As with all hiking in Australia (anywhere in the world, really), remember to keep Australia beautiful and follow the Leave No Trace principles. It drives me crazy when I see toilet paper and muesli bar wrappers thrown carelessly into the bush.
If you think I should have added other trails, like the Mount Kosciuszko Summit Walk in New South Wales or the Kings Canyon Rim Walk in the Northern Territory, then I'll probably agree. It's just that neither of us has either done them yet or the husband is likely to have done the hike in terrible weather with no views.
On my bucket list are hikes like the Larapinta Trail, a multi-day trek through the stunning West MacDonnell Ranges near Alice Springs, or the Gold Coast Great Walk, another overnight hike and one that's not too far from home.
In fact, the Scenic Rim, the Gold Coast Hinterland and the rainforests of Northern NSW are full to the brim with gorgeous trails. I definitely want to do more exploring in these regions too.
So – what other epic bushwalks should I add to my list of must-do hiking adventures in Australia?
---
PIN IT!