The Ormiston Pound Walk is on Arrernte Country. I acknowledge the Traditional Custodians of this area and their connection to Country, and pay my respects to their Elders past and present.
---
The Northern Territory is made for hiking.
I really had no idea until we started exploring this incredibly gorgeous part of Australia last year.
My thoughts were pretty much limited to hiking options like the Uluru climb (though not really an option for us, and now taken off the tourist menu for good), the Valley of the Winds walk at Kata Tjuta or the vague notion of the multi-day Larapinta trail somewhere in the Alice Springs vicinity. And as it turns out, there's plenty of hiking in the Top End at Kakadu National Park.
But in any case, neither the husband nor I thought that walking in the desert would be particularly exciting. Wrong on so many levels. The outback desert is ridiculously beautiful.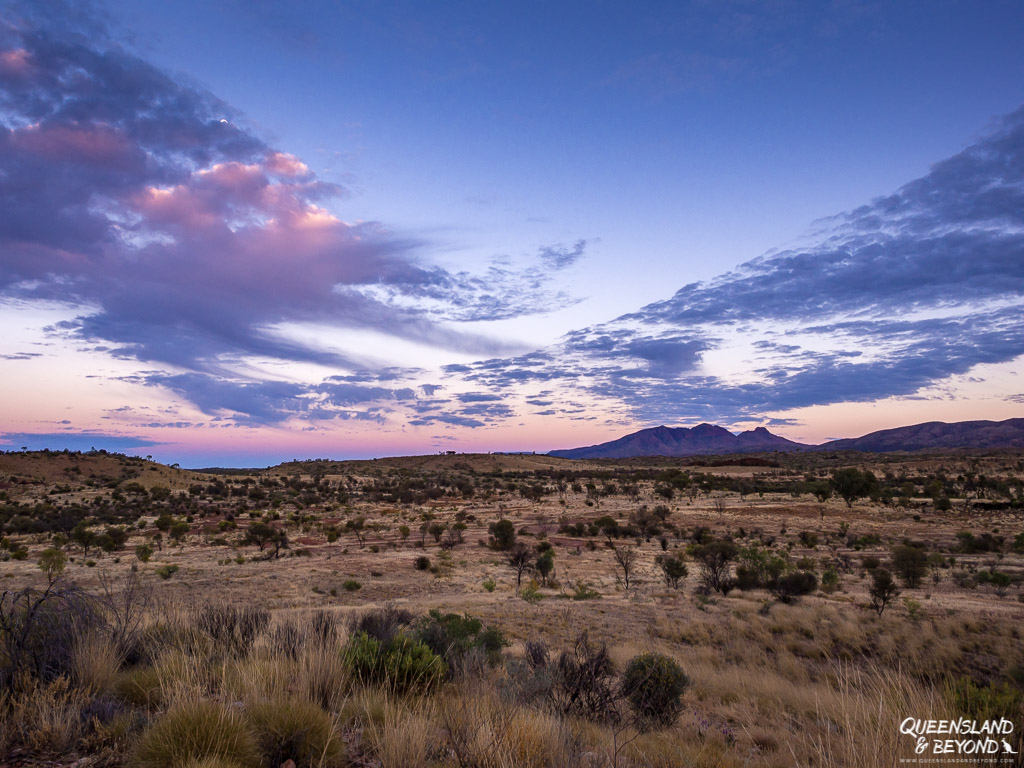 If there's one place in the Northern Territory I absolutely must return to, it's the West MacDonnell Ranges. It's a gorgeous mountain range with abundant hiking opportunities, from 20 min walks to overnight, multi-day treks.
---
ORMISTON GORGE & THE ORMISTON POUND WALK
With only two full days in the West MacDonnells, unfortunately we were limited in what we could do. Given how much Ormiston Gorge had impressed us on the first day, we were keen to do the full Ormiston Pound Walk.
And in the end, this walk was our favourite experience on our Northern Territory road trip!
BASIC TRAIL INFO – ORMISTON POUND WALK
Distance: 7 km loop with some elevation gain
Difficulty: Moderate but can be strenuous in hot weather (best time to go are the cooler months May-early September)
Time: 3-4 hours
Trailhead: Ormiston Gorge carpark, Tjoritja (West MacDonnell National Park)
Getting there: 135km west of Alice Springs along Namatjira Drive
Ormiston Pound is a giant crater or amphitheatre with Ormiston Creek winding its way through the bowl and flanked by the ridges of the West MacDonnell Ranges. You're unlikely to see the creek flowing with water though given that rainfall is rather sporadic in this region.
On the hike, you'll get to walk through parts of the pound but also marvel at this piece of beauty from high above along the ridges.
I loved every part of this walk, from exploring stunning Ormiston Gorge, traversing the vast pound, crossing dry creek beds, climbing up the rocky ledges of the mountain slopes, to taking in the views of the pound from above.
Whilst there's a bit of elevation, especially at the start and end, there are also long flat sections when you make your way through the pound and the gorge.
It's a stunning hike, and one I can only highly recommend.
BE HEAT-SMART
Whilst it's not an overly strenuous hike as such, it is very hot in the Red Centre for most of the year. This walk is also very exposed with only limited shade under the trees along the creek bed.
We hiked Ormiston Pound in early September on a sunny, blue sky day. That day, temperatures climbed well over 35°C, not unusual for spring. We left early in the morning but not early enough. I drank plenty of fluids but also evidently not enough as I ended up suffering heat stress (again) at the end of the day.
And trust me, heat stress is no joke here – there are better ways to end a hike than with nausea, diarrhoea, vomiting, uncontrollable shivering, headaches, etc., and desperate attempts to keep some electrolytes down. It all turned out ok but I only narrowly managed to avoid another visit to the hospital (and am now left with some awful anxiety about hiking on hot days… It's a work-in-progress. Sigh.).
So do the smart thing and either hike very early, like 5am, or come during the cooler months. Regardless, the climate is super dry, and you'll need to drink lots of water. And by lots I mean several litres, not just one or two.
And of course, don't even think about going without a hat.
CLOCKWISE OR ANTI-CLOCKWISE?
It's generally recommended to do the hike anti-clockwise, starting at the carpark and climbing onto the mountain slopes and then dropping into the expansive pound. You'll end up in Ormiston Gorge, and can then either walk through the gorge back to the carpark or complete the hike by climbing up the Ghost Gum Walk and onto Ghost Gum Lookout.
The latter's probably the more scenic route to take though walking through the gorge is also fun.
Alternatively, you can make your life a bit harder and do the hike clockwise like we did (because we're doofuses and don't know how to read signs properly).
I don't think the walking part is necessarily harder but finding your way out of the gorge and into the pound definitely is. Markers are far and few between, and you'll have to constantly work backwards and look behind you to spot the orange arrows.
And because you're walking through the gorge and creek bed, there's no path as such, making the 'spot the next marker' game rather fun.
So doing the Ormiston Gorge Pound Walk anti-clockwise should make coming out of the pound and into the gorge relatively easy, because where else would you be going?! Trying to find the trail out of the gorge and into the pound is not. It took us a good half hour to spot the trail going into the pound once we'd left the gorge.
Once you find the trail though, the rest is a piece of cake. You just follow it until you're back at the carpark.
---
A GLUTEN-FREE SURPRISE
And where would you least expect to find gluten-free food? Practically in the middle of nowhere, right?
My expectations are generally pretty low when it comes to finding gluten-free fare beyond city centres but voilá, the Ormiston Gorge Kiosk in the day visitor area serves gluten-free lunch and cakes! My eyes nearly popped out… 😀
And the best thing? … It's all home-made right there in the Australian Outback and absolutely delicious! And without price tags that would make you want to faint. Happy me.
Only shame was that it all came out rather unceremoniously later in the day when my heat stress struck me down full force.
---
WHERE TO STAY
You could do this walk as a day trip from Alice Springs, after all it is only 135km west and you should be able to get there within 90 minutes. But staying overnight would obviously be much nicer and more relaxing.
The Ormiston Gorge campground is in the national park and almost directly at the gorge. But it only offers a few spots and I've heard that they fill up quickly (first come first serve basis). So you'll either need to arrive early or think of other options nearby (think Redbank Gorge or at Ellery Creek Big Hole).
We stayed at nearby Glen Helen Homestead Lodge, which was fabulous not only in terms of the accommodation (a revamped old homestead + campground) but it also offers incredible views of Glen Helen Gorge.
---
SUMMING UP
If you've got time for a 1/2 day hike in the West MacDonnell Ranges, definitely go and explore the Ormiston Pound Walk. This walk is why I want to come back to explore all the other walks we didn't have time for, including the Larapinta Trail that runs right along the ranges.
If time is an issue, then at least climb up to the Ghost Gum Lookout from where you'll get sweeping views of the entire gorge. But try and squeeze in the Ghost Gum Walk, which takes you a bit further into the gorge and out again. It's only a 1.5 hours walk and really gorgeous.
The vivid reds of Ormiston Gorge together with the green ghost gums are just a beautiful sight to behold.
Just keep staying hydrated in mind. Take it from someone who was stupid enough to get severely dehydrated a couple of times on this trip.
MORE INFORMATION
Find more information about Ormiston Gorge and Tjoritja (West MacDonnell) National Park, including camping details, on NT Parks.
MORE POSTS ON THE AUSTRALIAN OUTBACK
Here's an idea for a 10-day road trip itinerary of outback travel in southwest Queensland. For the Northern Territory, check out my highlights from our road trip.
Or you could just do some armchair travel and read some books set in Outback Australia.
---
PIN FOR LATER