Kakadu National Park is on Bininj and Mungguy Country. I acknowledge the Traditional Custodians of this area and their connection to land, water and community. I pay my respects to their Elders past and present.
---
People flock to Kakadu National Park to spot crocodiles and birds, take Instagram-worthy shots at Gunlom Plunge Pool, cruise Yellow Water Billabong, take a scenic flight over Jim Jim Falls, or learn more about the local Aboriginal rock art, culture and history.
But in all my trip planning, I somehow skipped past the mention that there are plenty of walking trails in Kakadu! And for someone who likes to think of herself as a) a planner and b) a walking kind of girl, that's a bit embarrassing.
The thing is, there aren't just short, easy Kakadu walking trails.
There are longer, more challenging day walks, and even overnight hikes. None of which I knew about before going there. I think I was just too focused on the rock art. 🙂
We only had three days at Kakadu, which in effect was only two since we picked up our campervan in Darwin on the first day, and then did a massive grocery shop. By the time we got to Kakadu, it was late afternoon, and all we managed to squeeze in was watching the sunset at Ubirr.
If you're into hiking and visiting Kakadu, seriously, plan more than three days. There is way more to see and do than you might expect.
---
KAKADU WALKING TRAILS
Kakadu National Park is roughly divided into seven regions. The information booklet you get at Bowali Visitor Centre, Jabiru, is brilliant so do yourself a favour and stop there first. Plus, you'll need to get your park pass (in August 2017, it was $40 per person).
Or have a look at the Kakadu National Park's website, the Maps & Apps section is choc-full of useful info and guides about Aboriginal culture, walks and nature. Don't ask why I didn't do that before our trip. Sometimes my brain doesn't quite work.
Not all trails are accessible throughout the year. Some are dry season only walks and some others are probably nicer during the wet season (though who'd want to deal with the mozzies then, I'm not sure…).
1. SOUTH ALLIGATOR REGION
There's not a ton of walks in this region but heading to the Mamukala wetlands is definitely worth it, especially if you're visiting late in the dry season (Sep-Oct).
MAMUKALA WETLANDS
Distance: 100m to the bird hide; 3km for the nearby Mamukala Walk
Time needed: About 30-60 min for the Mamukala Walk, depending on how bird-crazy you are
Other info: Early morning or late afternoon are best to watch the gazillion birds coming for a drink and feed here
Even if you're only semi-interested in bird-watching, the wetlands are pretty incredible. How could seeing a few thousand birds congregating here not be at least a tiny bit fascinating?! Plus the water lilies are beautiful. And late in the dry season, you should be lucky enough to see thousands of magpie geese squawking around.
The walk to the wetlands observation platform is super short. We got there around 7am and had it all to ourselves for probably a good half hour.
Nearby Mamukala Walk is not incredibly scenic but it's only 3km so you may as well do it since you're there. Lots of green trees, lots of birds, and if you're lucky, maybe even a kangaroo.
2. EAST ALLIGATOR REGION
The East Alligator region is where you'll find famous Ubirr with its incredible rock art sites. But there are actually a couple of other short walks around here so don't limit yourself to just visiting Ubirr. A ranger we chatted with on our first night recommended the Bardedjilidji Walk, and yep, that's definitely worth it!
UBIRR WALK
Distance: 1km easy circuit
Time needed: Depends on how much time you need to stare at all that incredible rock art and enjoy the views over Nadab floodplain (at least 45 min)
Optional add-on: 250m climb to Nadab Lookout, awesome at sunset
Other info: Open 8:30am to sunset during the dry season (shorter hours during the wet season)
The walking track at Ubirr takes you past some fascinating rock art sites. During the dry season, ranger talks are held at Ubirr at various times. We didn't quite organise our time so I missed out on any talks but I'm sure they'll give you some insight into the local Aboriginal culture and rock art here.
If you come to see the sunset over the Nadab floodplains (stunning!), just be aware that you will need to leave before the actual post-sundown colour spectacle happens. Rangers will gently begin pushing you out the door once the sun is down and close the gates to the parking lot soon after.
BARDEDJILIDJI WALK
Distance: 2.5km easy circuit
Time: 45-60 min; it's short but interesting, and if you're into sandstone formations it can easily take a bit longer
Optional add-on: Sandstone and River Walk, a 6.5km loop that branches off the Bardedjilidji trail
Bardedjilidji means 'walking track' (and also 'roots of water lilies') and purely as a trail, I actually found it more interesting than Ubirr. It doesn't have the fascinating rock art that Ubirr has or the views over the floodplains but there are lots of impressive sandstone pillars, including a couple of tunnels and a nice, cool cave to explore.
There's a shorter circuit for the wet season but the entire track can get closed during that time of the year as well. The East Alligator River is pretty close by, and I'd imagine the whole area gets flooded and inhabited by crocs then.
OTHER TRAIL OPTIONS
If I had the chance to go back to Kakadu, I'd want to walk the Bardedjilidji track again because my camera battery ran out about 1km into the walk, and the best parts come about 1.5km into the walk. Dang it! It was just too hot to run back and get the spare one…
I'd also want to add on the Sandstone and River Walk as I expect you'd get some great views of the sandstone formations from across Catfish Creek. It might even be worth checking out the really short walks through Manngarre Rainforest along the East Alligator River.
3. NOURLANGIE REGION
Nourlangie is the other region that's well-known for its rock art and is extremely popular. There are about eight walks in this area so allow some time if you're keen to explore them all.
I'd like to say that you can do everything in a day or so since most of them are not very long but it gets so hot here that you'll want to get most of your walking done in the morning and thus need at least a couple of days.
BURRUNGGUI ART SITE WALK
Distance: 1.5km easy circuit
Time needed: Anything from 30 min to 2 hours
Optional add-on: A short climb to Gunwarddehwardde Lookout
Like at Ubirr, ranger talks are held at various Burrunggui (also known as 'Burrungkuy') art sites during the dry season. But even by ourselves, I found the whole track really quite fascinating as there are some splendid examples of rock art, including Namarrgon, Lightning Man, at Anbangbang Gallery.
The walk up to Gunwarddehwardde Lookout is pretty short but it's very exposed and by late morning, it gets seriously hot. You'll enjoy some good views over the woodlands and savannah spreading out before you as well as the Arnhem Land escarpment in the far distance. It would probably look terrific in the early morning light or late in the day.
NANGULUWUR ART SITE WALK
Distance: 3.4km easy return walk
Time needed: About 1-2 hours, depending on how much time you take to gaze at the vivid rock art
Other info: Best done in the morning, the track is exposed and there's almost no shade
Nanguluwur is on the north-facing side of Burrunggui, and since it's a bit more out of the way, it's nice and quiet. In fact, we didn't meet a single person on the walk. But we also made the mistake of walking in the early afternoon, i.e. heat of the day, and it was hot, and everybody else knew that was a stupid idea.
Even in winter (dry season), the days in Kakadu can be 35+°C, and the Nanguluwur track is exposed the entire way. 1.7km have never felt as drawn-out to me as they did on the return walk…
Plus the rock art shelter gets incredibly bright with dark shadows in the afternoon making it very hard to see anything.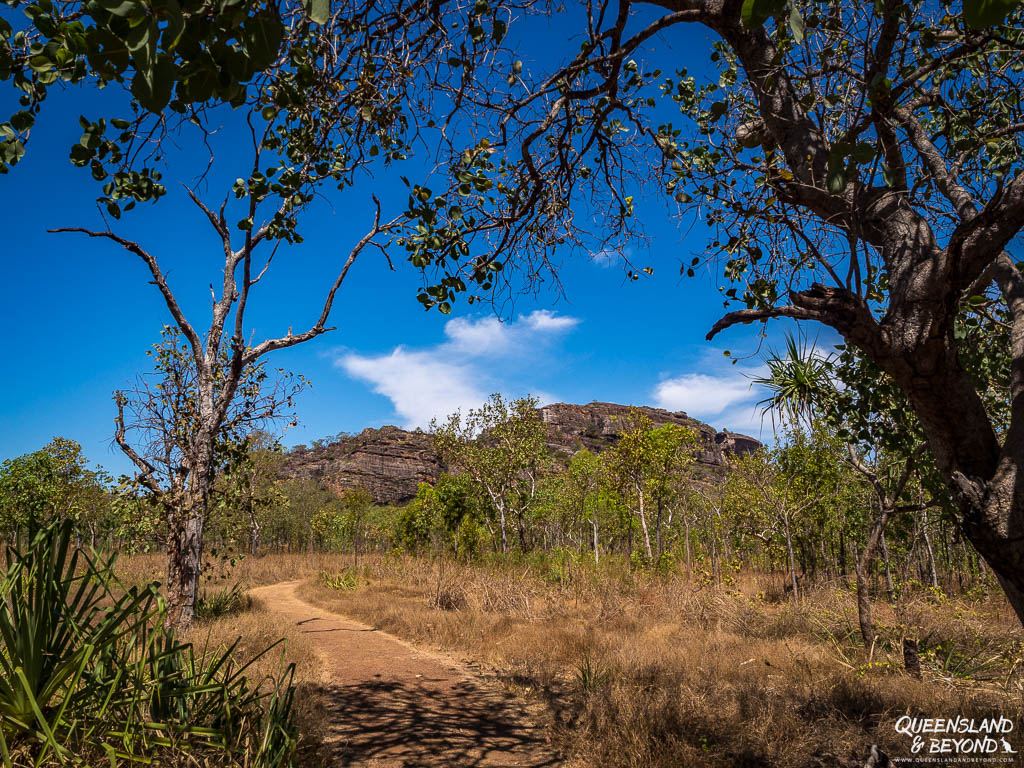 OTHER TRAIL OPTIONS
We briefly stopped at Anbangbang Billabong but since we were there during the middle of day, there wasn't much point of walking the 2.5km around the billabong. It's probably fabulous in the early morning when you're more likely to see birds or other wildlife.
Other walks I wish I had had the time for:
Nawurlandja Lookout: 300m moderately steep climb to a lookout with views over the escarpment, popular for sunset
Bubba Wetlands Walk: 4km circuit along the Bubba Wetlands with the chance to spot buffaloes!
Sandstone Barrk Walk: 12km circuit track at Burrunggui with an initial steep climb; classed as difficult and probably best started around 5 or 6am to beat the heat
Mirrai Lookout: 1km steep climb up to a lookout on top of Mount Cahill, another popular spot for sunset
Gubara Pools Walk: 6km return to monsoon forest pools; sounds relaxing (but no swimming)
4. YELLOW WATER REGION
Yellow Water is basically where everyone takes a cruise on Yellow Water Billabong, us included. The bird life here is insane with more than a third of Australia's species living here. And you'll get to see crocs, which for some reason, don't really excite me that much. Maybe because they're inherently lazy animals and seem to just snooze the day away.
MARDUGAL BILLABONG WALK
Distance: 1km easy return
Time needed: 20 min; it's short but with nice views of Mardugal Billabong at the end
There isn't really much to see here but if you just want to take a quick walk, strolling along the Mardugal Billabong is quite pleasant. You'll get some nice views over the estuary at the end, and there's even a picnic table there. Takes next to no time to walk it.
There's also a 2.6km return boardwalk at Yellow Water but that got flood-damaged during the last wet season and wasn't open. I'd expect it's really nice as Yellow Water Billabong is such a huge and beautiful water system, and you'd see lots of birds and maybe even crocs.
5. JIM JIM FALLS AND TWIN FALLS GORGE REGION
This region sounds the most spectacular of Kakadu's regions, and it's the one region that we didn't see at all. I guess we could have taken a scenic flight over the roaring waterfalls, they would still have been flowing nicely as the wet season took its time this year. Apparently the road to Jim Jim Falls only opened in early August, usually that happens a lot earlier in the dry season.
There are a few walks at Jim Jim Falls and Twin Falls, including a 6km return walk to the plateau above Twin Falls or the challenging Barrk Marlam Walk with views over the Jim Jim Falls escarpment. Sounds spectacular!
6. MARY RIVER REGION
The Mary River region is the largest of Kakadu's regions, and you'll find a lot of 4WD tracks here. This and the Jim Jim Falls region are probably the areas I'd most love to come back to and explore for a week or so.
There's really only one short walk that's accessible if you're in a rental vehicle. Every other trail is off dirt roads, if not 4WD-only tracks.
BUKBUKLUK LOOKOUT
Distance: 400m easy return
Time needed: 15 min
Jump out of your car, run out to the lookout, gaze over the ever so green woodland landscape for a couple of minutes, and drive on. That's Bukbukluk in a nutshell. If you miss it, don't beat yourself up. Unless you're there at lunch time, then have a picnic. There's a table and it's a pleasant, albeit sunny, spot.
OTHER TRAIL OPTIONS
If you're not in a rental 2WD vehicle like us in our Britz campervan, then go and explore extremely popular Gunlom. It's some 35km off the Kakadu Highway but accessible by conventional car (unless you're renting, of course, then they won't let you).
Gunlom has a waterfall and an infinity plunge pool that everyone seems to send Instagram photos from. I've just read that there's wifi at the Gunlom day use area, and while Gunlom looks beautiful, the idea of wifi in the middle of Kakadu puts me off. What's happening to national parks?!? Do we really need wifi at picnic areas?
Anyway, I'd still like to check out these walks:
Gunlom: 1km steep climb to the top of the waterfall and pool with views over Kakadu woodlands; there's also a 2.5km return walk to a billabong
Maguk Plunge Pool: 2km return walk to a small waterfall and plunge pool; apparently often inhabited by crocs
Yurmikmik Walks: four different but interconnected walks, ranging from 2km to 11km return (some require permits)
Gungurul Walk: 4km moderate return to a lookout over the South Alligator Valley
Koolpin Gorge (Jarrangbarnmi): 2km return with views of the gorge
---
SUMMING UP
Kakadu has a stack of walking trails, which I totally didn't expect! You could easily spend a couple of weeks here if you're into camping, hiking, bird-watching, and want to see and do it all like I do. None of the trails were as busy as I expected but this might be completely different earlier in the dry season (we came late August).
I didn't expect to want to go back to Kakadu but I do. Not just for the hiking but also because I feel I only scratched the surface of this living cultural landscape.
MORE INFORMATION
You can find detailed descriptions and trail information on the Parks Australia Kakada National Park website. There's an overview of all the walks or go straight to the more detailed guides and maps section. Some trails also require permits.
Have you been on any of these walks? Let me know in the comments below. I'm seriously interested to hear about your experience. And if you haven't, keen to explore Kakadu now?
---
PIN ME