These Sunshine Coast walks are on Kabi Kabi and Jinibara Country. I acknowledge the Traditional Custodians of this area and their connection to Country, and pay my respects to their Elders past and present.
---
We've lived on the Sunshine Coast for almost ten years now, and I'm still no beach bum. Mountains, or at least forests, is still where my heart lies.
While I find myself doing the "big" walks elsewhere, there are plenty of quick hikes on the Sunshine Coast that are pleasant if not beautiful little gems.
So here are some of my favourite short Sunshine Coast walks.
---
FROM BEACHES TO RAINFORESTS
The Sunshine Coast is ecologically quite a diverse region. From sandy beaches, sand dunes and coastal shrubs, rainforests, wetlands, dry eucalypt forest to rolling hills and volcanic outcrops. Except for mountains and desert, it's all there.
And just as diverse as the landscape are the short walks you can find here.
This is a list of short and easy Sunshine Coast hikes, and by short I mean hikes less than 5km, making most of these walks family-friendly. There are some longer bush walks on the Sunshine Coast too, if you want to do more than 5km.
I've split the walks into:
---
NORTHERN SUNSHINE COAST WALKS (COOLUM TO NOOSA)
The northern end of the Sunshine Coast offers gorgeous walks along beaches and coves and to viewing platforms from where you can admire the sprawling coastline.
1. NOOSA COASTAL TRACK (TO DOLPHIN POINT) | NOOSA NATIONAL PARK
BASIC TRAIL INFO
Distance: 2.4km return (to Dolphin Point)
Difficulty: Easy
Trailhead: Carpark at day-use area, just off Park Road, Noosa
The coastal track is possibly the most popular walk on the Sunshine Coast, and rightly so, it is a beautiful part of the coast.
Stunning coves, sandy beaches, turquoise water, views into the Noosa hinterland, and the chance to see dolphins or even whales during migratory season.
For a longer walk, keep going to Hell's Gates (2.7km one-way from the picnic area) from where you get views in both directions, and down into the swirling waters of Hell's Gates.
Ideally, go during the week. Weekends can be very crowded, especially around Tea Tree Bay and Winch Cove.
2. EMU MOUNTAIN | NOOSA NATIONAL PARK
BASIC TRAIL INFO
Distance: 1.1km return
Difficulty: Easy-Medium
Trailhead: Park along the road at Havana Road East, Coolum Beach
Apart from the section at Noosa headlands, Noosa National Park has another three sections, one of which is the Emu Mountain section.
Emu Mountain is, however, right next to big brother Mount Coolum and just outside Coolum Beach. Not around Noosa as such.
It's not very high but you'll get fabulous 360° views along the coast and especially towards Mount Coolum. Plus, it's usually fairly quiet, and thus unlikely that you'll have to contend with any crowds.
You could turn this walk into a slightly longer loop by returning along the alternative trail, which then joins with the Hakea track. You'll end up at a different entrance to the park but just walk along Havana Road East to get back to where you started.
It's not a very big area, you won't get lost.
3. MOUNT COOLUM | MOUNT COOLUM NATIONAL PARK
BASIC TRAIL INFO
Distance: 1.6km return
Difficulty: Medium
Trailhead: Carpark at Tanah Street East, Coolum Beach
Don't expect to be on your own here, Mount Coolum's many steps are very popular for exercise nuts and families alike.
Even if you're slow and need to take lots of breaks climbing up to the summit, it probably won't take more than 30-40 minutes going up. The views from the top are splendid, especially now that more viewing spots have been sectioned off.
Winter is best as there won't be so much moisture in the air. Sometimes you can almost glimpse Caloundra in the far distance.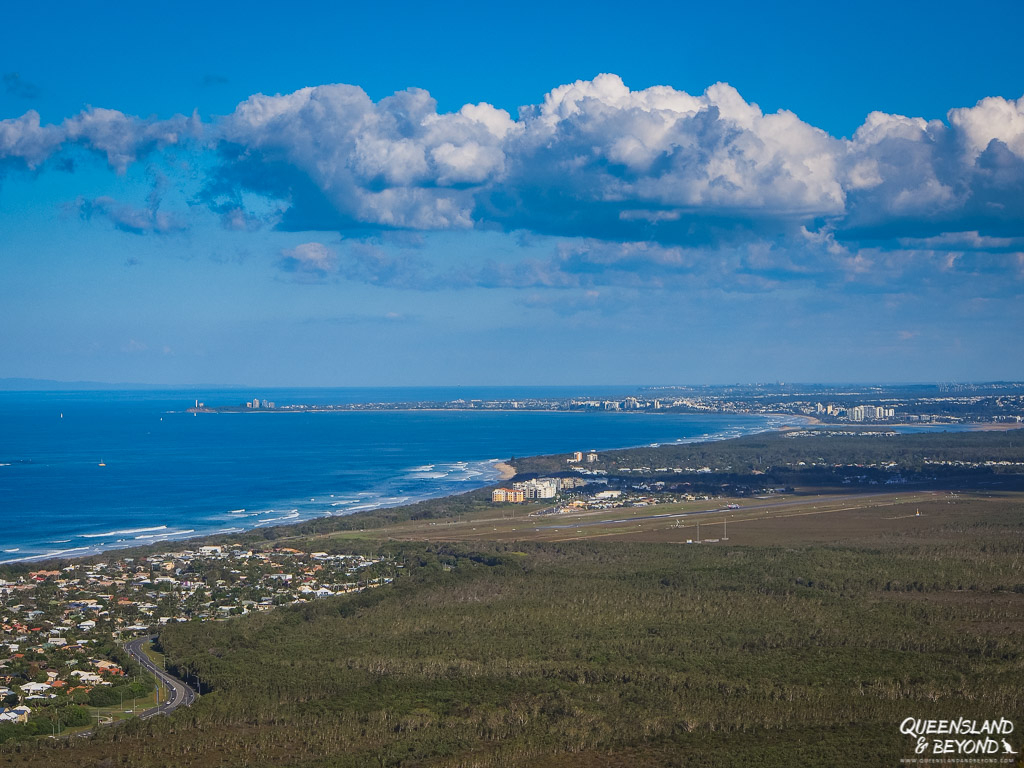 The carpark at Tanah Street East isn't huge but you can park along the road if you can't find a spot in the actual carpark.
4. MOUNT NINDERRY
BASIC TRAIL INFO
Distance: 3.3km circuit
Difficulty: Easy-Medium
Trailhead: Carpark at Ninderry Road, Yandina (Ninderry)
The walk to the lookout at Mount Ninderry is delightfully unknown compared to Mount Coolum or the Noosa Coastal Track. You'll find a lot more local people here, taking their dogs for a walk as Mount Ninderry isn't in a national park and pets are allowed.
It's a little uphill but nothing like Mount Coolum so quite suitable for various fitness levels.
There's a formal viewing platform towards Mount Coolum and the coastline. As you trace your way back, follow the track towards the other side of Mount Ninderry for some views into the hinterland. You can get some nice sunsets here.
Just be aware that the carpark is ridiculously tiny, there's really only space for 2-3 cars so you may need to squeeze in along the road.
---
CENTRAL SUNSHINE COAST WALKS (MAROOCHYDORE, MOOLOOLABA AND CALOUNDRA)
The suburbs around Mooloolaba and all the way to Caloundra are fairly built up. Apart from some coastal walks, there are also some wonderful gems in little pockets of rainforest or dry eucalypt forest.
5. BORONIA TRACK | MOOLOOLAH RIVER NATIONAL PARK
BASIC TRAIL INFO
Distance: 4.8km return
Difficulty: Easy
Trailhead: Carpark at the end of Claymore Road, Sippy Downs, or along Kawana Way (where you see the signs for 'Mooloolah River NP')
This happens to be one of my favourite hikes on the Sunshine Coast, mostly because you don't tend to meet very many people and there's some beautiful shrub and heathland. It's especially pretty in spring.
Avoid summer or when there's been heavy rain as some of the tracks can get very muddy. It's also very exposed, another reason to avoid doing the track in summer unless you go early or late in the afternoon.
We usually turn the Boronia Track into a loop via the Aemula and Littoralis Trails, and that ends up being about 7km.
The only downside to this walk is that you can hear highway noise along some stretches of it, making it a bit less peaceful than I'd wish.
6. SUNSHINE COAST COASTAL PATHWAY | COTTON TREE TO MOOLOOLABA
BASIC TRAIL INFO
Distance: 4.4km one-way
Difficulty: Easy
Trailhead: Anywhere along Mooloolaba or Alexandra Avenue (plenty of parking available)
The Coastal Pathway runs from Tewantin in the north all the way to Pelican Waters in the south (with a few sections that don't connect easily). One of the most popular stretches is Cotton Tree to Mooloolaba, especially the section along Alexandra Headland.
You can pretty much start it anywhere you like, and walk as far as you want to.
I really like walking from Cotton Tree to Alex, and then up and over the hill to Mooloolaba as that entails a little more exercise and some gorgeous views of the coastline as you come back.
It's almost 5km from Cotton Tree to Mooloolaba but as I said, you can start anywhere you like and make it as short or long a walk as you want to. You could, for example, just walk from Alex to Mooloolaba and return via the beach / rock pools if it's low tide. That's a pretty nice walk!
7. BUDERIM FOREST WALK
BASIC TRAIL INFO
Distance: 2km circuit
Difficulty: Easy-Medium
Trailhead: Carpark at the end of Quorn Close, Buderim; alternatively, park at Harry's Lane, Buderim
The Buderim Forest Walk to Serenity Falls is a gorgeous little pocket of rainforest in the middle of the suburb of Buderim. It seems hidden but it's well known, and especially popular in summer when people go for a quick dip in the rock pool.
You can start the walk from either end. I really enjoy the boardwalk section from the Harry's Lane end but only because I'm a boardwalk fan.
I love winter here but only because there are far fewer mozzies around and it's not quite as humid. On the flip side, the waterfall won't be flowing quite as dramatically as it does after a good storm at the end of summer.
8. BUDERIM PALMWOODS HERITAGE TRAMWAY
BASIC TRAIL INFO
Distance: 4km return
Difficulty: Easy
Trailhead: Carpark at Telco Road, just off Mons Road, Buderim
The walk along the former Buderim Palmwoods tramline is only a short little trail, tracing the historic train connection between Buderim and Palmwoods. But it's a good alternative for sunny days as it's very shaded.
There isn't much to see, no views as such but you can find some remnants of some old train sleepers and sections where they must have hewn a path through rocks.
The trail is slightly downhill, and while you may not notice that going down, you will coming back. There are interpretative panels along the way but you can also read more about the history of the Buderim-Palmwoods tramway here.
9. NATURE WALK | CARTWRIGHT RESERVE / LA BALSA PARK
BASIC TRAIL INFO
Distance: 1-2km circuit
Difficulty: Easy
Trailhead: Carpark at the end of Pacific Boulevard, Point Cartwright
La Balsa Park (harbour side) and Cartwright Reserve at the top of Point Cartwright is a lovely, though busy, spot for a stroll around.
There are walking tracks all around the park, up to the lighthouse at the tip and the muralled water reservoir. Up here, you might be lucky enough to spot some whales during migratory season.
From the lighthouse, you can stroll along the beach and out to the entrance of the spit.
It's a popular spot for families, dog walkers and sunset watchers. I just enjoy the views from there as you can see Mooloolaba as well as all the way up the coast to Mount Coolum and beyond.
Fun fact: The park is named after a raft expedition ('La Balsa') that arrived from Ecuador in the 1970s!
10. SUNSHINE COAST COASTAL PATHWAY | CALOUNDRA
BASIC TRAIL INFO
Distance: 1-3km return
Difficulty: Easy-Medium (depending where you go)
Trailhead: Park along any of beach carparks or side streets around Caloundra (e.g. Moffat Beach, Shelly Beach, Bulcock Beach)
As mentioned, you can walk almost the entire coastline of the Sunshine Coast, there are so many sections of the Coastal Pathway.
If you're at the southern end of the Sunshine Coast, the stretch around Caloundra makes for a beautiful, family-friendly walk.
The entire Caloundra section is actually 9km but just walking from Bulcock Beach around to Moffat Head is a great walk. Like with the Mooloolaba to Cotton Tree stretch, you can make this as long or short a walk as you want to.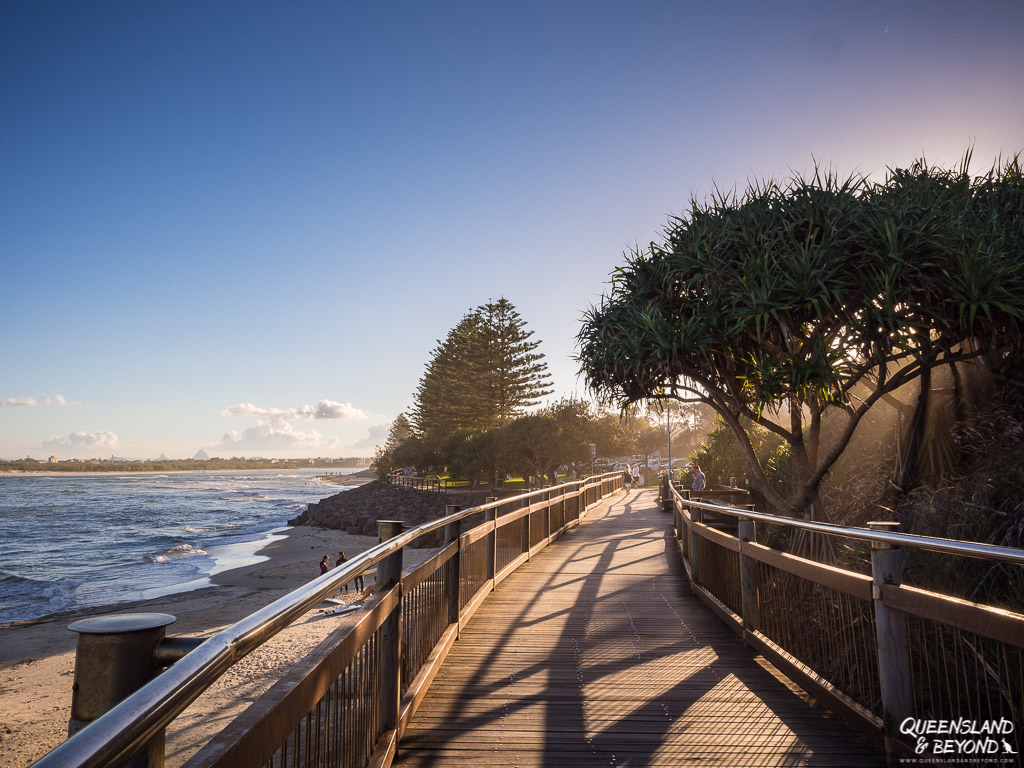 On the way back, you'll be able to spot some Glass House Mountains in the far distance as you come around Wickham Point (Caloundra Head) and walk towards Happy Valley.
SUNSHINE COAST HINTERLAND WALKS
Pretty much all the hikes, short or long, in the Sunshine Coast hinterland are rainforest walks. Mozzies can be a bit of a pest (as can leeches) but you'll also be spoilt with some beautiful rainforest, piccabeen palms, waterfalls and valley views.
11. WOMPOO CIRCUIT | MAPLETON FALLS NATIONAL PARK
BASIC TRAIL INFO
Distance: 1.3km circuit
Difficulty: Easy
Trailhead: Carpark off Mapleton Falls Road (Mapleton)
The Wompoo Circuit is one of my favourite super quick rainforest walks in the hinterland. The rainforest here is full of giant piccabeen palms with some fine specimens of giant strangler figs mixed in.
It can be hot and humid in summer but it's still a pleasant enough walk as it's relatively covered, except for some short sections through dry eucalypt forest.
We usually combine this walk with the 50m detour to Mapleton Falls Lookout, though you can't actually see the falls very well (plus in winter there's hardly any water). But the views into Obi Obi Valley from the lookout are quite pleasant in any case.
12. KONDALILLA FALLS CIRCUIT | KONDALILLA NATIONAL PARK
BASIC TRAIL INFO
Distance: 4.7km circuit
Difficulty: Moderate
Trailhead: Past the picnic area; carpark at the end of Kondalilla Falls Road (Flaxton)
Though not quite as insanely popular as Noosa National Park, it can be a bit of a challenge trying to get a carpark at Kondalilla. Come early in the morning if you want to avoid the crowds.
At the start of the hike is a lovely picnic area with barbeques. From there it's a relatively short walk to a swimming hole, which is also part of the longer Kondalilla Falls Circuit.
I've actually never jumped in for a dip at the rock hole but plenty of people do, so bring your swimmers if you're here in summer.
The Kondalilla Falls Circuit walk takes you to the base of the falls and past a couple of lookouts. Keep in mind that there are some 300 steps as part of the loop (and also some steps to get to the rock hole) so you'll need some level of fitness to a) go down all those stairs and then b) get back up again.
You're in rainforest country here so the walk is pretty shady and it's a good option for a warmer day as you're not exposed the entire time. It can get humid though with plenty of mozzies buzzing about!
13. MARY CAIRNCROSS SCENIC RESERVE WALK
BASIC TRAIL INFO
Distance: 1.7km circuit
Difficulty: Easy
Trailhead: Carpark at day-use area, along Mountain View Road, Maleny
Open: Daily 7am to 6pm
The rainforest around Mary Cairncross is gorgeous. It really is a beautiful example of what healthy rainforest looks like on the coast.
It's a relatively flat walk, and we almost always brings friends and visitors here. My favourite part is the boardwalk through the strands of piccabeen palms, they're so tall and skinny, and just beautiful.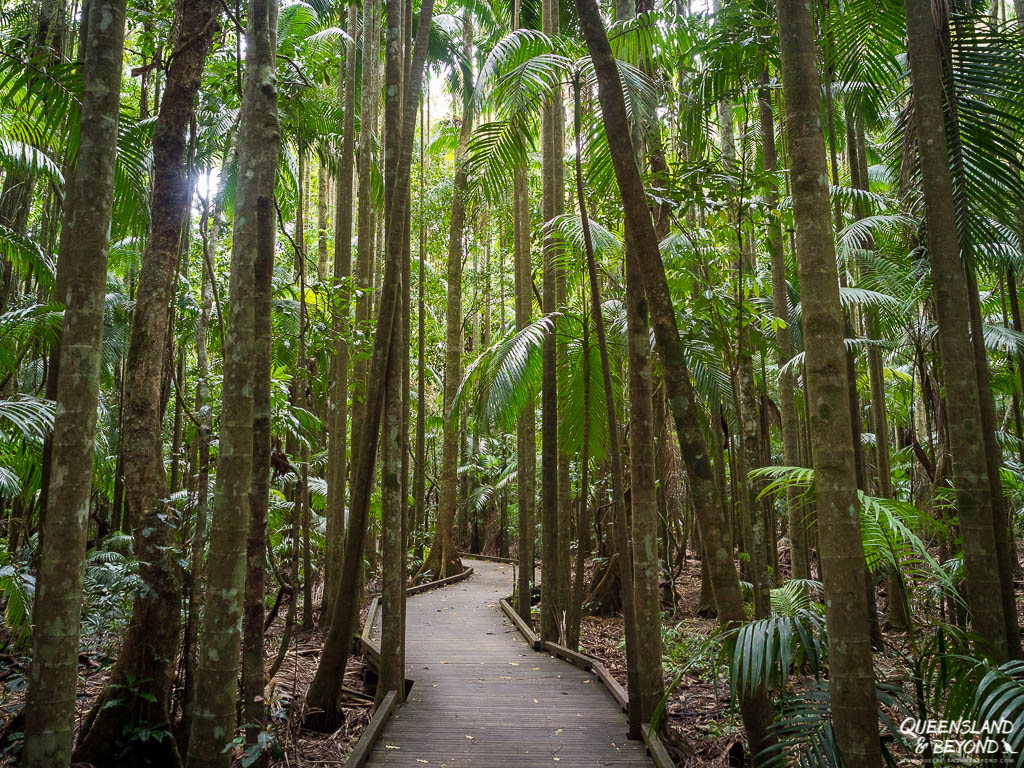 There's also an interactive interpretative centre (great for kids) and a café that serves pretty nice food (including gluten-free options). It's generally quite busy around here, not surprising when there's a park with barbeques and a playground as well as some great views of the Glass House Mountains to be had.
Please be aware that this walk is only open 7am to 6pm daily.
14. BAROON LOOKOUT | KONDALILLA NATIONAL PARK
BASIC TRAIL INFO
Distance: 4.4km return
Difficulty: Easy-Moderate
Trailhead: Carpark at Narrows Road, North Maleny
I've only done this hike once, and it was already late in the day so the light was fading fast. But it's a really pleasant walk to a couple of lookouts.
The first lookout is over the Narrows Gorge (2.2km return, you could just do this one if you're short on time or energy). From the second lookout, you can see Baroon Pocket Dam in the distance and also get some views into Obi Obi Gorge.
This walk actually connects to the Kondalilla Falls Circuit as part of the Sunshine Coast Great Walk. So if you want a longer hike, you could just keep going. From Baroon Pocket Dam to Kondalilla Falls, it's about 10km one-way.
15. FIG TREE WALK | IMBIL STATE FOREST
BASIC TRAIL INFO
Distance: 1.1km circuit
Difficulty: Easy
Trailhead: Carpark along Maleny Kenilworth Road, Kenilworth
If you're happy to venture further inland, there's a very quick circuit through some lovely rainforest just 6km outside of Kenilworth in the hinterland.
It won't take long at all do the Fig Tree Walk where you can admire both piccabeen palms and strangler figs. Some of the stranglers are incredibly huge and you can almost hide in their buttresses.
Just be careful not to touch leaves around here as there are some stinging nettles that can give you a nasty rash and itchy skin (but nothing much more serious than that).
16. TIBROGARGAN CIRCUIT | GLASS HOUSE MOUNTAINS NATIONAL PARK
BASIC TRAIL INFO
Distance: 4.1km circuit
Difficulty: Easy
Trailhead: Carpark just off Marshs Road, Glass House Mountains
There are a few walks in the Glass House Mountains, some more interesting than others. Most of them involve a climb to the summit, and every year some unprepared hikers invariably get stranded and have to be rescued.
For a relatively flat and uncomplicated hike, try the Tibrogargan Circuit, which, as the name suggests, circumnavigates the base of Mount Tibrogargan. The walk is partly shaded and through dry forest so shouldn't be as exposed as a beach walk or as humid as a rainforest walk.
You'll also get glimpses of Mount Tibrogargan and some of the other Glass House Mountains from Mountain Lookout. Along the way, you can enjoy some intermittent views into the surrounding farmland and pine plantations.
If you're after a slightly longer walk, you can easily combine the Tibrogargan Circuit with the Trachyte Circuit, which starts from the same trailhead.
17. TUNNEL TRACK | DULARCHA NATIONAL PARK
BASIC TRAIL INFO
Distance: 1.8km return (to the tunnel)
Difficulty: Easy
Trailhead: Carpark at the end of Paget Street, Mooloolah (northern entrance); park at Beech Road, Landsborough (southern entrance)
The Tunnel Track is another historic Sunshine Coast walk, and one that's not overly popular. You'll be able to enjoy some peace and quiet here, provided that not too many motorbikes are cruising around the nearby state forest.
The tunnel was once part of the Brisbane-Gympie rail connection, and opened in 1891. All that remains of the track now is the tunnel.
From the carpark at the Mooloolah end (northern entrance) to the actual rail tunnel, it's only 900m so you could just walk to the tunnel, walk through it for a bit of fun and then turn around. To do the whole track from the northern to the southern entrance, it's 3km each way but it's fairly flat and won't be very strenuous at all.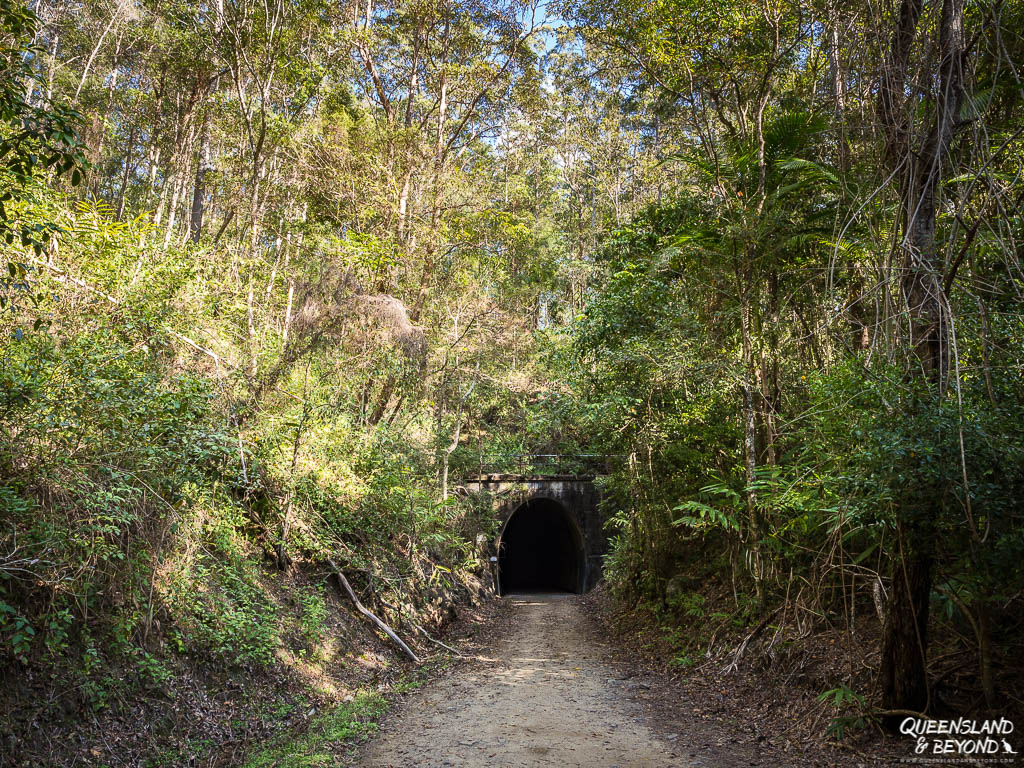 The trail is a shared trail, and we generally see more mountain bikers than walkers around here.
---
SUMMING UP
This is just my list of favourite short walks on the Sunshine Coast so, obviously, it's not exhaustive.
I also really like some stretches of the Coastal Pathway around Coolum (the boardwalk going out to Point Perry) and Golden Beach (there's a mangrove boardwalk). I could have added the Linda Garrett Circuit near Mapleton, which is a nice enough walk but there are other, more stunning rainforest walks in the Sunshine Coast hinterland.
But if you think I've forgotten some special quick hike, let me know in the comments below. I'll be very happy to check it out.
---
MORE POSTS ON WHAT TO DO ON THE SUNSHINE COAST
Beyond reading, walking and hiking is one of my favourite activities. I've got a few suggestions for half-day hikes on the Sunshine Coast, and more detailed posts on the Noosa Coastal Track and the Mount Coolum Summit track.
For an easy stroll, the Maroochy Bushland Botanic Gardens are quite nice and make a low-key picnic or bbq spot.
You can easily combine some of these walks with a scenic drive, maybe through the Glass House Mountains or the Blackall Ranges in the Sunshine Coast Hinterland. You can also just drive up to plenty of lookouts on the Sunshine Coast.
For something completely different, visit the Buderim Ginger Factory. I really enjoyed the tour!
---
PIN ME!