Currawinya National Park is on Budjiti Country. I acknowledge the Traditional Custodians of this area and their connection to Country, and pay my respects to their Elders past and present.
---
Currawinya National Park is a bird lover's paradise, rich in pastoral history, and sees relatively few visitors. And that's obviously very attractive for campers like me who seek solitude and wide open spaces.
The only downside at Currawinya is probably the pesky mosquitoes.
---
CAMPING AT CURRAWINYA NATIONAL PARK
The closest town to Currawinya National Park is Cunnamulla on the Balonne Highway, some 800km west of Brisbane. Eulo is another little township you'll pass through on your way. It's big enough to offer fuel and a few basic supplies but don't expect too much out here.
It's not hard to get to Currawinya, it's just a long way. So ideally stay at least two nights, more if you want to take things more leisurely.
Visiting the park is doable in a conventional vehicle when it's dry but you don't see too many of these out here. It's pretty much all 4WD vehicles. A 4WD will also allow you to do the scenic drives around the park.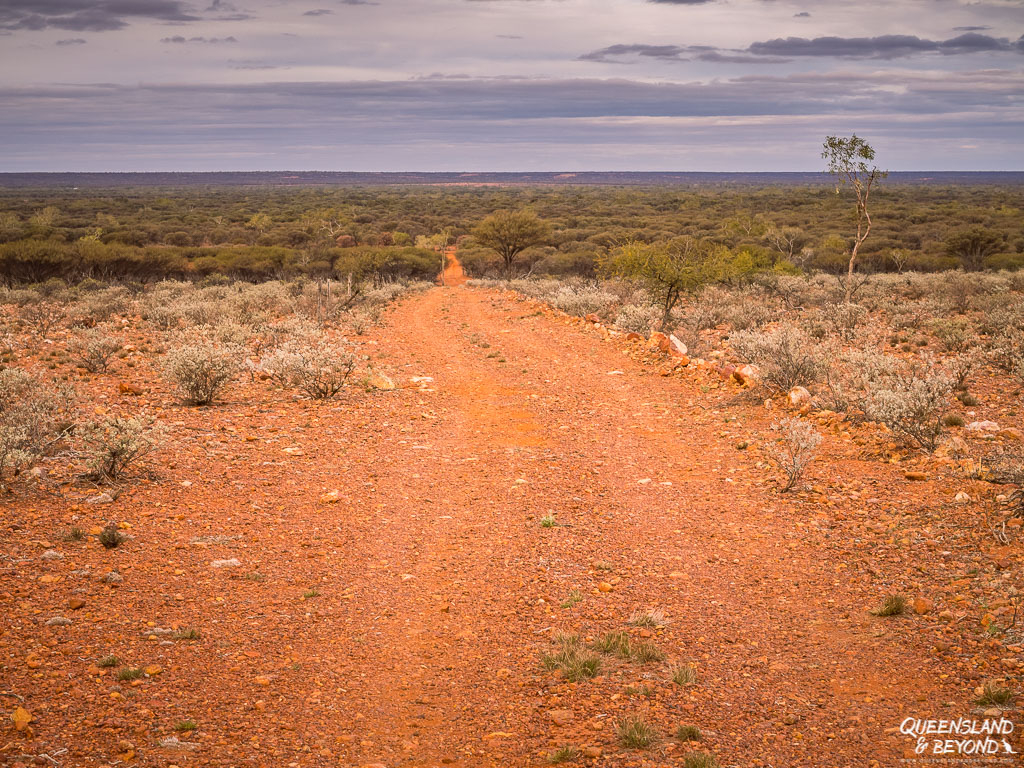 Out here it's very basic bush camping, there are almost no facilities, and this also means no (drinking) water. You can access toilets in two spots but there are no toilets in any of the camping areas.
At Currawinya, you've got five different camping areas to choose from. Four are along the Paroo River with a new camping area established in a bushy setting in the recently expanded section of the national park.
Ourimperee Waterhole and Corni Paroo both offer camping for 30 people, while Caiwarro Waterhole and Pump Hole have space for 10 people each. Myninya has six individual sites.
CAMPING AT CURRAWINYA: KNOW BEFORE YOU GO
OURIMPEREE WATERHOLE CAMPING AREA
Since we don't have our own portable toilet system (shovel + dig a hole method excluded), we thought we'd book two nights at Ourimperee Waterhole. The camping area was supposed to be near one of the toilets in the park, and by near, I mean kind of within walking distance.
It's the first camping area as you enter the national park from Hungerford, about 25km from the park's entrance. It's easy to find but, I'll just be honest, as soon as we got there, I wanted to leave.
Not only were the toilets nowhere near walking distance, the whole camping area was mud flats (almost level with the river), the mozzies were ferocious, and overall, the entire area looked pretty uninspiring.
On the map, the (flush) toilets look just about walkable but you really need to drive there. They're located at the old Currawinya Woolshed site, and were infested with mozzies. I was almost going insane trying to use the toilet! At least there's a sink there so I could wash my face.
If you've got hopes of using the (cold) showers here, don't expect anything fancy. They're open air and looked very agricultural. I'm sure there might be times when I wouldn't care but they certainly didn't temp me this time round.
There are no marked sites at Ourimperee Waterhole, in fact, it's hard to make out where exactly you can camp. We couldn't really make sense of this camping area, it just seemed one giant mud flat and you chose anywhere you wanted.
You could tell the entire camping area would flood during the wet season.
Although we'd booked two nights, we ended up staying only one. I just couldn't bear it.
We packed up in the morning and given how quiet the park was, decided to check out the other camping areas and see if any of them looked more attractive (and yes, they did).
OURIMPEREE WATERHOLE CAMPING AREA AT A GLANCE
PROS: Short (driving) distance away from the amazing Currawinya Woolshed; located along a waterhole of the Paroo River
CONS: Uninspiring mud flats; a gazillion mosquitoes; (flush) toilets not within walking distance (but easily driveable)
COST: $7.25 pp/pn (2023); pre-bookings only
Not sure what the tents and mozzies mean? Check out my tents and mozzies guide.
The mozzie bites themselves weren't terribly itchy but the buzzing and biting was relentless. Even fully clothed and covered in insect-repellent, they were buzzing around our heads that I felt like I was going crazy. Not fun. Or relaxing.
CORNI PAROO CAMPING AREA
After a day of exploring Currawinya and debating whether we should stay at Myninya, we ended up heading to the Corni Paroo camping area for our second night.
On the surface, Corni Paroo might be just the same as Ourimperee Waterhole: You're camping along the Paroo with the same sort of vegetation around you. But, we found a lovely spot at the end of the camping area that was elevated from the river and had a picnic table. A picnic table! Out here!
And what's more, the mozzie onslaught was nowhere near as ridiculous as the night before.
You're relatively spaced out here and sites aren't marked as such anyway. Choose whatever looks good to you, and as far away from any neighbours as you want. We were actually completely on our own at this spot, and would definitely head straight back to this spot if we ever went to Currawinya again.
The real downside, of course, is that there is no toilet within walking distance. You can drive to the pit toilet at the Caiwarro Ruins but the distance isn't walkable for a quick toilet walk.
If you have your own porta potty, you'll love the remoteness and being left completely to your own devices out here. If you're a bush toilet user, be responsible and don't leave toilet paper wasting around. It's disgusting (not to mention the impact on the environment).
CORNI PAROO CAMPING AREA AT A GLANCE
PROS: Flatish (unmarked) campsites; located along the Paroo River up the bank; a few sites have picnic tables
CONS: A lot of flies and a few mozzies; no walks nearby; no toilet access (bring your own)
COST: $7.25 pp/pn (2023); pre-bookings only
Not sure what the tents and mozzies mean? Check out my tents and mozzies guide.
OTHER CAMPING OPTIONS
There are three other camping areas at Currawinya. Since we're curious people (and also for future reference should we ever come back here again), we drove around the entire park and had a look at them.
In a nutshell, if Corni Paroo was too busy for my liking, I'd head to Pump Hole or Myninya if we were coming from the north.
CAIWARRO WATERHOLE CAMPING AREA
If you really want to be away from it all, not that you're not at the other two spots, the Caiwarro Waterhole camping area might work for you. It's certainly the furthest away from anywhere, and there really isn't much out there.
We didn't see any picnic tables or anything, just a few spots that looked like people had camped here at some point.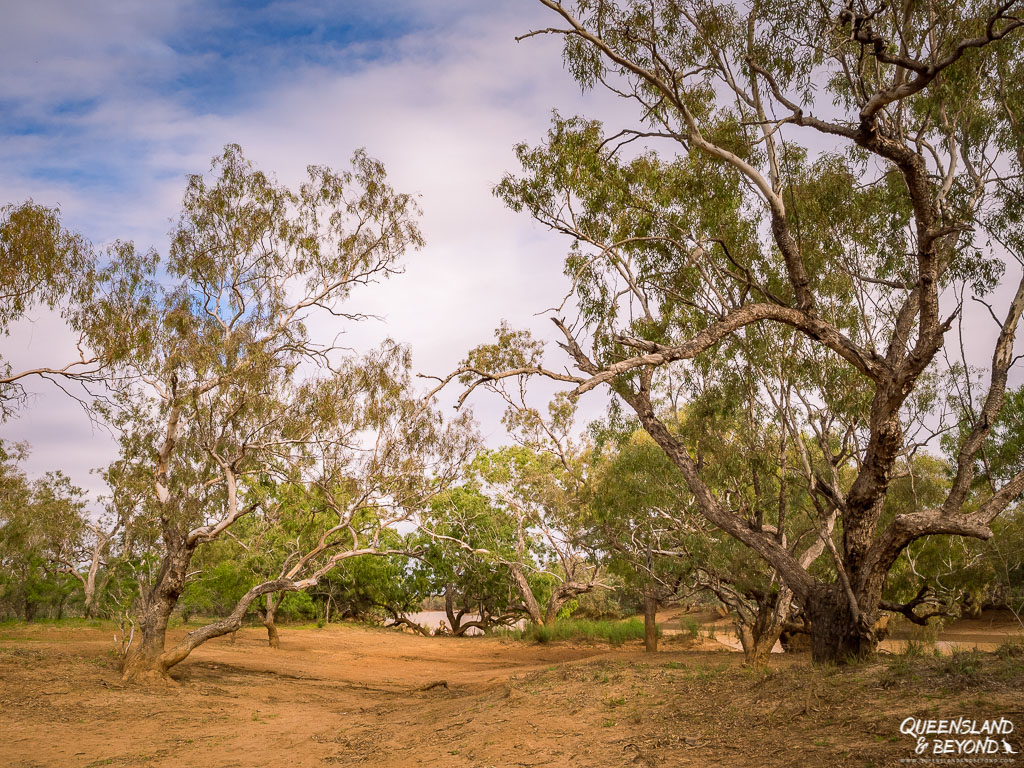 Like at Corni Paroo, you're a little bit elevated from the river. The few sites looked pretty uneven and not all that appealing but the ground didn't appear quite as muddy or cracked as at Ourimperee Waterhole.
PUMP HOLE CAMPING AREA
Like Cairwarro, the Pump Hole camping area is across the river but it's a fair bit closer to the main track.
If I didn't need to worry about having access to a toilet, this would probably be my second choice as we found the sites slightly more even and with a few picnic tables strewn about.
Plus there are a few interesting relics from a bygone farming era.
The banks of the river aren't terribly steep here but you're also not level with the water as at Ourimperee. There are plenty of trees so this might be a nice shady camping area if it was sunny.
MYNINYA BUSH CAMPING AREA
Myninya bush camping area is the latest addition to the campgrounds at Currawinya National Park. This spot is located in the recently opened northern section of the park, and will be perfect once the next section opens in 2020 as it'll be the closest site from the (new) northern entrance.
Unlike the other four camping areas, Myninya isn't located along any river though there's a (dry) waterhole next to it.
The sites are very basic but most looked reasonably spacious so if you have a big setup, this camping area might be a good choice.
The best thing about Myninya though is the new open air shower, albeit cold water only. But if you just want to wash some sticky red dust of you – perfect!
As with all the other sites, you'll need to have your own toilet. There's a shower but that's it in terms of facilities.
MORE INFORMATION
For more details on Currawinya, including how to make a booking, check out Queensland Parks & Wildlife Service. Download the Currawinya National Park map to get a better idea of where the camping areas are.
---
MORE POSTS ON EXPLORING OUTBACK QUEENSLAND
Currawinya is a long way away and it makes sense to combine it with a few other national parks in Central Queensland. Read more about how to spend 10 days on the road exploring part of the Queensland Outback.
As part of our Outback trip, we camped for two nights at Idalia National Park and then another two nights at Welford. Here's what you need to know about camping at Idalia and camping at Welford.
---
PIN ME