I acknowledge the Traditional Custodians of this area and their connection to Country, and pay my respects to their Elders past and present.
---
I'd never even heard of Idalia National Park before we went so it's more than understandable if you haven't either.
Only gazetted in 1990, Idalia is a relatively small national park west of Blackall on the way to Longreach in western Queensland.
The area isn't exactly overrun with people but that's part of what I enjoyed about it. It's remote and it's peaceful.
We had a couple of nights here, and poked around Idalia as part of our 10-day road trip around southwest Queensland.
---
IDALIA NATIONAL PARK: KNOW BEFORE YOU GO
Like Welford National Park, Idalia is in the Barcoo region of Queensland and one of a fair few national parks around Longreach.
This is dry land until it rains. Then roads can become impassable so think about whether it's wise to travel depending on the time of year / weather.
We had two nights at Idalia, which meant about 1.5 days as we arrived in the early afternoon on the first day (coming from Morven). Unless you want to relax for a couple of days, two nights seemed about sufficient for this park.
HOW TO GET TO IDALIA NATIONAL PARK
Idalia is about 130km west of Blackall, or about 1,150km from the Sunshine Coast/Brisbane.
It's a long way to come but you probably only stay here as part of a bigger road trip anyway.
The national park is very easy to find.
Take the Isisford Blackall Road out of Blackall (which becomes the Blackall Emmet Road). Turn left into Idalia-Benlidi Road when you see the sign to Idalia.
Google Maps might suggest that there are two roads into Idalia, there aren't. Just follow the national park signs into Idalia-Benlidi Road and you can't miss it.
From the turnoff, it's about 35km until you reach the park boundary.
BEST TIME TO VISIT IDALIA NATIONAL PARK
Like any national park in this part of Queensland, Idalia is best visited over the cooler months of the year (May-Aug/Sep).
We visited in July and it was more than warm enough for me (high 20ºCs). The nights were cool but definitely not cold. Still, come prepared for cold nights, it does get cold out here.
Summer is stifling hot, and the park often gets closed as roads become impassable due to wet weather.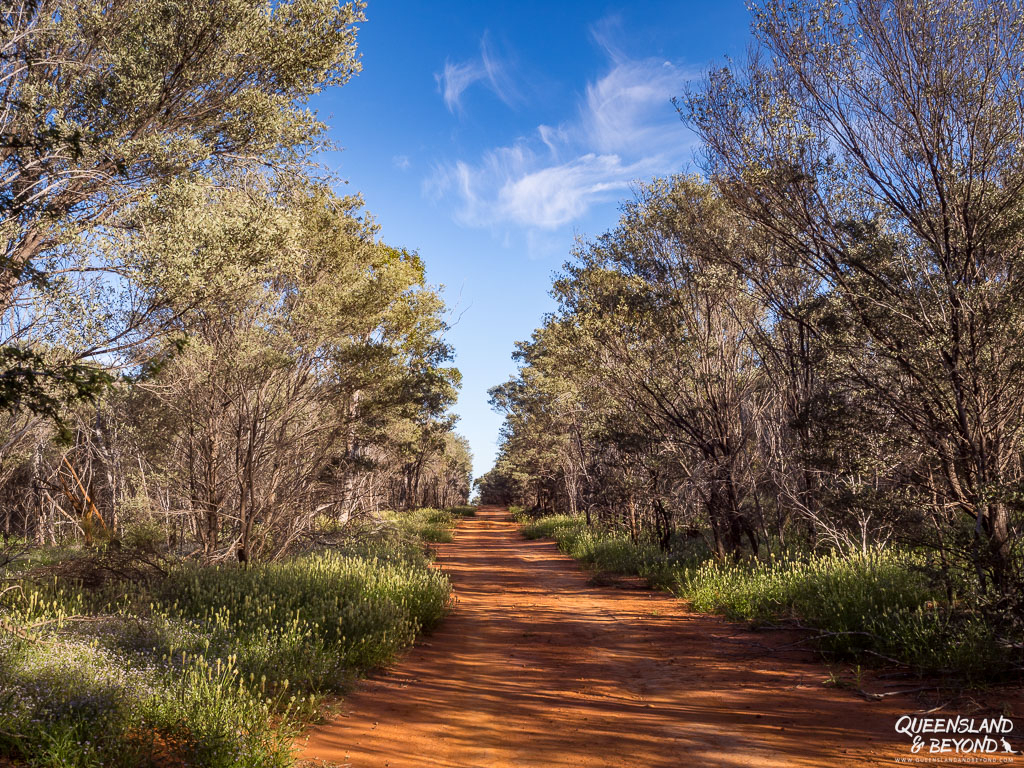 WHERE TO CAMP
Idalia only has one campground in the national park: Monk's Tank Camping Area. It's a small area with dirt sites set in the sparse mulga vegetation, and located about 30km from the park entrance.
There's a fairly new composting toilet there but no other facilities. There's no water out here so come prepared.
You could also stay around Blackall, camp along the Barcoo River and then visit Idalia on a day trip. You'd probably want to start early so you'll have enough time to visit all the sites.
TIPS FOR VISITING IDALIA NATIONAL PARK
Travelling west requires some preparation. Idalia is remote and help may not be immediately available. So here are a few tips for your trip to Idalia:
4WD-accessible: Most of the road to Idalia is paved, except for the last kilometres. The roads in the national park are dirt and sand, and in parts quite rocky.
Carry sufficient fuel: The nearest fuel stations are in Blackall (~135km) or Yaraka (~140km). Don't rely on fuel being available in Yaraka though, it's only a very small settlement.
Carry sufficient water: There is no water out here, you will need to bring both drinking water and water for washing up. Plan at least 5-7L per person per day.
Fly net: The flies weren't terrible at Idalia but they're also not non-existent. A fly net just makes life a bit easier, especially when you want to relax and read, and not eat flies the whole time.
Sun protection: Even in winter, the sun can still be strong out here. Don't travel without your hat, sunnies and sunscreen.
Emergency supplies: While Blackall isn't that far, have a first-aid kit handy and extra food in case you get stranded. Mobile phone reception is virtually non-existent within the park, you'll need to drive halfway back to Blackall or climb some mountain to be in range. Instead, we also carry a PLB (personal locator beacon) in case of emergency.
---
EXPLORING IDALIA NATIONAL PARK: 3 THINGS TO DO
Characterised by mulga scrubland, Idalia offers some panoramic views over the Gowan Ranges, interesting rock formations and rocky gorges, and remnants of pastoral activities.
There's plenty of wildlife, especially in the early morning.
The scenic driving isn't spectacular but the short walks are worth trekking around the park and dealing with the rocky tracks.
1. TAKE A SHORT WALK AT IDALIA
The hikes at Idalia are all fairly short and easy. None are easily walkable from the camping area so you'll need to drive to each of the trailheads (saying 'trailhead' seems a bit overstated out here).
WAVE ROCK WALK (1.2KM RETURN)
Wave Rock is a giant cliff shaped like, well, a wave.
Starting at the Old Idalia homestead (there are only a few bits and pieces of it left now), the walk to the cliff is flat and easy. The best part though is scrambling around the rock and enjoying the view from the top.
Wave Rock is best explored in the late afternoon when the light turns soft and basks the rock in bright orange and deep ochre reds.
RAINBOW GORGE WALK (200M RETURN)
Rainbow Gorge isn't even a walk, really.
It's 100 metres to a stunningly coloured rocky gorge where you can climb into the riverbed and admire the swirling colours in all their glory.
Early morning or late afternoon is best, otherwise the sun washes out the beautiful hues.
MURPHY'S ROCKHOLE
Like Rainbow Gorge, there isn't much walking involved with Murphy's Rockhole. It's also far less interesting so if you're short on time, skip this one.
In July, there was zero water in the rockhole, just lots of debris.
We also didn't spot any koalas (apparently your chances here aren't too bad) even though we climbed around for a while.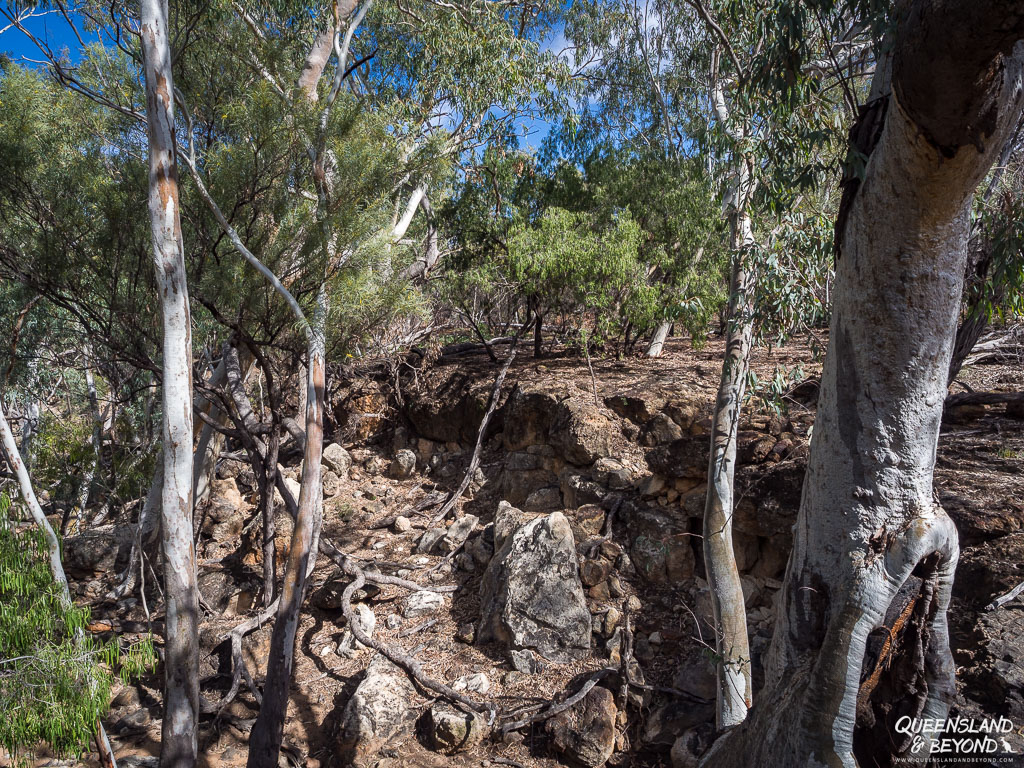 BULLOCK GORGE WALK (2.7KM CIRCUIT)
The Bullock Gorge Walk is the longest hike at Idalia National Park but it's still easily doable within an hour.
It's a flat track that loops around an escarpment overlooking the Gowan Ranges of Idalia. There's no formal lookout but you get intermittent views, especially if you don't mind scrambling around the rocks a bit.
The track is fairly exposed so early morning or late afternoon is best as even in winter the sun can still be strong. Plus, everything looks a lot more impressive in softer light.
EMMET POCKET WALK (4.4KM RETURN)
The Emmet Pocket Walk is classed as difficult by Queensland Parks & Wildlife Service so we left very early to avoid the heat of the day.
However… it's a completely flat track until you get to this sign:
We were a little dumbfounded and tried to see where we might scramble down into the gorge. There were no markers and nowhere was there any indication of a previously semi-formed track.
So given the rather thick vegetation, we decided to turn around.
So, either Emmet Pocket Walk is no longer a hard walk but simply ends at the start of the gorge. Or it's a total bush bash with a high chance of getting lost on the way back.
If you decide to just walk to the "End of Track" sign, it's pretty flat and easy (and seemed like about 2km). You'll do the walk in no time.
2. WATCH THE SUNSET AT EMMET POCKET LOOKOUT
Emmet Pocket Lookout, which is also where the Emmet Pocket Walk starts, is about 12km north of the camping area at Monk's Tank.
It offers some panoramic views over Idalia's shrubland vegetation and ranges. This really is a great spot for sunset.
3. FIND PASTORAL RUINS
There isn't much to discover in terms of Idalia's pastoral or indigenous history.
The Old Idalia Homestead belonged to a musterer once but now lies in ruins. All you can find now are broken bits and pieces with a few scraps of old machinery thrown in.
Apparently, you can also look at old stake stockyards but we couldn't find any (except around the camping area).
---
SUMMING UP
Even though there isn't a ton to explore at Idalia, we enjoyed the solitude and isolation out here.
My highlights include Wave Rock and Rainbow Gorge, and watching sunset from Emmet Pocket Lookout. And if you're lucky, you might even spot a yellow-footed rock wallaby or a couple of brolgas.
MORE INFORMATION
More photos and details on the Monk's Tank Camping Area are in my post on Camping at Idalia. Queensland Parks & Wildlife Service has more information on Idalia, including a map of the general area, how to organise your camping permits, and what to do in an emergency.
---
MORE POSTS ON EXPLORING THE QUEENSLAND OUTBACK
I've got a camping guide for "nearby" Welford National Park and Currawinya National Park further south.
To get an overview of our Outback trip, read my 10-day itinerary for Outback Queensland in winter. You can also find more details and photos of Welford National Park in my guide.
---
PIN ME