Auburn River National Park is on Djaku-nde and Jangerie Jangerie Country. I acknowledge the Traditional Custodians of this area and their connection to Country, and pay my respects to their Elders past and present.
---
The accessible part of Auburn River National Park is tiny and probably the smallest national park I've ever been to. There really isn't all that much to do but the scenery's a lovely surprise, especially when you don't expect much in the first place.
You could camp here for a few days if you just want to relax in your campsite, or use it as a great overnight stop like we did on our recent sandstone country road trip.
---
AUBURN RIVER NATIONAL PARK: TIPS FOR YOUR FIRST VISIT
Auburn River National Park is just south of Mundubbera and best known for its sandy coloured riverbed and gorge.
The land is the traditional home to the Djaku-nde and Jangerie Jangerie Aboriginal groups, and continues to be of important spiritual significance. Like in many parts of Australia, European grazers didn't arrive here until about the 1840s.
Depending on the rainfall, the rock pools in the gorge can carry a bit of water and are probably very inviting on a hot summer day but in July, I can't say I was tempted to jump in.
The gorge is deeper than I'd expected and makes for some wonderful scrambling around.
GETTING TO AUBURN RIVER NATIONAL PARK
North-west of the Sunshine Coast, it's a 4-hour drive (about 320km) from here to Auburn River National Park. It's about the same latitude as Maryborough on the Fraser Coast.
Once you've gone through Mundubbera, turn left towards Durong and then right into Hawkwood Road. It's all signed anyway and not very difficult to find.
Unless it's very wet, you won't need a 4WD.
From Brisbane, you could also come via Dalby or Kingaroy, and then approach Auburn River from the south. Seems to be much of a muchness.
BEST TIME TO VISIT
Since Auburn River National Park isn't too far inland and there's a bit of shade in the camping area, it's probably fine to visit all year round.
My preference would definitely not be over the summer but the rock pools might offer some refreshing relief from the heat. That said, with heavier rainfalls, the rocks in the riverbed might become very slippery and the river fast-flowing and dangerous when in flood.
We camped here in July and it was decidedly cool, if not cold, at night, but lovely during the day.
CAMPING AT AUBURN RIVER NATIONAL PARK
Much like the rest of the park, the camping area is tiny. About 50m past the entrance gate, there's a loop road with five bays, and that's it.
The sites are more or less flat, and the end one is probably the nicest as it's a bit tucked away. By the time we arrived, we were left with #3, right in the middle. Luckily, the individual sites are somewhat spaced apart so it didn't feel too squishy.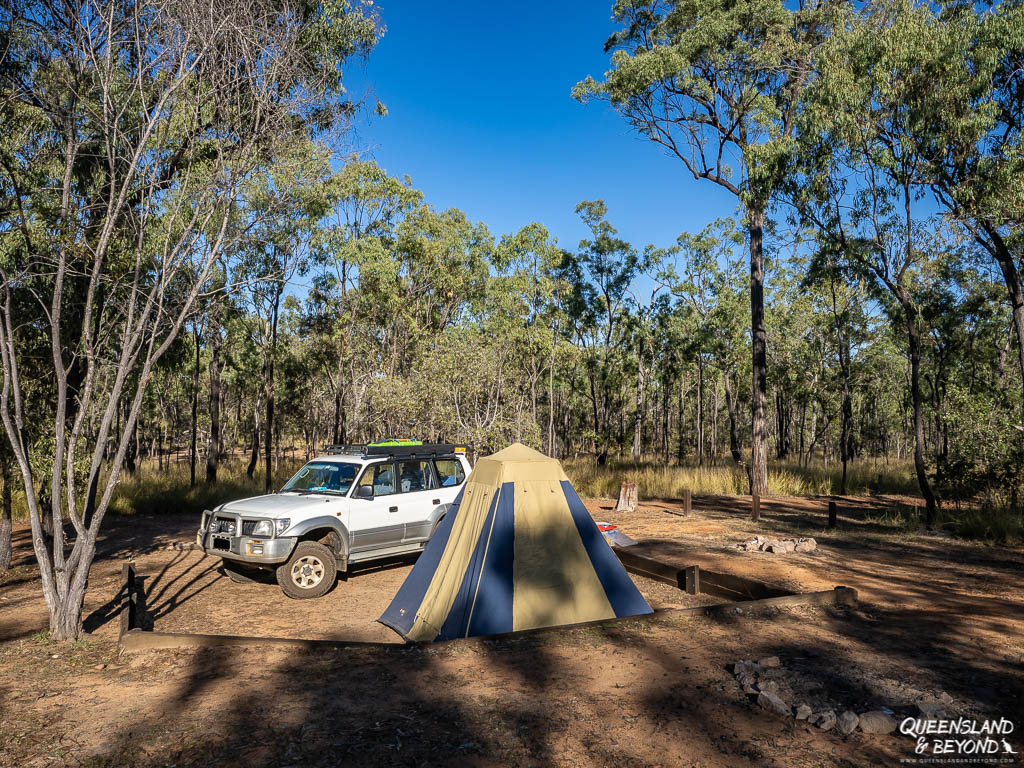 Each camping bay is only barely off the loop road so you feel like you're half on the road. It's fine for a night or so, it's just not my kind of place for relaxing for a few days.
There's one drop toilet, and tank water is available in the day-use area. And despite what it says on the Queensland National Park website, there is a bbq.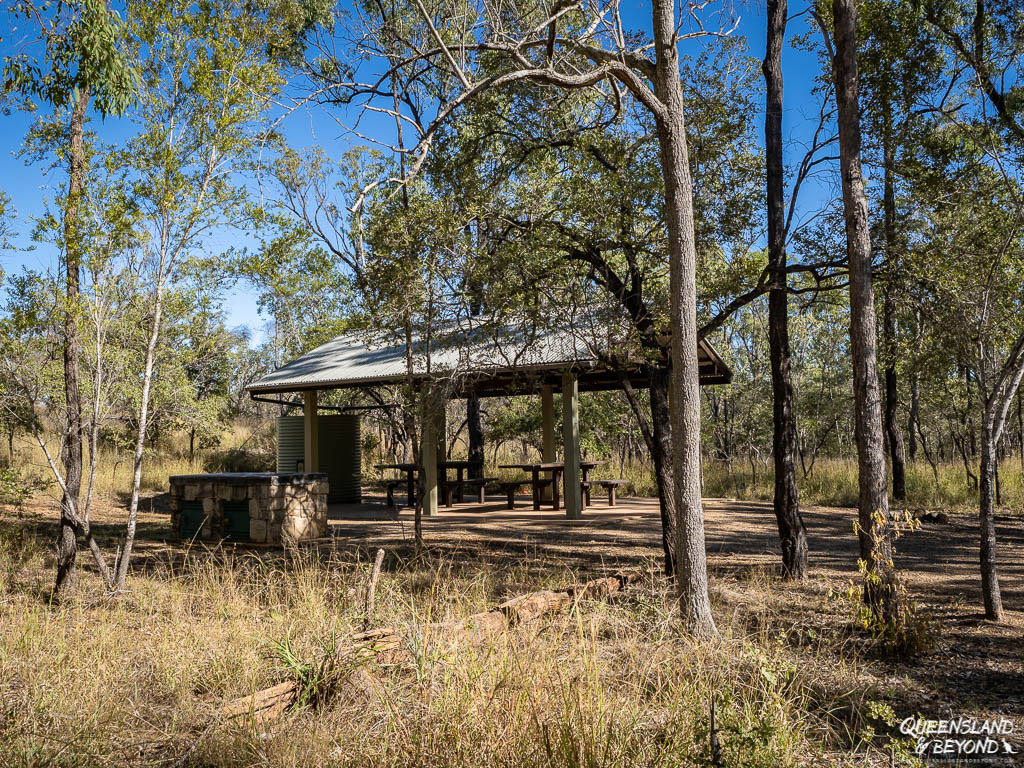 In the July school holidays, every campsite was booked, which usually means noise but we were very blessed once more and everyone was nice and quiet for the one night we were there. The only real noise we had was the kids in the site next to us belting out 'happy birthday' to dad the next morning – quite hilarious, really.
AUBURN RIVER CAMPING AREA AT A GLANCE
PROS: Clearly defined campsites spaced apart; bush setting; short walks nearby and a lovely river gorge to explore
CONS: Campsites feel like they're almost on the road; only 5 sites available
COST: $7.25 pp/pn (2023); pre-bookings only
Remember to pre-book your camping spot before you get to Auburn River National Park. Reception here is a bit patchy so don't leave it until you're actually in the park.
---
SHORT HIKES AT AUBURN RIVER NATIONAL PARK
The size of the camping area is also reflected in the walking trails.
There are basically two short trails, both can easily be done within a morning or afternoon, even if you take tons of photos.
1. RIVERBED WALK
BASIC TRAIL INFO
Distance: 1.6km return + scramble around the riverbed
Difficulty: Easy to moderate
Time: 0.5-1 hour, depending on how much rock scrambling you do
Trailhead: Day-use area
Just like the name suggests, the Riverbed Walk takes you down into the gorge of the Auburn River.
I expected a somewhat challenging climb in and out of the gorge (since it says 'strenuous' on the Queensland National Park website) but far from it. Yes, there are some steps and the track obviously leads down but the downhill section is very short (500-600m) and it's not really that steep.
The real fun comes from scrambling about the riverbed but be careful as the rocks are far more slippery (even in the dry) than you might think!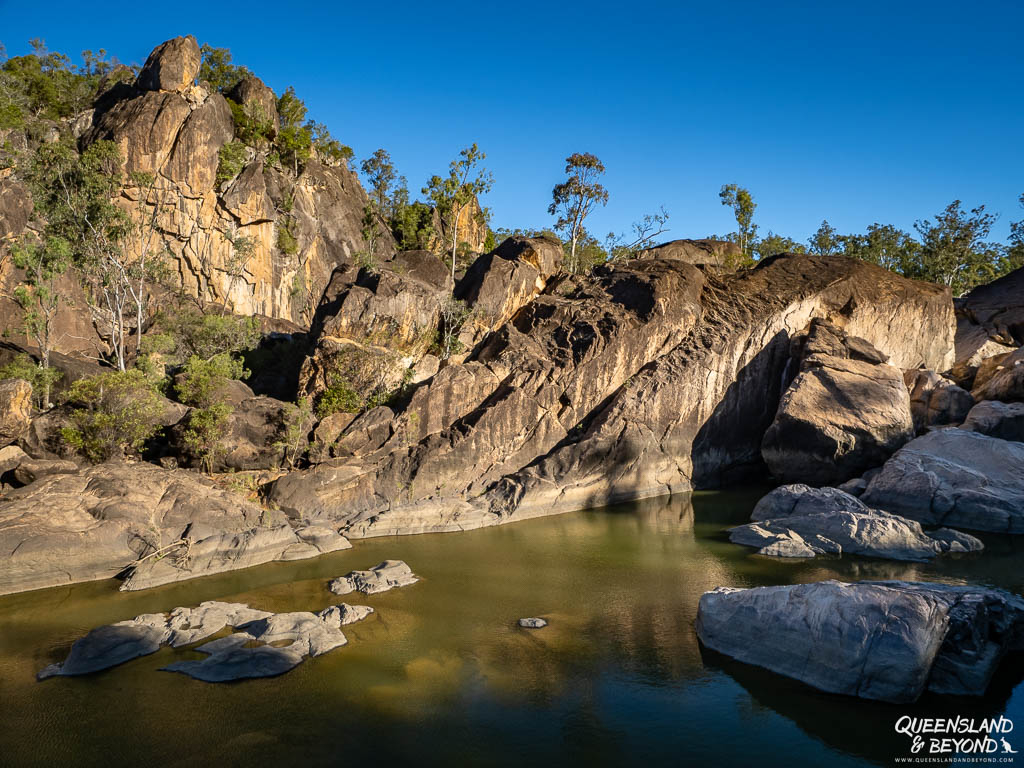 There are some markers in the riverbed but I lost track of them pretty quickly as I happily hopped from rock to rock.
2. GORGE TOP WALK
BASIC TRAIL INFO
Distance: 3.2km return
Difficulty: Easy
Time: 1 hour
Trailhead: Day-use area
The Gorge Top Walk isn't so much a track along the top of the gorge, which is what I had expected, but a walk through the bush to get to a lookout.
There are literally no views along the track but the lookout is fabulous and offers some great views of Auburn River.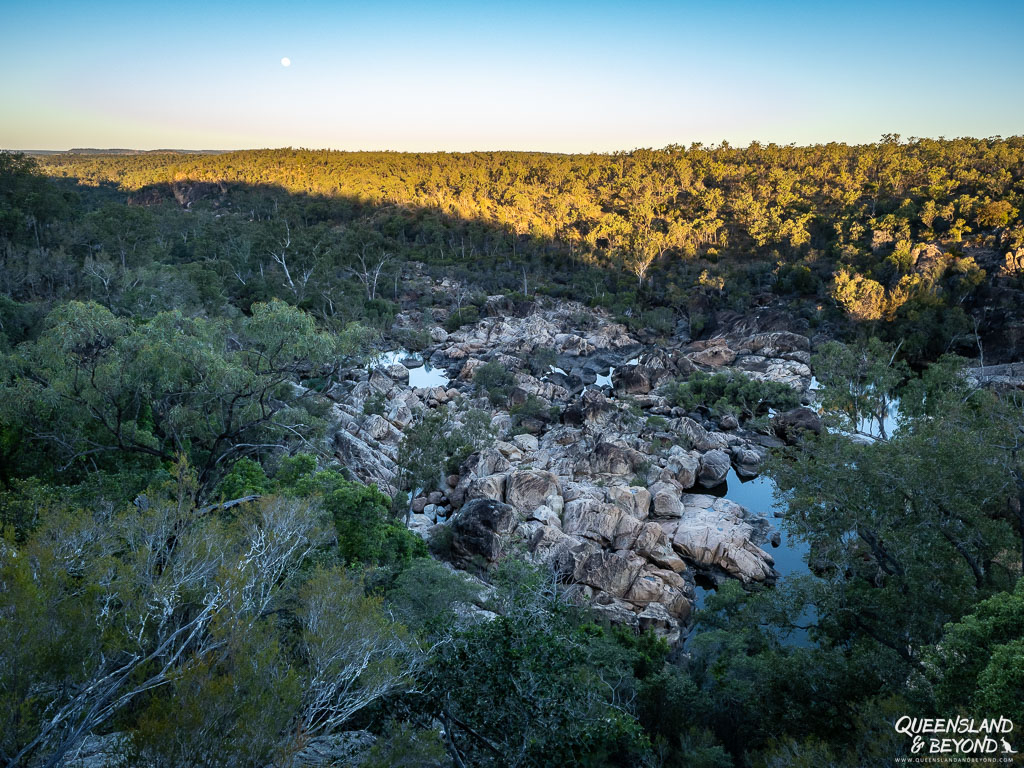 You won't get sunset views here but we did hang around for a while to see if reverse sunset would make an appearance, and it did.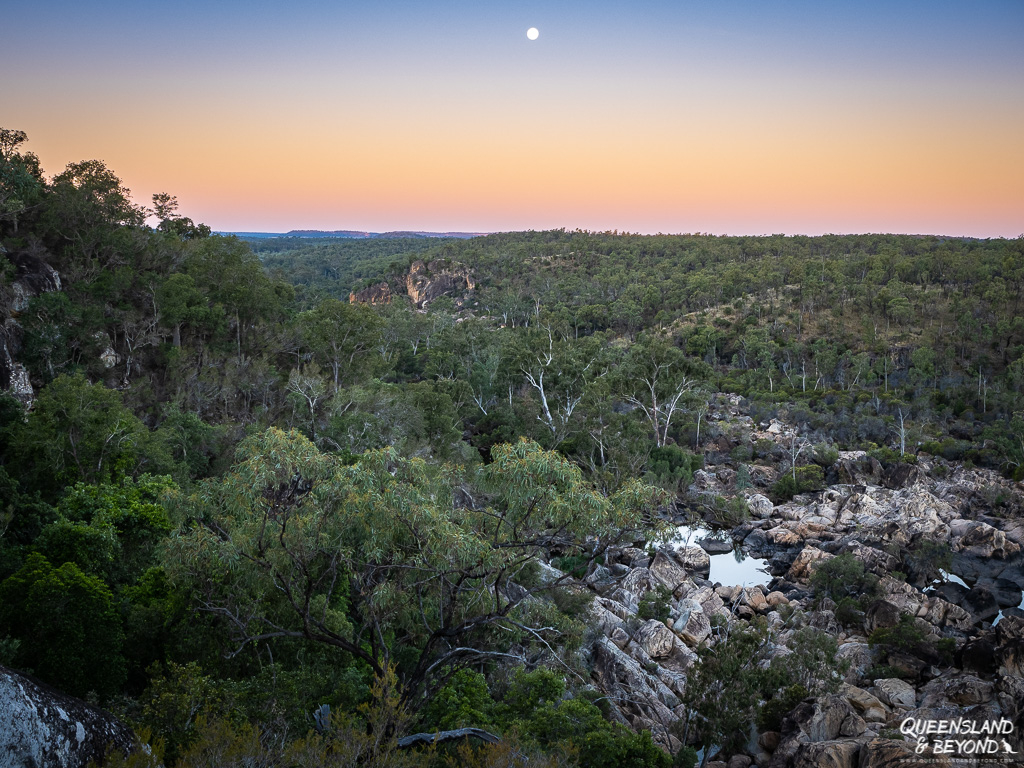 It'd be a great spot for watching the sun rise.
3. GORGE LOOKOUT
BASIC TRAIL INFO
Distance: 0.6km return
Difficulty: Easy
Time: 15 min
Trailhead: Day-use area
The walk to the Gorge Lookout hardly merits its own description but if you really don't want to walk, it's a whole 300m one way.
The lookout, unfortunately, is a bit of letdown as far as we were concerned with too much scrub and trees in the way but not everyone will agree.
You basically look straight into the rock pool section in the gorge that the Riverbed Walk takes you to.
---
SUMMING UP
For an overnight stop, coupled with an afternoon of exploring the two trails, Auburn River National Park was delightful.
I doubt I'd want to hang out here for much longer than that as there just isn't anything else to do. The camping area is nice enough for a night but I wouldn't want to spend days here.
MORE INFORMATION
Check the Queensland National Parks website for more information, including booking a campsite or if you want to download a map of the area.
---
MORE POSTS ON NATIONAL PARKS IN THIS AREA
Cania Gorge National Park isn't too far away from Auburn River (about 180km), and worth a day or two of exploring.
If you have a 4WD, Kroombit Tops National Park (about 280km) has some interesting remains of a WWII bomber.
---
PIN ME!