I acknowledge the Traditional Custodians of this area and their connection to Country, and pay my respects to their Elders past and present.
---
Having two public holidays in one week (one on the Monday, the other on the Friday) seemed like the perfect excuse to us for going on a trip around the Central Queensland Sandstone Belt and hike into Carnarvon Gorge.
But we figured that driving straight to Carnarvon Gorge would be a bit of a hefty drive for us (it's some 720km away from the Sunshine Coast) so we decided to do a circuit road trip, with our first stop being Cania Gorge National Park.
While we didn't love Cania Gorge, here's how you could easily spend a long weekend hiking and exploring.
---
CANIA GORGE NATIONAL PARK: KNOW BEFORE YOU GO
A good time to spend at Cania Gorge would be a long weekend unless you like to take things very relaxed and want to have a day or two for fishing. Then plan more time accordingly. We had two nights at Cania Gorge and felt that was more than sufficient.
GETTING TO CANIA GORGE NATIONAL PARK
Located some 500km north-west of Brisbane, reaching Cania Gorge will take a bit of time if you're coming from southeast Queensland. Fortunately, it's super easy to find, which is just what you need at the end of a long day of driving.
Take the Burnett Highway (A3) and then onto Cania Road some 12km past the town of Monto (if you're coming from the south) or 82km from Biloela (from the north). From the turnoff, it's about another 10km to your first camping option, the Cania Gorge Tourist Retreat.
Side note: If you're coming from the south in early winter (June/July), make sure you stop in Gayndah on the way to pick up some of the biggest and tastiest oranges, grapefruit, mandarins and lemonade fruit you've ever had! Totally delicious, we always buy bucket loads when we come through.
BEST TIME TO VISIT CANIA GORGE
While hot over the summer, Cania Gorge is popular year-round. In summer, you've got the dam to cool off.
We visited Cania Gorge in winter (mid-June) and had pleasant day temperatures but very chilly nights (my guess is less than 5°C).
The only downside to camping in Queensland during winter is that it gets dark very early, and you end up cooking and eating dinner in the dark (and cold). Over the years we've gotten used to it but it's still not awesome. Needless to say that my appetite for desserts tends to be rather low when you're camping in cold weather. Crawling into my sleeping bag with a book always seems a much better alternative.
CAMPING AT CANIA GORGE
There's no camping in the actual national park but there are a couple of caravan parks nearby.
CANIA GORGE TOURIST RETREAT
We booked a couple of nights at the Cania Gorge Tourist Retreat purely because of location and price.
This caravan park is situated right outside the national park but with the start of pretty much all the walks close by. So on that account, the location's quite perfect.
As far as caravan parks go, it's quite nice and the amenities are reasonably clean.
The nights in mid-June were cold though, seriously cold and damp. I really had to wrap myself up to stay at least vaguely warm. That said, we were camping and I was pretty happy about that (notwithstanding Mr. Snorer in the caravan some ten metres away…).
BIG4 CANIA GORGE HOLIDAY PARK
Another option would be to camp at the (popular) Big4 Cania Gorge Holiday Park, located at Lake Cania. This is probably the perfect base if you're into fishing and boating.
---
EXPLORING CANIA GORGE: SHORT WALKS & LONGER HIKES
Some people really love Cania Gorge and keep coming back year after year but it's not a spot we've loved. If you're there with young kids, you'll probably enjoy it as all the walks are very 'doable'.
Since the national park gets pretty good reviews (a gorge, towering sandstone cliffs, Aboriginal rock art…) and is said to be a "mini" Carnarvon Gorge, I must admit that we did have pretty high expectations. But we just underwhelmed. Maybe it was the overcast weather or maybe it really is just a bit meh.
As a result, we felt deflated the whole time as we ran up every single walk, hoping to discover something spectacular or at least something more than just nice.
Most of the walks are pretty easy and you can squeeze them all into one day. We ticked them all off, with the exception of the Castle Mountain walk (22km return), which we gave a miss.
All trails are clearly marked and I'd say it's impossible to get lost.
1. BIG FOOT WALK
BASIC TRAIL INFO
Distance: 1km return
Difficulty: Moderate
Time: 20 min
Trailhead: Cania Gorge Picnic Area (or use the walking trail from the Cania Gorge Tourist Retreat if you're staying there)
The one thing at Cania Gorge that is really cool is probably Big Foot, a giant Aboriginal painting of, guess what, a big foot on a white sandstone cliff.
From the Cania Gorge Tourist Retreat, it's 50m off the main path and you're there. But even from the picnic area, it's an easy stroll to see this giant print.
Cool, huh? Probably would have looked quite spectacular with a bit of blue sky behind it but wasn't to be…
2. TWO STOREY CAVE CIRCUIT
BASIC TRAIL INFO
Distance: 1.3km return
Difficulty: Moderate
Time: 45 min
Trailhead: Opposite the Cania Gorge Picnic Area
The other interesting walk is the Two Storey Cave circuit, supposedly to be covered in 45 min. For some reason, it took us much longer and we're not slow walkers.
The walk itself is ok, nothing spectacular but pleasant enough as you wander around sandstone monoliths.
What's great about this walk though is that the two storey cave has a colony of bats living in them, and a) you have to scramble into the cave, and then b) try and avoid being smacked in the head by the bats flying in and out.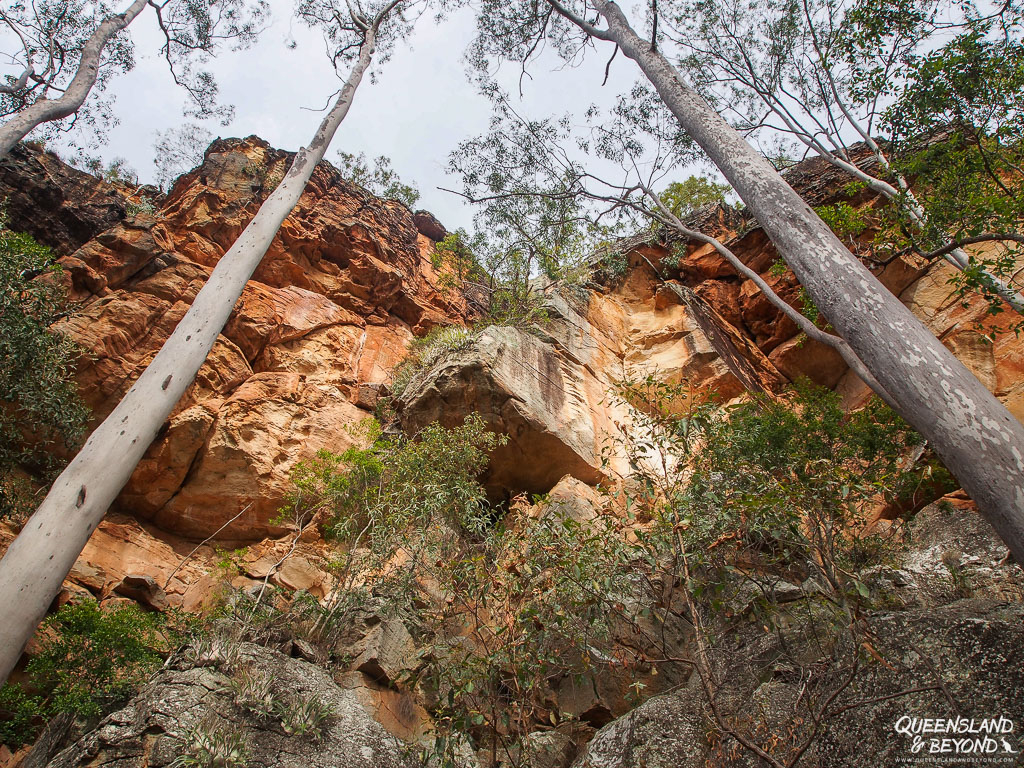 3. GIANT'S CHAIR CIRCUIT
BASIC TRAIL INFO
Distance: 5.6km return (best done anti-clockwise)
Difficulty: Moderate
Time: 3 hours
Trailhead: Giant's Chair carpark (about 900m south of the Cania Gorge Picnic Area)
We did this walk back in 2014, and to be honest, I don't remember much from this walk beyond thinking that Giant's Chair Lookout was a bit of a letdown.
We got to the lookout and all I could think was 'hm, ok, that's it?' Maybe I'm being a bit harsh here but trust me, there are much more spectacular lookouts in Queensland.
The other negative was that some burning off had been done a few days earlier and the air was still somewhat acrid from smoke, not the mention the rather sad looking vegetation along parts of this track. The smoldering air and smell was really getting to me by the end of the 5.6km walk.
The trail passes by a fern tree pool and over several creek crossings but I have zero recollections of that.
With all the regrowth over the last few years, I expect this hike is now a much nicer walk.
4. DRAGON CAVE & BLOODWOOD CAVE CIRCUIT
BASIC TRAIL INFO
Distance: 2.6km return
Difficulty: Moderate
Time: 1 hour
Trailhead: Southern of end of the Cania Gorge Picnic Area
Side trip option: Gorge Lookout
The trail to the two caves initially follows the same trail as the one as to The Overhang but after the turnstile (!), the trail then verges right. The trail itself is a relatively straight-forward walk with no great difficulty beyond climbing around the caves if you wish.
Unfortunately though, both Dragon Cave and Bloodwood Cave were a bit underwhelming. Sigh.
The black shape of a dragon at Dragon Cave (not Aboriginal rock art but a natural black mural) is actually quite cool and you could make it out easily enough. Overall, my expectations were just too high, and I was disappointed by it all. The dragon also looks bigger in the photo than what it actually is.
From the caves, we retraced our steps and then took the turnoff to Castle Mountain Lookout, a 22km return hike. If you're not up for such a big day hike, just climb up the stairs to Gorge Lookout. It's pretty obvious when you get there and it's only a short detour (240m up the path).
That said, the views weren't that awesome but you get some stair climbing exercise! 🙂
5. DRIPPING ROCK & THE OVERHANG
BASIC TRAIL INFO
Distance: 3.2km return
Difficulty: Moderate
Time: 2-2.5 hours
Trailhead: Southern end of the Cania Gorge Picnic Area
This trail was possibly the best of the bunch of the hiking trails at Cania Gorge.
It's an easy enough trail through woodland and rainforest parts that lots of families seemed to enjoy walking. The Overhang, a sandstone formation, is quite cool though I wouldn't go as far as saying it was impressive.
Dripping Rock, a moss-covered, dripping rock ledge along the way caught my attention for a moment or two but outside the wet season, it's not that spectacular. There are a couple of benches though if you fancy studying the moss a bit more and getting a mouldy, wet bottom at the same time.
The Overhang though was quite nice. I'd imagine that with more rain, the creek at the bottom of the cliffs would be quite spectacular and would make the whole area look much more interesting.
But what's really cool along this walk is the rock art, especially back in 2014 when I got my first views of Aboriginal rock art here. That was pretty special.
---
SUMMING UP
Here's a curious thing… What's up with the turnstiles on walks?! I've never seen this before but at Cania Gorge there's a lovely turnstile right in the middle of the trail.
Are they worried that a motorbike or big, fat car might try and clamour up the narrow footpath?? Or do such hordes of wild people storm up the walks that only a turnstile can bring order??
Cania Gorge also has a dam and that's quite popular with people who like fishing and water sports. We only had a quick look at it as we were running out of daylight but it did look quite nice if that's your kind of thing.
Cania Gorge is not a place we're likely to ever visit again. In fact, at the time I wished we'd spent one less night there and had more time at Expedition National Park or Mount Moffatt.
But such is life… and Big Foot was cool. 🙂
MORE INFORMATION
For more information on Cania Gorge, including the history of the area or details on flora and fauna, check Queensland National Parks. For Cania Gorge camping options, check out Cania Gorge Tourist Retreat or Big4 Cania Gorge Holiday Park.
---
MORE POSTS ON QUEENSLAND NATIONAL PARKS
Most national parks in Queensland are fairly small (compared to places like Kakadu in the Northern Territory) but there some real gems here. Mount Moffatt, part of Carnarvon National Park, is one of my favourites as is Carnarvon Gorge, for obvious reasons, it's spectacular.
Expedition National Park, south of Theodore, is another quite beautiful national park "in the area".
Blackdown Tableland National Park isn't far from Cania Gorge and is a beautiful little oasis on a plateau. Auburn River National Park, about 180km south, is tiny but offers a pretty riverbed and gorge.
---
PIN FOR LATER