Expedition National Park is on Kongabulla Country. I acknowledge the Traditional Custodians of this area and their connection to Country, and pay my respects to their Elders past and present.
---
Expedition National Park wows you with its towering sandstone cliffs, deep ravines and seemingly untouched wilderness.
Robinson Gorge winds its way through parts of the national park for over 14km and even in the dry season, there's a permanent waterhole.
No matter which section of Expedition you hit, things start to feel remote even if you're not technically in the Australian outback yet.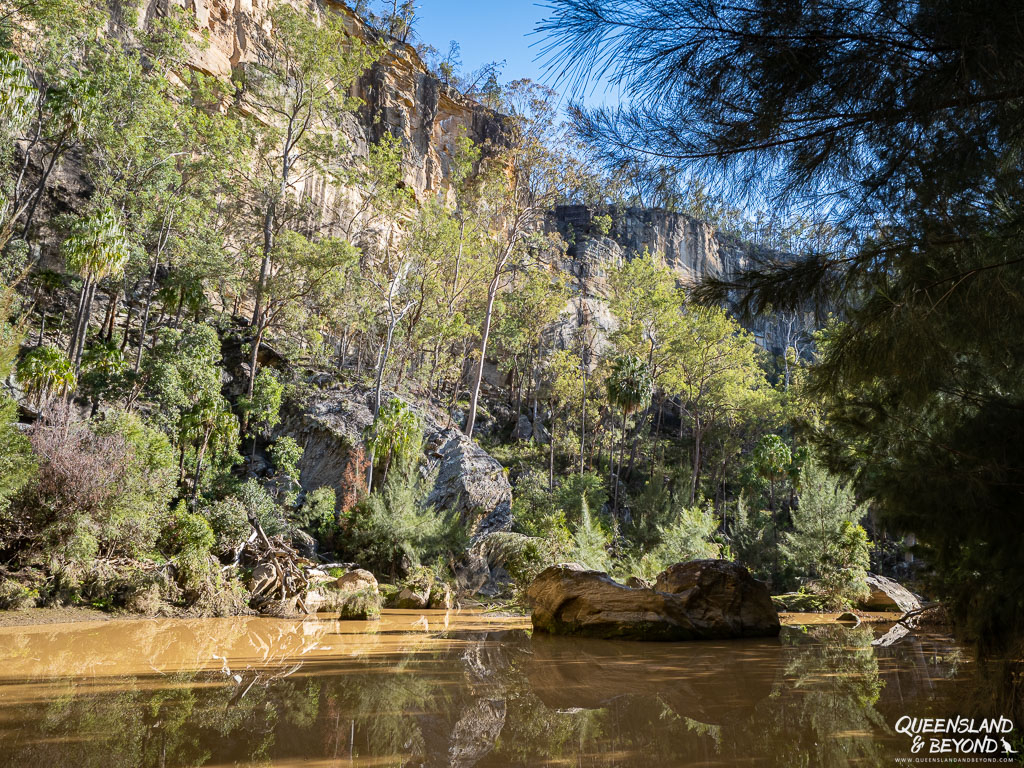 ---
EXPEDITION NATIONAL PARK: KNOW BEFORE YOU GO
The Kongabulla people are the traditional custodians of the area that Expedition National Park now covers.
Expedition, like Carnarvon National Park, is a dispersed national park and divided into three sections: Robinson Gorge, Beilba and Lonesome. None of the sections are connected or make for an easy loop.
It's taken us five years just to explore two of them but that's mostly because we simply didn't plan enough time on our first visit to the Robinson Gorge section and so had to visit twice.
Of the three sections, Robinson Gorge is, without a doubt, the one where you'd want to spend the most time but there are also some amazing views to be had at Lonesome!
HOW TO GET TO EXPEDITION NATIONAL PARK
Being some 660km west of Brisbane, Expedition National Park is not exactly a weekend destination for most people. Each time we've been to a part of Expedition, we did it as part of a week-long trip around the sandstone country.
Most of the park is inaccessible and undeveloped, but it still seems strange that Expedition National Park is so underrated, perhaps because it is rather remote. I had very low expectations of the whole area but it is really quite beautiful.
ROBINSON GORGE SECTION
Access to Robinson Gorge is via Taroom.
If you're coming from the south, you basically just follow Broadmere Road, then Robinson Creek Road, and left onto Glenhaughton Road.
We've only ever come from the north (Banana) via Taroom-Bauhinia Downs Road and Glenhaughton Road past Lake Murphy.
Keep going until you see the (left) turn-off into the national park.
The last kilometres to the campsite is a 4WD-only track with a couple of creek crossings (no water when we've been in June or July) and one steep rocky descent into the campground.
The road isn't actually that steep and usually fine for any soft roader as long as it's dry. But things can change rapidly in Queensland, and tracks can become impassible with only the teeniest amount of rain.
After heavy rains, Robinson Creek may become impassable, and you can approach Starkvale camping area from the north via Robinson Creek Road (specific details are on Queensland Parks & Wildlife Service). We usually go out this way. It's only 16km but always seems to take a while, lots of (dry) creek crossings.
BEILBA & LONESOME SECTIONS
Both Lonesome and Beilba are accessed from Carnarvon Highway north of Injune.
Beilba is 26km north of Injune and Lonesome is only a bit further (37km from Injune). Take Fairview Road for Beilba and then Beilba Road.
For Lonesome, keep driving until you get to the Arcadia Valley Road turn-off. Follow the road into the valley and turn off right at the bottom of the hill (signposted). The last few kilometres are on gravel road but it was very well graded when we went there a couple of years ago.
BEST TIME TO VISIT
Like any national park that's further west, Expedition is best visited over the cooler months of the year. We've only ever been in June or July.
In winter, the days are gorgeous, blue sky and sunny, with very little chance of rain. Temperatures tend to be perfect during the day (mid/high twenties) but fairly fresh at night.
Keep in mind that not only can this area be extremely hot during the summer, roads also become impassable with increased rain.
CAMPING AT EXPEDITION NATIONAL PARK
Each section at Expedition has a camping area but you'll only find a (composting) toilet at Starkvale, Robinson Gorge section. Starkvale also offers the largest campground with about 8 sites.
At Lonesome and Beilba, there are no facilities, except for a couple of picnic tables and some fire rings. Please camp responsibly and take all your rubbish.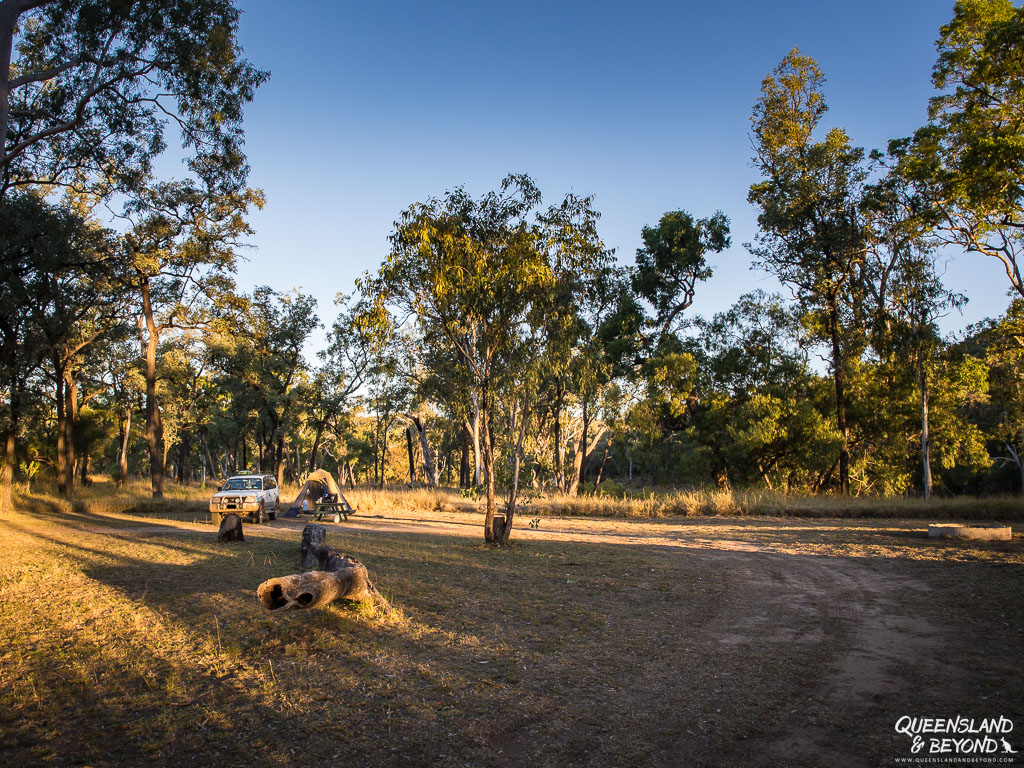 Plan at least two days for camping at Robinson Gorge, it's such a pleasant and relaxing spot. I could have stayed there for a few more days.
TIPS FOR VISITING EXPEDITION NATIONAL PARK
Travelling to more rugged places like Expedition requires some preparation.
Taroom or Injune aren't that far away but help may still not be immediately available. A few years ago, a father and his sons got stuck in the mud near Starkvale and almost died (a farmer ended up rescuing them).
Here are a few tips for your trip to Expedition:
4WD-accessible: Robinson Gorge is only accessible by 4WD and may be impassable in the wet. Approach Starkvale from the north after rain. Most of the road to Lonesome is paved, except for the last kilometres.
Carry sufficient fuel: From Robinson Gorge, the nearest fuel stations are in Taroom (~90km) or Rolleston (~170km).
Carry sufficient water: There is tank water at Starkvale (Robinson Gorge) but none at Beilba or Lonesome so you will need to bring both drinking water and water for washing up. Plan at least 5-7L per person per day.
Sun protection: Even in winter, the sun can still be strong out. The walks at Robinson Gorge are exposed so don't travel without your hat, sunnies and sunscreen.
Emergency supplies: While Taroom or Injune aren't that far, have a first-aid kit handy and extra food in case you get stranded. Mobile phone reception is non-existent at Starkvale. We carry a PLB (personal locator beacon) in case of emergency.
---
SHORT WALKS AT ROBINSON GORGE
There are only three developed walks in Expedition National Park, all of which are in the Robinson Gorge section. There are no accessible walks in either Beilba or Lonesome.
Two of the short walks can be done directly from the Starkvale camping area, while the third one requires either a short drive or a long walk.
The cliffs are unfenced at Expedition so just watch where you step.
ROBINSON GORGE LOOKOUT (4KM RETURN)
Starting at the creekbed end of the Starkvale camping area, the walk to Robinson Gorge lookout is fairly flat. It's exposed all the way so you may want to get going early if it's hot.
The gorge is all white sandstone cliffs and looks washed out if you there during the day. Early morning or late afternoon are best.
ROBINSON GORGE (6+KM RETURN)
If you want to go on a bit of a scrambling adventure, you can climb into Robinson Gorge.
Plan at least 2 hours if you want to explore the gorge a bit. Take plenty of water, you'll be quite exposed to the sun.
Take the Robinson Gorge Lookout track until you see the turn-off (almost at the lookout).
It's a steep descent into the gorge and there are no markers, including to the track back up. However, lots of people have left informal markers so just make sure you take a good look and remember where the track out starts.
When you get to the base of the gorge, you can turn left or right.
Right is definitely more interesting as you can eventually scramble into the wide open gorge part that you can see from the lookout up top.
The gorge is full of cabbage palms and rock pools of icy Robinson Creek, flanked by towering cliffs. It's quite beautiful down there but there's no formed track so it's all rock hopping and scrambling through the bush.
You could easily spend half a day here, looking at the rock formations and wandering to the narrow end of the gorge.
SHEPHERD'S PEAK (3.6KM RETURN)
The track to Shepherd's Peak takes you up onto a sandstone plateau overlooking the vast Expedition Ranges.
The trail starts across the road from the Starkvale camping area. It's flat initially and then slowly winds itself up onto the plateau with lots of steps.
On the plateau, there are crevasses so be careful where you step.
Sunset would be amazing from here. Take a torch if you go.
CATTLE DIP LOOKOUT (1.2KM RETURN)
This short track starts almost 3km north of Starkvale and unless you want to add an extra 6km, I suggest you drive. The road is quite rocky so expect to take a bit longer than 3km would normally take.
Cattle Dip Lookout gives you views over a very narrow part of Robinson Gorge.
Lookout almost sounds a bit too formal for what is really just the end of unfenced cliffs and a bit of scrambling around.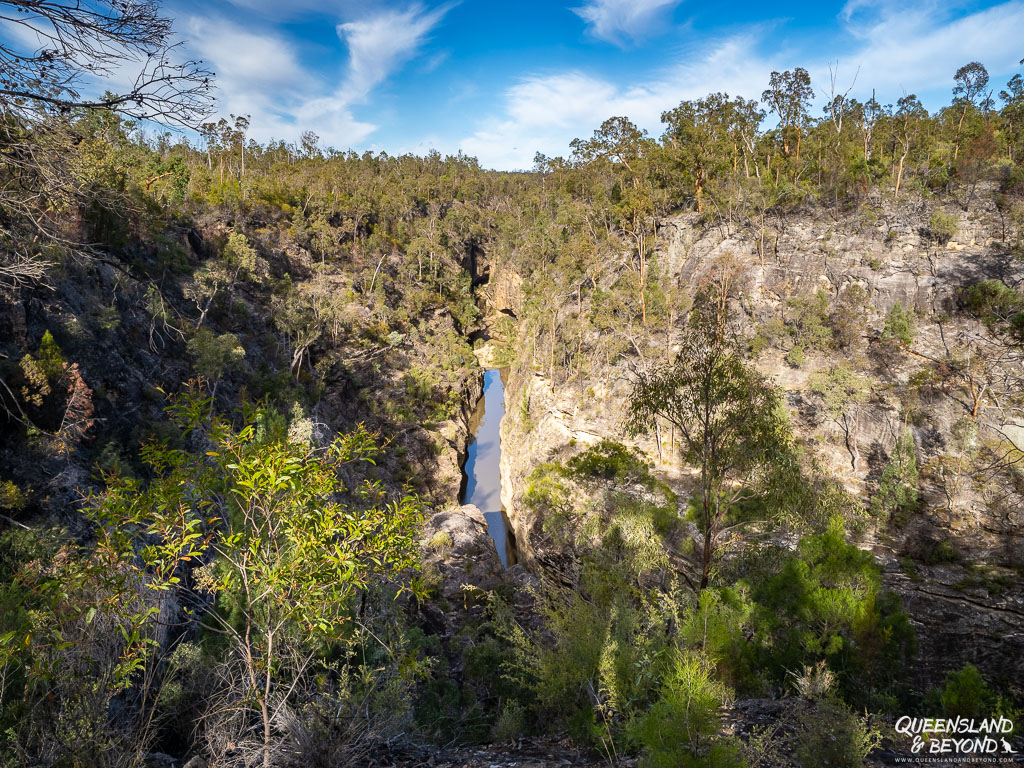 STARKVALE CREEK
Not a developed track but if you want to do some more scrambling and bush-bashing, and are an experienced hiker, you can follow Starkvale Creek towards Robinson Gorge.
Start at the day-use end of Starkvale.
You may only get as far as Bottlebrush Waterhole but if you can keep going, you should come out somewhere near Cattle Dip. That said, the gorge gets very, very narrow so may not be accessible towards the Robinson Gorge end.
I haven't done this myself but I know people have. Take plenty of water and a GPS/compass if you want to attempt this.
ARCADIA VALLEY AT LONESOME
As I said, there are no formal walking tracks at Lonesome but the general area is beautiful with giant plateaus and cliffs looming in the distance.
LONESOME LOOKOUT
The stunning Lonesome Lookout is just before you head down into the valley if you're coming from Injune. It really is a magnificent lookout so don't miss it if you're in the area.
You get some beautiful colours at sunset.
SCENIC DRIVING
The most spectacular part of the Arcadia Valley Road is towards the Injune end where you climb out of (or into) the valley.
But driving towards the range along Arcadia Valley Road from the north is equally amazing as the plateaus and ranges start appearing.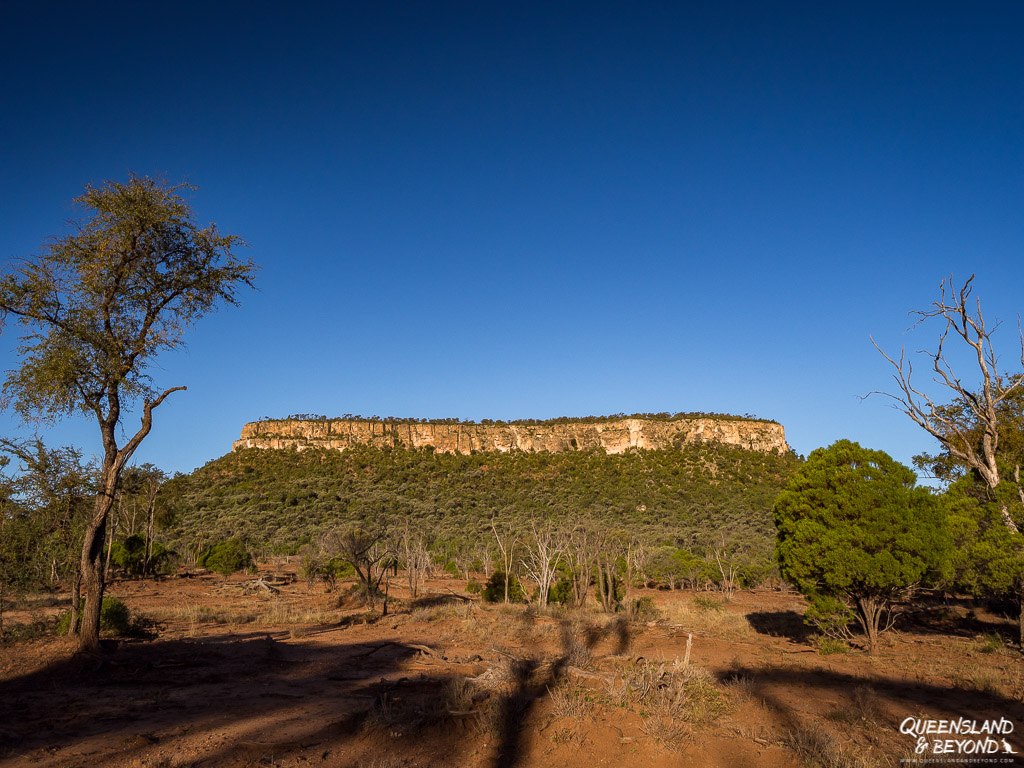 We also spent a bit of time driving along some of the dirt tracks near the Lonesome camping area. Especially in the late afternoon, the rock formations and cliffs look beautiful as they get a bit more colour.
---
SUMMING UP
Expedition is exactly our kind of place: Remote, rugged, a few walks to explore, and often nobody else in sight.
Climbing around Robinson Gorge is hard work but if you love scrambling about, you'll love it. And the views from Lonesome Lookout are hard to beat!
MORE INFORMATION
Check out Queensland Parks & Wildlife Service for information on facilities, how to book a campsite, more details on how to get there, and a location map of walks and lookouts.
---
MORE POSTS ON EXPLORING THE SANDSTONE COUNTRY
The most popular national park in Queensland's sandstone belt is, no doubt, Carnarvon Gorge, and rightly so. Here are my guides to camping and hiking tracks at Carnarvon Gorge.
Also part of Carnarvon National Park is Mount Moffatt, very different to Carnarvon Gorge but just as fascinating. I've got both a camping guide and an extensive guide to what you can see at Mount Moffatt.
---
PIN ME