Expedition National Park is on Kongabulla Country. I acknowledge the Traditional Custodians of this area and their connection to Country, and pay my respects to their Elders past and present.
---
You're certainly in a remote part of Queensland if you've manage to trek as far as Expedition National Park.
Part of the Central Queensland Sandstone Belt, Expedition National Park offers peace, quiet and very basic bush camping. With narrow gorges, expansive valley vistas and no-one else in sight, it's a great spot to get lost, be out of touch with civilisation and marvel at the beauty before you.
---
CAMPING AT EXPEDITION
Expedition National Park has three sections, none of which are exactly close by in terms of driving distance.
The main, and most popular, section is Robinson Gorge on the Expedition Range and located between Taroom and Rolleston. At a minimum, you'll be driving some 500km to Taroom if you're coming from Brisbane.
The other two sections, Beilba and Lonesome, are approached from Injune, an almost 600km drive from Brisbane. Neither section is accessible from the Robinson Gorge section. Expedition is a rather spread out national park that you have to approach from different directions.
We still haven't managed to camp at Beilba but both Robinson Gorge and Lonesome offered us exactly what we were craving: Solitude, a sense of remoteness and nothing fancy. Back to basics camping.
All three sections offer established camping areas but you also have the opportunity to do remote bush camping while hiking at Expedition.
STARKVALE CAMPING AREA | ROBINSON GORGE SECTION
If you want to explore beautiful Robinson Gorge, setting up camp at Starkvale camping area is going to be your best option. Unless you climb into the gorge, it won't take long to explore the area but the drive into and out of Expedition is in itself worth the long trek.
Starkvale is accessible by high-clearance 4WD vehicles (best entry point is from Taroom) but in dry weather, it's fairly easy to navigate the road into the camping area. Caravans or non-offroad camper trailer might struggle to get here, especially in wet weather. We've camped here twice, once in mid-June, the other time mid-July. Both times it was bone-dry and fairly cold but then again, things can change quickly out here.
The road into the campground leads through a (dry) creek bed but depending on weather conditions, it might become impassable after heavy rains (usually Nov-Feb).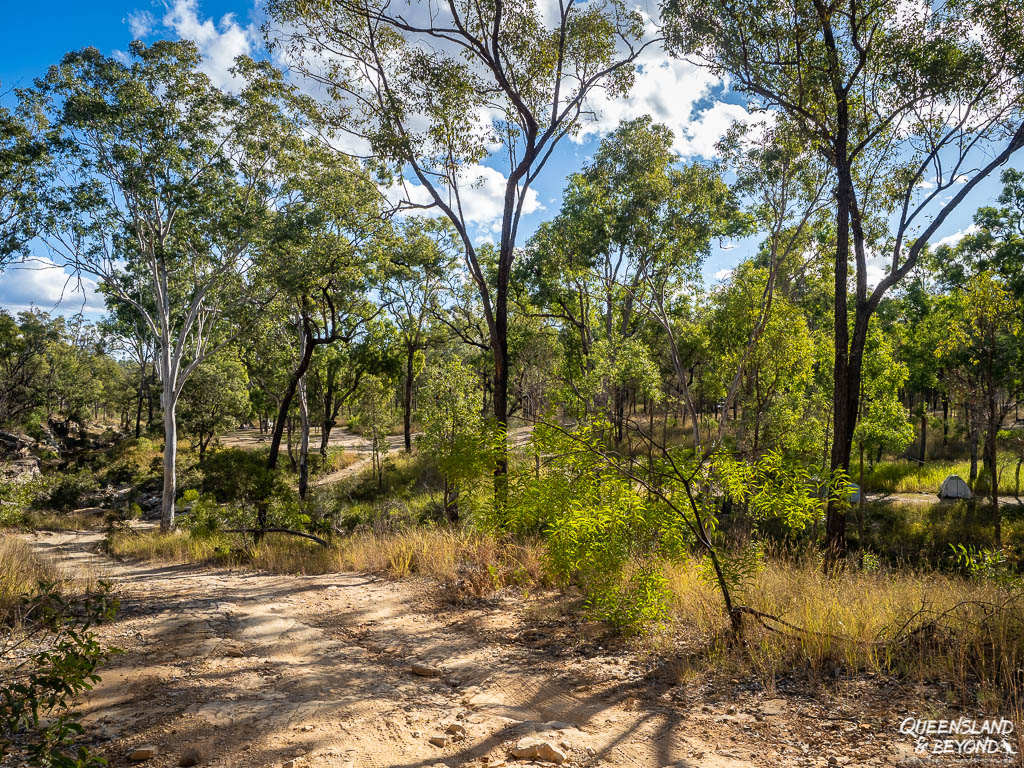 Starkvale campground is set up in a lovely bush setting with roughly 8 sites (unnumbered) with space for about 40 people. The map at the campground shows a few more sites than we could actually make out; the one behind the toilet is probably the worst (just because of its location).
We've camped here a couple of times now and would definitely come back. Even though the camping area isn't super scenic, the dry riverbed is just a really nice setting. The last time we stayed here, the camping area was actually booked out but it was still very relaxing and peaceful.
As on any outback trip, make sure you've got adequate water supplies and fuel, and be completely self-sufficient. There is a tap and tank water but we haven't used it for our (drinking) water supply, only for hand-washing and dishes. Keep in mind that Queensland Parks & Wildlife Service also advises not to rely on having any available.
We also always have toilet paper with us but didn't need it here as there was plenty. The toilet has been "upgraded" recently; now there are two pit toilets, which is great during school holidays as more and more people venture out here.
STARKVALE CAMPING AREA AT A GLANCE
PROS: Campsites with sufficient shade; vehicle-based camping; remote bush camp setting; close to walks and near the creek bed
CONS: Not much privacy when busy; can get busy-ish during school holidays
COST: $7.25 pp/pn; pre-booking required
Not sure what the tents and mozzies mean? Check out my tents and mozzies guides.
LONESOME CAMPING AREA | LONESOME SECTION
Most of Expedition National Park is undeveloped and this certainly goes for the Lonesome section. While you can drive around and get lost on various 4WD tracks, there are no marked walking tracks or lookouts beyond the stunning Arcadia Valley Lookout up on the escarpment.
From Arcadia Valley Road, it's another 500m or so to the camping area. It's well signed and easy to find.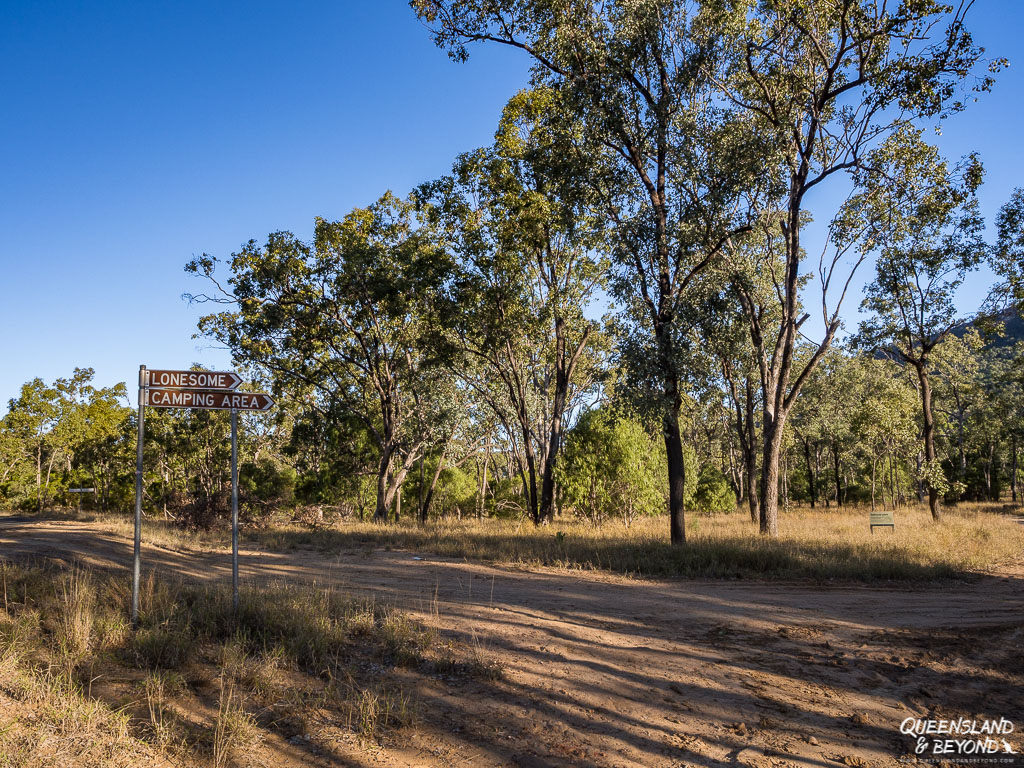 There's no water at Lonesome so make sure you've got enough supplies. And there is no toilet here but on the flip side, there are some picnic tables!
The camping area is a large dirt / grassy area (no defined sites) surrounded by scrub and open dry eucalypt forest. It's right next to the Dawson River but it didn't carry any water when we were there in July.
Unlike Starkvale, you won't actually need a 4WD to access the Lonesome camping area. A conventional vehicle should be fine, provided it's been dry.
The peace and quiet out here was unbelievable (though I did wish there had been a toilet 🙂 ). Practise responsible toilet habits if you haven't got your own porta potty setup.
LONESOME CAMPING AREA AT A GLANCE
PROS: Camp spots with sufficient shade; vehicle-based camping; remote bush camp setting; picnic tables
CONS: No privacy if it was busy (highly unlikely out here); no toilet
COST: $7.25 pp/pn; pre-booking required
Not sure what the tents and mozzies mean? Check out my tents and mozzies guides.
BEILBA CAMPING AREA | BEILBA SECTION
Like Robinson Gorge, Beilba camping area is only accessible by 4WD.
Since we haven't been there, I don't really know how beautiful or ugly it is but since it's a spot in open woodland with views over Beilba Gorge, it sounds rather fantastic.
And like Lonesome camping area, there's no toilet here so come prepared.
---
MORE INFORMATION
Find more details on the three sections at Expedition National Park, including how to book a site, on Queensland Parks & Wildlife Service.
You might also find my detailed guide to Expedition National Park useful to get a sense of what you can expect at Expedition.
---
MORE POSTS ON CAMPING IN CENTRAL WEST QUEENSLAND
Mount Moffatt (part of Carnarvon National Park) is one of my favourite spots in Central Queensland. The camping here is fantastic, and you've got plenty of options to choose from. Another option is to camp at Carnarvon Gorge, the gorge is, well, gorgeous.
If you want to explore a plateau with some gorgeous short walks around, camping at Blackdown Tablelands National Park near Emerald would make a great choice.
---
PIN ME