Carnarvon National Park is on Bidjara and Nuri Country. I acknowledge the Traditional Custodians of this area and their connection to Country, and pay my respects to their Elders past and present.
---
Carnarvon National Park is a spectacular spot in Queensland's Sandstone Belt.
While Carnarvon Gorge is quite popular (justifiably so), others parts of Carnarvon National Park see far fewer visitors.
So if you want to venture somewhat off the beaten track, I suggest you make the trek out to the Mount Moffatt section of Carnarvon National Park and set up camp for a few days.
I promise, you won't find too many people here!
After our first, super rushed trip to Mount Moffatt in 2014, we went back last year to give us a bit more time in the park and explore all the walks and sights.
---
CAMPING AT MOUNT MOFFATT: BACK TO BASICS
Camping at Mount Moffatt is a bit like camping at Expedition National Park: It's back-to-basics, self-sufficient camping, and you're lucky if you ever meet a ranger. And just like Expedition National Park, you'll need a high-clearance 4WD vehicle to access the park and camping areas.
With the closest town being at least four hours away (Injune: ~4-5 hours; Mitchell: ~6-7 hours), I'd definitely recommend camping in the national park, and not just going there as a day trip.
Like with any bush camping, make sure you've got enough supplies, including water, when you come to Mount Moffatt.
All camping areas have water taps but don't rely on water being available. It's tank water and the tanks may or may not be full. In any case, you'll probably want to boil it before drinking it. Or just use it for things like washing your hands or the dishes.
MOUNT MOFFATT CAMPING AREAS
You've got the choice of four camping areas at Mount Moffatt.
Dargonelly Rock Hole and West Branch camping areas are the two larger spots (about 30 people each), while Rotary Shelter Shed and Top Moffatt are fairly small (3-4 sites each).
Remember that you'll need to pre-book your campsite. You won't be able to just rock up and pay your fees there.
ROTARY SHELTER SHED
Back in 2014, we simply rocked up at Mount Moffatt (no pre-booking required back then) and decided that Rotary Shelter Shed looked fantastic. Sprawling views over Carnarvon National Park and only one other couple in a camper trailer in the same camping area.
And because I loved it so much, we returned to the same spot last year.
The Rotary Shelter Shed campsite is on the High Country Drive track, and the furthest into the park (30km from the entrance) of the four camping areas.
This dirt road also goes out to the Head of Carnarvon Creek and often gets closed due to weather. It can get very wet and muddy around here, and the rangers might lock the gate.
In fact, in 2014 we got rained out and by the next morning, the road had turned into an ankle-deep mud track. In 2018, however, it was totally fine.
There is a water tap at Rotary Shelter Shed but be aware that the tap is located pretty close to the ground. This makes filling up any container or bottle a bit of a challenge. We really only used it to wash our hands and the dishes.
Remember to use the tank water sparingly.
There aren't any clearly defined sites at Rotary Shelter Shed but you can kind of make out the three, flatish spots that are used for camping. Of the four campgrounds, it's the most uneven camping area so if you've got a large setup, I'd probably choose one of the other areas.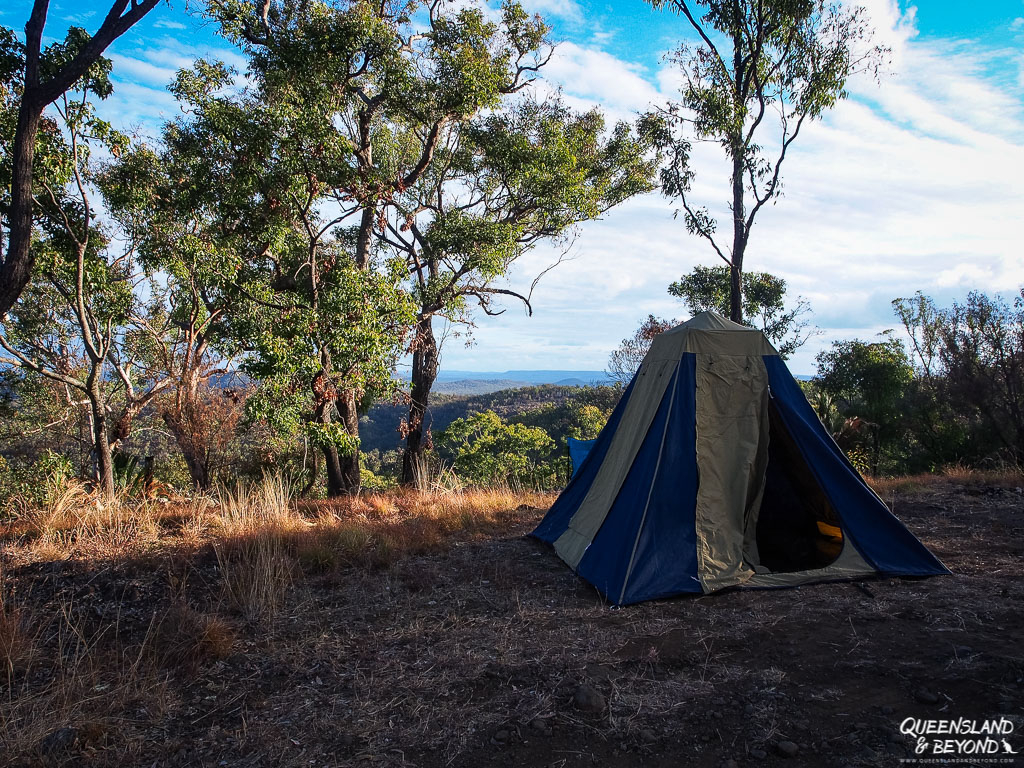 Being at elevation (about 1,000m), camping here in winter can be a cold affair (around 0°C) so make sure you've got some warm woollies to keep you toasty on the rather fresh nights and mornings.
Out here, it's all about self-sufficient bush camping without any real facilities but at least you have a pit toilet and won't need to dig a hole to bury your waste.
ROTARY SHELTER SHED CAMPING AREA AT A GLANCE
PROS: Beautiful views (and sunsets) over the Carnarvon escarpment; vehicle-based camping; remote bush camp setting
CONS: Sites are a bit uneven; can be very cold in winter (I really can't think of much, I love this spot so much!)
COSTS: $7.25 pp/pn (2023); pre-booking required
Not sure what the tents and mozzies mean? Check out my tents and mozzies guide.
TOP MOFFATT
We only stayed at the Top Moffatt camping area for one night, and it was freezing. Absolutely freezing.
It's actually a really pleasant spot but I was disappointed when we first got there. There are no views to speak of and we'd left our site at the beautiful Rotary Shelter Shed behind to come here. Somehow in my mind, I thought we'd have views of something – I mean, it's called Top Moffatt, right?
You are camped at the base of Mount Moffatt (hence, Top Moffatt) but you can't really see the mountain from the campsite. You can only glimpse it on your way into the campground.
Top Moffatt is at the end of a side-track, some 15km off the main Mount Moffatt circuit drive. There are a couple of creek crossings along the road but both were very shallow in June and no problem for any high-clearance 4WD.
There's a creek on one side of the campground that we scrambled around for a bit, and a track to an old homestead, which we didn't really explore since it was getting dark.
TOP MOFFATT CAMPING AREA AT A GLANCE
PROS: Vehicle-based camping in a grassy area; isolated bush camp setting; new drop toilet; water tap (tank water only)
CONS: No views as such; can be very cold in winter; long drive to campground (away from the main loop drive)
COSTS: $7.25 pp/pn (2023); pre-booking required
Not sure what the tents and mozzies mean? Check out my tents and mozzies guide.
WEST BRANCH
If I had to choose one of the larger camping areas, I'd probably go for West Branch but only because it's a bit more isolated. If Dargonelly Rock Hole wasn't too busy, I'd go there.
It's a large open-ish area close to the west branch of the Maranoa River, and also serves as one of the camp spots (and as an alternative entry/exit point) on the Carnarvon Great Walk.
We stopped for lunch here and did the Maranoa Circuit Walk (cool swing bridge!). In the meantime a couple of people pulled in to set up camp. The rest of the campground was completely empty though, and that was during the July school holidays. So you shouldn't have any issues finding a spot.
WEST BRANCH CAMPING AREA AT A GLANCE
PROS: Vehicle-based camping in a grassy, shady area; bush setting; new hybrid toilets (very nice!); plenty of water taps (tank water only); a short walk nearby (3km circuit)
CONS: Away from the main loop drive (though that might be an advantage); might be noisy if busy
COSTS: $7.25 pp/pn (2023); pre-booking required
Not sure what the tents and mozzies mean? Check out my tents and mozzies guide.
DARGONELLY ROCK HOLE
Of the four camping areas at Mount Moffatt, Dargonelly Rock Hole is usually the busiest.
It's easily accessible, just off the main Mount Moffat Circuit Road and only 10km from the park's entrance. It's beautifully situated beside Marlong Creek.
There are two toilets here, one new hybrid, the other an older drop toilet. I found both to be very clean.
This camping area's got plenty of shade but also some sunny spots if you come in the middle of winter and actually want to soak up some sun. Overall, it seemed very flat so it definitely suits larger setups (of which there were a few).
Marlong Creek and the permanent rock hole is quite pretty, and we spent a good little while just scrambling around exploring.
DARGONELLY ROCK HOLE CAMPING AREA AT A GLANCE
PROS: Vehicle-based camping in a grassy, open area; clean hybrid toilets; water taps (tank water only); pretty creek setting; suitable for larger camping setups; close to some walks and attractions
CONS: Can get busy
COSTS: $7.25 pp/pn (2023); pre-booking required
Not sure what the tents and mozzies mean? Check out my tents and mozzies guide.
---
SUMMING UP
Since it's located in Central Queensland, Carnarvon National Park gets very hot during the summer so avoid November to March. The best time to come is May to August, though be prepared for temperatures to drop to 0°C (or below) at night during June/July.
If you're flexible, avoid school holidays and you'll hardly meet a soul. In 2014, we went in mid-June and saw about three cars throughout the whole park.
In 2018, we returned during the July school holidays and it was much busier but I can't say it was busy.
With four camping areas available, you've got some choices to make here. Top Moffatt and Rotary Shelter Shed are furthest so if you're pressed for time or have a bigger setup, choose West Branch or Dargonelly Rock Hole.
They're all pretty nice, and I'm sure you'll have a great time.
Remember to come prepared with supplies and sufficient water. Don't rely on any water being available, this part of Queensland is still in drought.
And remember to take your rubbish home.
MORE INFORMATION
I've written a whole guide on what to see and explore at Mount Moffatt so feel free to check that out.
More details on the four camping areas at Mount Moffatt, including how to get there, how to book a site and what to bring, are also on Queensland Parks & Wildlife Service. To get an idea of where exactly the camping areas are, have a look at the Mount Moffatt section map.
---
MORE POSTS ON CAMPING IN CENTRAL QUEENSLAND
Camping at Carnarvon Gorge itself is a bit tricky as you can only camp inside the national park at certain times of the year. Here's my quick guide to camping at Carnarvon Gorge.
Expedition National Park is another great spot if you want to get off the beaten path and bush camp in a remote location.
Some 100km from Emerald is gorgeous Blackdown Tablelands National Park, offering camping in a forest setting high up on a plateau.
---
PIN FOR LATER