Carnarvon National Park is on Bidjara and Nuri Country. I acknowledge the Traditional Custodians of this area and their connection to Country, and pay my respects to their Elders past and present.
---
The first time we ventured into the Mount Moffatt section of Carnarvon National Park was in the winter of our first year on the Sunshine Coast.
The trip was incredibly rushed, we got rained out and ended up seeing only half of this stunning national park. Five years later, we went back as I had unfinished business at Mount Moffatt. And I'm so glad we did.
High up in Queensland's central highlands and part of the Great Dividing Range, most of the Mount Moffatt section is above 700m and known as the "Roof of Queensland". Since I'm not exactly a beach bum, I'm much more drawn to the rugged and wild beauty of the Queensland outback.
Mount Moffatt is, hands down, one of my most favourite spots in Queensland.
---
MOUNT MOFFATT (CARNARVON NATIONAL PARK): KNOW BEFORE YOU GO
The national park lies in Queensland's Sandstone Belt and is characterised by towering sandstone formations. Mount Moffatt is one of four accessible sections of Carnarvon National Park with Carnarvon Gorge being the most famous.
Although Carnarvon Gorge and Mount Moffatt lie within hiking distance of each other, there is no longer a direct driving route from one to the other. You can still see the remnants of where bush tracks would once have been but these days, you'll have to take an enormous detour to travel from Carnarvon Gorge to Mount Moffatt.
HOW MUCH TIME TO PLAN
The first time we camped at Mount Moffatt, we had less than 24 hours in the park.
Partly because we were unprepared for how long it would take to cover the distance between the two sections, partly because someone had told us that Mount Moffatt wasn't very exciting, and partly because we got rained out and thus sat in the tent debating what to do instead of doing it.
The second time we spent two nights camping at Mount Moffatt because I was adamant that I wanted to explore all the walks, do the scenic drive again, and not rush around like a crazy chook.
So, my recommendation would be to spend at least two nights, more if you prefer to take things leisurely and/or aren't up for doing all the walks in a day. It's a long way to come just for a night, and the camping areas are really nice.
HOW TO GET TO MOUNT MOFFATT
Mount Moffatt is some 700km west of Brisbane. From Roma, it's about 230km northwest.
You can approach the national park from either Injune (140km, about 4.5 hours) on the Carnarvon Highway, or Mitchell (200km, about 6 hours) on the Warrego Highway. Either way, travel is fairly slow as roads can become quite corrugated.
The first time we came from Carnarvon Gorge, which looks so close but meant a huge detour of a few hundred kilometres (or 338km to be exact) to get to Mount Moffatt. It seemed to take forever.
There are a couple of interesting spots if you come through this way, which might make up for all the endless driving. 🙂
FROM INJUNE
Take either Westgrove Road or Womblebank Gap Road, both will get you to Mount Moffatt Road.
In 2014, we took Westgrove Road to Mount Moffatt, and then Womblebank Gap Road on our way out. Westgrove Road has a ton of floodways and creek crossings and is slower, it takes about an hour longer but we wanted to see the scenery and turn our trip into a loop drive.
Most of Womblebank Gap Road is now paved, you've only got the last 50 or so kilometres on dirt, making this route a much faster trip.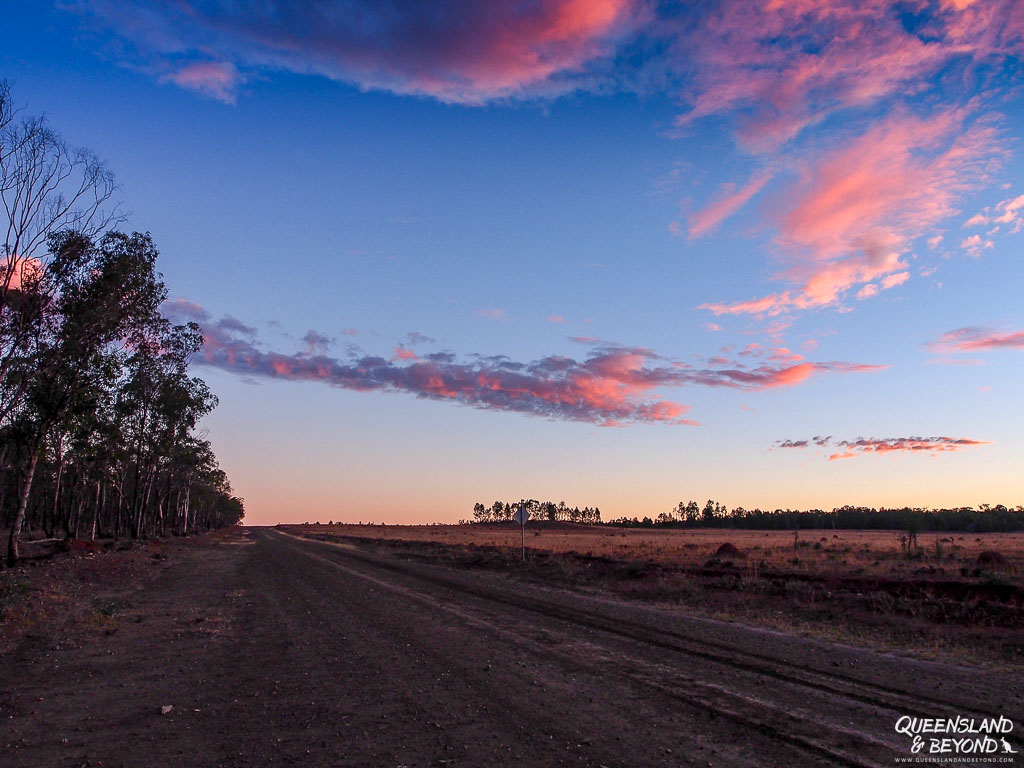 It was extremely dry when we went along Westgrove Road, and all I got to see was dust and no water in the creek beds. But with a bit of rain, this road probably turns into a clay pan and staying on the road would become much more of a challenge (we've been there!).
FROM MITCHELL
Take Forest Vale Road just outside Mitchell, and then onto Mount Moffatt Road. It's actually signed reasonably well so shouldn't be too hard to find.
Last year, we came from Mitchell and came up along Forest Vale Road. I don't remember it being particularly scenic but the drive was so incredibly fast, we could hardly believe how quickly we got to Mount Moffatt compared to our first trip.
Some 10km south of the national park boundary, you'll pass the historic Old Slab Hut on Mount Moffatt Road. We thought it made for perfect spot for lunch, which we enjoyed until we got interrupted by some not-so-friendly people on our first trip.
Second time round, we had it all to ourselves and had a bit more of a look around the old hut.
BEST TIME TO VISIT MOUNT MOFFATT
The best time to visit Mount Moffatt is during winter (May onwards). It does get cold (below 0°C) but the days are gorgeous. You'll have clear blue skies and sunny weather.
Summer is simply too hot and the roads might get cut off with the wet season being in full swing. If you don't mind warmer temperatures, shoulder season (Oct/Nov) could be ok but be prepared for hot days and bring enough water to last you your entire stay in the park.
CAMPING AT MOUNT MOFFATT
Camping at Mount Moffatt means back to basics and being self-sufficient. The only thing you can rely on is having a drop toilet available at each campsite.
Camping, however, is fantastic here. You've got four camping areas to choose from, and even during winter school holidays none of them were so busy as to put me off.
My favourite camp spot at Mount Moffatt is definitely Rotary Shelter Shed. It gets pretty cold up there but with seriously beautiful views over the tablelands, it's hard to beat.
Just be aware that the 4WD track leading to this camping spot gets seriously wet and dangerous, and might even get closed if it's too wet.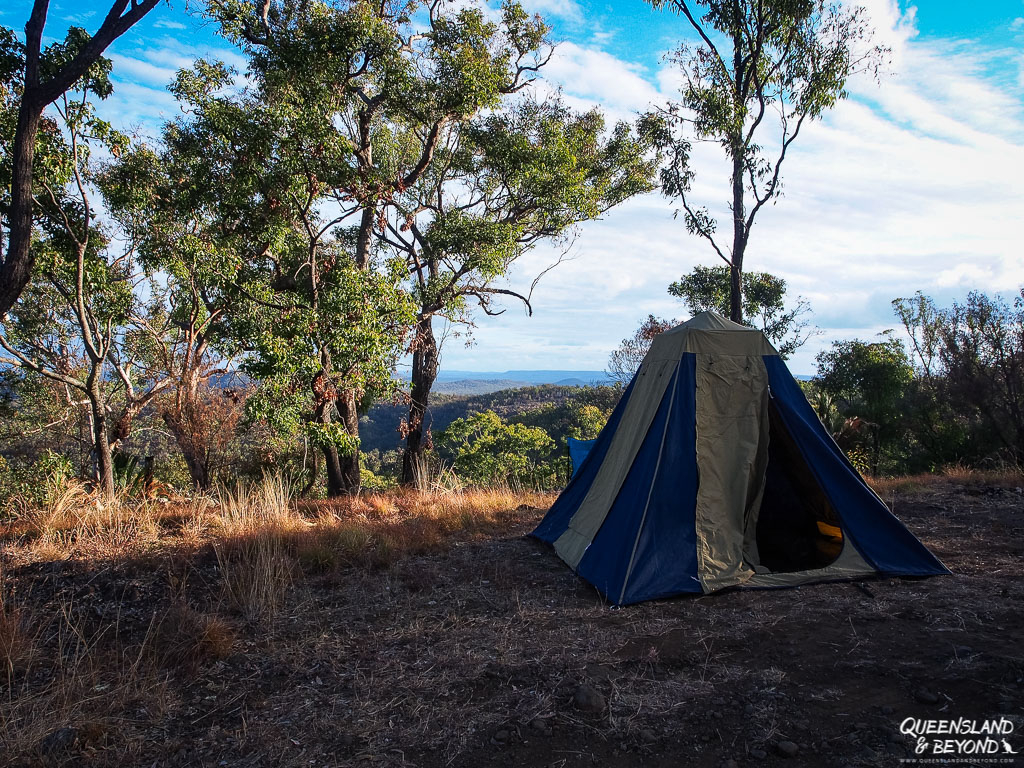 TIPS FOR VISITING MOUNT MOFFATT
Being some 700km west of Brisbane and accessible by high-clearance 4WD only, you need to make sure you're prepared for a trip into this remote corner of Queensland.
Here are a few tips:
Carry sufficient fuel: The nearest fuel stations are in Injune (110km) or Mitchell (200km), and you don't want to run out while you're doing the scenic drive.
Carry sufficient water: There is some tank water out here but don't rely on it. After a dry summer, there may be very little in the tanks. Plan at least 5-7L per person per day.
Be ready for cold temperatures: In winter, temperatures can drop to below 0ºC. Especially at Rotary Shelter Shed and Top Moffatt, camping can be a very fresh affair. Bring clothes you can layer as the days can still be warm and sunny.
Bring emergency supplies: While Injune or Mitchell aren't that far, it always pays to have a first-aid kit handy and extra food in case you get stranded. Mobile coverage is usually patchy, if not non-existent, out here.
---
EXPLORING MOUNT MOFFATT
At Mount Moffatt, you won't find the rising sandstone cliffs that Carnarvon Gorge is so famous for but you'll get to enjoy sprawling valley views, fascinating Aboriginal rock art and, best of all, far fewer crowds.
SCENIC DRIVE AROUND MOUNT MOFFATT
To visit the main sights at Mount Moffatt (see the next section), you'll naturally be driving around the park but doing the whole Mount Moffatt Circuit Drive is really nice regardless.
On both our visits, the main road in the park wasn't too rough but the tracks are sandy (on the circuit drive) so driving can be slow-going at times. Also, keep in mind that while the park isn't huge, you can easily rack up 100km just driving around. Extra fuel could come in handy so you can make it back to civilisation if you've got a small fuel tank.
Just on the loop drive, the vegetation changes from sandy tracks lined with gorgeous gums and eucalypt trees, open woodland to grassy plains where you'll most likely see some wildlife. Plus, you've got all the main sights on this track.
The second scenic drive you can take, and one I definitely recommend you do, is the High Country Drive up onto the Consuelo Tableland and to the Head of Carnarvon. You'll get some fabulous views into the plains and tablelands along the way!
A note of caution, this road really is a 4WD track.
If it's dry, it's no problem at all. In the wet though, the ground turns into slippery, gooey black clay mud that wants to swallow up your feet whole. On our first trip, we camped at Rotary Shelter Shed and it rained so heavily overnight that we basically slid down the hill on our way home.
And because of that, this track often also gets closed but if it's open, I'd say seize your opportunity!
As you follow the track, you could stop at the Rotary Shelter Shed campground and marvel at the views, or keep going to the lookout at Top Shelter Shed. There's a picnic table with views that are hard to beat.
From there the track takes you through the gorgeous Mahogony Forest, full of beautiful stringybark trees, macrozamia palms, and lots of wildflowers. I just love driving through there.
The track ends at the Head of Carnarvon, which is where the headwaters of Carnarvon Creek begin. However, we tried finding the exact spot, and it's pretty much impossible.
It is a little disappointing though as there's not much of view or anything to see. We scrambled around and one time we almost walked into a rotting and definitely stinky wild pig. That was a little gross.
From the High Country Drive, you can turn off to do the Kenniff Drive, which in itself isn't that exciting. The road ends at a locked gate at the incineration site where the Kenniff Brothers are believed to have burnt their murder victim (more on that below).
Lastly, you could drive out to Top Moffatt (15km) but again, there isn't much to see along the way and there are no views at the campground. So I'd definitely suggest heading up the High Country Drive instead.
MOUNT MOFFATT WALKS
Surprisingly, there are more walks to do than you might expect for such a remote spot in Queensland. You could easily spend a day or two hitting the various trails and seeing some pretty special sights at Mount Moffatt.
Walks range from short 50m tracks to half-day hikes, looping around some stunning sandstone formations. And being so remote, you're unlikely to meet anyone and will likely have the sights all to yourself.
SHORT WALKS
There are plenty of short to very short walks at Mount Moffatt, from Cathedral Rock, Kookaburra Cave to Marble Arch.
CATHEDRAL ROCK (380M RETURN)
Cathedral Rock is one of the first stops as you enter Mount Moffatt. It's a massive sandstone bluff that you can get up and close with. There's some rock art (hand stencils) on one of the ledges. Be careful not to touch it, rock art tends to be very fragile and is easily damaged (plus, you want to be respectful).
MARLONG ARCH (200M RETURN)
3km past the camping area at Dargonelly's Rock Hole (along Circuit Drive) is Marlong Arch. You can see the soft sandstone arch from the road but it's worth a stop and exploring the area a bit.
KOOKABURRA CAVE (1.7KM RETURN)
Keep going along Circuit Drive to reach Kookaburra Cave, which is a small overhang with an Aboriginal stencil that resembles a kookaburra. I really liked this piece of rock art.
LOT'S WIFE
Lot's Wife is a giant sandstone pillar not far from Kookaburra Cave. You can walk around the entire pillar but try not to climb it since the sandstone is so soft and fragile. Pick up a broken piece from the ground, you'll see that it'll literally break in your hands.
The name must obviously be a reminder of the biblical story of Lot's wife (and their daughters) being turned into a pillar of salt after she looked back to Sodom and Gomorrah (and when God told them not to turn around).
MARLONG PLAIN
We didn't make it out to Marlong Plain on our first trip to Mount Moffatt but this ended up being one of our favourite spots on our last trip.
From the locked gate, you can walk out onto to a large grassy plain from where you can spot sandstone cliffs and ridges in the distance. But in the late afternoon, the grass gets all lit up and sun creeps over the cliffs giving them beautiful golden hues.
We didn't see anyone else out here, and it really just felt like a serene spot.
OLD STOCKYARDS
With Mount Moffatt being old cattle country, you can meander around some old stockyards near the ranger's hut and information shelter. Even though they've been repaired to some extent, the original stockyards were first built over a hundred years ago (1902).
KENNIFF INCINERATION SITE
Lastly, you could head out to the Kenniff Incineration Site but there isn't much to see now beyond a plaque and a dry creek bed.
The Kenniff Brothers are believed to have murdered a police constable during a shoot-out in the early 1900s. Historical evidence suggests that the brothers then burnt the body near a creek bed at Mount Moffatt where there's a plaque commemorating the constable today.
The brothers were wanted for cattle stealing, a crime that was rampant in the area at the time. The double murder then led to a Queensland-wide manhunt, and both brothers were eventually tried and sentenced in 1903.
The Kenniff Cave, where the Kenniff Brothers are said to have hidden out, is, unfortunately, now closed due to unstable rock layers. We didn't have time to explore this five years ago, and now it's off-limits. Oh well.
LONGER WALKS
If you're up for bigger hikes, there are a couple of slightly longer walks at Mount Moffatt.
There are two circuit walks at Mount Moffatt, one of which is excellent while the other is a quiet (though largely unspectacular) bushwalk that'll be more exercise than anything else.
CIRCUIT WALK (5.8KM LOOP)
The Circuit Walk takes in three different sites: The Tombs, the Chimneys and the Looking Glass. You can do each of these walks individually (as return walks from the visitor info boards) but by combining them, you'll end up with a fantastic loop hike.
The walk starts opposite Cathedral Rock, not far from the cattle grip at the entrance of the park. It's only spot in the park where you'll find toilets (besides the campgrounds).
We did the hike anti-clockwise but either way should be fine. You can't really get lost, just follow the single file, sandy track.
If you go anti-clockwise, the first spot you hit is The Chimneys (1.4km return), three sandstone pillars that have remained on a bluff while the rest of the top has eroded away.
From there you're onto The Tombs (4.2km return). Of the three sites, all of which are really cool, this one is definitely my favourite.
The Tombs are an Aboriginal burial site, something I haven't experienced elsewhere. It felt special and sacred walking along the foot of the giant rock wall with carved out burial chambers. This is still a sacred creation site for the Bidjara people so keep that in mind as you wander along.
And unfortunately, the burial chambers were desecrated in the early 1900s. Queensland National Parks points out that,
Sadly, by the end of the 19th century, the site had been robbed of this material, leaving little evidence of an elaborate mortuary culture.

QUEENSLAND PARKS & WILDLIFE SERVICE
You also find some incredible Aboriginal rock art at The Tombs. There are over 400 ochre stencils, and some are so amazingly vivid, you wonder how they've been preserved like this.
Like with all rock art sites, stay on the boardwalk and leave it alone.
The last sight on this loop walk is the Looking Glass (1.9km return), yet another eroded sandstone structure. High up on a sandstone precipice, wind has turned a cave into a looking glass, which now looks like it stands guard beside the (dry) Maranoa River.
MARANOA CIRCUIT WALK (3KM LOOP)
The Maranoa Circuit is a flat loop through open bushland, starting at the West Branch camping area. To find the walk, look for signs to the Carnarvon Great Walk on the left side of the road, and you'll probably spot the swing bridge.
The neatest part of the walk really is crossing the (dry) Maranoa River via a swing bridge. We tried swinging it a bit but it's a fairly solid bridge!
From there you follow along the Carnarvon Great Walk for a little bit but then turn off on a circuit loop back to the bridge. It's well marked so you can't really get lost.
Besides the swing bridge, it's not the most exciting bush walk but it's pleasant enough if you want some exercise. We did actually spot a wallaby or two, and the smooth-barked apple trees and eucalypt trees are quite gorgeous.
---
SUMMING UP
The Mount Moffatt section of Carnarvon National Park should give you enough to do for at least a couple of days. While it can get cold in winter, I still reckon it's the best time of the year to come. Just make sure you've got a super warm sleeping bag and lots of layers to wear, and you'll be right! 🙂
Mount Moffatt is remote, rugged and beautiful, and the rock art is absolutely incredible here. This place has certainly got a firm spot in my heart.
MORE INFORMATION
Queensland Parks & Wildlife Service (QPWS) has more information on the culture and history of Mount Moffatt, from its Aboriginal history (and a place of conflict between settlers and indigenous people) to being cattle station land, pastoral times, and the gruesome story of the Kenniff outlaws.
You can also find a range of maps and brochures on Mount Moffatt by QPWS.
---
MORE POSTS ON CENTRAL QUEENSLAND
If you're not sure where to camp at Mount Moffatt, here's my guide to camping options.
For more ideas on where to find rock art in Queensland, check out my post on Aboriginal rock art.
Carnarvon Gorge is the well-known and stunning part of Carnarvon National Park. Hiking into Carnarvon Gorge makes for a fabulous two-day adventure.
Expedition National Park is also "nearby" and offers remoteness, solitude and some beautiful sandstone cliffs.
---
PIN ME