Euriumbula National Park is on Gooreng Gooreng Country. I acknowledge the Traditional Custodians of this area and their connection to land, sea and community. I pay my respects to their Elders past and present.
---
Queensland's Discovery Coast has plenty of coastal towns and national parks on offer, as well as being particularly popular for turtle watching during December to April.
We first spent three days relaxing at Deepwater National Park, some 120km north of Bundaberg, and then headed north towards the holiday towns of Agnes Water and Seventeen Seventy.
Our stop for the next two nights was Eurimbula National Park so what's there to do?
---
EXPLORING THE DISCOVERY COAST
I didn't really know what to expect of the coastal towns of Agnes Water and Seventeen Seventy, other than that a couple of people had raved to me about them. What I didn't expect were insanely busy holiday towns! It reminded me of Philip Island in Victoria over Christmas/January, there were sooo many cars and people.
So if you want to explore either place, make sure you come outside the very busy December/January summer season.
AGNES WATER
Agnes Water seems a pleasant sort of spot for a beach holiday but I honestly struggled to see what was so fabulous about it that it would make the 430 km drive from the Sunshine Coast worth it.
There's nothing wrong with it, it's got tons of holiday accommodation, a patrolled safe-swimming beach, little shops and cafes, fishing and boating, fantastic weather…
Kind of what I've got on the Sunshine Coast (minus the stingers)! 🙂 So I'm just not sure I'd want to drive six hours for it.
But my impression is very holiday-season-coloured, and I expect it's quite different in the off-season. I'm pretty sure we didn't see Agnes Water at its best.
SEVENTEEN SEVENTY (1770)
Seventeen Seventy is all about boating and fishing, which I must say I find incredibly boring. But it seemed a bit more laid back and picturesque than Agnes Water.
It's named after Lieutenant James Cook who supposedly landed here in May 1770, his first time in Queensland and so making the Town of 1770 the "birthplace of Queensland".
EURIMBULA NATIONAL PARK
A pie, and fuel and water container refills later, we were on our way to Eurimbula National Park, a mere 25km away from Agnes Water. The plan was to stay two nights. Since we couldn't get permits for the same camping area, we camped at Middle Creek and then Eurimbula Creek, neither of which impressed, unfortunately. 🙁
Middle Creek is all about boating, and as I discovered on this trip, the boating/fishing and camping people are a different kinda crowd. They struck me as somewhat… buffoonish. I just say… very loud music blaring, generators, and if you're lucky a nod of greeting. Or not.
The next morning we packed up fairly early and moved to the Eurimbula Creek camping area.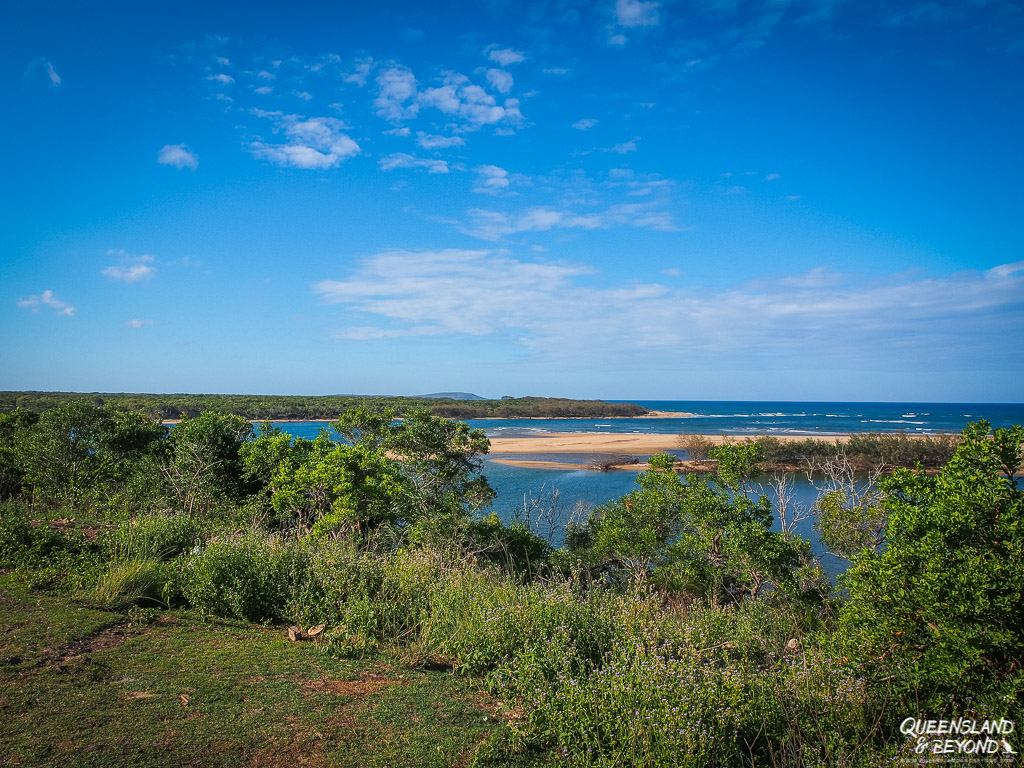 Since Eurimbula Creek was entirely mozzie-infested, the husband, the great mozzie magnet, ended up spending the best part of the day inside the tent. Whilst he was wrapped into a long-sleeve shirt, long pants, socks and shoes, I was boiling in my bikini. And still he managed to get so bitten that his hands and wrists were swollen to almost double the normal size.
And yes, he also used insect repellent but these biters were something of a different kind! Needless to say that we left very early the next morning and it wasn't his most enjoyable camping experience.
---
SUMMING UP
After our fabulous time at Deepwater, this part of the Discovery Coast, in particular Eurimbula National Park, was a bit of a letdown. I can see the appeal of Seventeen Seventy with its pretty coastline but probably only in the off-season.
There's only one walk at Eurimbula (Ganoonga Noonga Lookout, 720m return) but we didn't feel like exploring it. Bustard Beach would be nice if it wasn't for the stinky mangroves nearby and the insane amount of mozzies inhabiting the area.
Eurimbula is all about boating, fishing and jet-skiing, none of which really appeal to us. Clearly this was a case of lack of planning!
The region might be ok in the off-season but over Christmas, it's busy and unpleasant, and wasn't the spot for us.
MORE INFORMATION
Check out Queensland National Parks on Eurimbula for more information, including how to get there, campgrounds, and how to book your site.