After a fairly relaxing week away on the famous Gold Coast, I'm back in even more relaxing "regional Australia", the Sunshine Coast. Both coastal stretches offer plenty of beach, plenty of sunshine, and plenty of relaxing vibes. But whilst the Gold Coast is all glitzy and sparkly, the Sunshine Coast tends to take a more cruise-y approach.
So here I am, finding myself comparing the two coastal stretches in south-east Queensland. I freely admit that my views are biased and I don't mind one bit! 🙂
THINGS I LOVE ABOUT THE GOLD COAST
Since both coasts get glorious weather, I'm going to leave that one aside…
1. THE FABULOUS NATIONAL PARKS IN THE GOLD COAST HINTERLAND
We didn't get to explore them much on this trip but I've previously been to Springbrook NP and Lamington NP and the walks we did there have been just fantastic. There are so many walks to choose from, from 500m strolls to a lookout to 20km hikes along ridges and past waterfalls, to the 2-3-night Gold Coast Hinterland Great Walk.
I've basically never seen this many waterfalls in two days…
2. THE GREATER MULTICULTURALISM
When I first moved to the Sunshine Coast, I was literally shocked by how white Anglo-Australian everything was. I've got somewhat used to it but I instantly felt more at home on the Gold Coast where migrants and tourists are part of the community fabric to a much greater extent.
Just to compare… according to 2016 Census data, 5% of people on the Sunshine Coast speak a language other than English at home (and get this… the most widely spoken language is German, followed by Italian and Dutch!), whereas 12% of people on the Gold Coast speak a language other than English at home, with Japanese, Mandarin and Korean being the top languages.
In terms of eating out, there's more than just Thai and Indian cuisine on offer here… (you'd have to know that whilst you can get Thai and Indian on every corner on the Sunny Coast, there's little else in terms of authentic multicultural or international cuisine…). In Broadbeach, I saw a Cuban chicken & pork place, among other restaurants (I'm not sure about that combination or if chicken and pork are really all that Cuban but hey, it's different! I like different).
3. THE G:LINK
Another thing I love about the Gold Coast is the G:, their light rail (aka tram) system. Trams aren't really such a novelty for me, with both Berlin and Melbourne having them, but they make it so easy to get around between Broadbeach and Southport. I just love riding them… swoooosh…
Just make sure you've actually got a ticket, I got checked twice out of the three times that I went on it.
AND SOME THINGS I'M NOT SO CRAZY ABOUT
1. THE AWFUL, AWFUL TRAFFIC!
My gosh… it's like peak hour city there and just so off-putting!! The four-lane highway from Brisbane to the Gold Coast gets so incredibly clogged up, let alone the roads through Southport, Surfers Paradise, Broadbeach and down to Burleigh Heads.
The traffic on the Sunshine Coast used to be like a walk in the park on a lazy Sunday afternoon with peak hour lasting a whole ten minutes or so. Now it's getting busier and busier.
I really do not miss traffic.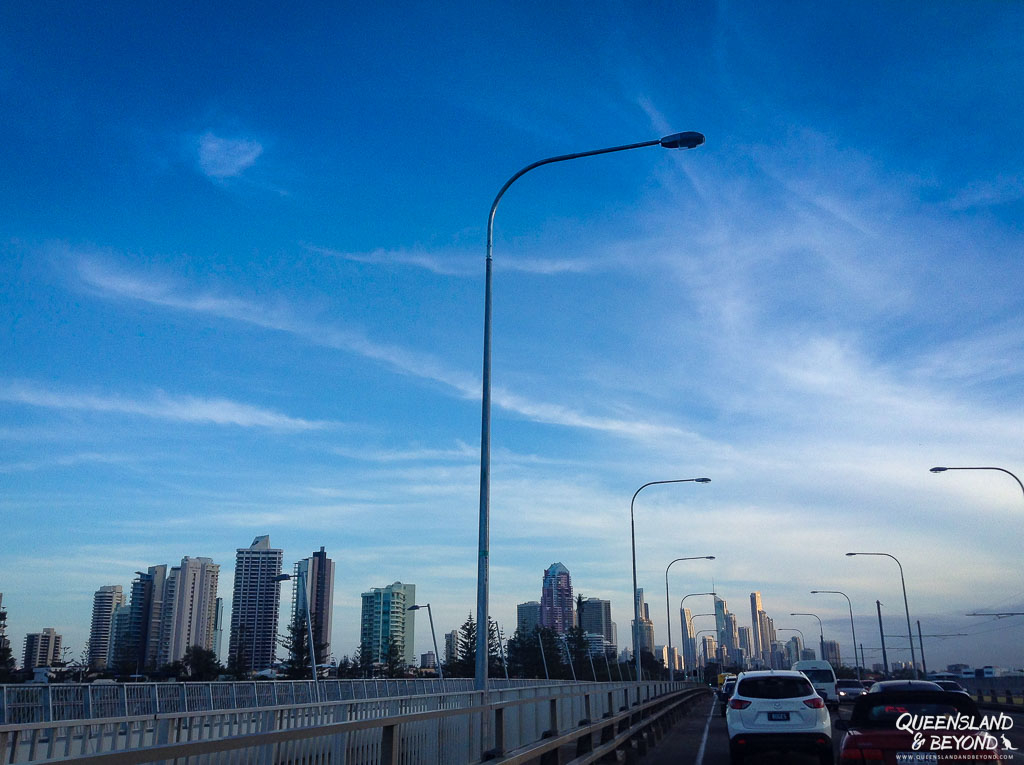 2. TACKY GOLD COAST?
Whilst I found Broadbeach quite nice, various parts of the Gold Coast have an unpleasant air of tackiness. They seem to be surprisingly run-down and worn-out. Though some corners are getting redesigned and renovated, Surfers Paradise on the whole looks tired and lifeless. Tired of all the Schoolies parties, I guess. No glitz, no glamour, just uninspiring high-rises (for the most part) and plenty of shops for lease.
On the whole, I think the Sunshine Coast has a much nicer feel to it. They just need to build a tram network here!
SUMMING UP
The Gold Coast just seems to be a suburban extension of Brisbane these days, albeit with lots of beaches and good waves. But their hinterland is fabulous and I hope that we get to go 4WD-ing there at some point!
I probably should have commented on the waves but since I didn't go in, it completely slipped my mind. The husband did go surfing every single morning and loved it. I guess that's a good indication that the surf may be better on the Gold Coast than the Sunshine Coast. 🙂
So, is the Gold Coast better or the Sunshine Coast?
---
PIN ME.