Noosa National Park is on Kabi Kabi Country. I acknowledge the Traditional Custodians of this area and their connection to land, sea and community, and pay my respects to their Elders past and present.
---
Noosa is a super popular holiday destination on the Sunshine Coast, and as we live only 45 minutes away, it's easy enough for us to join the masses in traipsing about Noosa National Park.
Of all the national parks on the Sunshine Coast, Noosa National Park is the most stunning. Steep cliffs, clear turquoise water, tucked away coves, and if you're lucky you might even spot some whales.
I know I've said this a million times already but I'm going to say it again: I love winter in southeast Queensland! The weather is glorious with blue skies, sunshine and at least 20 degrees every day, it's delicious!
---
NOOSA NATIONAL PARK: KNOW BEFORE YOU GO
Given the fantastic weather in winter, I think it's the perfect time to go up to Noosa National Park. One of the best walks around Noosa is the hike along the coastal track.
Unfortunately, about 500 other people will have exactly the same idea, especially on weekends. But at least not everybody will want to walk the entire coastal track so there will be some quieter sections.
Ideally, avoid weekends or school holidays if you can.
HOW TO GET TO NOOSA NATIONAL PARK
Getting to Noosa National Park by car isn't hard but parking is a nightmare. Here are two ways to get to Noosa National Park by car, and then I'll give you the public transport option.
OPTION 1: CAR
Option 1 is to start your hike from the Noosa end at Park Road.
This is the most popular area of Noosa National Park, especially as the first few kilometres on the track are paved and wheelchair accessible. You'll also access most of the beaches from here.
The carpark at the day-use area (Park Road) is not huge and can get incredibly busy, so be prepared to drive around for a while trying to find a spot.
To avoid the parking headache, you could walk from Noosa along the boardwalk on Park Road as it's only 1km from Noosa Head surf club on Hastings Street (slightly uphill though).
OPTION 2: CAR
Option 2 (my preferred one) is to start the Noosa Coastal Track from Sunshine Beach. It's much quieter and you should be able to find parking relatively easily. In the past, we've parked at Seaview Terrace, and haven't had issues finding a spot.
On the flip side, you'll first need to make your way along the beach and are faced with quite a few steps at the start of the walk.
OPTION 3: PUBLIC TRANSPORT
You could also do this hike by public transport but there's a but more walking involved.
You could either catch a bus to Hastings Street, and then walk along Park Road to the entrance of the national park.
From the Sunshine Beach end, you'll need to walk another 1.3km to Duke Street, from where you can catch the bus back to Noosa.
It's a bit of a trip but possible if you don't mind the extra walking or don't have a car.
---
HIKING THE NOOSA COASTAL TRACK
There are several short hikes you could do in the national park but if you're up for a big(ger) walk, the Noosa Coastal Walk (blue on the map) is so worth it!
If you're starting at the Noosa end, make your way along Tea Tree Bay to Hell's Gates. The trail then goes all the way around to Sunshine Beach, and the views at the end are brilliant! If you're coming from Sunshine Beach, just do it in reverse. Easy.
It's about 11 km if you do the whole circuit but it's a beautiful walk and it won't feel that long.
The first part of the track (Noosa end) tends to be the busiest with people making their way to Tea Tree Bay for surfing and swimming.
BASIC TRAIL INFO
Distance: 10.8 km loop with some elevation gain
Difficulty: Easy to moderate (most enjoyable in the cooler months, I think)
Time: 3-4 hours (though 2-3 hours if you're speedy)
Trailhead: Day-use area in Noosa National Park (just off Park Road); alternatively, start from Sunshine Beach (park at Seaview Terrace)
We've walked the track in both directions, and it's beautiful either way.
To return to your starting point, you could either hike back the same way you came, or take one of the inland tracks. In the past, we've looped back via some of the walking track links from the Sunshine Beach end, and then the Tanglewood Track (orange).
I'm still to explore the Noosa Hill Track (yellow) and complete the entire Tanglewood Track. We always seem to want to hike along the coastal track as you get such gorgeous views! 🙂
BOILING POT
The Boiling Pot is barely 300m from the main picnic area, and the first view point. The track to this point is very wide and wheelchair accessible.
If it's a clear day, you can see the coastal dunes along Teewah Beach (Great Sandy National Park) from here. Below the lookout, there's a rock formation that can have water swirling about in a rock pool like a boiling kettle depending on the tide and wave action.
DOLPHIN POINT
From Boiling Point, it's only another 900m to Dolphin Point, still along a sealed track.
The part is gorgeous as you pass by Tea Tree Bay and slowly climb up to another lookout point. Tea Tree Bay is usually very popular with surfers and swimmers (though swimming is not recommended here as the beach is unpatrolled and there can be strong rips).
If you're lucky, you might spot some dolphins or whales at Dolphin Point. I've never seen any but people definitely do.
Queensland National Parks has upgraded so much of the national park now that this entire lookout is sealed with some stone benches to rest and spot dolphins from.
And whilst I haven't seen any dolphins from here yet, we have come across an echidna, woohoo! I love my Australian animals, I don't think I'll ever get enough of them (well, ok, snakes excepted…).
HELL'S GATES
From Dolphin Point, the track becomes unsealed, and thus slightly less busy. It's about 1.5km to Hell's Gates past Winch Cove and Picnic Cove.
Winch Cove is actually really pretty and another popular beach. (Again, swimming isn't advised as the beach is unpatrolled.)
At the end of Granite Bay (past Winch Cove) is where you find the famous Noosa Fairy Pools. These days, they're very popular and will be swarming with people. Maybe go very early in the day and you might have a chance of having the tidal pools to yourself. I've only seen them with tons of people milling about, and that's not exactly my idea of fun.
Hell's Gates is a high bluff that has water crashing into the rock face, and presents you with pretty incredible views. Someone told us that turtles feed on the rocks and hooray, I did see a turtle swimming happily in the water (once), getting rocked back and forth by the waves.
ALEXANDRIA BAY
From Hell's Gates and turtle spotting, it's only a short stretch (600m) to Alexandria Bay.
The first time we came, I had this vague recollection that Alexandria Bay was one of the few nudist beach, and voila, yes, it is. Consider yourself warned. 😉
Whilst unofficially a nudist beach, Alexandria Bay also sprouts lots of surfers and beach goers so you won't feel too out of place in t-shirt and shorts.
The trail takes you onto Alexandria Bay beach, and continues at the southern end of the beach. It's pretty easy to spot during day time, less so when the sun has already set (speaking from experience).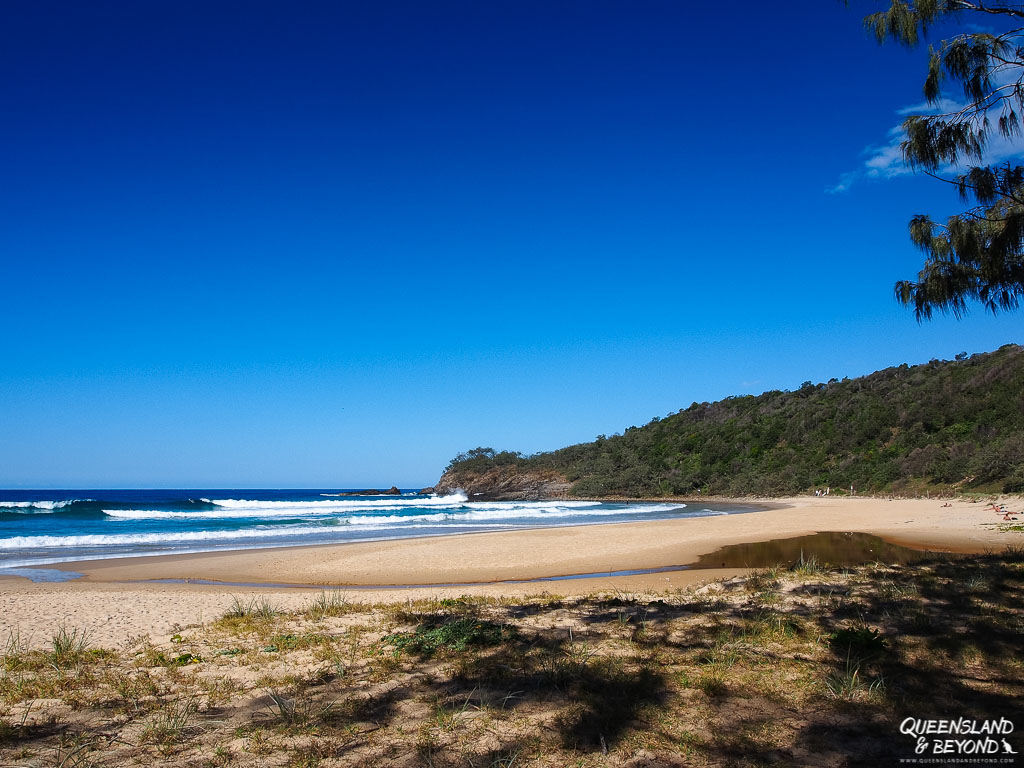 SUNSHINE BEACH
The last section (2.1km from the northern end of Alex Bay) is pretty much a climb up the hill, stunning views from the lookout, and plenty of steps down the hill to Sunshine Beach.
If you started at the main carpark, you could then take one of walking track links to the Tanglewood Track, and loop back this way. Or simply return by the same path along the Noosa Coastal Track.
In the case of the Tanglewood Track, the trail is actually aptly named as there are indeed plenty of Strangler Figs and tangled wood along the path. Lots of fun for people who've always wanted to feel like Tarzan…
---
SUMMING UP
Don't miss the Noosa National Park coastal walk when you next come up to the Sunshine Coast for your relaxing holiday. Winter and mid-week is best to get the clearest views and to avoid the crazy crowds.
And once you've done the Noosa Coastal Walk, climb up Mount Coolum for sprawling views of the coast.
If you don't want to go for a long walk but still want fabulous views, drive up to Laguna Lookout in Noosa Heads. The views over Noosa River and into the hinterland are splendid, especially at sunset.
MORE INFORMATION
To download a map of the walking trails, check out the Queensland National Parks website on walking in Noosa National Park.
---
MORE POSTS ON HIKING ON THE SUNSHINE COAST
On clear days, Mount Coolum offers perfect views over the Sunshine Coast. Here's what you need to know about the short hike. For more hiking ideas on the Sunshine Coast, I've got a list of my favourite short hikes, and half and full-day hikes.
For a whole heap of lookouts, check out my post on beach lookouts on the Sunshine Coast.
---
PIN FOR LATER