The Blackall Range Tourist Drive is on traditional Kabi Kabi and Jinibara Country. I acknowledge the Traditional Custodians of this area and their connection to Country, and pay my respects to their Elders past and present.
---
Even though the Sunshine Coast Hinterland isn't as spectacular as the lush and dramatic Gold Coast Hinterland, there's still plenty to do, including some very pretty scenic drives.
If you're after some views of the Sunshine Coast, short bushwalks or are keen to poke around local shops, the Blackall Range Tourist Drive (#23) is the perfect choice.
From pretty much anywhere on the coast, you'll be up in the hinterland within 30-40 minutes. Depending on how much time you have, you could just do the scenic drive and stop at the lookouts. Or you could explore some of the towns and walks along the way.
---
BLACKALL RANGE TOURIST DRIVE (#23)
Just like the Glass House Mountains Tourist Drive (#24), the Blackall Range Tourist Drive is an official tourist drive on the Sunshine Coast.
You'll see the brown #23 road signs dotted everywhere along the route. Signage is really excellent so you won't have any trouble finding your way.
This scenic drive is really quite fabulous.
Not only do you get picturesque views of the hinterland and the coast, there are also quaint little towns along the way, rainforest walks, waterfalls, lookouts, and plenty of cafés and restaurants to indulge at.
You can easily do this Sunshine Coast scenic drive as a day trip from Brisbane or the Sunshine Coast. Alternatively, you could make a weekend of it. There's plenty of accommodation to choose from in the Sunhine Coast Hinterland.
HOW TO DO THE BLACKALL RANGE SCENIC DRIVE
The Blackall Ranges are about 100km north of Brisbane, and easily accessible from the Bruce Highway.
If you're already on the Sunshine Coast, you can turn the Blackall Range Tourist Drive into a great scenic drive loop. Or if you want a scenic drive from Noosa to Brisbane, this would be a great alternative to the Bruce Highway.
The Blackall Ranges Scenic Drive is about 55km, which you can comfortably drive in an hour or so. I've never managed that though as there are so many spots to stop at.
Anyway, plan at least half day, or better yet a full day, which would make this scenic drive a much more relaxing experience and give you time to explore the region.
STARTING/END POINT
Start either in Nambour in the north or approach the drive from Landsborough in the south. You can then loop back to the coast or back to your starting point by taking the Bruce Highway (not the most inspiring road, I agree) and Steve Irwin Way.
Or if you've got plenty of time on your hands, combine it with my suggestion for a Glass House Mountains Scenic Drive, and explore that part of the Sunshine Coast Hinterland drives as well.
From Nambour: Take Netherton Street up the hill past Nambour General Hospital and simply follow the road. This will turn into Nambour Mapleton Road outside Nambour but you can't really get lost.
From Landsborough: Take Maleny Street, which turns into Landsborough Maleny Road just outside town.
As you can see, we're really creative when it comes to street names! 🙂
---
BLACKALL RANGES SCENIC DRIVE: WHAT TO DO AND SEE
No matter where you start from, there's plenty to see and do along this scenic drive.
But just a note of caution, since I'm not much of a restaurant goer or shopper, you won't find too many ideas for eating out or shopping here. I'm really more into lookouts and walks than meandering around towns and poking my nose into too many shops (unless they're bookshops, of course).
1. VISIT THE SUNSHINE COAST HINTERLAND TOWNS: MAPLETON, MONTVILLE & MALENY
Visiting the three "M-towns" – Mapleton, Montville and Maleny – along this route is kind of obligatory.
And admittedly, they are rather neat little towns with Maleny being my favourite by far.
Coming from Nambour, Mapleton is the first town you reach. It's nice and sleepy with a bakery, pub and a couple of other eateries that can get busy on Saturday and Sunday mornings. There's also a lovely waterlily pond but what I like is that it's close to Mapleton Falls National Park with a fabulous (very short) rainforest walk at hand.
From Mapleton, it's only 6 km until you reach Montville. Along the way, you can catch glimpses of the coast or even veer off at Kondalilla Falls Road for a picnic at Kondalilla Falls National Park.
Montville, in contrast to Mapleton, is that perfect, almost kitschy, little town where you can stuff yourself full of slightly overpriced food, buy pretty things you don't really need, and eat more chocolate than would ever be good for you.
However, all this comes with gorgeous views for a backdrop.
Montville is just a bit too touristy for my liking, which is why I really enjoy Maleny.
It's got a bit more of a locals' feel. From Montville, it's about 16km to Maleny and the drive could be done in 15 minutes. I always seem to dawdle too much though and never get there in under 40 minutes.
Maleny has this incredible gluten-free gelato-selling Maleny Food Co. store, which obviously helps strengthen my conviction that Maleny is the best of the three towns! 🙂
But it's also got a fabulous main street with some cute cafes and indie shops that sell anything from new & used books, clothing, antiques to gorgeous timber knickknacks, and overall just feels like a real town.
From there, you could head back to Landsborough, a fairly laid-back town, and call it a day.
2. TAKE A SHORT WALK
If you're keen to stretch your legs a bit, there's more than enough hiking in the Blackall Ranges to keep you busy for a day.
For an easy stroll through rainforest and dry forest, try the Wompoo Circuit (1.3 km) in Mapleton Falls National Park not far from Mapleton. Most people just walk the 50 m to Mapleton Falls Lookout but you can't really see the falls so don't expect too much. The views into the valley are quite nice though.
For a longer walk, try the Kondalilla Falls Loop (4.7 km) in Kondalilla National Park (between Mapleton and Montville).
This hike offers picturesque valley views, rainforest, a swimming hole and a gushing waterfall, especially if we've had some rain. Expect mozzies and lots of people, it can get very busy, especially on weekends.
If you're in Maleny, you could try the Maleny Trail, which takes you on a meander through the town and beyond.
Or head to Gardner's Falls, at the end of Obi Lane South (off Landsborough Maleny Road). There's a very short walk to a mini cascade and a rock pool that's quite popular (but not among my favourite spots).
For one of the best rainforest walks on the Sunshine Coast, stop at Mary Cairncross Scenic Reserve on your way to Landsborough (along Mountain View Road). We always take visitors here, it's just such a nice spot.
There's a huge picnic area, a café that serves lovely gluten-free (and non-gf) food, an education centre and a rainforest walk that's less than 2 km.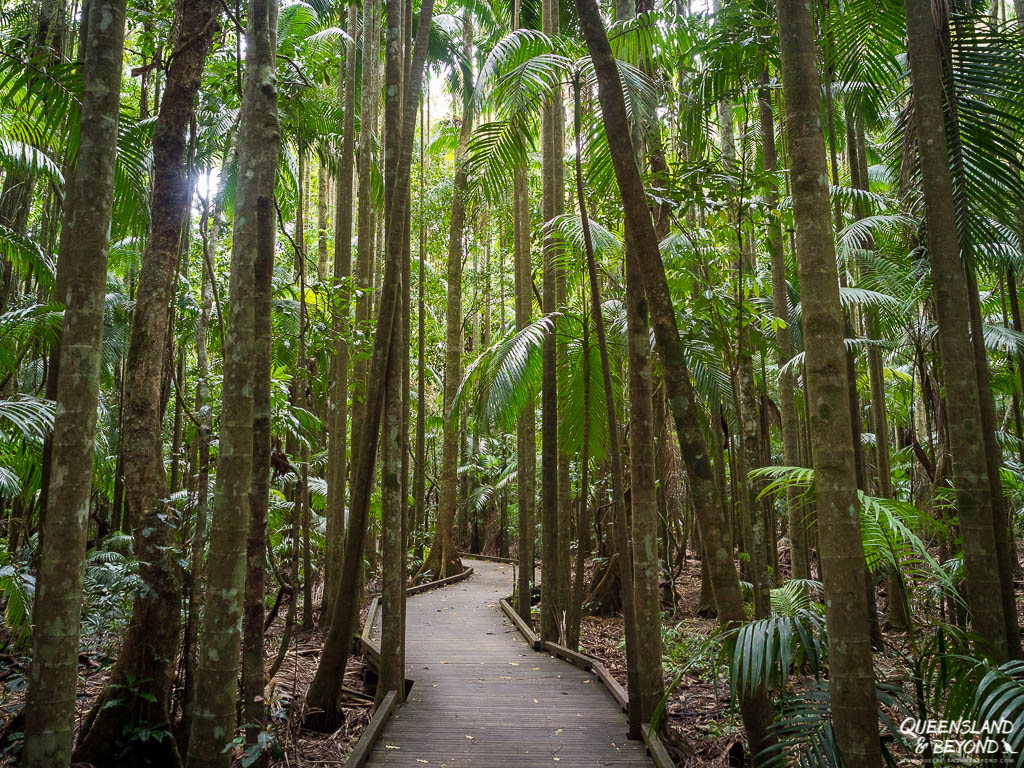 3. ENJOY THE VIEWS ACROSS THE BLACKALL RANGES
If it's hot or you're just not that keen on hiking in the rainforest, you could just stop at the various lookouts. There are plenty.
One of the best ones, especially on a clear winter day, is Dulong Lookout, which gives you fine views over the sprawling coast coming from Nambour.
Another one that's great to stop at is Gerrad's Lookout, some 7 km south of Montville on the way to Maleny.
I really like Balmoral Lookout because there are some beautiful trees that come to life in winter and blossom bright red.
This lookout also offers picnic tables and would make for a great lunch spot (if you don't mind the road noise).
McCarthy's Lookout offers stunning views over the Glass House Mountains along Mountain View Road near Maleny.
Alternatively, you could stop at Mary Cairncross Scenic Reserve because the views from the upper deck of the education centre are pretty neat. Winter (and morning) is best as there is much less humidity in the air and you might even see Brisbane in the distance.
4. EXPLORE SOME SUNSHINE COAST ATTRACTIONS
This is something we haven't much done yet, I mean, we've only lived on the Sunshine Coast for almost 10 years so what's the hurry… 😉 But there are a few (paid) attractions that are probably worth visiting on an outing to the Blackall Ranges.
You could visit the Maleny Botanic Gardens, which are a little on the pricey side admisson-wise and weren't quite looking their best in spring 2022 (still recovering from our terrible weather in 2021 and 2022). But I do love wandering around gardens and photographing flowers, and they have lots of benches and shelters, which make for great picnics with gorgeous views.
And you can BYO your own picnic delicacies, which certainly works for me!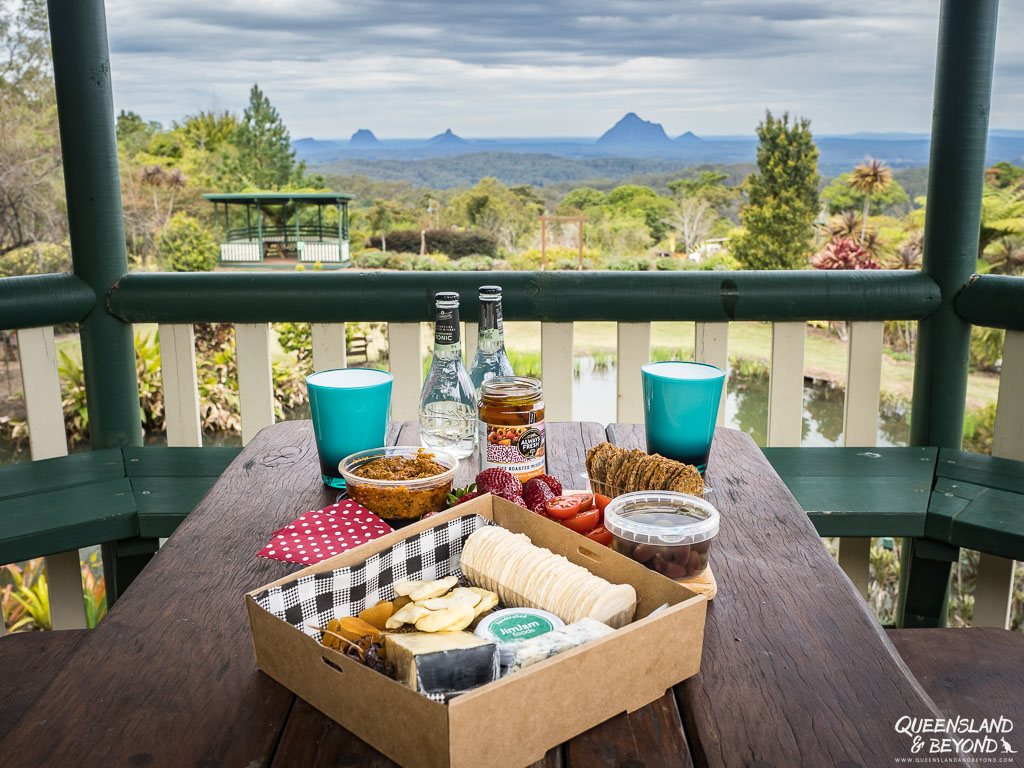 Just FYI, if you just want to see the gardens and not the aviary, it's much cheaper. We certainly skipped it.
If you've ever wondered how a dairy farm works, Maleny Dairy offers guided tours (temporarily closed). I really want to do this! 🙂
If cheese is more your thing, you could stop at the Maleny Cheese store and café (open Wednesdays-Sundays) for some yummy treats.
---
MORE IDEAS ON WHAT TO DO ON THE SUNSHINE COAST
Another scenic drive on the Sunshine Coast is the Glass House Mountains tourist drive with some pretty cool views of the volcanic outcrops that are the Glass House Mountains. The official drive isn't that much to shout about but I've written up a little loop tour you could do.
If you're after some close-up coastal views, check out my guide to 11 Sunshine Coast Lookouts that offer beach views or why not go on a short walk.
Alternatively, go on a day hike, there are some beautiful spots on the Sunshine Coast.
While you have to pay for the Maleny Botanic Gardens, the Maroochy Bushland Botanic Gardens are free, and include a great kids' corner walk full of Aussie animal sculptures. Totally entertained me!
---
PIN ME.