Travelling to Germany was to be a first for the husband, and given our fondness for road trips, we pretty quickly decided that our four-week trip to Germany would include some sort of road trip at some point.
Then began the exciting time of researching how, when and where. In the end we settled on hiring a campervan through Paul Camper, an awesome service that allows you to hire private campervans and RVs in Germany. What a find that was!!
We hired trusty Campervan Siegfried, planned a very ambitious itinerary through the South of Germany, and set off on our two-week Germany road trip in mid-June.
---
TWO WEEKS IN SOUTHERN GERMANY
NB: We didn't pre-book any campsites and mostly had no trouble whatsoever getting spots. The only time we didn't manage to get in was at Lake Constance, completely choc-a-bloc with campers! And a couple of times we just found ourselves a quiet car park in the woods and camped there. 🙂
DAY 1 | "BERLIN" – SOYENSEE VIA REGENSBURG
We set out from Beelitz, some 50 km south of Berlin, where we picked up Siegfried on a sunny Thursday. After some left-hand driving practice for the husband on country roads, we jumped onto the Autobahn towards the South. A few hours later, we emerged in Regensburg, our first little stopover. We could have easily spent more time there but we had plans to get as far south as practical that night.
If you can though, spend a day or so in Regensburg, there's lots to explore!
We ended up camping at lovely little Campground Soyensee, a campground at Lake Soyen in the middle of nowhere. I can't even remember now how we found it. I think we just followed some random road signs.
In mid-June, it was still out of season so the campground was pretty quiet and cheap, and for our one night stay, it was perfect.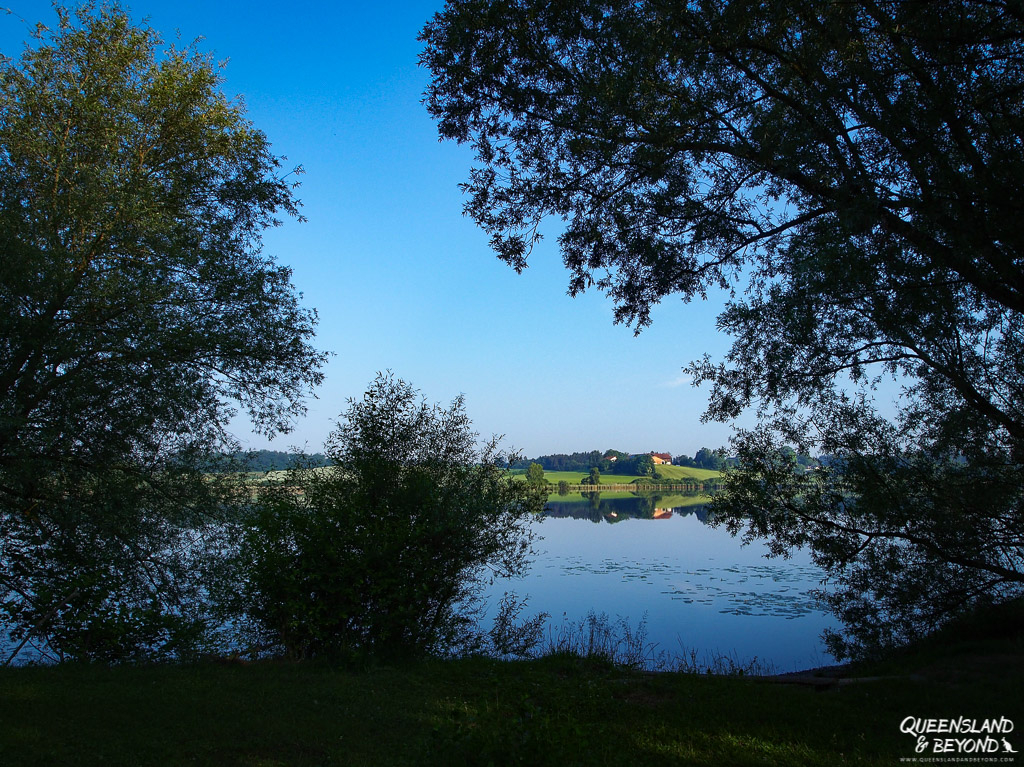 DAY 2 | SOYENSEE – BISCHOFSWIESEN VIA HERRENCHIEMSEE PALACE
Next morning we packed up our little van and set off for the town of Prien am Chiemsee to visit one of mad King Ludwig's castles, Herrenchiemsee. It's spectacularly located on an island in the middle of Lake Chiemsee! The weather was absolutely glorious, possibly a bit hot for wandering around the gardens for too long but thankfully there was plenty of shade.
Following our excursion to the grand palace, we made our way back onto the Autobahn, turned off at Bad Reichenhall and eventually pulled into the Campground Winkl-Landthal near Bischofswiesen, some 8 kilometres north of Berchtesgaden. We had no reservation and so were super happy to score a spot right along a creek with views of the Berchtesgaden Alps.
Like Soyensee, Winkl-Landthal was fairly quiet though it certainly had stacks more campers. But they all seemed to be quiet Dutch people whose main staple was white bread and coke – for breakfast and dinner.
Since it was so beautiful and we had plenty to explore in the area, we stayed put for three nights.
DAY 3-4 | BERCHTESGADEN AND ALPINE SURROUNDS
The next couple of days were spent in the Berchtesgaden National Park, going up and down the Alps, including taking the cable car up Mount Jenner, visiting Eagle's Nest and the amazing Dokumentation Obersalzberg (we so did not have enough time there!). We finished off our stopover in Berchtesgaden by catching an electric boat across Lake Königssee.
DAY 5 | BISCHOFSWIESEN – KOCHEL AM SEE VIA THE ALPINE ROAD
Whilst it was a little sad to say good-bye to the Berchtesgaden area, the weather had started to turn on Day 4. So we abandoned our plans to visit the Roßfeldstrasse, a panoramic toll road through the Alps, and started our meander west along the scenic Alpine Road.
Except, it wasn't very scenic due to increased fog, rain and occasional hail. At this point, things weren't going to plan at all. Despite the no-show of the Alps though, I happily continued to announce the mountain peaks en route to the husband. I'm not sure he believed me.
That day we stumbled across some beautiful waterfalls near Bayrischzell, took a quick detour to the town of Bad Tölz, and eventually turned into the Campground Kochel am See. Whilst situated right along Lake Kochel's foreshore, it didn't look that appealing: Giant power lines traverse the campground and I'm not a fan of power lines at the best of times, let alone sleep under them! But it was getting late and I just wanted to have a hot shower, eat and crawl into bed. And so we stayed despite it being expensive and somewhat unappealing.
DAY 6 | KOCHEL AM SEE – LINDAU VIA MITTENWALD AND NEUSCHWANSTEIN
With yet more rain and clouds on the morning of Day 6, we had an early start and got on our way to quaint but somewhat touristy Mittenwald, a stone's throw away from the Austrian border.
After a wander around town and with absolutely no views of the mighty Karwendel Mountains, we decided to abandon our plans of seeing the Alps (and going up the Zugspitze, Germany's highest mountain) on this trip. Instead, we cut through Austria and arrived in Schwangau around noon to visit the fairytale castle of Neuschwanstein.
The rest of the day was spent queuing up for tickets, having a bite to eat, and then visiting Hohenschwangau Castle, followed by a self-guided tour of Neuschwanstein and a race up the mountain to the viewing bridge before sunset.
We left Schwangau around 8:30 pm and weren't quite sure about our next steps. Our plans had been upended a bit so we were making things up on the go. We ended up outside a campground in Lindau, Lake Constance, close to midnight. Of course, the campground had long been shut for the night and with boom gates fully closing it off, we decided to join a row of campervans and RVs who had simply parked outside the campground.
Needless to say we were very tired and didn't care too much.
DAY 7 | LINDAU – BREISGAU VIA LAKE CONSTANCE (EASTERN SHORE) AND THE BLACK FOREST
Since we were parked somewhat illegally outside the campground, we decided to make an early start and left Lindau just before 6 am. We didn't have too much of a plan, just knew we wanted to head towards the Black Forest. With the weather looking much more inviting, we meandered north along the shores of Lake Constance with stopovers in medieval Meersburg and Birnau. We bought some absolutely amazing apricots there!
After meandering along deserted back roads, we enjoyed a bit of a relax and play break at some random playground – with awesome sun chairs! – near the Wutachschlucht (Wutach Gorge) on the outskirts of the Schwarzwald (Black Forest).
From there, we leisurely twisted our way around to the spa town of St. Blasien, then onto Todtnau and Triberg (what a miss!), and then to Campground Breisgau, Freiburg. The campground was nothing to shout about but, being out of season, it was nice and quiet. Plus, the showers were hot (for an extra €2), and being tired from another big day of driving, we just couldn't be bothered looking for a more picturesque site.
DAY 8 | BREISGAU – LEUKBACHTAL VIA FREIBURG
The next morning we were back to rain and overcast skies but nonetheless decided to have a look around Freiburg. My highlight in Freiburg was most certainly buying some amazing gluten-free pastry dessert cake-y thing!
The rest of the day was pretty unexciting with hours and hours spent on the Autobahn and secondary roads, attempting to outsmart the weather (we failed miserably) and heading further west towards the Moselle River near the Luxembourg border.
We found the nice little Campground Leukbachtal (Leukbach Valley) near Saarburg, which was not only the best value for money (€14 p/n) on our entire trip but so nice that we stayed for two nights.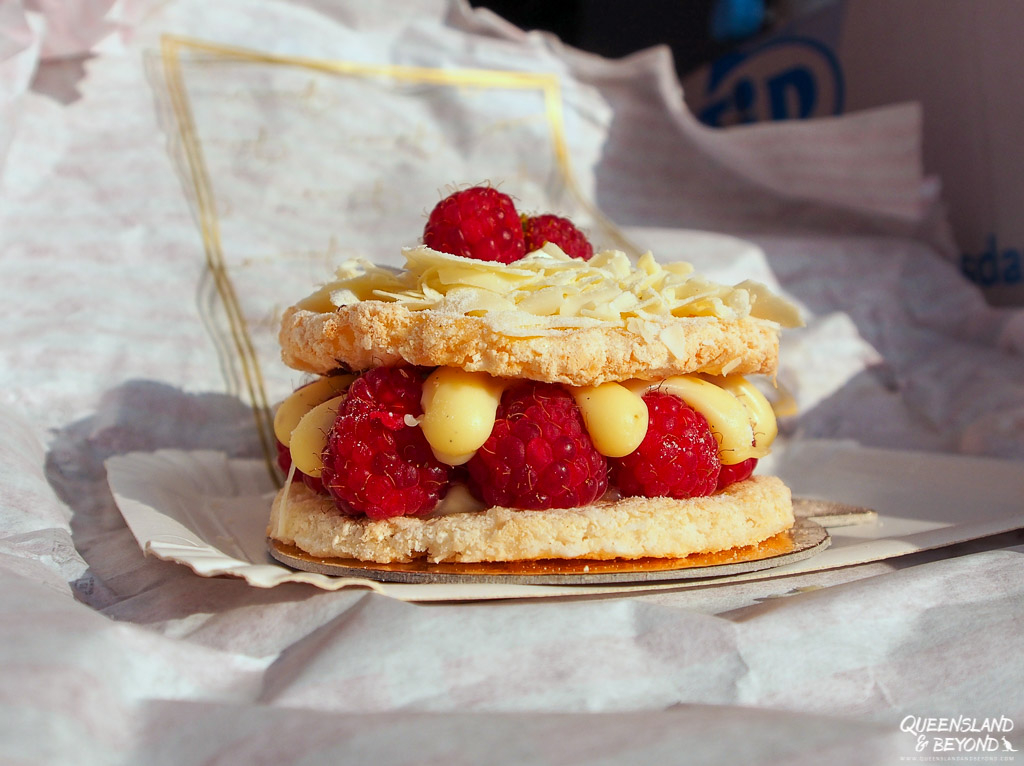 DAY 9 | TRIER
Having decided to stay in the Leukbachtal for two nights, we had the whole of Day 9 to explore one of Germany's oldest settlements: Ancient Trier. Trier is full of well-preserved Roman ruins, from the mighty Porta Nigra city gate, the Forum Baths, the Amphitheatre to the Imperial Baths.
Both the Amphitheatre and the Imperial Baths offered more than meets the eye on first glance: Underground tunnel systems! The husband quickly turned into Little Explorer again.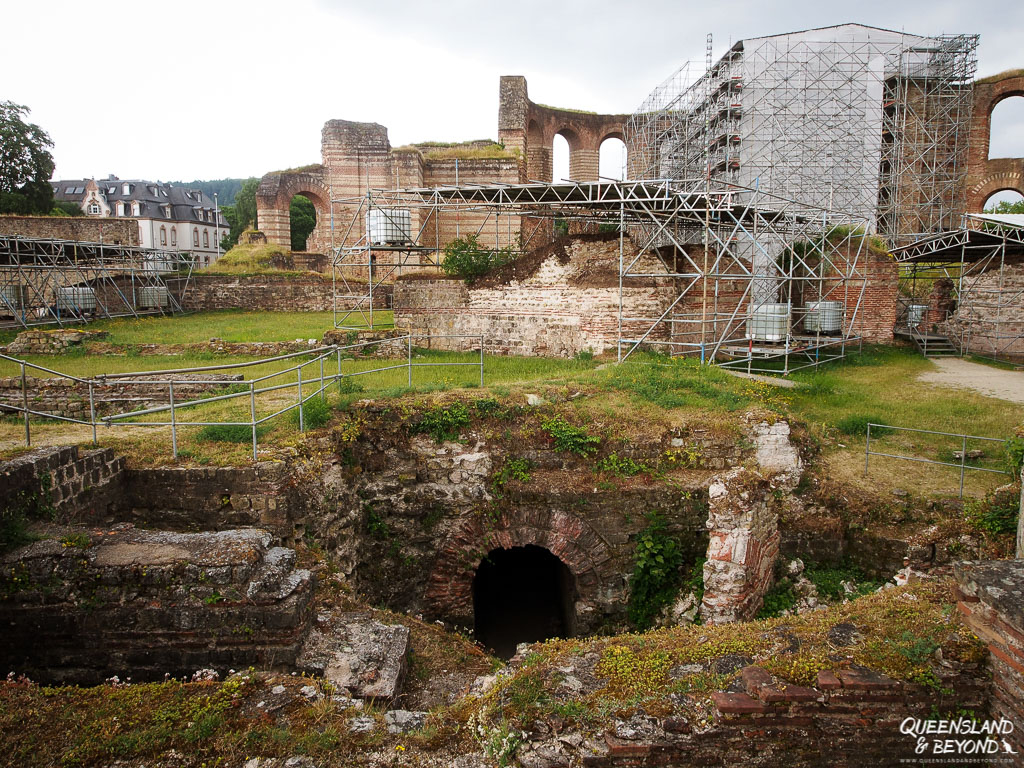 DAY 10 | LEUKBACHTAL – MOSELKERN VIA SAARBURG AND THE MOSELLE RIVER
Having driven past the gorgeous looking town of Saarburg on our way to Trier the previous day, the husband was keen to have a look around before we made our way to the Moselle River. So we spent part of the morning ambling up to the castle ruins overlooking Saarburg, wandering the quiet streets and following our feet wherever they took their fancy. This picturesque little town was one of those places that you stumble upon and can't understand why it's not in every travel guide!
From there we joined the road along the Western shores of the Moselle River, a famous wine region, and followed the river all the way to a teeny tiny campground at Moselkern, close to Eltz Castle. En route, we briefly stopped at ridiculously touristy Bernkastel-Kues and much nicer Cochem.
The campground was fine for the one night but I wouldn't want to go there for an extended holiday (the showers and toilets are in what looks like temporary container structures but I have a feeling that they've been there a while…).
DAY 11 | MOSELKERN – RÜDESHEIM VIA ELTZ CASTLE, KOBLENZ AND THE RIVER RHINE
After spending the morning hiking to and touring around Eltz Castle, we jumped back into good old Siegfried and set off towards Koblenz. Here the mighty Rhine meets the smaller Moselle at the Deutsches Eck (German Corner). After days of solid cloud cover, we finally saw the sun emerge again in Koblenz.
We crossed the Rhine and then followed it upstream, taking a quick detour to the Dreiburgenblick (Three Castles View) and passing by the unimpressive Loreley. That night, we camped along the Rhine near Rüdesheim at the Campground Rheingau and got to enjoy a glorious sunset over the river.
DAY 12 | RÜDESHEIM – NEAR ERFURT VIA BACHARACH AND RHEINFELS CASTLE
The next morning we hopped on the ferry to cross the Rhine and began the journey along the downriver side. This day turned out to be spectacular with stops in charmingly medieval Bacharach and at Rheinfels Castle, one of the highlights of our trip. And we hadn't even planned to go along both banks of the Rhine! So the fact that our Alpine plans were foiled turned out to be a blessing in medieval armour…
We then zipped back up to Koblenz and spent the next few hours on the Autobahn heading north east. We spent that night at some random truck stop on the Autobahn but packed up around 2 am since the refrigeration system in one of the parked trucks continued to roar all night, making sleep impossible to obtain.
DAY 13 | NEAR ERFURT – SOMEWHERE IN THE HARZ MOUNTAINS VIA BUCHENWALD CONCENTRATION CAMP AND BARBARROSSA CAVE
Now on the home stretch, we visited Buchenwald Concentration Camp (after having a nap in the woods to recover from our interrupted sleep the previous night). It was freezing at the concentration camp on top of Ettersberg Mountain and given how sombre visiting a concentration camp is, I was glad to be back inside Siegfried and to be heading towards warmer weather.
The plan was to take a quick detour through the Harz Mountains the next day so that night we ended up close by in the Kyffhäuser Mountains. Since there are nowhere near as many campgrounds around this area of Germany than there are in the Alps, around Lake Constance or along the great rivers, we just set up camp in a lovely car park next to walking trails.
Before we got there though, we stopped and admired the legendary King Barbarossa Cave.
DAY 14 | HARZ MOUNTAINS – "BERLIN" VIA LUTHERSTADT WITTENBERG
Our last day. We didn't quite want to go back yet so off we went towards Thale in the Harz Mountains to go for a quick 10 km walk in the Bodetal (Bode Valley). Then it was really time to say good-bye and head towards Berlin but not before stopping at Lutherstadt Wittenberg and having a look around Luther's home.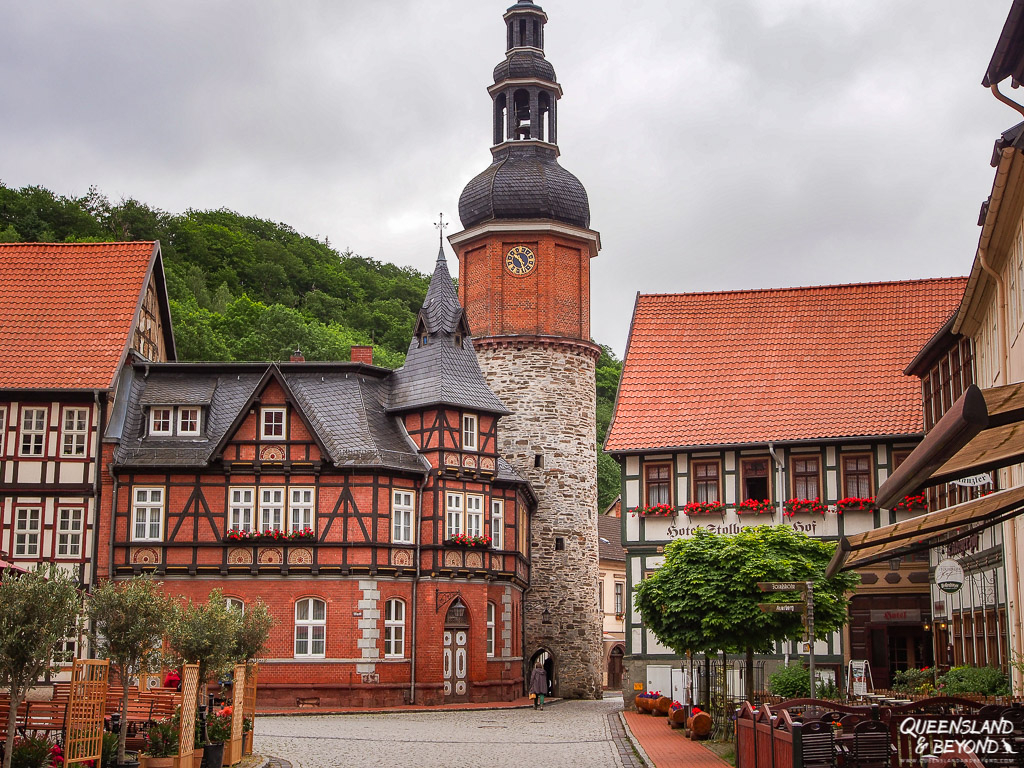 ---
SUMMING UP
Being in Europe at a time close to the summer solstice meant wonderfully long daylight! Having daylight from 5 am to 10/11 pm really worked for us. I think if the sun had not set at all, we would have continued to run around all night.
The weather was pretty crazy at times and we spent way more time in our rain jackets than we had expected, especially since we had cracking weather in Berlin before we set out on our road trip. But oh well, that's how it goes, you never know what the German Weatherman might dish up.
Having our own set of wheels and being able to cook our own meals, stop for a cup of tea and put down for the night where and when we wanted was definitely the best way for us to explore Germany. There's no doubt that when we return, we will rent another Siegfried (or maybe the same one – the fuel economy beat any car the husband had ever driven!) but probably extend our time so we're not rushing around quite as madly.
[Haha, who am I kidding?! We will always pack too much in and try and do the impossible!]
---
INSPIRED TO DO YOUR OWN RUSHED SOUTHERN GERMANY ROAD TRIP? PIN FOR LATER