Five years ago, we hired our first campervan, a VW Transporter T4 campervan called Siegfried, to explore the south of Germany for a couple of weeks.
I had never contemplated a campervan trip before, especially not in Germany, but we were both more than keen campers so the idea wasn't really all that absurd once the husband proposed it.
And since that first campervan trip, we've fallen in love with campervanning for the flexibility and freedom it affords.
What we really love is that we can cook our own food, we can change our itinerary, we can fall asleep to the sound of birds and wildlife, we can wake up and enjoy the sunrise without hardly moving.
Over the last few years, we've hired 7 campervans and now have a fairly good idea of what we want in a van when we roadtrip: A small van with a practical layout, kitchen and good storage.
Vans are not all the same (obviously) but VW campervans with 'California' interior fitting would all be reasonably similar. And to this date, we both remember Siegfried, our first campervan, rather fondly.
---
HOW TO HIRE A CAMPERVAN IN GERMANY
We hired Siegfried through Paul Camper, which has well and truly established itself as a great portal for hiring privately owned campervans, RVs/motorhomes, camper trailers and caravans all across Germany.
Back in 2015, things were a little more complicated (i.e. the website wasn't in English, you could only pay by German bank transfer, …) but even then we liked the idea of hiring someone's van rather than going through the big rental companies (that said, we have also used them).
Now the whole booking process is online, you can pay by credit card, and you've got hundreds and hundreds of vans to choose from.
You can negotiate with the owner(s) where you pick up the van. They may meet you somewhere or you'll go to their place. We picked up Siegfried at the owner's place just south of Berlin.
Side note: No, I'm not getting paid by Paul Camper to say any of this, I just think it's a great service that makes van rental more personal.
---
CAMPERVAN SIEGFRIED: THOUGHTS & EXPERIENCE
There's much we liked about travelling in Siegfried for two weeks.
Siegfried lives in Beelitz, some 50km south of Berlin, which is where we picked up the van.
Dealing with the owner Nico was straightforward. The only issue I had was that I had to translate everything Nico explained about the van so that the husband actually knew how things worked (e.g. how to connect the grey water hose). 🙂
SIZE
Siegfried is the standard VW van size (about 5×1.9x2m) and as far as campervans go, that's on the smaller side. This small size works great for us.
This van seats/sleeps 4 people but these small VW campervans are really best suited to couples or a family with a young child.
If you're young and crazy, of course, you can fit four adults in but it really gets cramped and storage space will be very limited. You'll end up living on top of each other.
If you don't have a hankering for space or need a toilet setup, these types of vans make camping so easy. They are relatively inconspicuous, perfect if you want to hide away somewhere for a night.
Siegfried is a pop-top, which means you can open the canvas-sided roof and create more head space while you're inside the van cooking or whatever. You can also sleep up top.
We found it relatively easy to close the pop-top again as the canvas was new and pliable.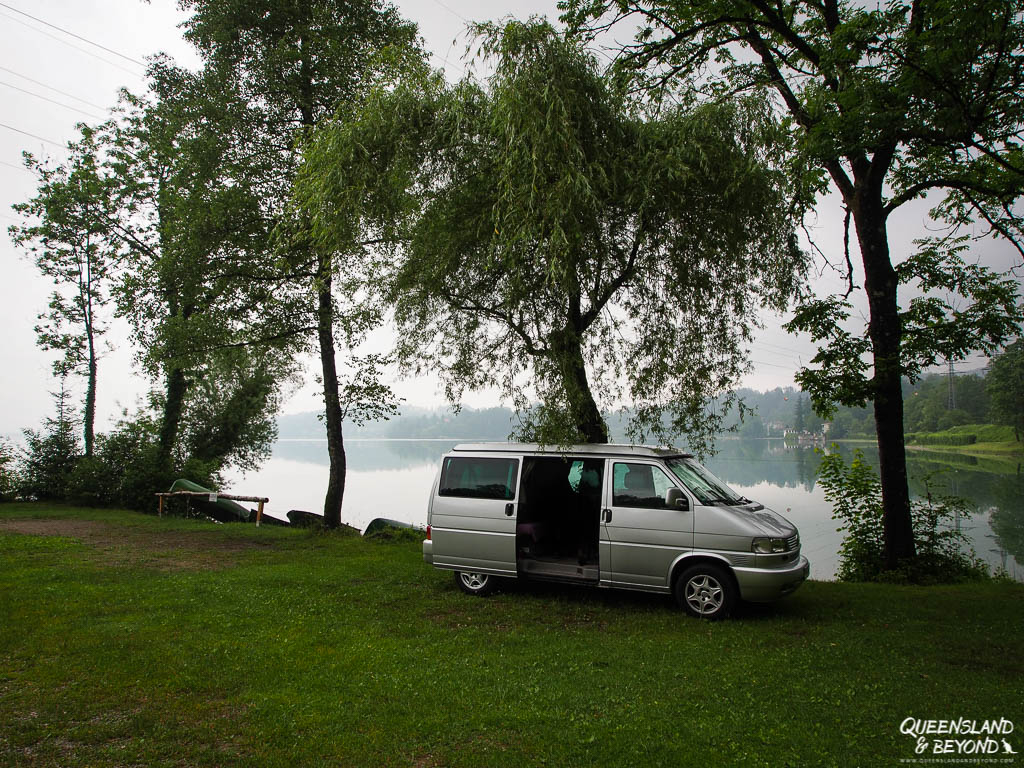 DRIVING SIEGFRIED
Siegfried was simply a dream to drive.
Being a turbo diesel, it was very zippy on the roads (important for the crazy busy Autobahn) and the suspension was oh-so-comfortable! At no point was there a numb bum experience… It basically drove like a car.
Siegfried has manual gears, which the husband prefers, but if automatic is more your thing, you may not want to choose Siegfried.
Fuel economy was crazy efficient. We travelled about 3,200km and got fuel four times. This averaged out to a consumption of 7L per 100km!
Since Siegfried is relatively small as far as campervans go, it was easy to maneuver and park. And with the pop-top closed, we could fit nicely in underground carparks at shopping centres.
KITCHEN
Since we don't really eat out and eat a crazy amount of vegetables, the kitchen and fridge situation is always an important point to consider.
The fridge in Siegfried is a chest fridge, which fits a lot of food but wasn't working too well when we hired the van. Fortunately, it wasn't very hot in Germany at the time so that didn't end up being a big deal.
Fridges in these VW vans are notorious for not working well (as we discovered a year later in Canada) so if you're heading into hot weather, check that the fridge is working properly.
Although nice and big, a chest fridge can make getting the food out of it a bit awkward. I was forever trying to work out where to put things as I was fumbling around in the depths of the fridge and with nowhere to really put anything (since the bench top space is what you lift up to get to the fridge).
The 2-burner stove is another must and worked really well.
In Australia, we go through a lot of cooking gas when camping (i.e. 3L will barely get us through a week of camping) but Germany uses a different type of cooking gas and the small gas bottle lasted for the whole two weeks.
To give you an idea, we'd often start the day with a hot (= cooked) breakfast, have about 4-6 cups of tea/coffee each, and cook a hot dinner.
KITCHEN EQUIPMENT
When we hired Siegfried back in 2015, the van seemed to be set up for a bachelor who would basically not cook beyond making coffee and frying an egg.
Before we even got to our first campsite, we had to stop at the shops to buy a couple of mugs, (large) plastic plates, a saucepan that actually fitted some food, a chopping board and a sharp knife.
I'd hope that the range of kitchen equipment has since increased, wouldn't take much.
We've since learned our lesson and now always take some of our own equipment on campervan trips.
TABLE / SEATS
Being able to quickly pop out a table when you're on the road is important.
In Siegfried, the table is stowed behind the driver's seat and relatively easily hooks into the kitchen ledge.
The passenger seat swivels 180° so that one person can sit on the bench seat and the other in the passenger seat. We love this configuration as it allows us both to still get in and out of the van.
BEDS / SLEEPING
Siegfried is one of these pop-top campervans where you can sleep in the loft area. Alternatively, you can flatten the back seat and turn that into a somewhat narrower bed.
We mostly slept on the back seat bed because that seemed easier to set up initially. The downside is that you always have to put the bedding away and collapse the bed into a bench seat again so that you can actually access your kitchen cupboards.
If you sleep "upstairs", you will need to be somewhat flexible as you have to climb up on the kitchen cabinet and possibly the driver's seat to get up into the bed. I always found climbing into bed much easier than getting down again.
The younger you are, the less problematic you're going to find that exercise.
STORAGE
The general storage options in Siegfried are amazing for such a small campervan.
There's storage for food and cooking items under the stove and sink. There's a cabinet next to the fridge, there's overhead storage above the (back seat) bed, there's storage under the bench seat, and there's storage in the back of the van.
The storage space in the cabin is not bad with enough room for sunglasses, phones, maps or whatever stuff you keep at the front. What's missing is a middle console (between the seats) and cup holders but that doesn't seem to be common in VW vans given their swivel seats in any case.
---
SUMMING UP
VW campervans are fairly common in Europe (older models are often known as "VW Bulli") but you'll have a much harder time finding them in North America (commonly known as "EuroVans" or "Vanagons") or Australia/New Zealand (though there's a loyal vintage "Kombi" following here).
To me it seems that they are popular for a reason because even after several campervan rentals, Siegfried remains one of our favourite vans. Storage in Siegfried is simply fantastic as is the driving experience.
In hindsight, we should have tried out the bed in the pop-top but we really only discovered how fabulous sleeping "upstairs" is in Canada a year later.
If you're looking for a campervan rental near Berlin, Siegfried would make a pretty nice choice.
Any questions about Siegfried or campervan travel, let me know in the comments below.
---
MORE POSTS ON CAMPERVAN TRAVEL
We travelled around southern Germany for two weeks in Siegfried. And a year later, we roadtripped across Western Canada for six weeks.
In 2017, we went to the Northern Territory in Australia and roadtripped from Darwin to Alice Springs in a campervan. Here's a snapshot of our highlights.
---
PIN ME