After weeks of living inside a tiny VW campervan in the Canadian wilderness, we are back on the Sunshine Coast and our 2-bedroom unit feels like a mansion! I can even get to the fridge without banging my head on the table…
Since I managed only two meager updates while we were away, I now conclude that road tripping and blogging do not go hand-in-hand, at least not in mine.
Other blogging kind of people seem to manage but on our road trips we always run around too much, drive too far, pull into campgrounds after other people have gone to bed, eat dinner far too late and collapse into bed (= sleeping bags) hours past (camping) bedtime so that blogging gets shoved into the 'not fulfilling my basic needs right now' drawer.
---
CANADA ROAD TRIP: PART 1 – GOING NORTH
As I'm back home now, here's an overview of the first part of our latest adventure exploring British Columbia (BC), the Yukon Territory and a tiny bit of southeast Alaska.
DAY 1-2 | VANCOUVER (BC)
We spent the first two days in Vancouver, mostly to get over jetlag and to get our bearings for the country we were going to spend the next six weeks in. On Day 1 we rode bikes around Stanley Park and English Bay, while the next day we wandered around on foot. That night we also picked up our VW campervan Tonky, ready to start our adventure the next morning.
DAY 3-7 | VANCOUVER ISLAND (BC)
Distance travelled: 1557km (not kidding, the island is that big!)
We spent the next five days on Vancouver Island, which is like a giant playground for Vancouverites and anyone else who wants to frolic on the (pebble) beaches, go fishing or paddle a canoe during summer. It was not what we had expected at all but that was mostly due to our ignorance and bad planning, and not for a lack of scenery or things to do on the island. It was simply ridiculously busy, which made travel slow and we ended up driving too much and not enjoying it enough.
Our five days included a massive grocery shopping trip (someone could have told us that supermarkets don't just exist in the first town you come across?!), flattening the car battery by leaving the lights on, getting horribly lost on logging roads, and dashing through places like Tofino, the Pacific Rim, and Strathcona Provincial Park.
DAY 8 | INSIDE PASSAGE 1: PORT HARDY – PRINCE RUPERT (BC)
Distance travelled: 10km + 282 nautical miles
After our five hectic days on Vancouver Island, we boarded the Northern Expedition, one of the BC Ferries, for our first leg of the famous Inside Passage to Prince Rupert and enjoyed a fairly uneventful sailing. Unlike the glorious weather of our first week, we were surrounded by fog and very low clouds for the whole voyage (which was really not the point of taking the scenic maritime 'road' but c'ést la vie) so I ended up spending a bit of time in our cabin, reading, sorting photos and napping. Very relaxing after the chaotic days on Vancouver Island.
We arrived in Prince Rupert just before midnight and since we hadn't booked a campsite, we just rolled into the car park at the Butze Rapids Trail and joined another RV and a truck for a few hours of sleep.
DAY 9 | PRINCE RUPERT (BC)
Distance travelled: 20km
Between our two Inside Passage trips, we had a day in Prince Rupert where the weather continued its theme of low clouds and drizzle. I had expected uninspiring weather so wasn't too perturbed by it all. It actually cleared up a bit in the afternoon and I almost got glimpses of the bay – yay! 🙂
As we didn't really have to be anywhere we had a relaxing day meandering through the Museum of Northern BC, around the Cow Bay precinct and past numerous totem poles and murals. Back in our free car park campground, and before it got too dark, we speed walked the 5 km Butze Rapids Trail where we met a nice Chinese couple from Vancouver who were just as puzzled over the non-existent rapids as we were.
DAY 10-11 | INSIDE PASSAGE 2: PRINCE RUPERT – HAINES (ALASKA)
Distance travelled: 7km + 426 nautical miles
After clearing US customs at the ferry terminal in Prince Rupert, most of Day 10 and 11 were spent on board the MV Matanuska sailing the Alaska Marine Highway, the second part of our Inside Passage trip. The ferry docks at several small communities as well as Juneau, Alaska's capital, along the way, and in hindsight we should have gotten off the ferry and explored places like Ketchikan or Juneau for a couple of days.
The Alaskan part of the Inside Passage was much more scenic than the BC part, perhaps because the weather started clearing up and we actually got to see a bit of blue sky in the afternoons, but I think mostly because you start moving into glacier land. Seeing our first glacier was incredibly exciting!
DAY 12 | HAINES HIGHWAY: HAINES – HAINES JUNCTION (YUKON)
Distance travelled: 326km
We set foot – or rather tyre – in Alaska very early on Day 12 and found ourselves yet another nice free rest stop to sleep for a bit. Once we got over our sleepiness, we speed explored the tiny town of Haines from the van and then started the 300+ km drive to Haines Junction along the Haines Highway.
We really didn't have much idea about this highway other than that we would cross into the Yukon at some point and would need to clear Canadian customs. It was one of the most scenic roads we took and absolutely spectacular: the autumn colours were magnificent, the scenery breathtaking, the road virtually empty. I'm not sure how many (photo) stops we made but it took us some six hours to drive the 300 km.
That night we stayed at the Kathleen Lake campground in the even more stunning Kluane National Park. At some point in the night, we got woken up by wolves howling and I really felt like I had arrived in Canada! 🙂
DAY 13-14 | KLUANE NATIONAL PARK – SNAG JUNCTION (YUKON)
Distance travelled: 385km
Since the weather wasn't going to be splendid on Day 13 (back to rain and fog), a super helpful Parks Canada ranger recommended the Sheep Creek Trail for a nice day hike. So after having a quick look at foggy Kathleen Lake, we set off on our 10 km return hike into bear country (alas, no bears, only some traces) and along a ridge where Dall sheep live. I didn't really expect to see any Dall sheep up close as they're incredibly shy and usually avoid humans, but on our way back we spotted a ewe and her lamb! They ended up feeding within five metres of us, I could hardly contain my excitement noiselessly! 🙂
Our time in Kluane got even better on Day 14 when we woke up to brilliant blue skies and sunshine! Freezing cold but beautiful. This day was our big splurge day with a glacier flight over Kluane National Park and possibly landing on an icefield. We went with Icefield Discovery in their ski plane as they're the only ones allowed to land in Kluane and it was magnificent! Kluane is a vast wilderness that's inaccessible for the most part, and we were the only people (plus another couple and the pilot, obviously) in the airspace and within kilometres of the largest non-polar icefield in the world. SPECTACULAR!
For the rest of the day we were on a pretty big high and even 60 kilometres of Yukon roadworks along the Alaska Highway couldn't dampen our enthusiasm!
DAY 15 | TOP OF THE WORLD HIGHWAY: YUKON – ALASKA – YUKON
Distance travelled: 490km
By the end of Day 14 we were getting close to the Alaskan border again so in the morning we crossed back into Alaska, drove to Tok (a waste of time except for getting cheap petrol), and then started the long, slow drive towards the Top of the World Highway, a windy road over mountain ridges. The Taylor Highway turns into gravel not long after the start and from there it's a bumpy ride to the Top of the World where the gravel continues almost until Dawson City.
We briefly stopped in Chicken, an odd assortment of stores, historical buildings and RV parks in the middle of nowhere, and then continued on to the border crossing. Whilst the Top of the World is open all year round, the border is only open until mid-September so you can't cross back into the Yukon until it opens again the following year.
As it was already early September and summer holiday season was coming to an end, we didn't see a whole lot of cars or RVs up there and ended up crawling most of the highway, hoping to spot wildlife. But no such luck. We did have a nice sunset though and ended up staying the night just off the road. That night, we climbed out of the van around 1:30 am and saw some dancing Northern Lights!
DAY 16 | DAWSON CITY (YUKON)
Distance travelled: 81km
After crossing the mighty Yukon River (actually, it looked muddy and uninspiring), we arrived in Dawson City late morning on Day 16. Dawson is one of the last great gold rush towns (1898) and many of the buildings are National Historic Sites. Whilst I explored the local museum, the husband went off on a dredge tour to find out how gold was mined in an industrial fashion in the early 20th century.
Parks Canada offers guided walking tours around Dawson so we signed up for the 101 Gold Rush Tour, delivered by the most enthusiastic and dramatic tour guide ever! We joined another later that evening and it was almost as fabulous.
DAY 17-18 | DEMPSTER HIGHWAY: TOMBSTONE TERRITORIAL PARK (YUKON)
Distance travelled: 362km
Waking up to low cloud and drizzle and no prospects that the weather would change for the better, we debated whether it was worth continuing onto Tombstone Territorial Park, some 110 km away, most of it going north on the Dempster Highway towards the Arctic Circle.
As we both had our hearts set on exploring Tombstone, we ended up leaving Dawson City late morning and made our way up the supposedly tyre-slashing, unsealed Dempster Highway. Given the rain and clouds, we couldn't see all that much of the mountains but it still looked spectacular! Autumn foliage and snow-capped mountains are just a stunning combination!
Next morning, we woke up to -5 degrees (or colder, not sure), five centimetres of snow and iced-over car doors so we were a bit stuck in the van until we managed to prise open the doors with a bit of force. Needless to say that we revelled in our new winter wonderland!
By late morning, the sun was starting to peek through and we drove further north past the Continental Divide beyond which the tundra starts. It was awe-inspiring!
Unfortunately, we weren't set up for an Arctic adventure so turned around and left Tombstone late on Day 18.
DAY 19 | KLONDIKE HIGHWAY (YUKON)
Distance travelled: 534km
After an early morning walk hoping to see moose (no luck yet again), we set off driving the Klondike Highway to Whitehorse, the Yukon's capital. With the autumn colours, everything looked a bit more interesting but it wasn't the most scenic drive.
We arrived in Whitehorse late afternoon only to find that all the museums and historical sites, including the SS Klondike we had wanted to visit, had already closed for the season. We were three days late. So instead, I convinced the husband to take me to the Takhini Hot Springs and we soaked in the 47 degree mineral waters for an hour…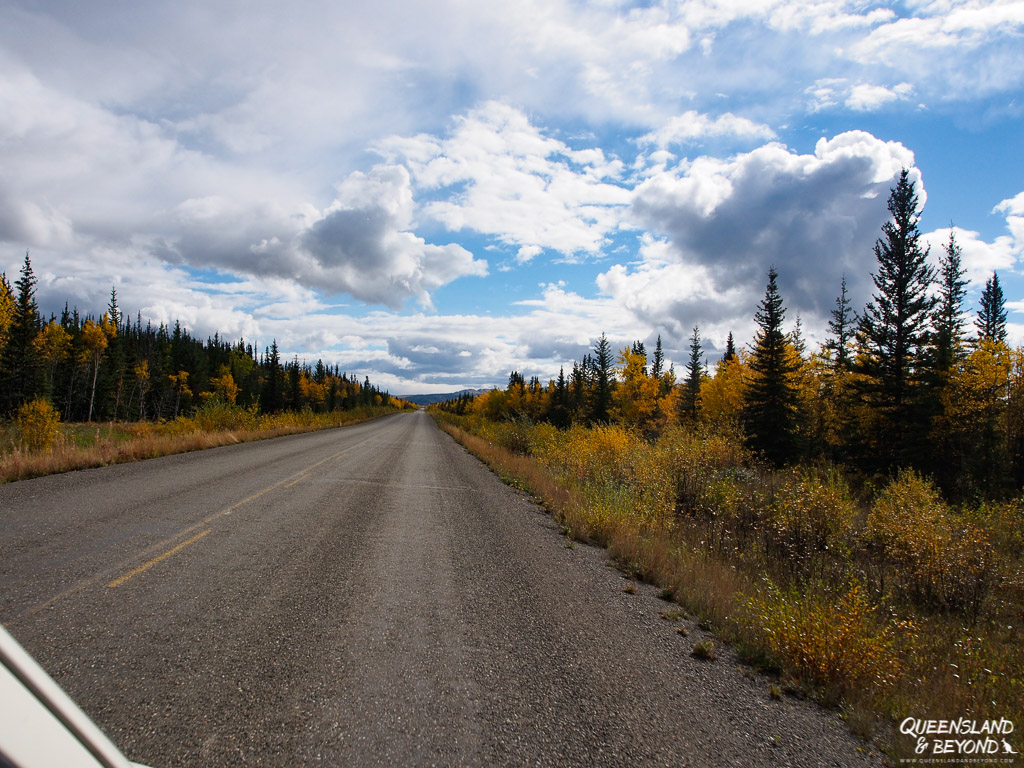 DAY 20 | ALASKA HIGHWAY (YUKON)
Distance travelled: 483km
Since Whitehorse had closed up tourist shop for the season, there was no point hanging around so we started our long journey back to British Columbia. The weather – rain, rain and more rain – was fitting for my mood as we got the blues a bit leaving the remoteness and raw beauty of the Yukon. Apparently we drove past mountain ranges on the Alaska Highway but I haven't got much evidence of that… It felt like we were repeating parts of our Southern Germany road trip with rain, fog and no views.
After seeing almost no wildlife in the Yukon (except for a million squirrels, some deer, a coyote, a bald eagle, and the Dall sheep), a moose decided to stand in the middle of the Alaska Highway almost as we were leaving the Yukon. The highlight of the day, and we now know that there is at least one moose in the Yukon!
---
SUMMING UP
In three weeks, we went from sunshine, blue sky and 28 degrees on Vancouver Island, fog, drizzle, icy winds and barely 5 degrees along the Inside Passage, to snow, ice and at least -5 degrees in Tombstone.
By the end of our Yukon trip, I had pretty much said hello to all the clothes I'd packed (including my bathers at the hot springs!). The husband, however, had only temporarily exchanged his beloved shorts for long pants on the Alaska ferry and for a couple of days in Tombstone, and still had his thermal underwear and goose down jacket to try out… Apparently the beanie on his head meant that the rest of his body was warm enough, and he didn't need them yet!
Apart from some whales spouts and a few seals frolicking in the sea, some skittish deer, two Dall sheep, more squealing squirrels than we could ever count, and a few other creatures, we'd seen fairly little wildlife – or at least nowhere near as much as everyone seemed to indicate we should! We had seen one black bear from hundreds of metres away on our third day on Vancouver Island but none since so were somewhat desperate for more…
Our Canadian campervan Tonky turned out not to be quite as amazing as its German cousin Siegfried the year before. The fridge stopped working after two days on Vancouver Island, which was great for the milk and yoghurt, it was a lot slower than Siegfried, especially uphill, ate a bit more petrol, didn't have quite as good storage so lots of stuff was just lying around, and the battery had a tendency to stop working at least once a week – once the husband knew what the problem was it was an easy fix each time, but still…
Yet Tonky took us to some majestic places in the Yukon and introduced us to an avid VW campervan fan base in Canada, resulting in several 'come and have a look at our setup' conversations!
From there, we travelled south back back into British Columbia and then west across to the Rocky Mountains in Alberta.
---
PIN FOR LATER