At last I can write "Hello from Canada"! 🙂
We landed in Vancouver a week ago and I'm already behind on my updates. I've managed to make some notes in my travel diary almost every night but just haven't had the energy to even open the laptop, let alone sort through photos. Beyond the hotel, WiFi has been non-existent and mobile phone coverage is patchy (once outside the metro areas).
Here's a quick update on our first week in Canada, I'll attempt to post in more detail about the various locations later. We're currently on the ferry from Vancouver Island to Prince Rupert where we've got a day layover until we board the US ferry to Haines, Alaska.
---
VANCOUVER | DAY 1-2 (21-22 AUGUST)
Since we landed at the jetlag unfriendly time of 7:15 am, my thought was to rent bikes and ride around Stanley Park for most of the day in order to stay awake. The trick worked out neatly, though I have to look at my photos to remember where we actually went given the jetlag induced fog that clouded my brain that day.
We ended up riding some 40-50km around Stanley Park and English Bay – Vancouver is perfect for bike riding, a great way to see the city!
Next day we had a look around the waterfront area, which I found a bit boring and soulless, maybe because it was mostly tourists around there and it is where massive cruise ships bound for Alaska leave from.
We picked up our campervan that night, took a few hours to go through everything and we ended up having a rather late night (a pattern we're still following now…). This van is called Tatonka, meaning buffalo, but we've decided that that's too long and are calling him 'Tonky' in true Australian shorten everything fashion.
Tonky is nowhere near as spiffy as last year's campervan Siegfried and takes much longer to crawl up a hill (let alone mountains) than turbo diesel Siegfried did.
They don't seem to realise here that Germany didn't stop making them in 1995 and that there are newer versions of the VW campervan available (though they've stopped exporting them to the North American market). That said, we're super glad we don't have a big RV like so many here, they must just be a nightmare to maneuver around.
---
VANCOUVR ISLAND | DAY 3-7 (23-27 AUGUST)
After the two days in Vancouver, we took the BC Ferry across to Vancouver Island where we've spent the last five days exploring. Exploring is a bit of an overstatement as we really only managed to rush around and see pockets of the island – who would have thought this island could be so big and travelling around would take so much longer than we anticipated.
We completely underestimated the sheer size of Vancouver Island but were also completely taken aback by the number of (large) towns and general infrastructure beyond the capital Victoria in the South.
Think of Vancouver Island like you think of Tasmania but with more towns, especially in the southern areas, and you might approximate what this place feels like.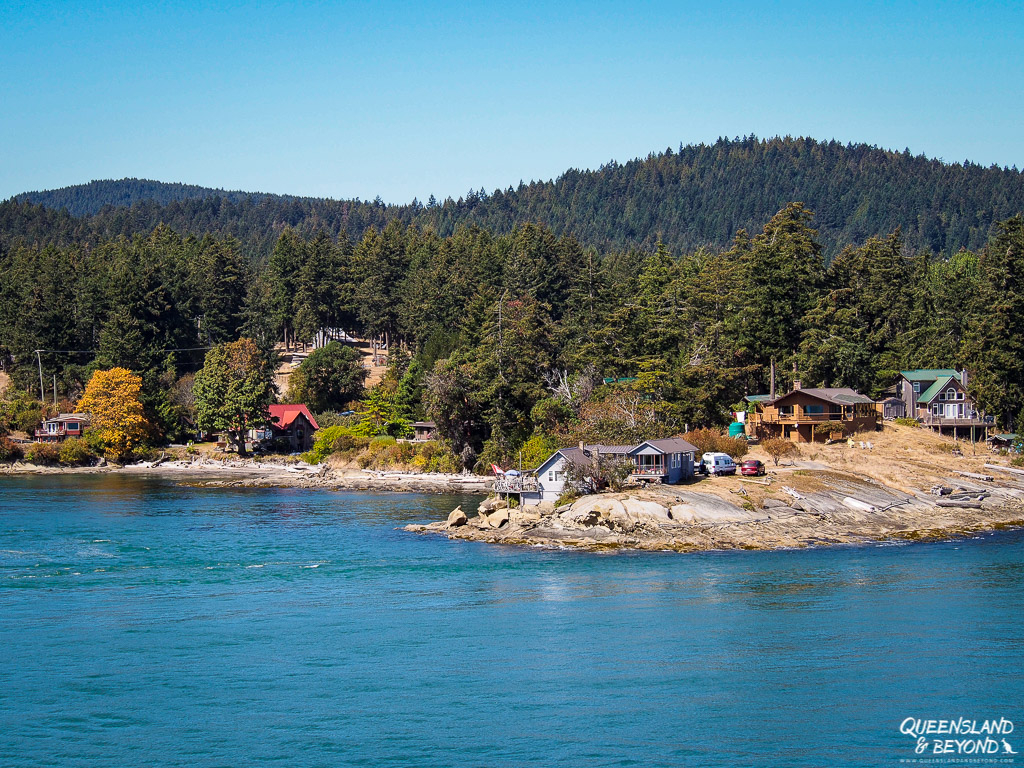 Looking back, we bit off way more than we could chew and should have just focussed on exploring a couple of areas instead of madly driving all over the island like we did. We also spent 2-3 hours getting lost on logging roads one day, which didn't help with trying to have an early night and being able to set up camp before dark.
Places I really liked include the tidal pools at Botanical Beach near Port Renfrew along the west coast in the south, surfing and kayaking mecca Tofino on the west coast (we should have planned a day here to join a kayak wildlife watching tour!), and Strathcona Provincial Park (again, we needed more time to actually do some longer hikes – and by longer I mean more than 15 min).
Strathcona is also a bit special for us because we saw our first black bear cross the road here! 🙂 No photos but we got pretty excited and shouted around the van for a while… Also enjoyed a gorgeous sunset over the bay at Ladysmith back on the east coast.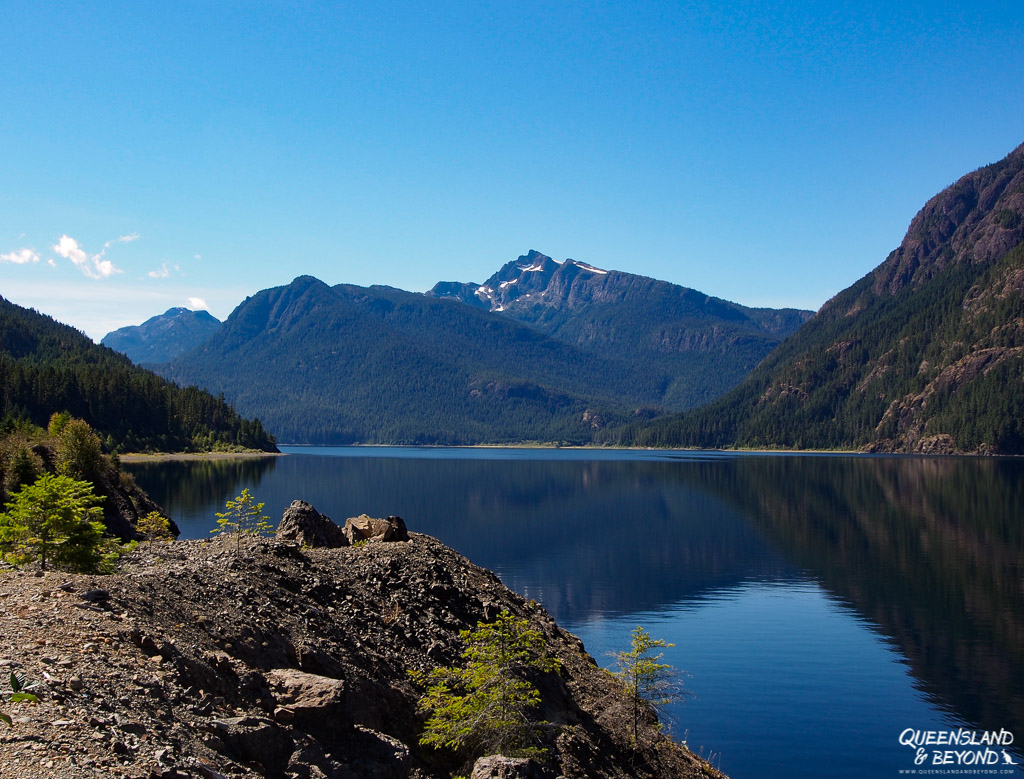 Once we hit the (huge) country town of Campbell River half way up the island, things started to become remote. It suddenly felt like we were on a different island, very few towns or settlements and a much narrower highway. It was kind of nice after the hustle and bustle of the previous days.
The long distances, associated late nights pulling into campgrounds and lack of sleep aside, we've had absolutely cracking weather, shorts and t-shirt almost every day and have been loving the sunshine (since we don't see a lot of that in Queensland 😉 ). The weather, however, has now turned and as we were getting ready to board the ferry at Port Hardy this morning, the rain and fog started to come in.
---
INSIDE PASSAGE (PART 1): PORT HARDY – PRINCE RUPERT | DAY 8 (28 AUGUST)
We've been on the ferry for 14.5 hours now, having left port at 7:30 am and we'll get into Prince Rupert around 11:30 pm. Since we weren't sure how seasick I may or may not get, we booked a cabin so I could be sick in private (yay!).
Given the beautifully calm weather, we had high hopes for smooth and sunny sailing.
Well, the weather hasn't played along nicely but either my seabands and/or natural remedies have worked because I haven't got sick (thank God!).
The start of the passage was a bit rough going through the open waters of Queen Charlotte Strait but from there on it has been very smooth sailing. Still, having the cabin has been great because it has meant a shower, power for the laptop, phone and camera, dozing off for a while, and just generally being able to relax.
We haven't seen a ton of wildlife yet though we did see some whale spurting going on in the far distance and a sea otter looking at us very curiously. The ship moves so quickly that it's hard to take non-blurry wildlife photos.
Whilst the first part of our Inside Passage trip has been a washed out one, I've still enjoyed the ferry trip. The ferry pulled in at Bella Bella on Campbell Island, which is five hours from Port Hardy and so incredibly remote, it's hard to believe many people live there. But apparently Bella Bella is a thriving First Nations' community with a hospital, school and community centre.
Tomorrow we'll check out Prince Rupert, the local museum showcasing First Nations' history, the remnants of the former cannery, and maybe take a drive along the Skeena River depending on the weather. I expect rain, rain and more rain since Prince Rupert has some 220 days of rain a year. Then on Tuesday, we'll board the ferry to Alaska where we'll arrive in the early hours on Thursday morning.
[Update: It's already Tuesday morning, 30 Aug, now and I've finally got a chance to post this. I've made myself comfy at the tourist information in Prince Rupert since they've got free WiFi and am hoping that the laptop won't crash yet again in the next half hour… We'll be boarding our Alaska Ferry in a couple of hours…]
Alaska, we're coming!