Beyond the usual tourist hotspots of Berlin, Rothenburg ob der Tauber, Heidelberg, Munich and Neuschwanstein Castle, Germany has so much more to offer.
Regional Germany is full of quaint medieval towns, historic castles, fairytale villages and beautifully restored half-timbered houses.
You won't meet a ton of international visitors so venturing to these medieval German towns will allow you to get off the 'international tourist track'. You are, however, also likely to need your five phrases of German as English is not as widely spoken as in the big smokes.
Road tripping is definitely the way to go, and you can either do this in a campervan like we did or stay in hotels and Pensionen (guesthouses) around the country.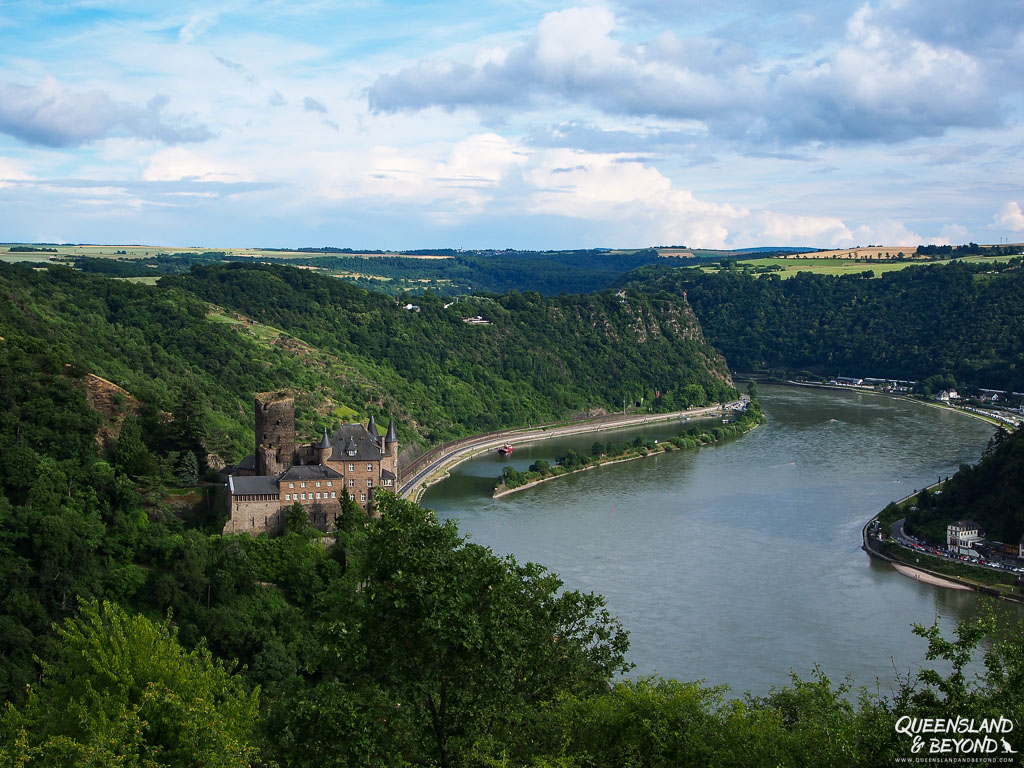 A SCENIC ROAD TRIP: EXPLORING THE GERMAN TIMBER-FRAME ROAD
Germany boast almost 150 themed roads that are just perfect for road trip around the country. The most famous – and oldest – of all is the ever popular Romantische Strasse (Romantic Road).
I didn't even know the Romantic Road existed until I moved to Australia, and not being particularly romantic, I'm still to add it to my bucket list, haha.
But one themed road that I'd love to explore more is the Deutsche Fachwerkstrasse, otherwise known in English as the German Timber Frame Road.
The German Timber-Frame Road (or German Half-Timbered House Road, take your pick) runs from Meersburg on Lake Constance in southern Germany all the way to the town of Stade near Hamburg in the north. It zigzags across the middle, taking in more than 100 picturesque German towns that all provide remarkable examples of half-timbered, historic houses.
These small German towns and villages are incredibly gorgeous, and are stuffed full of medieval, renaissance, WWII and post-war history. Plus they offer some amazing regional cuisine. Just to try out the different local breads and cakes would make for an awesome road trip around Germany!
I'm not sure anyone would really drive the entire timber-frame route since it's over 3,500 km long but people certainly explore sections of it.
So, what's so special about the Deutsche Fachwerkstrasse? Well, it's the Fachwerk, of course.
WHAT IS FACHWERK?
Fachwerk, or timber framing, is not only common in Germany but can be admired in England (think Tudor-style houses), France, Poland and Czechia (especially where there have been German influences), Belgium, the Netherlands, and Scandinavia.
Timber framing even exists in North America, just think of log cabins, and other parts of the world.
It's basically a building method that uses heavy posts and beams that are carefully fitted and joined together using wooden pegs. When you think of Europe and quaint medieval villages, you're probably picturing timber-framed houses. It was common to build houses using large post and beam structures throughout the Middle Ages up until the last century.
German half-timbered houses boast great variation in terms of architectural styles and carpentry techniques across the different regions.
Houses in northern Germany often have massive beams whilst those in southern regions frequently have fanciful decorative elements (e.g. to ward of evil spirits). But in general, German half-timbered houses all have a foundation of stone or brick upon which the Fachwerk is built.
These historic houses is what makes a visit to many European countrysides so charming.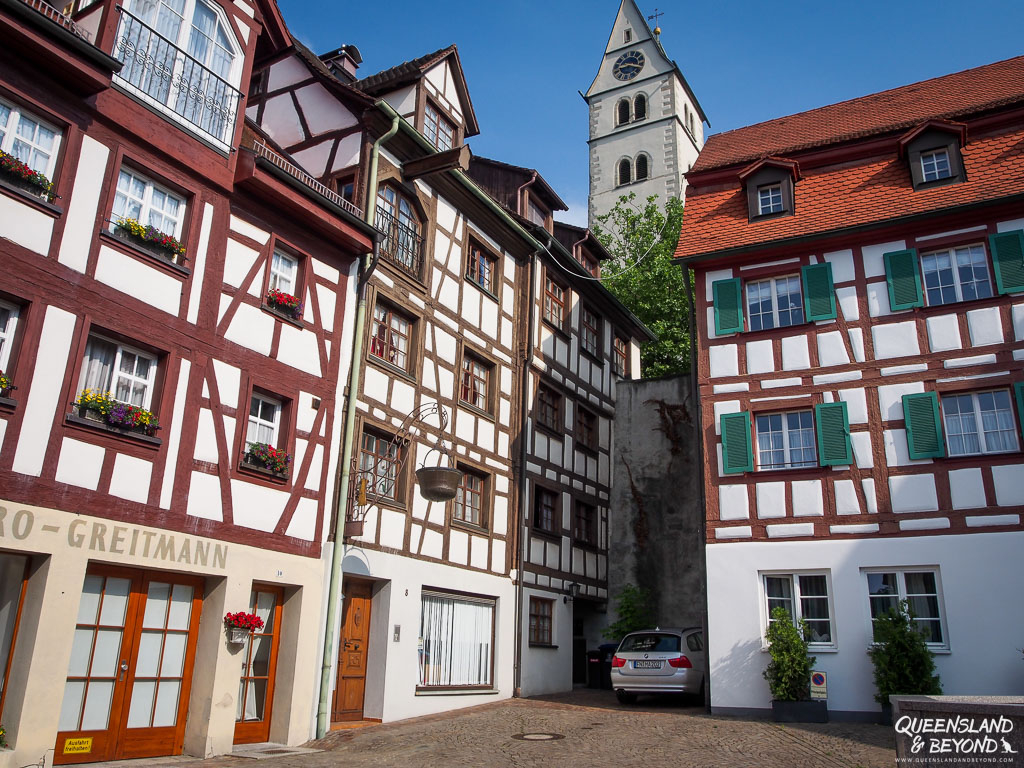 ---
4 QUAINT TOWNS IN GERMANY: ALONG THE FACHWERKSTRASSE
I've always liked half-timbered houses.
We lived in a little village near Berlin for a few years, and it was so sad to see some of the old, half-timbered villas fall into disrepair because people simply lacked the funds to restore them. Fortunately, some have since found new owners who are putting a bit of love back into them.
Half-timbered houses can be found everywhere, not just along the scenic German Timber-Frame Road. But here are four ridiculously quaint German towns where you can admire an abundance of these gorgeously restored buildings. Three of them are in the Harz Mountains whilst the other one is in the south, close to the Black Forest.
But any of them would make for a perfect weekend away!
They are best explored on a road trip as public transport options are limited. Or you can join a German seniors tour since they're quite popular!
1. MEERSBURG | BADEN-WüRTTEMBERG
Meersburg is where the German Timber-Frame Road begins. It's beautifully located on the shores of Lake Constance in Germany's South, and you're almost guaranteed good weather here. Coming from Australia, this is important.
You can easily spent half a day or longer in Meersburg, especially if you want to snoop around the Altes Schloss (Old Castle). It's Germany's oldest medieval castle with a drawbridge, dungeons and all.
If you're into ornate baroque architecture, you could also visit the pink Neues Schloss (New Palace), built in the early 18th century. Or stroll along the waterfront, sip a coffee in one of the many cafes and let the abundant sunshine tickle your nose (= awesome German saying 🙂 ).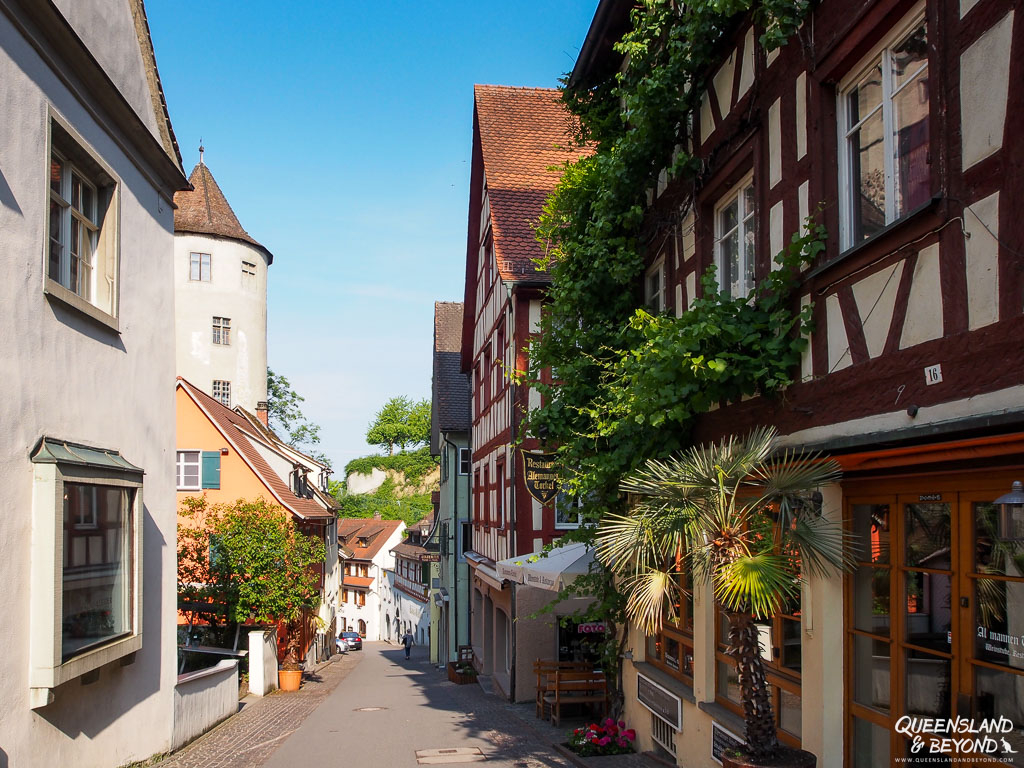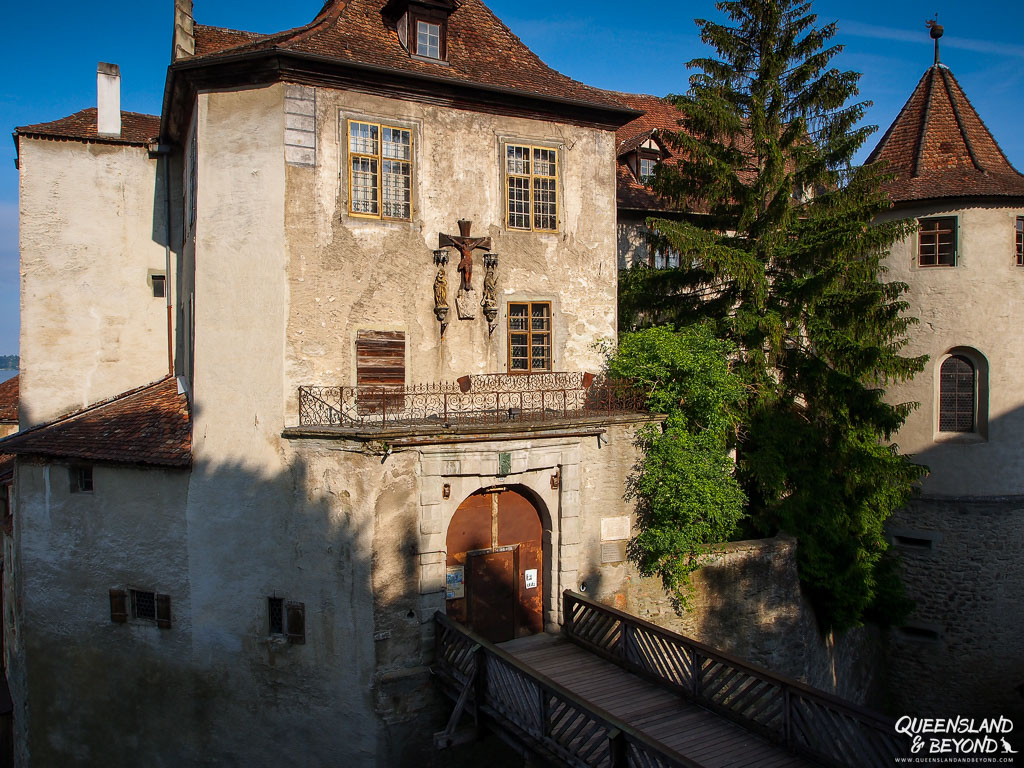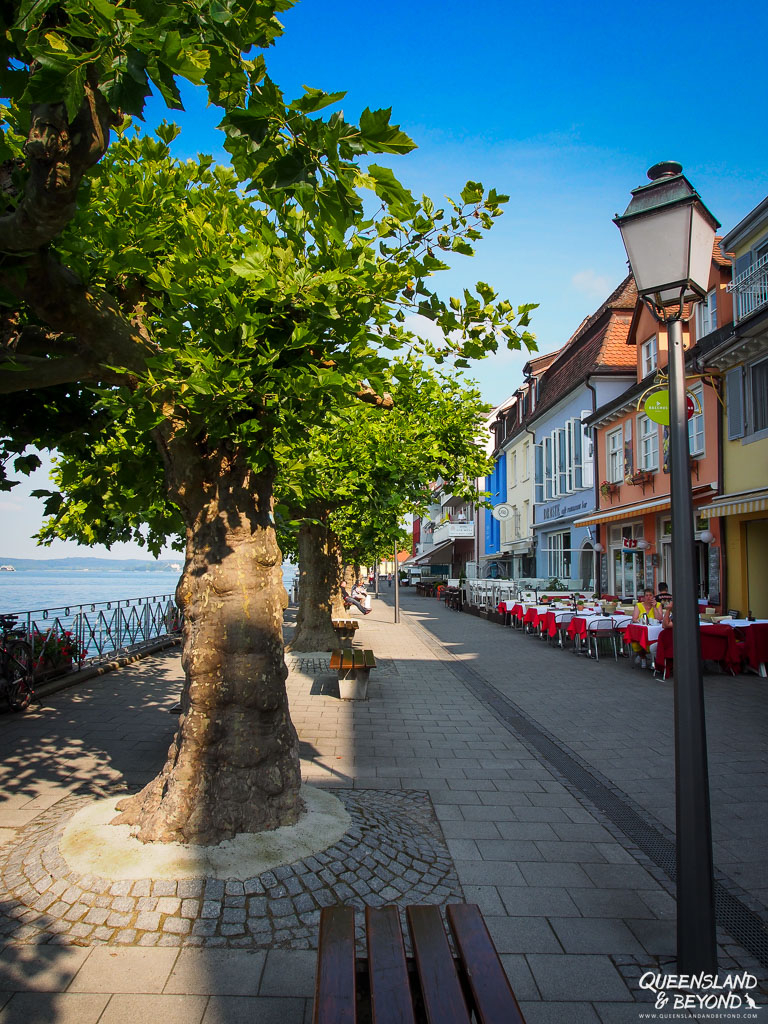 We strolled around Meersburg for a couple of hours, and since we arrived there in the early morning, we pretty much had the whole place to ourselves. I expect it gets quite busy if you come in high season or on weekends.
2. STOLBERG | SAXONY-ANHALT
Like so many small towns in Germany, Stolberg in the Harz Mountains hails from medieval times and is over 900 years old. It's an old miners' town with iron, copper, silver and tin once being extracted close by. Stolberg became a tourist destination around the turn of the 20th century, and in 1911 more than 5,000 'summer guests' were holidaying in the town and surrounding mountains.
The town was so sleepy and quiet when we visited, I can hardly imagine what it would have been like with 5,000 people hustling and bustling about.
And like many German towns, Stolberg also has its own Schloss. After it fell into disrepair, like so many historical buildings, the Stolberger Schloss was reopened after extensive restoration in 2008. I haven't been but I'm sure if you're a Schloss lover it's worth a visit.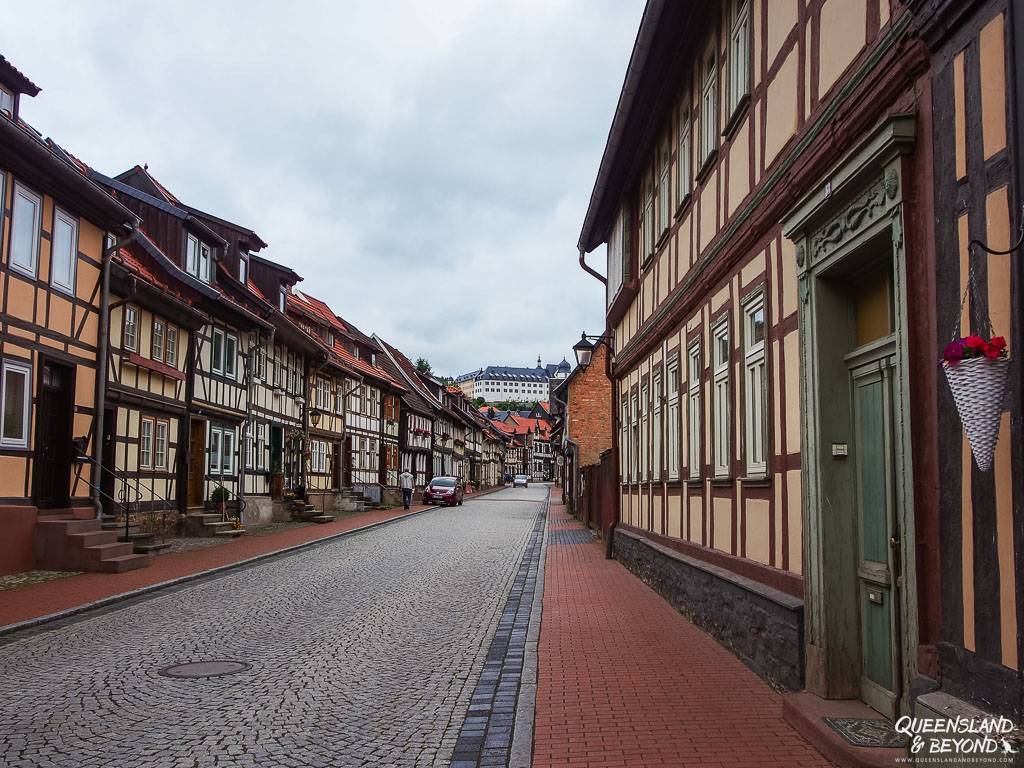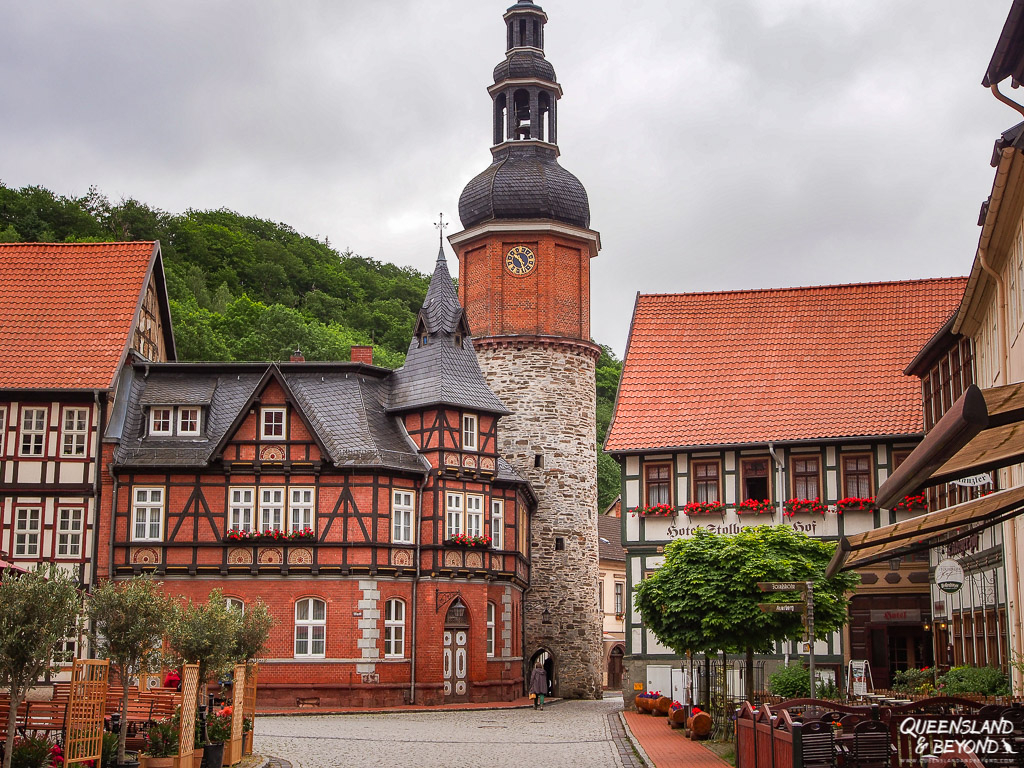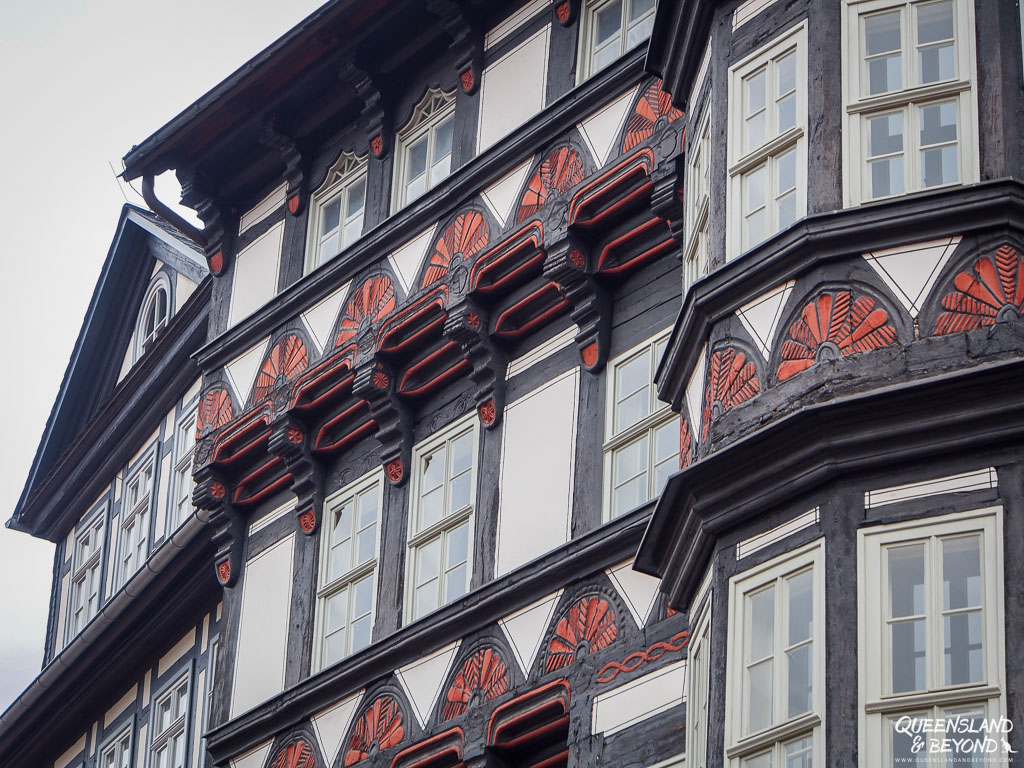 3. QUEDLINBURG | SAXONY-ANHALT
Quedlinburg on the northern outskirts of the Harz Mountains is just as old as Stolberg, and just as picturesque if not more so. There are more than 1,400 half-timbered houses, and if you're one for ticking off UNESCO World Heritage sites, add this town to your list.
What I like about this place is that it was ruled by women (yes, women!) for over 800 years!!
Beyond strolling around the Altstadt (old town) and admiring some fabulous Fachwerk architecture, you can visit yet another Schloss. Or you could dive right into all things Fachwerk and learn about it in detail at the historic Fachwerk museum!
My Quedlinburg photos all hail from yonder years so excuse their blurriness and poor quality. Oh, and that goes for the photos from Wernigerode below as well!
My photos don't really do Quedlinburg justice. It's a much more charming place than they suggest and you can easily spend a day exploring the town, visiting the Schloss and lounging about in one of the many cafes, indulging in cake, of course!
If you want to delve a bit deeper into the local history, check out Uncommon Travel Germany's post on Quedlinburg.
4. WERNIGERODE | SAXONY-ANHALT
Wernigerode is only 30 km west of Quedlinburg so it's a quick drive to explore yet another gorgeous town in the Harz. Like other towns in the Harz Mountains, Wernigerode was a mining town focused on silver and copper. It's largely survived WWII intact, showcasing some amazing half-timbered architecture.
Plus it's got the obligatory Schloss. The 12th century Schloss Wernigerode sits perched high above the picturesque Altstadt, and I've got the vague idea that I've visited the Schloss many, many years ago.
Like any of the historic towns in Germany, Wernigerode is best explored on foot so stroll around the Altstadt and admire buildings like the 16th century Gothic Rathaus (town hall). Apparently the Rathaus was first used as a theatre in the 13th century, and only given its wood-carved Gothic features three centuries later.
---
THEMED ROADS IN GERMANY
If the idea of a themed road trip excites you, you could also meander along any of these themed roads: the Deutsche Uhrenstrasse (German Clock Road), the Deutsche Märchenstrasse (German Fairy Tale Road), the Schwäbische Dichterstrasse (Swabian Poets Road) or the Niedersächsische Spargelstrasse (Lower Saxony Asparagus Road). By the way, asparagus is considered a sacred vegetable in Germany.
I have explored none of these as yet. But I'm hoping that one day I will, especially the fairy tale road following in the footsteps of the Brothers Grimm. That sounds fun!
So far, we've only driven part of the Deutsche Alpenstrasse (German Alpine Road). I say 'part' because the weather was unkind and when you're in the Alps and are surrounded by fog and rain, it isn't much fun so we abandoned our plans half-way.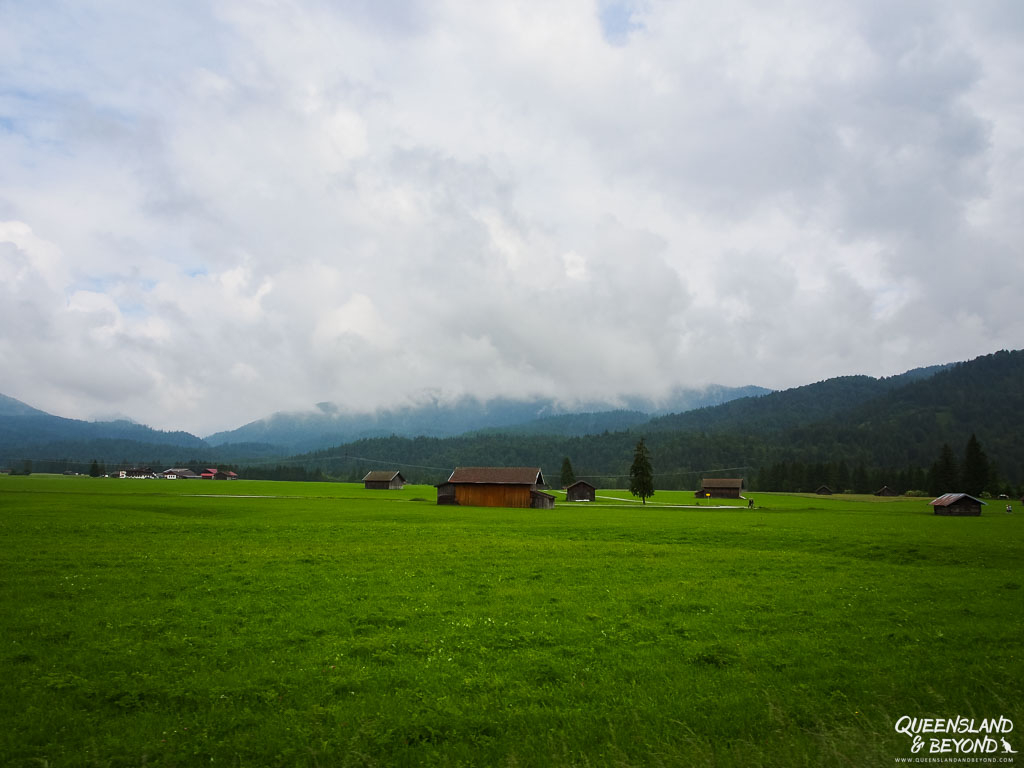 ---
SUMMING UP
Not many non-German tourists explore the German Timber-Frame Road so you'd definitely be delving into the heart of regional Germany here!
You will, however, meet tons of German tourists, especially in the 60+ pensioner bracket and on weekends / high season. This is not party mile.
The Harz Mountains are popular with German families during school holidays so don't expect to have sights to yourself then. You can also easily combine a road trip with some hiking or tobogganing, the Harz region has plenty of options depending on the season.
Without a car you're pretty much stranded and it'd be really hard work to travel around on public transport. It's doable but painful.
I've also been to Mühlhausen in the Harz Mountains and Fritzlar in Hesse, another two other picturesque towns along the German Timber-Frame Road. But since I have zero photos and almost no recollections of my visits, I'll just have to return at some point to rectify that. 🙂 And then there's only another 100 towns or so to explore!
Marie-Eve also has some beautiful photos of towns along the northern section of this scenic road. I especially like the look of Stade, which is the northern-most town along the German Timber-Frame Road.
You can also find some more information in English at the dedicated Deutsche Fachwerkstrasse website.
Happy road tripping!
---
PIN FOR LATER