It's been over three years now since we've moved from Melbourne, Victoria, to the much bigger state of Queensland.
Besides relocating more than 2,000km north and getting to enjoy sub-tropical weather, you wouldn't think that moving to Queensland involves experiencing some sort of culture shock, would you? After all, it's still Australia and Australia is not that diverse in terms of culture, right?!
Well, not quite…
---
THE SUNNY STATE: THINGS ARE REALLY DIFFERENT
Sometimes I feel like I'm in a different country.
You don't notice these things so much when you just come up for a sun-seeking holiday from down south. Or maybe you do because you're way more observant than I am.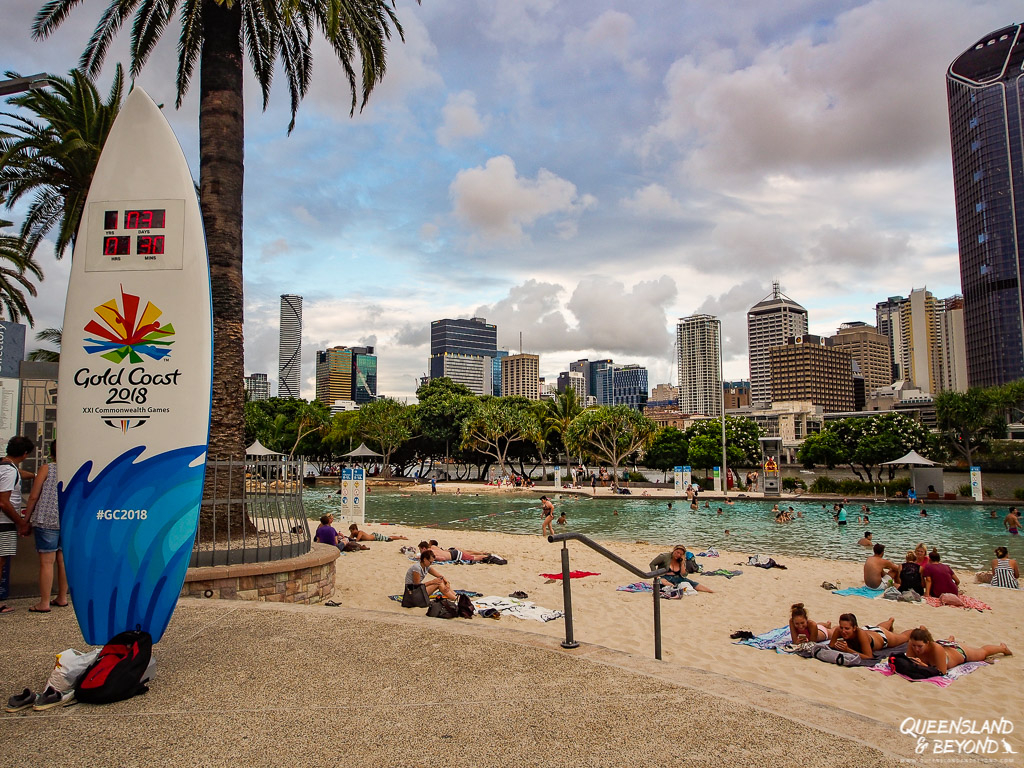 Of course, this list is totally subjective and I'm making sweeping generalisations. So take it or leave it.
1. SURF-LIFE SAVING IS REALLY, REALLY BIG
Beach safety is ridiculously important in Australia, and rightly so.
Here is a country that is choc-a-block with absolutely gorgeous, and often isolated, beaches. The water usually looks magnificent, it's often hot, and all you want to do is jump in and cool down.
Every year, people drown at the beach (45 in 2020), rivers and lakes. They swim where they shouldn't or have no idea about how dangerous the ocean can be. People get swept out into the sea from just standing in knee-deep water because they don't understand about rips and currents. If you haven't grown up here or aren't used to 'reading the waves', you probably have no idea where it's safe to swim.
Swim where you can be rescued. Swim between the flags. After a near-drowning incident at an unpatrolled beach, I no longer take this lightly.
The good news is with Queensland having such fabulous warm and sunny weather all year round, surf-life saving is big here. Huge. Massive.
All summer there are championships, regional, state, national, you name it. It's on the news and in the papers. You can't escape from it unless you leave Queensland. Or at least beach-y Queensland.
Apart from it being a seriously popular sport, this means that tons of beaches have lifeguards. So you can frolic in the waves and get rescued if needed.
In fact, you'll be hard-pressed to find a beach in southeast Queensland where you can't swim between the red and yellow flags somewhere.
2. QUEENSLAND IS NOT AS MULTICULTURAL AS DOWN SOUTH
Upon moving to Queensland, the biggest shock I probably got was how white everything is.
This is probably more noticeable on the Sunshine Coast since Brisbane and the Gold Coast are more multicultural. But moving from Victoria, specifically Melbourne, it took me a while to adjust to the fact that 'ethnic cuisine' (who, by the way, really says that?!) largely means Thai and Indian.
Of course, there are pockets or suburbs that are much more multicultural but overall, there's really nothing very cosmopolitan about Queensland, Brisbane included.
I'll give you some facts: of the 26.3% of people in Queensland born overseas (2011 census data), only 7.4% came from non-European countries. In Victoria, that number is three times as high (20.7%).
Queensland has a lot to offer but ethnic diversity is not (yet) one of them.
3. INDIGENOUS CULTURE IS FAR MORE ACCESSIBLE
On the other hand, there is a much stronger Indigenous culture and presence in Queensland.
This is perhaps not surprising given that 4% of Queensland's population identify as Aboriginal or Torres Strait Islander (compared to less than 1% in Victoria, and 2.8% across Australia).
Not only are there examples of some amazing Aboriginal rock art in Queensland but Welcome to Country ceremonies are more widespread and are generally performed by elders of the local community, involving song, dance and storytelling.
I've learned a lot more about Indigenous affairs since moving to Queensland, and that's been a real pleasure!
4. QUEENSLANDERS ARE WAY MORE PATRIOTIC THAN THEIR SOUTHERN NEIGHBOURS
Compared to anyone I've ever met from Victoria, Tassie or NSW, Queenslanders are crazy patriotic about their state. And they're way more concerned with NSW and Victoria than either of these states is with Queensland.
State of Origin in Rugby League is ridiculously important here with people wearing maroon-coloured tops to work on State of Origin nights. I'm talking grown, mature adults here who choose to wear maroon. It's the only thing people can talk about when Queensland and NSW meet for their three rugby league clashes a year.
At least it's all over by mid-July.
5. QUEENSLAND IS WAY BIGGER THAN YOU THINK
When I moved to Melbourne way back when, I used to think that Victoria was an insanely big state. After all, you had to drive 6+ hours to hit Mallacoota near the border to NSW in the east. If I did that from Berlin, I'd have the choice of at least four different countries.
In Queensland, 6 hours driving doesn't even get me out of southeast Queensland (well, going north or west obviously)!
I am still adjusting to just how big Queensland is. Brisbane is really not anywhere near the top end of Australia.
6. QUEENSLANDERS GET UP INSANELY EARLY (OR, DID YOU WANT COFFEE AFTER 2 PM?!)
There's no daylight savings in Queensland so in summer, the sun is up around 4am. People start exercising by 4/4:30 in the morning. By 6am, cafés are open and people start streaming in.
Queenslanders get up early.
Daylight savings can probably only partially be blamed. The heat and humidity on the coast over the summer months means that mornings are the best part of the day.
It feels like that when you get up at 6am, the world has already been productive for at least an hour, and everybody's ready for breakfast! Or is that morning tea??
This also means that when I visit people in Melbourne or overseas, I drive everybody crazy by my weird thinking that I must be up and doing something, it's 6:30am after all!! And why is there no café open?!
7. QUEENSLANDERS EAT SUPER EARLY (OR, LET'S GO TO BED AT 8PM)
Since they get up so ridiculously early, Queenslanders also go to bed early. In fact, early on we attempted to eat out a couple of times and found that restaurants were closing at 7:30pm since, of course, everybody had eaten at 5:30pm.
We have since discovered a few places that actually serve food until 8:30pm.
Similarly, I've attempted to have coffee & cake for afternoon tea and discovered that said cafe closed at 2pm. I guess if you eat brekky at 6am, you'll want afternoon tea by 1pm at the latest.
But seriously, don't expect restaurants to open as late as they do in Melbourne or Sydney. The fish & chip shop around the corner often closes at 7:30 or 8pm, and we're in a 'tourist area'.
8. QUEENSLANDERS LOVE GOING CAMPING AND TAKE AS MUCH AS THEY POSSIBLY CAN
I've gone camping a fair bit over the years but I've never quite seen setups for long weekends like they have in Queensland.
People come with kettles, electric frying pans, slow cookers, fridges, TVs, actual mattresses, doonas, … The list goes on.
They arrive with trailers, just for a weekend getaway.
I'm fascinated by it and admire their willingness to pack and unpack all that stuff. I'd probably just book a holiday apartment if I wanted to have access to all that stuff but hey, we're all different, and it gives me something to talk about! 🙂
9. ROAD DESIGNS CAN BE INCREDIBLY CONFUSING (OR, TURNING LEFT TO GO RIGHT)
Ah, the roads…
No one quite builds roads like they do in Queensland. I don't think I've ever gone as much left when I want to go right as I do in Queensland.
Sometimes it feels like you're on a wild goose chase, trying to join a highway, cross a bridge or simply go where you want to go.
10. QUEENSLANDERS HAVEN'T ACTUALLY HEARD THAT SUN EXPOSURE CAN CAUSE CANCER
With a minimum of 8-9 hours of sunshine daily, Queenslanders should be pretty sun-smart. Maybe it's because the sun in southeast Queensland feels nowhere near as ferocious as it does further south where, at the height of summer, you feel your skin sizzling within minutes.
Or maybe the message just hasn't got through yet. In any case, Queensland remains the skin cancer capital of Australia.
It's not like people don't wear hats etc. but you can almost instantly tell if someone is from interstate when you see them at the beach. People from Victoria or NSW are usually wrapped in protective clothing, including hats, rashies and shorts, slathered in sunscreen lotion, and don't tend to sunbake.
Only Queenslanders and people from overseas seem to think that the sun is harmless.
11. QUEENSLANDERS ARE OBSESSED WITH THE WEATHER REPORT
The weather report on the news is usually a 3-4 minute affair in most places but in (southeast) Queensland it can take up to 10 minutes!
There's the usual stuff like maximum and minimum temperatures to be covered but then weatherman or lady also discusses boating conditions, wind directions, tidal patterns, the best beaches for surfing and swimming, and what fish you can currently catch where.
They might even discuss some fancy photo of cloud formations or show you some recent sunset submissions. And I haven't even mentioned storm season!
It's really quite entertaining, especially when you consider the weather is more or less the same every day!
I never knew that so much could be said about the weather on the evening news.
---
Have you moved to Queensland from another state? Ever felt the same way about Queensland or Queenslanders? Or do you think that all Victorians are a bit wacky too? 🙂

---
PIN IT