Spending almost 24 hours in Dawson City, Yukon, was one of the best stops we made on our epic Canada road trip.
Exploring Dawson City in the Yukon's far north is somewhat surreal.
For one, you hear a lot of German during the tourist season because of crazy German adventure seekers everywhere. And then there's gold rush era buildings, timber boardwalks, dusty, bleak streets, and a ton of short-lived history (plus exceptional WiFi, go figure…).
I'm usually not one for touristy places (who is?!) but I totally fell for Dawson.
Here's why…
---
DAWSON CITY: A SLICE OF YUKON HISTORY
Let me start with a bit of history because …
Before we ventured into the wild Yukon and Dawson City, we thought we ought to educate ourselves on Yukon history. At least vaguely. So we learned a little bit of its sensational gold rush history.
The one thing that we managed to "educate" ourselves about before leaving on our trip was the Klondike gold rush of 1898.
And by education I mean watching the TV mini-series Klondike (apparently far from the truth, what a surprise) and reading James Michener's Journey, which traces the story of four Englishmen to the Klondike gold fields.
I actually can't say that I read Journey, it's still sitting on the bookshelf. The husband read it and to date, I only have second-hand reading experience. Very shameful.
So it's no surprise that we learned most about the Yukon and the Klondike gold rush in, yes, the Yukon. I'm no expert by any stretch of the imagination but our one day in Dawson City turned out to be incredibly fascinating and I do know more about the gold rush now than I ever knew before.
THE KLONDIKE GOLD RUSH: AN EXTREMELY SHORT HISTORY
It's quite insane what these people went through in the hope of striking gold.
At the end of the 19th century, gold was all that mattered in the Yukon with more than 40,000 prospectors arriving hungry for gold and intend on making a quick fortune. They came ill-prepared and died in scores.
After arriving by ship in Skagway, they hauled their 500kg of required supplies over the infamous Chilkoot Pass or White Pass, usually in freezing conditions. If they made it across, there were lakes to traverse and then a paddle down the Yukon River to Dawson City, Bonanza Creek and the Klondike gold fields.
All in all, it was a trip of some 700 km from the time they landed in Skagway (which, by the way, is in Alaska) and one which took months.
Gold was first discovered in the Yukon in 1896 but by the time the gold-mad masses arrived in the far north in 1898, all the best sites had been claimed. There was little hope of getting rich and ever seeing any gold.
In the summer of 1898, Dawson City had indeed become a city, from some 500 people in 1896 to over 30,000 two years later.
It was filled to the brim with gold miners, scamsters, merchants, business owners, and prostitutes. A city full of euphoria, gambling, drinking, and dancing in the saloons. And then despair and heartbreak as the realities of not finding any gold set in.
---
TRACING THE KLONDIKE GOLD RUSH: THINGS TO DO IN DAWSON CITY
Dawson City of today is perfect for soaking up that gold rush fever and feeling like you've stepped into the Wild West.
For a small town, it's packed full of places to explore and will keep you busy for at least two or three days, especially if you're vaguely into history or want to learn more about the crazy gold rush.
The town now mostly survives on tourism but that has somehow not made it tacky, maybe because many of its buildings are of national significance and have carefully been restored.
It is far from civilisation, being just 240 km south of the Arctic Circle. It is a dusty and barren kind of place, reminiscent of a time gone by that haunts you long after you've left. I guess that's why apparently many people come for a summer and never leave.
We arrived in Dawson via the dirt road that is the Top of the World Highway but many people come directly from Whitehorse and travel the 530 km along the Klondike Highway. Despite its remoteness, the speed of the Internet is incredible here (the visitor centre is a serious WiFi hangout).
Unless you're dead keen on experiencing the Yukon in winter, I'd think that summer is the best time for visiting. Keep in mind that the summers are short here and most sites will close for the season on Labor Day (first Monday in September).
We managed to arrive in Dawson on Labor Day and got to explore it on the last day of the season – what luck!
So here's how you can immerse yourself in the Klondike Gold Rush of 1898.
1. TAKE A WALKING TOUR OF DAWSON CITY
I actually just loved wandering around the dusty streets gawking at carefully restored as well as ramshackle buildings of yonder years. Dawson is like a time capsule, and most of the town has now been designated as national historic sites.
But something that you should absolutely not miss is taking a tour offered by Parks Canada. They're surprisingly awesome!
The tours are taken by period-costumed Parks Canada interpreters, and they tell the most amazing stories. We went on two walking tours and I wasn't bored for a single second. Instead, I was whisked away to the gold rush seeing the stampede unfurl before my eyes.
What's offered seems to change year by year and the tours we went on last year don't seem to be available this year. We had the pleasure to go on the What a rush: Klondike Gold Rush 101 tour, and it was absolutely brilliant! Our interpreter Rachel was incredibly theatrical and it was just such fun learning about the gold rush. In any case, I expect what Parks Canada offer this year is equally entertaining.
By the way, the walking tours are free if you're got a Parks Canada (National Parks) Pass!
Parks Canada also offer self-guided tours with audio guides available in various languages, including French and German. By the way, I've never met as many Germans as I have in Dawson City!
2. WANDER AROUND HISTORIC SITES
If you just don't fancy a guided walking tour, you can explore some of the sites on your own. I found the SS Keno and the Commissioner's Residence the most interesting (check the limited opening hours first).
Harrington's Store has photographic displays of Dawson in its former glory, presenting an interesting window into history. It's pretty much open all day.
Some of the historic sites can only be visited on a tour, including the Old Post Office or the Red Feather Saloon. But just grab a map from the visitor centre and wander the streets. There are plenty of buildings to look at from the outside, many of which have interpretive signs.
If we'd had a bit more time, I would have liked to poke around Jack London's cabin where he lived in 1898 and got inspired to write Call of the Wild and White Fang.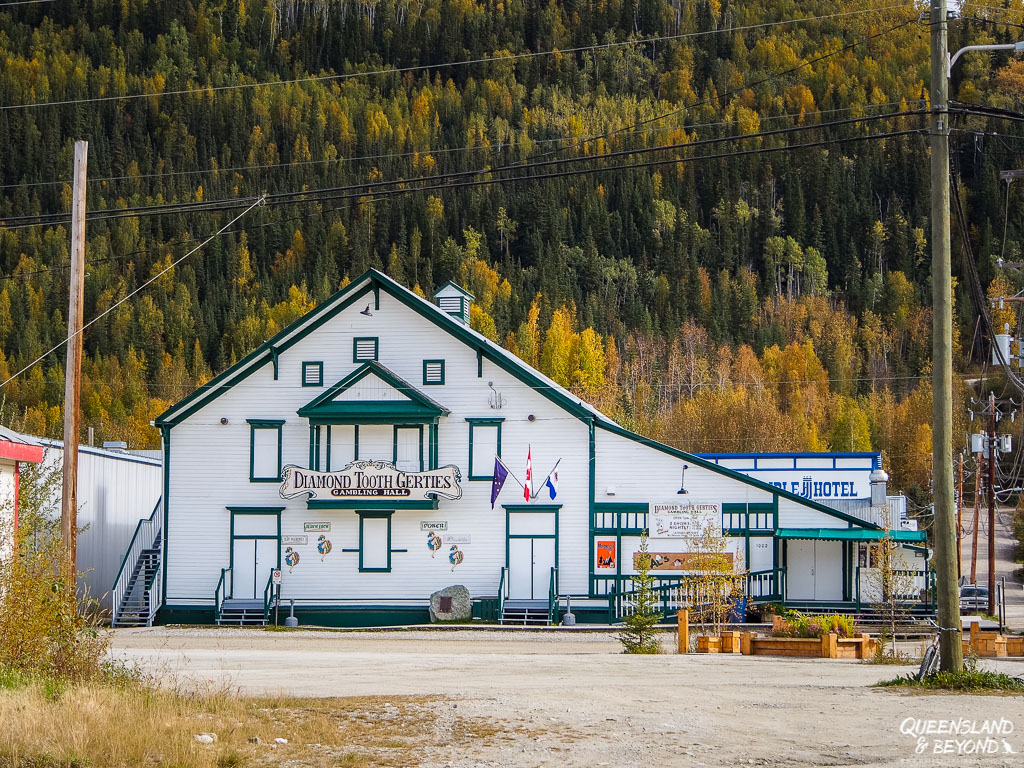 3. STROLL AROUND THE DAWSON CITY MUSEUM
I wasn't that keen on exploring the historic Dredge No.4 so I spent an hour strolling through the Dawson City Museum instead. It's not going to make it into my top ten of must-see museums but it gave me a bit more insight into Dawson's history.
There are some interesting exhibits showcasing the gold rush era and also some information on the local First Nations people.
4. TOUR DREDGE NO.4
If you're keen to learn more about how dredging machines mine for gold, head out of Dawson for some 13 km and visit the Dredge No.4 site. Previously run by Parks Canada, you can now only visit the site by going on a guided tour with Goldbottom Mine Tours.
I wasn't that interested so the husband went on his own. Whilst he found some parts interesting, the whole tour was incredibly rushed and not what he expected. And at $20 per person, it was a bit disappointing to have spent so much money when the very cost-effective Parks Canada tours were simply fantastic!
It might have just been the person doing the tour that day but Dredge No.4 still landed in our Flop 5 experiences in Canada. Maybe what we should have done instead was just visit the site and learn about it through the interpretive panels there. Or visit the Bonanza Creek Discovery site where gold was first found in 1896.
---
TIPS FOR VISITING DAWSON CITY
If you're keen to step back in history and soak up some gold rush atmosphere, here are some tips for visiting Dawson City:
Dawson can get incredibly busy over the summer months (with the population swelling to several thousand) so book ahead, especially if you want to stay in a cabin or hotel room. We were there right at the end of the season and met people who had difficulty finding a room in town. We stayed in an RV park just outside Dawson and had no issues with getting a campsite but actual accommodation is limited and tour bus companies book out entire hotels.
The visitor centre has excellent information and will be able to tell you what's on, including walking tours and opening hours for the various historic sites. Check out the Parks Canada website on Dawson City, the official Yukon Travel website on the Golden History of Dawson or the Dawson City website for more information.
There are tons of vibrant festivals held in Dawson over the summer, including the annual music festival in late July and Discovery Days festival in August. Check out what's on if you're interested.
Beyond tracing the gold rush in Dawson, you can learn more about the local Tr'ondëk Hwëch'in First Nations history at the Dänojà Zho Cultural Centre, enjoy fabulous views of Dawson City from the Midnight Dome hill (or if you're lucky, get a glimpse of the Northern Lights), visit the Dawson City cemeteries, paddle the Yukon River, or hike one of the many trails around Dawson. They are all on my list for our next visit whenever that may be!
Dawson goes into shutdown mode over the winter months with Labor Day being the last day of the year when the historic sites are open. This also goes for the historic sites in the Yukon's capital Whitehorse, which we missed out on as we arrived about four days too late.
For us, Dawson City turned out to be such a surprise. Touristy, perhaps, but definitely not tacky. And gold rush fever all around you.
No Yukon visit would be complete without venturing to Dawson City!
Enjoy reliving history and being infected by that gold rush fever of yonder years!
---
WANT TO EXPLORE DAWSON CITY? PIN FOR LATER!