Stunning Sanssouci Palace in Potsdam isn't far from Berlin, and Berlin itself is full of magnificent Prussian architecture. Visiting Sanssouci makes for a royal day out but to really appreciate it, you'll need to know some German history.
So let's start with a brief history lesson.
---
SANSSOUCI PALACE IN A NUTSHELL: AN ABBREVIATED HISTORY LESSON
The concept of a singular nation-state only became a reality for Germany in 1871 when the myriad German states were unified into the Deutsches Reich (German Empire) under Prussian leadership. Prior to that, Germany only existed as a confederation of individual states.
Even prior to that (before 1815), 'Germany' meant two powerful states, Prussia (no, not Russia) and Austria, and a bunch of smaller kingdoms, duchies, free towns, principalities and so forth. Various economic and political alliances existed among them but they weren't even loosely unified in a nation-state sense.
And that is why there are hundreds, if not thousands, of castles and palaces across Germany. Because every tiny ruler wanted to have their own special dwelling.
Berlin and nearby Potsdam have over 30 palaces and manors alone. Not all are necessarily worth a visit, unless you're nuts about regal abodes, but a particularly splendid one is Schloss Sanssouci, Sanssouci Palace. Miraculously, it survived the bombings of WWII almost unscathed.
SANSSOUCI: UNESCO WORLD HERITAGE
For some reason, Sanssouci doesn't make it onto many 'Top 10 castles in Germany you must visit' lists, even though it's a UNESCO world heritage site. And it's not like nobody visits. In fact, admission is on a timed-entry basis and via audio-tour only because it is so very popular: three million visitors annually.
Notwithstanding the tour buses and crowds, strolling around the expansive gorgeous gardens and parklands, exploring some of the smaller palaces, and seeing the Prussian version of Versailles definitely make it worth a visit.
It's a fabulous day trip from Berlin.
And it's free if you don't actually want to set foot inside any of the palaces. The gardens, parks and building facades are splendid enough.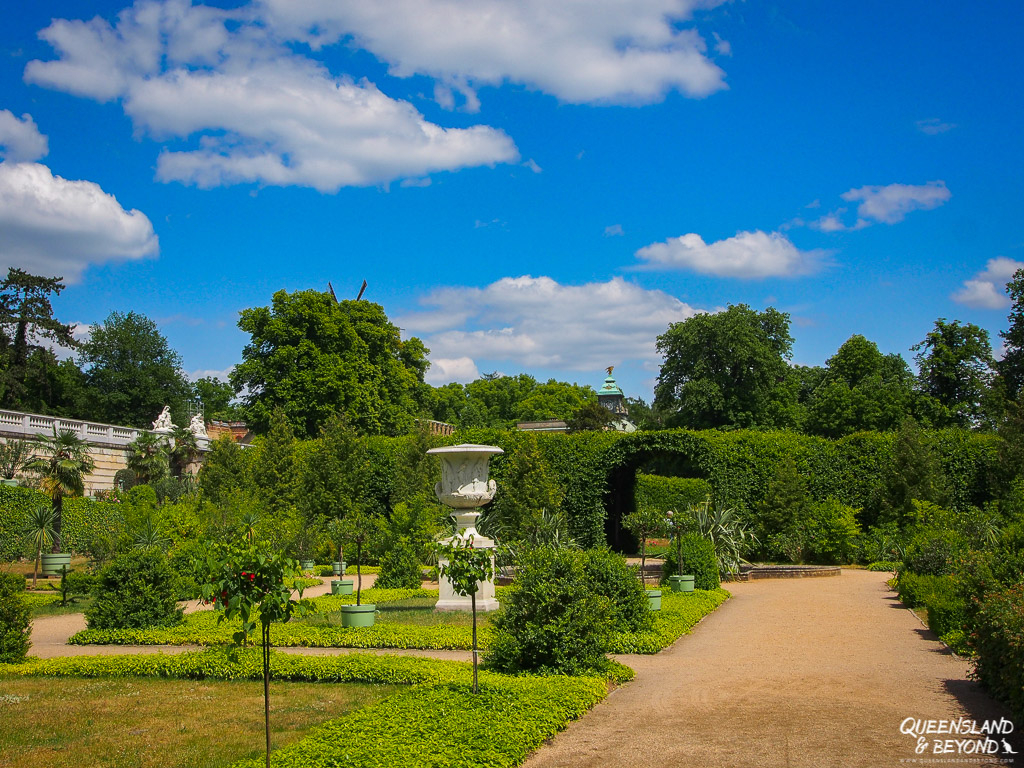 SANSSOUCI PALACE: A PRUSSIAN SUMMER RESIDENCE
Let's do some more history…
Sanssouci Palace was completed in 1747 as the summer residence for Prussia's king Frederick the Great (1712-1786). An enlightened monarch, philosopher and lover of the arts, music and literature, Frederick the Great counted French celebrities like Voltaire among his closest friends, at least for a time. He had quite a distaste for anything 'German', finding French culture much more palatable, though not necessarily French extravagance.
He held court in Berlin, which is full of stunning architecture and buildings constructed for him but Sanssouci – without cares – became his refuge, his playful hideway.
Inspired by the grand palaces of Versailles, Sanssouci Palace is really nothing more than a large single-story villa in the Northern German Rococo style. Think lots of gold, frills, ornate decorations, intricate details, opulent mirrors and chandeliers, sculptures and paintings everywhere.
The palace itself sits atop terraced slopes where Frederick hoped to grow plums, figs, and grapes.
---
VISITING SANSSOUCI PALACE AND PARKLANDS
These days, you can visit not just Sanssouci Palace but another 13 buildings, some commissioned by Frederick the Great, others added later on by his great-great nephew Frederick William IV.
Instead of all things French, Frederick William IV was into Italian culture, and hence you'll find Roman Baths and an Orangery on the grounds.
For some you'll need to go on a tour, like at the Charlottenhof Palace. Others you can explore on your own, like the Neue Kammern, New Chambers. This palace is simply gorgeous!!
TIPS FOR VISITING SANSSOUCI PALACE
COSTS
If you're keen to see all of Sanssouci's palaces and buildings in a day, buy a combined ticket called sanssouci+ (€19). It works out much cheaper than paying admission at each palace individually.
If you want to take photos inside any of the palaces or sites, you'll need to fork out another €3 for a photo permit. Yep. That's not uncommon in Germany.
BEST DAY TO GO
Monday is probably not a good day to visit as most of the palaces will be closed then. Unless you want to see the New Palace, which is closed on Tuesdays, just to mix things up a bit.
Avoid weekends and try to book your entry for Sanssouci Palace early so you'll have the rest of the day to enjoy the gardens and other buildings.
But of course, these things change all the time so check out the Stiftung Preußische Schlösser und Gärten (Prussian Palaces and Gardens Foundation). Their website has detailed information on how to get there, opening times, costs, what's currently being renovated, etc.
OUR EXPERIENCE OF SANSSOUCI
We ended up spending an entire day at Sanssouci because we wanted to see more than just the palace itself. Buildings are somewhat spaced apart so you end up doing a lot of walking around the gardens and park. And by a lot I mean like 2 km between some palaces, e.g. between Sanssouci Palace and the Neues Palais, New Palace.
I remember visiting Sanssouci Palace as a child. You got to wear these ridiculous grey felt slippers over your shoes to protect the delicate wooden floors. I don't remember a lot of walking, just prancing and swishing around like I was on an ice rink and going to be the next skating champion…
So I was a bit disappointed when I found out that you have to behave like an adult now and simply walk around Sanssouci without any magical slipper swishing.
Unless you decide to visit the Orangery Palace… There's still a lot of slipper swishing going on, albeit on a guided tour only so you need to be a little more inconspicuous if you decide to try out that triple axel.
SANSSOUCI IN PHOTOS
To glimpse more of the 18th century Prussian opulence that is Sanssouci, flick through the photo gallery.
---
SUMMING UP
If you do nothing else, go see the stunning New Chambers, the Sanssouci Palace Kitchen and the Historic Windmill (which is actually not that historic).
The husband couldn't get over the fact that you can climb into a working windmill and poke your nose into every nook and cranny while all the gears and levers are rotating around you in full swing! Germans are sensible people, they don't need OH&S policies everywhere! If your head gets chopped off, that's clearly your fault because you stuck it where you shouldn't have.
Oh, and while you're there, buy some Mühlenbrot (mill bread) made out of organic flour ground at the mill. The husband loved it.
And although he didn't love Sanssouci Palace itself (too frilly for him and too much getting herded along as part of the guided (!) audio tour), I really enjoyed seeing the palace again, despite the missing slippers.
Sanssouci Palace is the one place everyone visits so if crowds are not your thing, give this one a miss or arrive early.
It'd be great to go back some day because we missed out on seeing Charlottenhof Palace (all tours were booked out) and the majestic New Palace (closed for renovations at the time).
And then enjoy your day at the Prussian court!
MORE POSTS ON HISTORICAL SITES IN GERMANY
For an open-air Medieval castle, Burg Rheinfels along the Rhine River is great fun to explore. Or if you want to go even further back in time, visit the Roman ruins in Trier.
More recent history can be explored at Hitler's Kehlsteinhaus (Eagle's Nest) in the Berchtesgaden Alps. Or head back to Berlin for a taste of East German history and the Berlin Wall.
---
PIN FOR LATER