I grew up in a divided city.
I grew up in a city where it was impossible for us to enter half of the city. Where I would be on suburban trains, look at high-rise buildings in the distance and wonder what was so special about that part of my city that I wasn't allowed to go there.
I grew up in Berlin.
My city has now changed beyond recognition from the place of my childhood but there are reminders of its divided past along the tourist track as well as off it.
---
A Crumbling Wall: Berlin in 1989
East Germany was a country of civil unrest in 1989.
In the summer of that year, people were leaving en masse to the West via Czechoslovakia and Hungary, churches became centres of peaceful protests against a totalitarian and unjust regime, and people were taking to the streets in protest, which often escalated into violence.
I was still in primary school at the time. When school started again in September, a couple of my classmates were missing. Over the next few months, one or two more disappeared as their families fled to the West.
The wall finally came down on 9 November 1989. But I missed that actual moment in history when Günter Schabowski, socialist party official, made the fatal error on live TV and announced that travel restrictions would henceforth be relaxed. Because I happily slept through that Thursday night, it was a school night after all.
By Saturday hardly any children were left in school. I was one of the few whose parents felt no need to take them out of school only because the wall was crumbling.
In those days, school finished at lunchtime on Saturdays, and that first Saturday I was beyond excited to finally find out what was up with those white high-rise buildings. Not much actually as I later found out.
So after school we made our way to the checkpoint at Sonnenallee in the district of Neukölln, and joined the throngs of people dead set on crossing into West Berlin. I don't remember how long it took but it would have been hours being squished together with thousands of people before we got our ID cards examined and stamped.
By the way, those exotically white high-rise buildings turned out to be nothing more than apartment buildings. They seemed a lot more glamorous from afar.
Growing up
The early 1990s were years of massive upheaval, not just politically but also for us as a family. Plus I was growing into an irritated and highly annoying teenager who always knew better.
With the lifting of the travel restrictions and an unraveling political system came a new currency a mere 7 months later. By October 1990, the two Germanys were reunified, and we faced completely new ideological and political systems, ways of thinking and social expectations.
My parents both lost their jobs, as did my grandfather. And like everyone around us, we were trying to make sense of our new-found freedom full of blinding choices, consumerism, and an uncertain future.
Living behind the Iron Curtain was nowhere near as grim for me as a child as it no doubt was for some others. As a child I had no idea what was going on beyond being scared stiff to touch the wall, not ever getting any shiny presents from West German relatives (we had none), and having some awareness that we couldn't just travel anywhere. That didn't really affect me so much though since my summer holidays were mostly just about not having to go to school.
Maybe because I spent my formative years in a divided then reunified city, or maybe paradoxically because I moved far away, I still find East German history fascinating. Some people want to leave it all behind whilst others have become extremely nostalgic, suffering from Ostalgie (nostalgia for the former East).
For me, it's just a part of who I am. One part of that complex, fragmented identity that makes me me.
---
Best Places to See the Berlin Wall: 9 Historic Sites
Life in East Germany was neither horrendously bad nor was it all fantastic. In some ways, it was just the life we had and you got on with it.
But for some, the only option was fleeing the repressive regime and leaving everything behind in the hope of a better life.
If you're keen to understand more about East German, Iron Curtain or Soviet history in Berlin, here are some ideas for Berlin Wall sites. Some are more popular with tourists than others. I haven't actually been to all of them yet, something for my Berlin bucket list.
1. Gedenkstätte Bernauer Straße (Berlin Wall Memorial) | Mitte
Bernauer Straße in Mitte district became infamous after 1961 when the wall was erected directly in front of apartment blocks. Over night, it divided a street into East and West Berlin. Hundreds of residents were later resettled.
This was also where the first fatalities at the Wall occurred.
Today, the Gedenkstätte Bernauer Straße serves as a stark reminder of the divided city with a few remaining pieces of the actual Berlin Wall left. Expanded over several years, the memorial now stretches along a 1.4 km walk, and includes a section with a guard tower and fortifications, a documentation centre, the Chapel of Reconciliation, and photographic plaques commemorating fatalities at the Wall.
If you only have time for one museum in Berlin, make it this one. Everybody visits the East Side Gallery. But at Bernauer Straße, you'll get a real insight into what the Wall looked and felt like.
Because the memorial is open-air and stretches for over a kilometre, you can meander around and it doesn't tend to get too crowded along there (though the documentation centre might).
MORE INFORMATION
Address: The Documentation Centre is at Bernauer Straße 111 (take the U-Bahn U8 to Bernauer Straße or the S-Bahn to Nordbahnhof)
Further details, including exhibitions, guided tours and programs, opening hours (free admission) or directions, check out Berlin Wall Memorial
2. Museum für Staatssicherheit (Ministry of State Security Museum / Stasi Museum) | Lichtenberg
Like any totalitarian regimes, East Germany had a well-oiled "state security" apparatus.
The headquarters of the former secret police now house a museum dedicated to documenting the incredible sinister impact the Stasi (short for Staatssicherheit 'state security') had on the general population. Some of the offices, including notorious head of the Stasi Erich Mielke, are well-preserved and give you a real insight into communist interior design.
This one is high on my list of must-see Berlin Wall locations on my next visit to the homeland.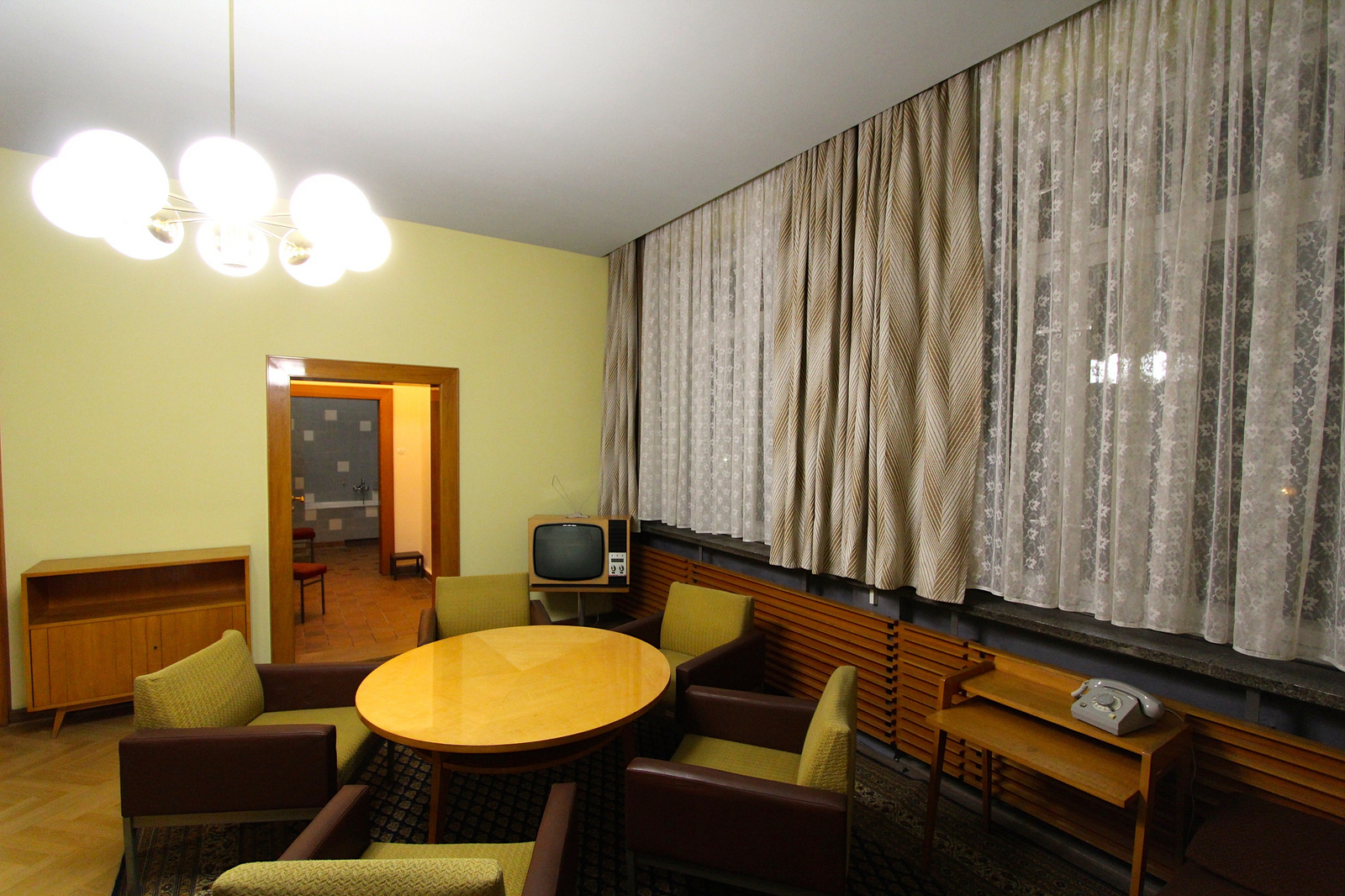 MORE INFORMATION
Address: Ruschestraße 103 (take the U-Bahn U5 to Magdalenenstraße)
Further details, including details on the daily guided tours can be found on the Stasimuseum website
3. Mauermuseum (Checkpoint Charlie Museum) | Mitte
I've only been to the Mauermuseum (known in English as Checkpoint Charlie Museum or Wall Museum) once, back in 1999. I remember finding it quite interesting, especially since I had no idea of the ingenious ideas people came up with in order to escape.
The museum is privately run and was first established in 1962. It's really all about showcasing artifacts and sharing stories of people fleeing East Germany. Though a little bit on the sensationalist (entertaining?) side, it's amassed quite a collection, including hot-air balloons and escape cars.
And since it's right next to famous Checkpoint Charlie, it's also extremely popular with tourists so expect queues.
MORE INFORMATION
Address: Friedrichstraße 43-45 (it's so central, walking is probably your best option; otherwise take the U-Bahn U6 to Kochstraße)
For more information, including buying tickets online, check the Mauermuseum website
4. Gedenkstätte Berlin-Hohenschönhausen (State Security Prison Memorial) | Hohenschönhausen
The Gedenkstätte Berlin-Hohenschönhausen houses the former main Staatssicherheit (state security) prison. It's a grim place and not one that's on the tourist trail. Located in the district of Hohenschönhausen, you'll have to catch public transport to get there.
The former prison can only be visited on a tour (yes, they offer guided tours in English), which are often taken by former inmates. They'll tell you about interrogation methods (not pleasant) and prison conditions in general. They'll lead you into bunker-like prison cells, isolation chambers, interrogation rooms where you can literally taste the horrors of political oppression and persecution.
Much of the furniture and interior has been preserved, which give you a sense of the dreadful isolation, bleakness and hopelessness that many inmates must have felt.
I visited in 2009 and our tour probably had some 10 people on it. Obviously that was a few years ago and it's more "popular" these days. And by popular I mean half a million visitors a year, most of them school groups.
MORE INFORMATION
Address: Genslerstraße 66 (take the S-Bahn to Landsberger Allee and then Tram M5 to Freienwalder Straße; from there it's about a 5 min walk to the museum)
For more information, including guided tours in English, check the Gedenkstätte Berlin-Hohenschönhausen website
5. Tränenpalast (Palace of Tears) | Mitte
One of the few border crossings in Berlin, the Tränenpalast (Palace of Tears) is another memorial site documenting the divided Berlin. It was here where East/West relatives said goodbye to each other and thus the place became aptly known as the Palace of Tears checkpoint.
Today it houses a permanent exhibition and offers guided tours in both English and German (plus other languages if you book ahead). You can learn more about checkpoint procedures and checkpoint surveillance in general.
But best of all, admission is free and it's super accessible being right next to the Friedrichsstrasse train station in the heart of the city.
Hard to believe I've never been. Another divided history site for my next Berlin visit!
MORE INFORMATION
Address: Reichstagsufer 17 (right outside Friedrichstraße Station)
More information is on the Tränenpalast website
6. DDR Museum (Museum of East Germany) | Mitte
So here's a fun one!
If you've had enough of the serious, sinister and heartbreaking side of East German life, poke around the DDR Museum. It's got lots of artifacts that you can get all touch-y feel-y with, including hopping into a typical East German car, the Trabant or Trabbi for short, or sitting down in a comfy chair to admire the beauty of East German interior design.
It's seriously interactive, and one of the few places where it might be fun to take kids!
Ok, I've only got really terrible photos from way back when so you'll need to go and have a look yourself. .
And by the way, these days it gets pretty busy so book tickets online and zoom past the queues and jump into that Trabbi in no time!
MORE INFORMATION
Address: Karl-Liebknecht-Straße 1 (opposite the Berlin Cathedral, on the east bank of the River Spree)
For more information or just to take a peek at what's on offer here, have a look at the DDR Museum website
7. East Side Gallery | Friedrichshain
This one hardly needs any explanation because EVERY SINGLE BERLIN TOURIST visits this famous landmark. I haven't been to the East Side Gallery in years, and I'm not that interested in walking along this stretch of the Wall with tons of other people.
I know it's actual Berlin Wall but the original paintings have more or less disappeared. It's been painted over and over, restored a few times, and now reminds me nothing of what it was like in the early 1990s. Back then it was a symbol of hope, of free expression, of euphoria, of a chance of a better life.
I still remember some of the iconic images.
Now it's just touristy.
You can see people meandering along this stretch of the Wall as your train rattles by on its way to and from Ostbahnhof station.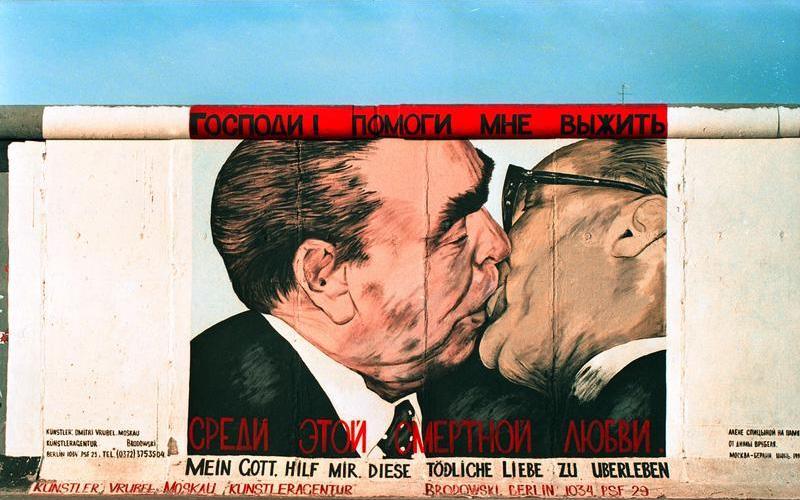 But, of course, go and see it for yourself. After all, it is a piece of the Berlin Wall (and it's free!).
A new museum, the Wall Museum, also opened at the site in April 2016. Might be interesting to check that out!
MORE INFORMATION
Address: Mühlenstraße 3-100 (take the S-Bahn or U-Bahn to Warschauer Straße)
More information on the East Side Gallery website
8. Brandenburger Tor (Brandenburg Gate) | Mitte
Yep, it's the symbol of a historic Germany, of a divided Germany and of a reunified Germany.
It's Prussian, it's grand, and I remember it with guards patrolling in front of it.
I've seen it a hundred times and I still don't get sick of it. One of these days when I'm in Berlin, I will get up very, very early and take photos of it without any people milling about. Or maybe I'll be too lazy like always…
MORE INFORMATION
I think every tourist will find the Brandenburger Tor without any problems, just follow the tourist trail along the grand boulevard Unter den Linden or take the U-Bahn to Pariser Platz, and voilá, you're there!
9. KGB Gefängnis Potsdam (KGB Prison) | Potsdam
If you want to venture further afield and get totally off the tourist trail, take a day trip to Potsdam and have a look around the former Soviet KGB Prison. The full name is actually the Central Remand Prison for Soviet Military Counter-Intelligence but that's a bit of a mouthful so let's just call it the KGB Prison.
It's only been open for a few years, and documents some of the Soviet military counter-intelligence activities in East Germany.
Like the Stasi prison in Hohenschönhausen, it's a grim, cold and depressing sort of place. Prisoners were usually Soviet military personnel, and if they received a trial at all, they were either sentenced to death or sent to the Gulags in Siberia.
Whilst you won't while away hours and hours, if you want to look behind the Iron Curtain and learn more about Soviet interrogation techniques and torture methods, this is your place.
Keep in mind that it's only open in the afternoon and you may want to plan some fun adventure in Potsdam after (you could visit nearby Schloss Cicilienhof).
MORE INFORMATION
Address: Leistikowstraße 1, Potsdam (take the S-Bahn or regional train to Potsdam Central Station, then Tram 96 to Puschkinallee; from there it's about a 10 min walk)
Free admission, though for a small fee, you can organise a guided tour
More details, including how to get there, is on the Gedenkstätte website
---
Walking Tours
Lastly, if you want to traipse around with a group, I've heard some good stuff about Context Tours and their Walking the Berlin Wall tour. Whilst not cheap at €85 p/p, with a max of six people on the tour, I'd imagine it's pretty good value.
So, happy tracing the Berlin Wall, learning more about Berlin's past as a divided city and checking out some of the best Berlin Wall locations around town!
---
Pin for later!