When I return to good, old Deutschland, I usually spend most of my time visiting family and friends. But this time, the husband came along for the very first time so we ended up doing a road trip to explore the south of Germany for two weeks, a 3-day trip to the Saxon Switzerland region, a few day trips around Brandenburg as well as whirl around my home town Berlin.
The weather in Berlin in June was absolutely glorious, we pretty much had sunshine every single day we were there. This was a big change from the Sunshine Coast where we also have sunshine pretty much every single day.
But daylight savings!! … where to start?! Sun up by 5am and sun down by 10/11pm, think about how much time that leaves for exploring! Can travel time get any better?! 🙂
With Berlin being just choc-a-block with historical delights, we spent every daylight hour traversing the city. There's just so much to see and do. But if you've only got time for a brief meander past some famous landmarks, here are some ideas for a brief tour.
---
A QUICK TOUR OF BERLIN FOR FIRST-TIMERS
1. REICHSTAG: HOME OF THE GERMAN PARLIAMENT
We started of by visiting the Reichstag, the German parliamentary building, with its glass dome and super tight security measures. I remember times when you could just walk up to the Reichstag, walk through a simple security screening and off you went up to the roof.
Now you have to pre-book your time slot, make sure you've got the birth dates for everyone in your group, bring ID, complete a tight security check, and then get taken up to the roof by a guide. Hm… changing times. The good thing is, it's still free.
It's also quite close to the Hauptbahnhof if you want to catch a train (S-Bahn) there. Or you can just catch the #100 bus. There's a stop right outside the Reichtstag.
The view's pretty fabulous on a clear day, and even if you're only vaguely interested in German history, the displays on the history of the Reichstag – Hitler times and all – is actually very good. Plus, they're in English and German.
2. BRANDENBURG GATE
From the Reichstag, it's a stone's throw to the most famous landmark in Berlin… the Brandenburg Gate. Just follow the crowds, they'll lead you there if you can't quite spot it yourself.
I've seen it about a thousand times but I never tire of it.
3. UNTER DEN LINDEN: STROLLING THE FAMOUS BOULEVARD
Once you've walked through the Brandenburg Gate and admired it from all sides, you'll find yourself heading along the famous boulevard Unter den Linden (Under the Lime Trees). Here you'll find just one incredible building, monument and statue after another.
Strolling down this boulevard is one of those must-do things in Berlin.
Right next to the Altes Museum is the Berliner Dom (Berlin Cathedral), which is just magnificent, and whilst you have to pay admission, it's well worth it. You can climb up to the dome via a rickety staircase and in theory enjoy some glorious views west down the boulevard Unter den Linden.
Unfortunately, that side of the dome was closed when we went up so instead we could only look east and admire the 1960s' Fernsehturm (TV Tower).
I have some fond childhood memories of the Neptune Fountain – summer, sun and water splashing! You pass it on your way to the TV Tower.
4. ALEXANDERPLATZ AND FERNSEHTURN: A BIRD'S EYE VIEW OF BERLIN
If you've had enough of walking around by now, just catch either the #100 or the #200 bus to Alexanderplatz (Alexander Square). Otherwise just keep walking towards the TV Tower. You can't miss it.
I've always liked the Fernsehturm (TV Tower), having been up there several times over the years. You get 360 degree views and it's got a revolving restaurant on the second level. I can still remember that one time when we went up there as a family. I had ice cream. A truly momentous event.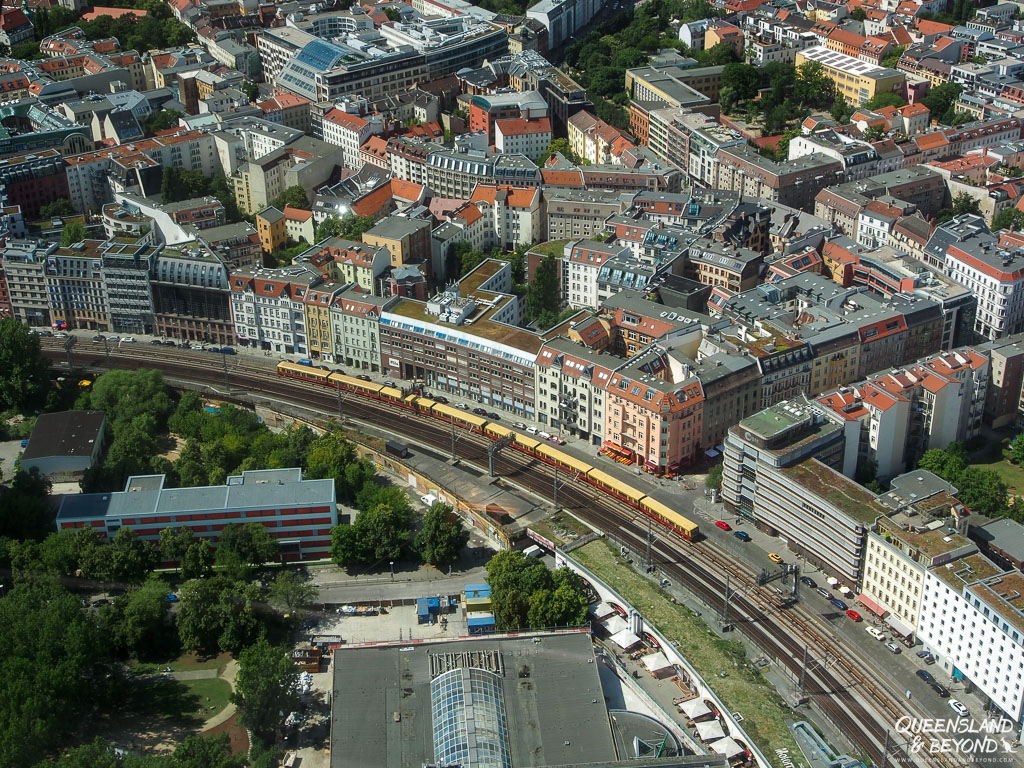 The day we went up to the viewing deck was glorious with views apparently spanning up to 80 km. Of course, like other museums and sights across Germany, it's now all neatly organised into timeslots that you can either pre-book or just have to hang around for.
We did the latter and really only had to wait an hour, and who cares when it's summer and you can just go and get an ice cream or a Bratwurst.
If you follow the grand boulevard, you can see the Brandenburg Gate in the distance, just in front of the enormous parklands. The lovely Tiergarten park where you will no doubt find some nudies if you so wish…
On the other side of the TV Tower, you'll find the famous Alexanderplatz (Alexander Square), or Alex, with the equally famous Weltzeituhr (World Clock).
The husband was somewhat disappointed by it, I don't know why since I think it's really cool. It's got the names of cities from all over the world on it, and the numbers rotate around to show the current time in each of these cities.
How is that not cool?? Maybe I talked it up too much… 🙂
OTHER SIGHTS
We visited about a hundred museums, memorial sites, churches, cathedrals, parks, etc. but somehow didn't make it to the Currywurst Museum (how could this not be awesome?! A whole museum dedicated to just one sausage…) or the DDR Museum (documenting East German history in a fun way).
Oh well, there's always next time! 🙂 On another note, we re-created our own Currywurst dinner once we came back from Germany… 🙂
---
COSTS
There's lots to do for free in Berlin so if you're a bit cash-strapped just enjoy the grand old buildings, wander through the Tiergarten parklands and soak in the sunshine along the River Spree.
If you've time to pre-book a spot for accessing the dome of the Reichstag, go and do that. It's free and you get great views all around.
If you want to enjoy bird's eye views of Berlin, go up the TV Tower, it's around €13 per person. Skip the rotating restaurant, it's over-priced and you need a reservation; just wander around the observation platform and try not to get dizzy looking down.
And if you want to marvel at the interior of the Berlin Cathedral, plan to spend an extra €7 per adult. Whilst that might seem a lot for looking at a church, it's a magnificent one!
---
PIN FOR LATER!