If you've followed along for any period of time, you'll know that we absolutely loved our two road trips across Western Canada. On our first trip, we spent six weeks in Canada and then a couple of years later, we roadtripped for another four weeks.
We spent our first couple of days in the Yukon Territory in Kluane National Park, some far-flung land of extremes that you've probably never heard of. Neither had I until I started researching all things Yukon.
---
HIKING IN KLUANE NATIONAL PARK
Kluane (Kloo-AH-nee) in the Yukon's southwest is a sprawling wilderness of ice and snow but enough of it melts over the summer months that you can hike the many trails around its edges.
We didn't do much research into what trails we could hike in Kluane, and all I really knew was that hiking into the interior was a massive challenge because the vast majority of the park remains inaccessible.
So as soon as we arrived in Haines Junction, our first stop in the Yukon, we marched straight into the local visitor centre, exploited the free wifi and chatted with the nicest Parks Canada ranger ever about our hiking options.
Weather wasn't going to be great for another day so we needed a trail that wasn't getting us drenched by the rain and whipped by the winds the entire day. Mr Ranger gave us a few options but as soon as he mentioned Dall sheep, grizzly bear activity and sweeping views of a valley whilst being semi-sheltered from the weather, we were in!
So the next morning, when the weather had magically improved (not), we left our campground at Kathleen Lake and set off on our chasing wildlife hike.
HIKING SHEEP CREEK TRAIL
Sheep Creek Trail is a stunning day hike with expansive valley views and glimpses of Kaskawulsh Glacier, whilst you trek through sub-alpine vegetation along Sheep Creek gorge and revel in brilliant autumn foliage (well, if you're there at that time of the year). And if that's not enough, there's the chance of seeing Dall sheep and running into a grizzly!
BASIC FACTS
Distance: 10km return with a 430m elevation gain; classed as 'moderate'
Time: 3-6 hours (obviously that depends on your physical ability and how sidetracked you get – I can get very sidetracked…)
Trailhead: 2.6km past the Tachäl Dhäl visitor centre, at the southern shores of Kluane Lake (easy to find)
Optional add-on: Tachäl Dhäl Ridge route, a 6km return track up to the ridge of Sheep Mountain (no markers or signs, not considered a 'trail')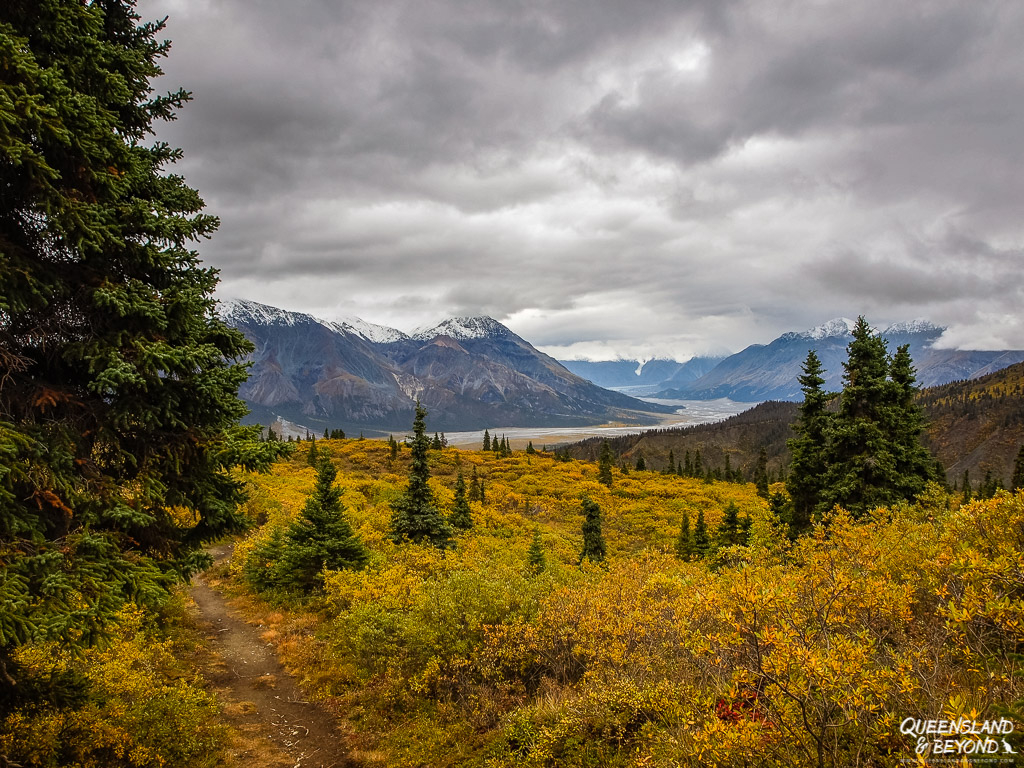 The trail starts in the forest at the bottom of Sheep Mountain (Tachäl Dhäl in the local Southern Tutchone language) and slowly winds its way along the western slopes. It follows an old mining track above Sheep Creek and as it climbs above the treeline, you get crazy beautiful views of the Slims (Ä'äy Chù) River Valley.
It's pretty much uphill for 5km straight though you do get a breather towards the end.
We were there in early September and only met six people on the hike so it didn't exactly feel crowded. At the time though, I thought it was quite busy since the tiny parking area was almost full by the time we got there. But there are a few trailheads nearby so that would be why.
After the first 2km of panting uphill, you get rewarded with sprawling views of the Slims River Valley. The autumn foliage was ridiculously orange, I've never seen leaves glowing in such colours!
This is a good point to turn around if you're not up for another 3km uphill slog.
CHASING WILDLIFE ON SHEEP CREEK TRAIL
Sheep Mountain is prime habitat for Dall sheep which are easily spooked and stressed if approached.
At the Tachäl Dhäl visitor centre at the foot of Sheep Mountain, we counted some forty or so tiny white dots on the mountain slopes. They have a couple of binoculars available so you can have a close-up look at these sheep. To me though, they really looked more like goats…
Armed with several layers of clothing, food supplies to last a week (I'm always worried about running out of food… why is that?!), hiking poles and the obligatory bear spray, we were on our way to catch a glimpse of the elusive Dall sheep and hopefully not run into a grizzly bear at the same time.
This was going to be our first foray into grizzly bear country right at the height of berry eating season and I was somewhat nervous. I mean, bears… we don't have those in Australia so we were lacking just a little bit of 'how to behave' experience.
In fact, I'd read all the bear safety brochures, talked to rangers, read the brochures again. Tried to memorise the characteristics of 'defensive' vs. 'non-defensive' bear behaviour.
The husband had even tried out the bear spray on me the night before, accidentally as he assures me. He just wanted to know if it works.
Side note: Always check the wind direction first when spraying highly poisonous substances around… Let me tell you, it works! Coughing, teary eyes, burning lungs and almost writhing in agony in a car park is not how you want to start a hike but after that, we knew the bear spray worked. You just have to get close enough to let the bear breathe all that chemical goodness into his lungs.
But that's another issue.
The main piece of advice seems to be 'make noise' so things went like this in my head: I should shout the whole time to alert any grizzlies to my presence, right?!? But then I would also scar any Dall sheep for life and make sure they'll never forage along this trail again!?! Argh… Or maybe I should be quiet, enjoy the stunning scenery and get a sneak peak of a Dall sheep but then I might also get surprised by a 2 m male grizzly?!?
What a conundrum…
So we set off with wary eyes and caution in our step, talking to each other in rather loud voices. And by loud I mean practically shouting.
The scenery was seriously awe-inspiring but despite the husband having binoculars glued to his eyes, we just couldn't spot a hint of a Dall sheep or grizzly bear.
Lots and lots of squirrel activity but nothing bigger than those frantic nut-eaters. I have to admit that at this stage, I was still pretty excited about seeing squirrels. Surprisingly though, the excitement does wear off once you've seen your first 100 squirrels and your wildlife adventures turn into nothing but squirrels…
Half way up the trail we met a young Canadian couple from the eastern parts who saw some freshly torn-up berry shrubs, a sure sign of bear activity, and got so freaked out that they turned around. Needless to say that the husband got excited and we continued on to a) examine said torn-up berry bushes, and b) sneak a peak at Mr Grizzly.
I should probably tell you at this stage that it took us another four weeks to see a grizzly bear so don't fall into the trap of getting excited here.
The trail ends at the edge of a gully overlooking another creek, Forty-eight Pup Creek – strange name, right?
Since we still hadn't seen any sign of Dall sheep and they are most likely to be spotted on the southern slopes of Sheep Mountain, we decided to continue on along the Sheep Mountain Ridge track to maybe catch a glimpse of them from above.
The ridge route is not really a trail, it's more of a trodden track that requires a lot more navigation. We probably only managed another kilometre before the weather really caved in, and we were hit with rain and increasing fog.
After another hour or so we were back at the 2km marker pretty wildlife-disappointed.
And then the magic happened…
Two Dall sheep, mummy and baby, wandered out of the trees and started grazing right in front of us…
At some point I just dropped my pack that had the bear bell happily jingling away and crawled up the hill, hoping I wouldn't spook them. We were crouching on the ground, trying to be completely silent. Imagine how hard this would have been for me! I wanted to squeal with delight!!
They came so close to us, I hardly dared to breathe…
And then they quietly foraged past us and wandered off to explore yummier grass along the southern slopes of Sheep Mountain… Or maybe they just wanted to meet up with their sheep friends.
After that incredible experience, I pretty much skipped the rest of the trail! The sun even came out and said hello for a few minutes…
And then it was back into montane forest…
---
SUMMING UP
Without a doubt, hiking Sheep Creek Trail was one of the highlights of our Canada trip!
We were pretty much on a high for the rest of the day and should have been for a few days but we took an incredible scenic flight over Kluane right the next day!
Other hikes Mr Ranger recommended included the 15km Auriol trail and popular but difficult 6km King's Throne Summit hike.
Given our precious encounter with the Dall sheep, I'm oh-so-glad that we opted for one of the best hikes in Kluane National Park: the Sheep Creek Trail! Hoping to return some day and experience more of Kluane's majesty.
MORE INFORMATION
Check out the Sheep Creek trail information published by Parks Canada for more details on the trail. The Parks Canada website also has information on Kluane National Park camping options at Kathleen Lake.
What do you think – cute sheep goats or what? 🙂 Have you had any surprise wildlife experiences when you've been exploring the great outdoors?

---
PIN FOR LATER