Apart from seeing bears in the wild, there was one thing we were really keen on doing in Canada. Actually, that's not true, there were lots of things. 🙂
But taking a scenic flight over Kluane National Park, a vast, icy wilderness that is home to the world's largest non-polar icefield and Canada's highest mountain, Mount Logan (5,959 m), was pretty much at the top of our list of things to do. It ended up being second in our Top 5 experiences of our Canadian road trip.
We arrived in the Yukon amidst overcast and misty weather, after we already had plenty of that on the Inside Passage ferry trip.
We had to wait out another drizzly, foggy day before the weather cleared up. But then it cleared up magnificently! The next day, we woke up to brilliant blue skies and puffy little clouds as far as you could see. But best of all, no wind. Just perfect for a scenic flight over Kluane National Park in early September.
Flightseeing with Icefields Discovery
Of the few companies that fly over Kluane, only Icefield Discovery is allowed to land in the national park. Their base is conveniently located at the old Silver City Highway just off the Alaska Highway at the southern end of Kluane Lake, some 50 km south of Destruction Bay. Just in the right spot for our Yukon road trip.
We'd booked in for a 10 AM flight, which turned out great as the wind usually picks up a bit later in the day and the deep blue sky turns into a much paler yet very bright version around lunch time.
Given no wind, we were able to go for the 'Ultimate Experience' flight (1.5 hours but ours was more like two!) and got to land on the vast and utterly silent Hubbard icefield at close to 3,000 m in the heart of sprawling Kluane National Park.
Icefield Discovery were awesome to fly with, especially for someone who's not very keen on planes. Captain Tom, from New Zealand (fancy that! And apparently not the only 'down under' captain in the Yukon…), shared tons of interesting things about Kluane, a UNESCO world heritage site, most of which I've sadly forgotten now.
Since Captain Tom also flies research teams in and out, he had some solid information about glacier formation, the various mountain peaks, the drying up and changing arms of glaciers, what permafrost is, the animals that call Kluane home, and stacks more. Grounded, no fluff information, which totally appealed to me. And he made us feel like we were his first customers and not just another bunch of tourists.
Needless to say that the whole experience was incredible. The photos will hopefully speak for themselves.
Photo Adventure: Soaring above Kluane…
Side note on the photos: Minimal editing; all photos taken through the plane window with a polarising filter.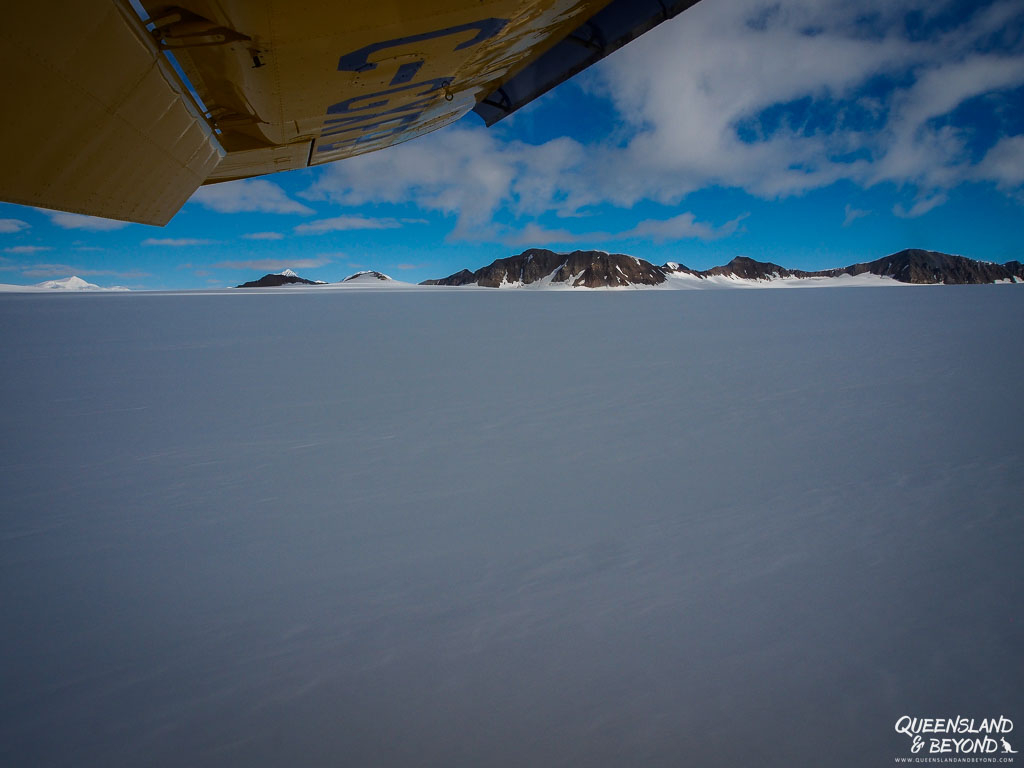 Costs
Taking a scenic flight is never a cheap affair but if you've made it as far as Kluane National Park in this far flung corner of the world, you may as well splurge! Fork out CA$325 per person and you'll be able to experience the majestic beauty of Kluane for yourself. For us, it was money extremely well spent.
---
Summing Up
Seeing the towering mountain tops and dramatic glaciers of Kluane National Park from above was a trip highlight, one we won't forget that soon (despite forgetting most of the facts about Kluane… 🙂 ). Kluane is simply spectacular!
Icefield Discovery were great to deal with.
Captain Tom was laid-back yet professional, and allowed us a bit of extra time for running around the icefield. Like everything in the Yukon, they only operate at certain times of the year and shut down in late September or whenever the weather gets too bad.
Thanks, guys, for some marvelous memories!
---
Keen to soar above ice, snow and glaciers, and maybe even spot some Dall sheep? Pin for later.