After our amazing time going north into the Yukon Territory, we started the long journey back south about half-way through our Canadian adventure. Here's an overview of the second part of our Canada road trip back to British Columbia, across to the Rocky Mountains in Alberta and then looping back around to finish in Vancouver.
Get a cup of tea first, this is a long post…
---
CANADA ROAD TRIP: PART 2 – GOING SOUTH
DAY 21 | STEWART-CASSIAR HIGHWAY (BC)
Distance travelled: 517 km
The day before, not long after seeing our one and only moose in the whole of the Yukon, we turned off the Alaska Highway to join the Stewart-Cassiar Highway (Highway 37). There are only two roads to and from the Yukon/Alaska, one is the scenic Stewart-Cassiar Highway, the other the supposedly less picturesque Alaska Highway. We opted for the Stewart-Cassiar as we also wanted to take a side-trip to the remote town of Stewart, full of bears and glaciers.
We spent almost the entire day driving south; close to the Yukon border, the Stewart-Cassiar is narrow and you wonder whether you really are on a highway but it gets progressively wider with more traffic. Still, by the time we'd driven 500 odd kilometres that day, we didn't feel like we were on a 'major' highway. It still pretty much felt like a backcountry road. Made for fairly relaxing driving though…
Unlike the previous day of constant rain, the weather now gave us some rain, some overcast skies, and even some partly clouded ones. A big improvement and we happily soaked up every bit of sun we got.
With lots of rivers, lakes and mountains, the Stewart-Cassiar is a pretty highway drive but what made this road super special was the appearance of our first black bears right next to Tonky! Yes, plural. After seeing no wildlife for the whole day, we saw six black bears within the space of 45 minutes just around 5:30 pm. Some happily munching on their grass dinner by the side of the road whilst others skedaddled off as quickly as they heard us coming. The highlight was a mummy bear on her hind legs with her cub next to her. Before we could stop and get the camera out though, both had rushed off into the undergrowth.
Still, we were pretty chuffed with our sightings. Finally, some bears.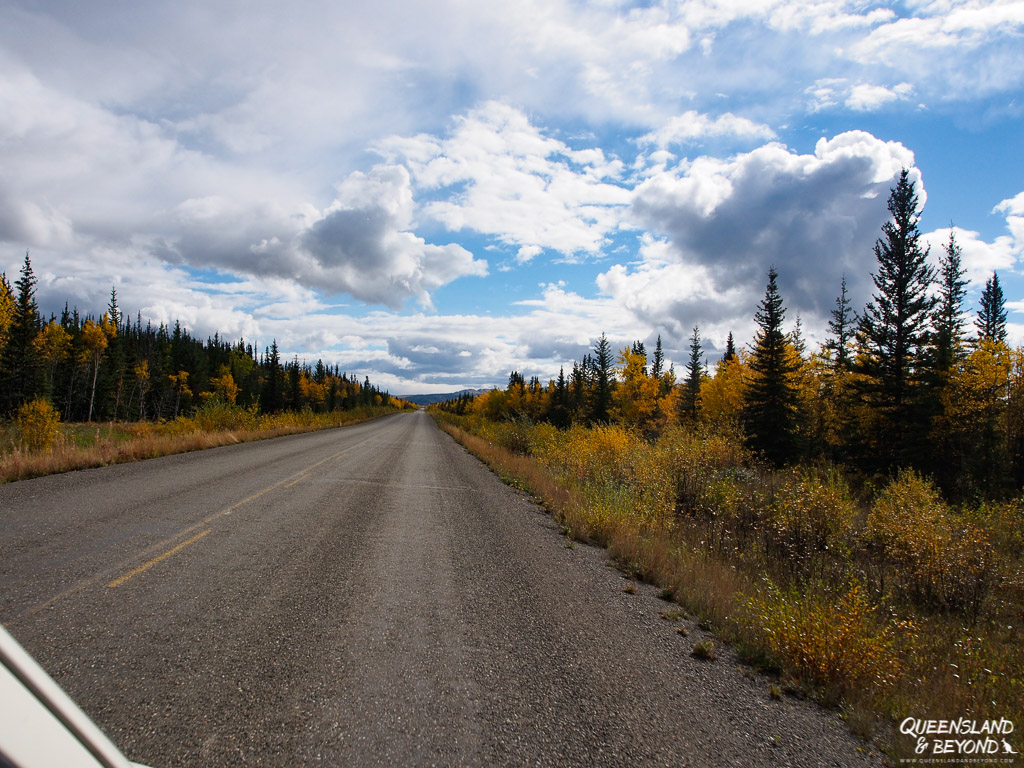 After that, we made it as far as Meziadian Lake Provincial Park campground, with a campsite directly on the lake, and ready to take Highway 37A into Stewart the next morning.
DAY 22-23 | STEWART – YELLOWHEAD HIGHWAY (BC)
Distance travelled: 505 km
Since the weather had cleared up the previous night, I was quite dismayed to wake up to yet more fog. So after a lazy start, we thought 'oh well, let's drive to Stewart anyway, maybe the fog will lift'. And it did. We ended up having a gorgeous drive out to Stewart, which lies at the end of a stunning fjord, the Portland Canal, and can only be reached by Highway 37A (some 60 odd km from the junction with the Stewart Cassiar) or by boat.
Along the way, we stopped for photos at Bear Glacier, which looks pretty cool especially if you haven't seen any glaciers yet but flows into a muddy, unappealing lake. The much more impressive Salmon Glacier lies some 35 km beyond Stewart, which doesn't sound so bad until you realise that a) you'll go through Alaska (so bring your passport or you won't get back into Canada on your return), and b) the road to Salmon Glacier is extremely slow-going, bumpy and full of potholes. That said, you can enjoy a picnic overlooking the massive glacier so the state of the road is probably something you'll forget about as soon as you are there.
Due to a special occasion, we had a very leisurely breakfast at the quirky Toaster Museum Cafe in Stewart the next morning and then began our drive back to Meziadin Junction where we took the Stewart Cassiar Highway all the way to Yellowhead Highway (16) that would eventually take us across to Jasper in the Rockies. That night we stopped at the K'san Campground in Hazelton where our "curse" of trains rattling by all night began…
DAY 24 | YELLOWHEAD HIGHWAY: HAZELTON – PRINCE GEORGE (BC)
Distance travelled: 506 km
Since we stayed at the K'san Campground for the sole purpose of visiting the recreated K'san Historical Village and to learn more about the local First Nations, we had a slow morning and then joined an audio tour around 10:30 am. Whilst it was a bit weird listening to an audio recording instead of a tour guide, it was actually really interesting and worth hanging around until the late morning. We got to discuss First Nations' culture and history with a member of the local 'Wolf' clan, and it turned out that her late grandfather told some of the stories on the audio recordings we heard on the tour. Very interesting!
The rest of the day was uneventful driving through logging and farming country going east on the Yellowhead Highway. We stopped at Prince George for some shopping and petrol, and ended up at a rest stop some 35 km out of Prince George for some free camping again.
DAY 25-28 | ROCKY MOUNTAINS: JASPER NATIONAL PARK (ALBERTA)
Distance travelled: 930 km
Breaking our growing habit of late starts, we got going early to more fog, which again, lifted around lunch time. By then, we had reached the outskirts of the Rocky Mountains, and felt we should be awed but felt somewhat underwhelmed after our Yukon experience.
We arrived in Jasper around 2 pm, which turned out to be 3 pm as we'd completely forgotten about Mountain Time and that we were now in different time zone. For once, we arrived at a campground, early and could actually sit and have a cup of tea in the sun – what bliss! 🙂
Given the brilliant weather (blue sky and 26 degrees!!), we decided to stay put at Snaring campground in Jasper National Park for the next three nights. After adjusting to the fact that if it wasn't cargo trains keeping me awake all night, it was truck engine brakes echoing down the valley, I finally got some good sleep on the third night.
Other than worry about sleep, we hiked up the Cavell Meadows Trail, drove to Maligne Lake in the hope of wildlife (yay – two moose! and then some more!), admired Maligne Canyon, and explored a few other hiking trails. Wildlife sightings in the elk department were aplenty, which made my little heart flutter with delight and awe but also put me on guard once I'd seen a male elk get rather aggravated and chase off some photographers. We were super keen to see more bears but no luck there.
Yet, the most remarkable thing about our time in Jasper was possibly the decision of a mouse to move into our van. It kept the husband awake for two nights and he was going only slightly insane over the racket it was making in the middle of night (whilst I more or less blissfully ignored it due to severe sleepiness). In the end, the mouse was forcefully moved on to a better life as it showed no inclination to move out of our food and the van of its own accord.
DAY 29 | ROCKY MOUNTAINS: ICEFIELDS PARKWAY (ALBERTA)
Distance travelled: 215 km
From Jasper, we joined the throngs of tourists and travelled south towards Banff along the famous Icefields Parkway. After our glorious days in Jasper, the weather turned and we were back to… yes, more fog and low cloud.
We stopped at Athabasca Falls but got so fed up with the hordes of people there that we were grumpy for quite some time after and debated whether we should stop at any other viewpoints or sights along this road at all. We did stop at Sunwapta Falls and ended up rather enjoying our walk to the lower falls as only few people bothered to walk the 2.6 km (one-way) to have a look at them.
Early evening, we pulled into Wilcox Creek campground, half-way along the Icefields Parkway and blissfully quiet.
DAY 30-31 | ROCKY MOUNTAINS: BANFF NATIONAL PARK (ALBERTA)
Distance travelled: 268 km
You never know what weather you might get in Canada, so on Day 30 we were back to… snow! Which made everything look just sooo picturesque!
Since the sky was a little bit clearer than the previous day, we tracked back a bit and had a look at Tangle Falls and a few other viewpoints that we didn't bother stopping at the day before.
I wasn't quite up for anything too demanding that day so the husband set off on his own along the Wilcox Pass Trail, and ended up seeing Bighorn sheep clamouring across steep rock ledges. Pretty cool! It started snowing heavily at some point so he came back looking a little winter-ish.
We made it as far as Johnston Canyon campground in Banff National Park that night, and were a little bit shocked that we were now paying $27.40 for a site instead of our previous $15.70. Flush toilets and hot showers were the winning price. I didn't mind having the privilege of a hot shower (for as long as I wanted!!!!!) since it'd been at least a week since the last one and my scalp was really starting to itch… but I thought $11.70 rather steep for a shower, even a long one. And much to our joy, we discovered in the middle of the night that this campground was delightfully close to train tracks. Again.
In the end, we only hung around Banff National Park for a couple of nights as the crowds were really starting to get to us. We did manage to have an early morning look at Lake Louise, hike up to stunning Lake Agnes to enjoy some delicious morning tea at the tea house, marvel at Johnston Canyon and be amazed by the cobalt blue water of Moraine Lake.
After talking with some Parks Canada rangers and locals, we decided to leave Banff and make our way further south into Kananaskis Country where there are no tourists, only locals, and stacks of wildlife. Or so we were told.
DAY 32-34 | ROCKY MOUNTAINS: KANANASKIS COUNTRY (ALBERTA)
Distance travelled: 519 km
After a couple of hours in Banff on Day 32, we jumped on the Trans-Canada Highway 1 to Canmore and from there onto the unsealed Road 742 through Kananaski Country, or as we learned, K-Country for short, and eventually looped back to Canmore via the Kananaskis Trail (Highway 40). K-Country is really just a collection of Rocky Mountains provincial parks, all south of Canmore, Alberta.
We didn't see much (any?) wildlife on our first drive through but it's pretty countryside and just oh so deserted after the masses in the national parks! But we didn't give up in our wildlife endeavours so ended up seeing some moose, elk, mountain sheep and at long last – after five weeks in Canada! – grizzly bears!! We were so excited that we tracked a giant male for half an hour… but he wasn't real keen on our company so in the end waddled off into the forest without providing us with a half decent photo.
When we got to Boulton Creek campground on our first night in K-Country, one of the few campgrounds that was still open in late September, we almost choked when we had to cough up $26 for our site. Given that we'd paid about $12 for similar types of campgrounds in the Yukon, we concluded that Albertans must be rich. The best part about this campground was that whilst there were no trains nearby, we were in the flight path of Calgary airport. Yay.
So the next night, we found the only spot in K-Country where you could park for free, and we did just that. And we weren't in any flight path either! The third night we decided to stay in a campground again, this time at Interlakes campground, another whopping $26 for a spot to park and use pit toilets, but it was pretty enough with direct access to Lower Kananaskis Lake.
Our first two days there brought slushy snow and such low cloud that you could hardly tell you were in mountainous country at all, but by Day 34, the weather had cleared and although it was freezing cold, we finally had some sunshine and could see the mountains!
We tackled a few hikes, including up to Rawson Lake – SPECTACULAR! – and Ptarmigan Cirque, quite stunning too, so our impromptu detour to Kananaskis was definitely worth it!
DAY 35 | ROCKY MOUNTAINS: KOOTENAY NATIONAL PARK (BC)
Distance travelled: 137 km
The night before we had travelled back to Banff National Park via the Trans-Canada 1 and pulled into Johnston Canyon campground again as a convenient stop for the night. From here, we took Highway 93 into Kootenay National Park, still in the Rockies but now back on the BC side.
A few walks and lookouts later (partly cloudy skies, yay!), we got ourselves a campsite at Redstreak campground, the only one still open in Kootenay National Park. Luckily, it's super close to the Radium Hot Springs so by 7:15pm, we were soaking in the mineral waters at 39 degrees surrounded by the cliffs of Sinclair Canyon. The plan was to stay and relax for about an hour and then get dinner, but by 9:30 pm we were still lounging around in the soothing water. We did eventually decide that our one hour had gone on long enough and that it was high time to get out and actually eat some dinner. Needless to say that we had a quick meal of canned soup before crawling into our sleeping bags…
DAY 36 | HIGHWAY 95: RADIUM HOT SPRINGS – LAKE REVELSTOKE (BC)
Distance travelled: 270 km
After Kootenay, our Vancouver-bound return journey begun in earnest but not before stopping at the hugely disappointing Northern Lights Wolf Centre near Golden and doing a couple of small walks in Glacier National Park and Mount Revelstoke National Park.
From Radium Hot Springs, we took Highway 95 north, which was a really picturesque drive through the Columbia Valley with the Rockies on one side and the Columbia River on the other. Once we hit the town of Golden, we joined the Trans-Canada 1 once more, and the husband suddenly had to contend with a huge amount of traffic. No more meandering and stopping willy-nilly for photos, and absolutely no chance of seeing straying wildlife…
After a few nights in campgrounds, we thought it was time for a free sleep spot again so we ended up along Lake Revelstoke, just off the road. Unfortunately, quite a few trucks went by all night so it wasn't the most restful stop.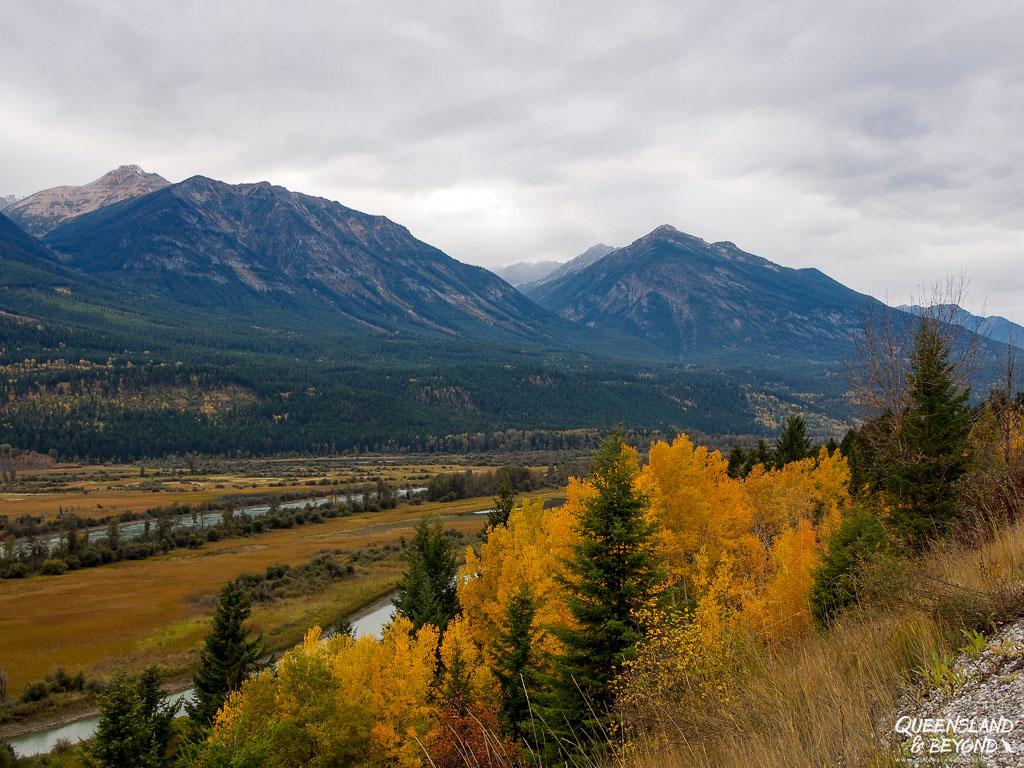 DAY 37 | MOUNT REVELSTOKE NATIONAL PARK (BC)
Distance travelled: 422 km
The plan for Day 37 was to take the Meadows in the Sky Parkway, a 26km road forged up Mount Revelstoke, and then get going towards Whistler and Vancouver. We started with patches of blue sky but soon enough hit serious fog and couldn't see a thing in front of us let alone enjoy some of the viewpoints along the way. Miraculously though, we broke through the clouds and emerged to brilliant blue sky and sunshine near the summit!
Mount Revelstoke National Park is a little gem among national parks; it took us by complete surprise with its stunning meadows and clear lakes, and so we ended up going on a day hike instead of driving all day.
We left the area around 6 pm and since sunset came early around 6:40 pm now, we don't have much idea what the Trans-Canada 1 between Revelstoke and Kamloops looks like. It started raining at some point but we really needed to cover some of the 650 km back to Vancouver so kept driving until well after 10 pm.
Eventually, we stopped at Juniper Beach Provincial Park campground, which we unanimously voted as the world's worst campground. We had been contending with trains rattling and tooting at night at various campgrounds but at Juniper Beach, you don't just get one set of active train tracks but two, and these aren't a few hundred meters away but the campground is nicely sandwiched between the two lines. Delightful. Perhaps if you're a train nut, you'd love it but I certainly wasn't amused. But in the end, I could only laugh (and this was after we had left a free rest stop because of noisy trucks…).
DAY 38-39 | TRANS-CANADA 1 & HIGHWAY 99: BACK TO VANCOUVER (BC)
Distance travelled: 384 km
On our last full day in Tonky, we meandered along Highway 99 South, initially through very dry canyon landscape that made us feel like we were back in Australia. It was completely different to anything else we'd seen in Canada with very few pine trees and mostly shrubs and dry soil. It's quite a scenic albeit slow road, especially around the First Nations town of Lillooet.
By late afternoon, we had found ourselves a campsite at the Cal Cheak Recreation Site, just south of Whistler, and finally had the (gluten-free) pancakes that we'd been carting around since we landed on Vancouver Island five weeks earlier.
Next day, we stopped at Brandywine Falls and then at Shannon Falls but after where we'd been and what we'd seen, they were both just okay. If you'd see them at the start of your trip, you'd probably find them quite impressive. The rest of the day was spent eating everything we had, cleaning out the van and rushing along the Sea-to-Sky Highway (Highway 99). The Whistler end is a bit meh but from Squamish onwards it's a lovely scenic drive along the Howe Sound (inlet) towards North Vancouver.
Not having to deal with (much) traffic for five weeks, we completely forgot about peak hour and got ourselves stuck in Vancouver traffic for over an hour. What a novel – and unpleasant – experience… We said our sad goodbyes to Tonky and our road trip adventure, and then got dropped off at our hotel near Stanley Park.
DAY 40 | VANCOUVER (BC)
Our flight wasn't until midnight so we had the whole day to wander around Vancouver. I love going to markets so we went to the Granville Island Public Market, bought some lunch that neither of us really enjoyed and then wandered back downtown and strolled around Robson Street for an hour or two browsing the shops.
From there it was back to the hotel to pick up our bags. We were lucky enough to share a taxi to the airport with a French Canadian couple who had just been on an Alaska cruise and told us amazing stories about winter in their little village in northern Quebec.
After absolutely zero border control (I can't remember ever having left a country by air and not having my passport checked!), we hung around for a while and then boarded our flight home. Goodbye Canada, until we meet again!
---
SUMMING UP
We loved Canada! The scenery and landscapes were as spectacular as we had imagined or hoped them to be, if not more so. Coming from the relatively dry and arid continent that is Australia, the amount of water in Canada was astonishing – lakes, rivers, creeks and waterfalls are in abundance! No wonder you can enjoy a hot shower in national park campgrounds for however long you want!
There were certainly things that puzzled us (like, why would you ever drink evaporated milk?!) and the crowds on Vancouver Island and in the Rockies were too much for us. But the Yukon is one very special place that we can't wait to return to. Alaska would probably be equally amazing.
Overall, we didn't see anywhere near as much wildlife as we'd expected. Other people seemed much luckier with the number of bears they saw but then we also talked to some locals who hadn't seen a bear at all for two years. So, I guess with our sightings of ten black bears and three grizzlies, we did ok.
However, it was the mountain ranges and glaciers along the Inside Passage and in the Yukon as well as the tundra at Tombstone that really dazzled us, beckoning us to return. I am determined to do just that.
ps: The husband never did wear his down jacket or his long underwear. Apparently, it just wasn't cold enough…
Total trip kilometres: 8,928km
---
PIN FOR LATER