The Glass House Mountains are on Kabi Kabi Country. I acknowledge the Traditional Custodians of this special area and their connection to Country, and pay my respects to their Elders past and present.
---
Scenic tourist drives can be a bit odd in Queensland. Not that other Australian states don't have them but on the Sunshine Coast, they may not be particularly scenic. Or touristy. Well, at least not some of the "official" ones.
That said, the region around the dispersed Glass House Mountains National Park lends itself to a relaxing Sunday drive.
I've grown quite fond of this part of the Sunshine Coast, and by going for a drive you'll have the chance to take in some dramatic views of volcanic outcrops, the famed Glass House Mountains.
---
GLASS HOUSE MOUNTAINS SCENIC DRIVE (#24)
We discovered the scenic views of the Glass House Mountains more or less by accident.
Doing the official Glass House Mountains Tourist Drive (#24) in the Sunshine Coast Hinterland sounds promising, right? But when we first "explored" it a few years ago, it turned out that the tourist route road markers just take you along a fairly well-trafficked road, the Steve Irwin Way.
You'll see the brown #24 signs all along this road but unfortunately, it's a drive without much of a view of anything.
There is one point where you can catch a glimpse of Mount Tibrogargan but that still doesn't quite redeem Tourist Drive 24 in my book.
Over time we discovered some back roads and fantastic views of the rugged volcanic landscape. So here's my suggestion for taking a scenic drive through the Glass House Mountains.
A SCENIC LOOP AROUND THE SUNSHINE COAST HINTERLAND
The best way is to do a loop, starting either in Beerburrum or Landsborough just off the Bruce Highway. That way, you'll wind your way past a couple of lookouts, and if you feel a bit more energetic, you could add a short walk or two. Alternatively, stop in one of the small towns for coffee or lunch.
It's a 40-50km round trip depending on how much exploring you do.
1. LANDSBOROUGH TO BEERBURRUM
If you're coming from the Sunshine Coast, make your way to the historic town of Landsborough (just off Steve Irwin Way).
From there, keep going south to Beerburrum. You're pretty much following Tourist Drive #24 here but it's not the most picturesque drive. You will glimpse Mount Tibrogargan on your right though as you make your way south.
You could stop at the village of Glass House Mountains and drop into the information centre to pick up a map of the area (it's quite a neat little visitor centre). Or keep driving and stop by later.
Alternative: If you're coming from Brisbane, start at Beerburrum, and finish the drive with the Landsborough to Beerburrum stretch.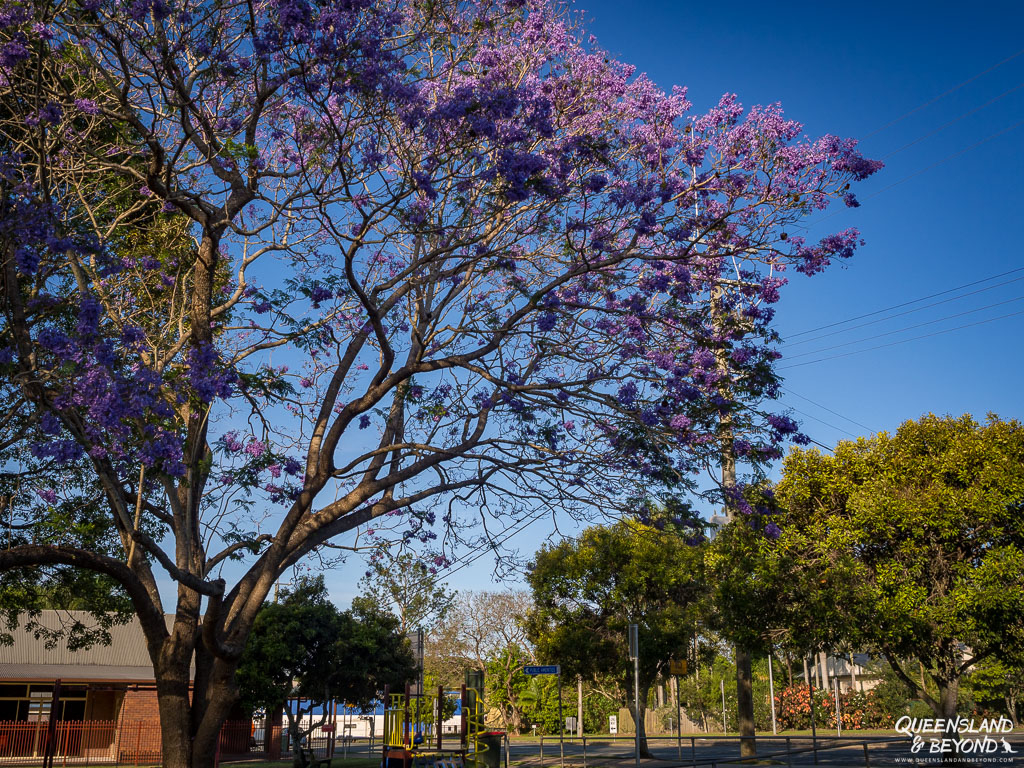 At Beerburrum, turn off Steve Irwin Way and take Beerburrum Road, which turns into Beerburrum Woodford Road just outside Beerburrum.
If you're feeling energetic, stop here and climb Mount Beerburrum. It's about a 1.4 km return uphill hike, and if I recall correctly, has fairly little shade. Great views from the firetower up top though!
2. BEERBURRUM TO LANDSBOROUGH VIA GLASS HOUSE MOUNTAINS LOOKOUT
From there, turn right onto Old Gympie Road, and then left onto Glass House Woodford Road to reach the Glass House Mountains Lookout.
I have no idea why this spot isn't on the tourist drive because you get fabulous views of the various volcanic outcrops from here!
Whilst you can't really see the sun setting from here, I love watching the sunset at this spot as you can get some awesome pink hues hugging Mount Tibrogargan.
The road is sealed to the lookout but not beyond, and there isn't much to discover past the lookout anyway.
There's also a short walk (800m loop) at the lookout but it's not particularly exciting. There are virtually no views but if you crave some exercise, go for it.
Or pack a picnic, the lookout is a nice spot to have lunch or cook up some sausages on the public BBQs there.
3. DETOUR LOOP: HIKE IN THE GLASS HOUSE MOUNTAINS
Once you've eaten your delicious lunch, make your way back to Old Gympie Road and turn left to head north. From here, you've got a few options for doing a little extra loop:
Take Marshs Road for some lovely views of Mount Tibrogargan and/or to do the Mount Tibrogargan Circuit walk (3.3km) or the longer Trachyte Circuit (5.6km)
Take Coonowrin Road for views of Mount Tibrogargan from further away and to stop back at the village of Glass House Mountains
Take Fullertons Road to climb up super popular Mount Ngungun (be aware of the sunrise and sunset crowd)
Once you've taken whichever detour you fancy, turn back onto Old Gympie Road. Either take it all the way back to Landsborough, or stop at Lindeman Road to walk up Mount Coochin. I haven't done that one yet so I've got no idea whether it's nice or a bit of a waste of time.
4. SIDE TRIP: MARY CAIRNCROSS RESERVE
If you've got time, from Landsborough take the Maleny Landsborough Road up the Sunshine Coast Hinterland hills to admire the views from Mary Cairncross Scenic Reserve.
On a clear day, the views of Mount Beerwah and the rest of the Glass House Mountains are really quite impressive.
Sometimes you can even make out Brisbane's skyline in the far distance. It's best seen in the early morning or late afternoon.
To get to Mary Cairncross Scenic Reserve, turn left at Mountain View Road once you've climbed up the hills or simply follow the signs for Tourist Drive #23. There's also a really nice sub-tropical rainforest walk (1.75km loop) at the reserve you could do.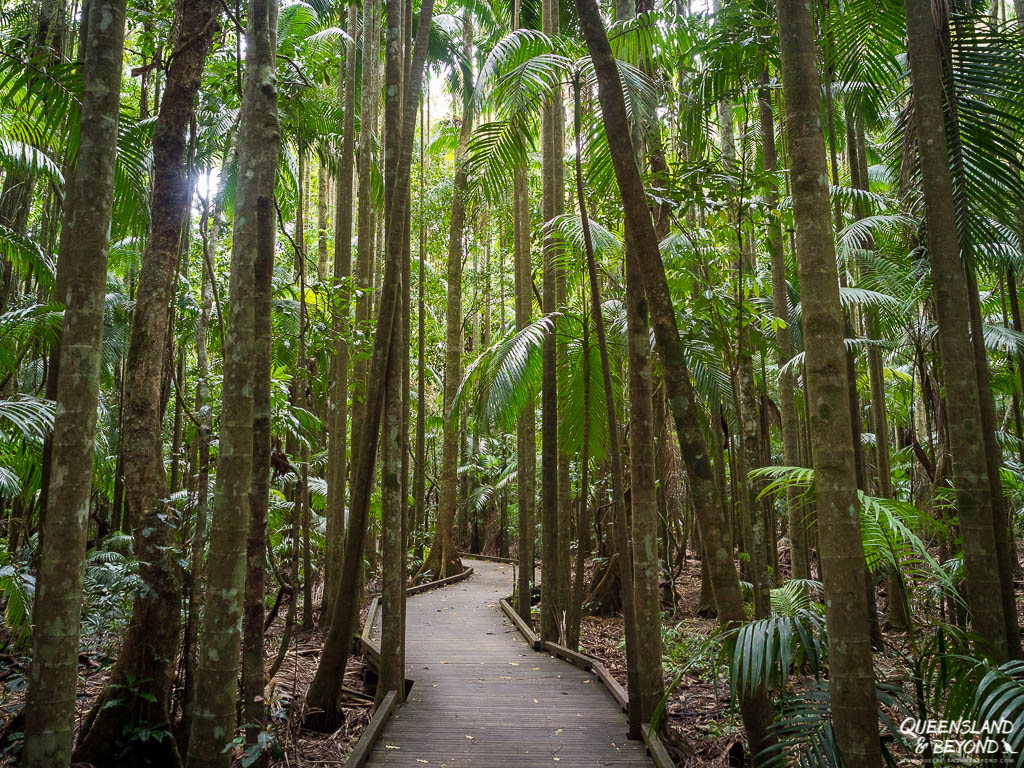 Plus the new education centre is fabulous, and the café offers heaps of delicious treats, many of them gluten-free!
MORE INFORMATION
Check out Queensland Parks & Wildlife Service for information on available walks, summit climbs and maps of the area.
---
MORE POSTS ON WHAT TO DO AT THE SUNSHINE COAST
When you've explored the Glass House Mountains to your heart's content, hit David Low Way from Marcoola all the way up to Noosa for some coastal scenery. It's a lovely drive, and you can stop and climb Mount Coolum or hike around Noosa National Park.
Alternatively, continue on from Mary Cairncross and do the Blackall Range Tourist Drive (#23). There are some lovely towns, walks and lookouts to explore along the way.
Or if you're keen to explore the Queensland border region around the Scenic Rim, take a road trip to Queen Mary Falls or a 4WD detour along the Condamine River! It's gorgeous scenery down there!
---
PIN FOR LATER