Welford National Park feels like it's in the middle of nowhere.
And true, you have to travel almost all the way to Longreach (and even from there it's still another 210km south). The closest town to Welford is Windorah, an inconvenient 1,250km from the east coast.
But obviously, as far as I'm concerned, being so far away means basic camping without the usual noisy crowds. Or, at least, that's what I always hope for.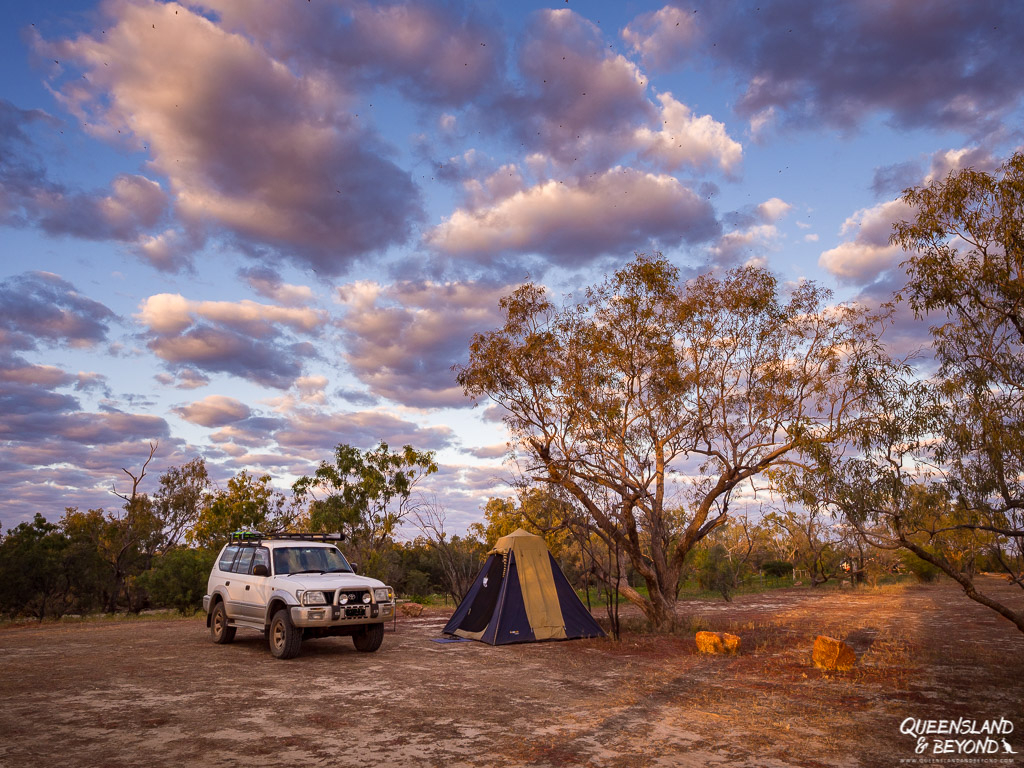 ---
CAMPING AT WELFORD NATIONAL PARK
Welford is such a long way from anywhere so plan at least two nights here. There are a couple of scenic drives to do, and you'll really only experience the park if you have time to do the drives.
We had camped here for two nights and that seemed just right. Welford was the second stop on our Queensland Outback winter road trip, and we arrived here early afternoon after camping at Idalia for two nights.
The national park has a lot of bird life so you may want to stay a few more nights if birdwatching is your thing. Or if you're into kayaking, there are permanent waterholes in the muddy Barcoo River that could be fun to explore.
Once upon a time, there used to be two camping areas at Welford National Park. These days, it's only one: Little Boomerang Waterhole, and it's a small one at that.
LITTLE BOOMERANG WATERHOLE CAMPING AREA
Unlike at Idalia National Park, you do feel like you have a view at the camping area at Welford.
Little Boomerang Waterhole has a permanent waterhole of the Barcoo River on one side, and open grass plains and shrubland on the other.
The whole camping area is set up for about 15 people but if there were 15 individual parties, it'd definitely get a bit tight.
There are about 7-8 campsites, all of which are unmarked. It's really easy to work out the different spots though as Queensland National Parks have placed rocks roughly marking the cleared areas and installed fire rings in each.
If you decide to light a campfire, make sure you're campfire safe.
While there are mulga trees around the camping area, they don't offer a ton of shade. And in general, there isn't a heap of privacy here but if the campground isn't booked out (it was when we were there in July), you can space out reasonably well. Even with every spot occupied, we didn't feel packed in like sardines.
The only downside was that we managed to have luck on our side again and were joined by campers on our second night who love loud music. Somehow no one ever listens to classical music…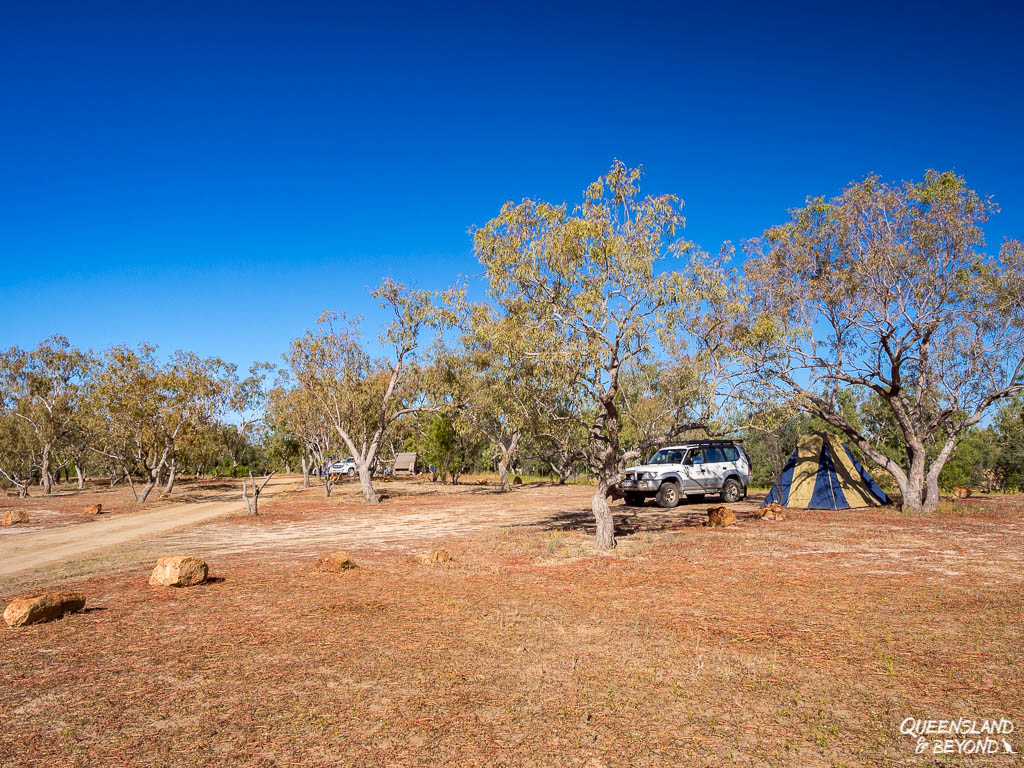 The ground is very flat, and in winter, it was cracked dry. You could tell though, that with just a spot of rain, the earth would open up and turn the campground and roads into a mud bath. Fortunately in winter, there isn't too much of a chance of that happening.
Although the camping area is along the Barcoo, you're not exactly on the banks of the river. In fact, the banks are fenced off.
You can walk behind the fence but not drive to the river here. The banks are also very steep so lowering a kayak into the river would be a bit of a tricky maneuver. It's clearly possible since people do it but you'd have to be quite careful.
LITTLE BOOMERANG WATERHOLE CAMPING AREA AT A GLANCE
PROS: Flat, spaced out (unmarked) campsites; new and very clean (pit) toilet; centrally located for exploring the park; located along the Barcoo River; wide open views on one side (great for sunrise and sunset!)
CONS: Little shade; relatively little privacy (open sites); a lot of flies; no walks nearby
COST: $6.65 pp/pn (2019); pre-bookings only
Not sure what the tents and mozzies mean? Check out my tents and mozzies guide.
We didn't have to deal with mosquitoes at Welford, the insect onslaught was all flies. They were so bad (and according to the ranger, they weren't bad when we were there) that we ate dinner inside the tent. There are only so many flies that I can stomach for dinner.
MORE INFORMATION
For more details on Welford, including how to make a booking, check out Queensland National Parks Welford camping.
---
MORE POSTS ON EXPLORING OUTBACK QUEENSLAND
While Welford doesn't have the myriad hiking tracks that we're normally keen on, it does offer some scenic drives and other ways to divert yourself. Find more ideas in my guide to Welford National Park.
Welford is best visited as part of a larger Central Queensland road trip. Here's how we spent 10 days on the road exploring a tiny slice of the Queensland Outback.
Idalia National Park was the first stop on our trip, and we really enjoyed our two days there. Here's what you need to know about camping at Idalia. After our two days at Welford, we went on to camp at Currawinya National Park, yet another completely different spot compared to Idalia and Welford.
---
PIN ME.