I acknowledge the Traditional Custodians of this area and their connection to Country, and pay my respects to their Elders past and present.
---
Welford is some 1,200km from home on the east coast already, and you'd think you'd be pretty much in the middle of Australia by now. But you still aren't that close to the border to the Northern Territory. That's another few hundred kilometers away. Crazy.
Unless you take a road trip, it is actually impossible to fathom how ridiculously large Australia is.
We spent a couple of nights at Welford as part of our 10-day Outback Queensland winter road trip a few years back. Like with most of our road trips, we just map a route around various national parks to see what's there, and off we go.
Queensland Parks & Wildlife Service publishes some very useful national parks brochures but I still feel like you never quite know what to expect so here's my take on Welford National Park.
While there aren't a ton of hiking trails at Welford National Park (usually a highly desirable feature), I was still pleasantly surprised. Basically, if being by yourself surrounded by natural beauty and doing some scenic driving is your thing, then heading to Welford is perfect.
---
WELFORD NATIONAL PARK: KNOW BEFORE YOU GO
Welford National Park is in Queensland's Barcoo region.
The Barcoo is in the Channel Country and full of water channels that run dry during the dry season and times of drought, and flood the region when the rains come.
If you want to do all the drives, you will need a minimum of two days here as they do take a chunk of time out of your day. Plus, it's nice to have some down time too when you've come such a long way!
HOW TO GET TO WELFORD NATIONAL PARK
The main obstacle to exploring Welford is that it's just a long way from the populated east coast. On the other hand, that's also a great bonus because you're a long way from everyone else too.
Welford is very easy to find.
Since we came from Idalia National Park, we took the Yaraka Retreat Road and then turned right onto Jundah Quilpie Road.
If you're coming from Quilpie, it's about 200km north along the Diamantina Developmental Road towards Windorah, and then roughly another 60km along the Jundah Quilpie Road.
Easy peasy.
WHEN TO VISIT WELFORD NATIONAL PARK
Like any place in the Outback, the best time to visit Welford is during winter (May-August).
In summer, the park is usually closed to the wet season flooding the area (if we're blessed with rain) and temperatures being in the mid to high 40ºCs.
The winter months are much cooler and gorgeous with blue sky days and warm day time temperatures. The nights can be chilly and even drop to around 0ºC.
We had temperatures in the high 20ºCs during the day in mid-July, far warmer than expected. Even the nights were relatively mild, and I certainly didn't bother with a beanie and thick socks like I did on previous trips. Silly me hadn't brought shorts on this trip, which I ended up deeply regretting given the rather warm temperatures.
WHERE TO CAMP
There aren't a lot of accommodation options out here.
In fact, you're pretty much limited to camping in the national park at the Little Boomerang Waterhole Camping Area. Your only facilities include a drop toilet so make sure you're camping without leaving a trace.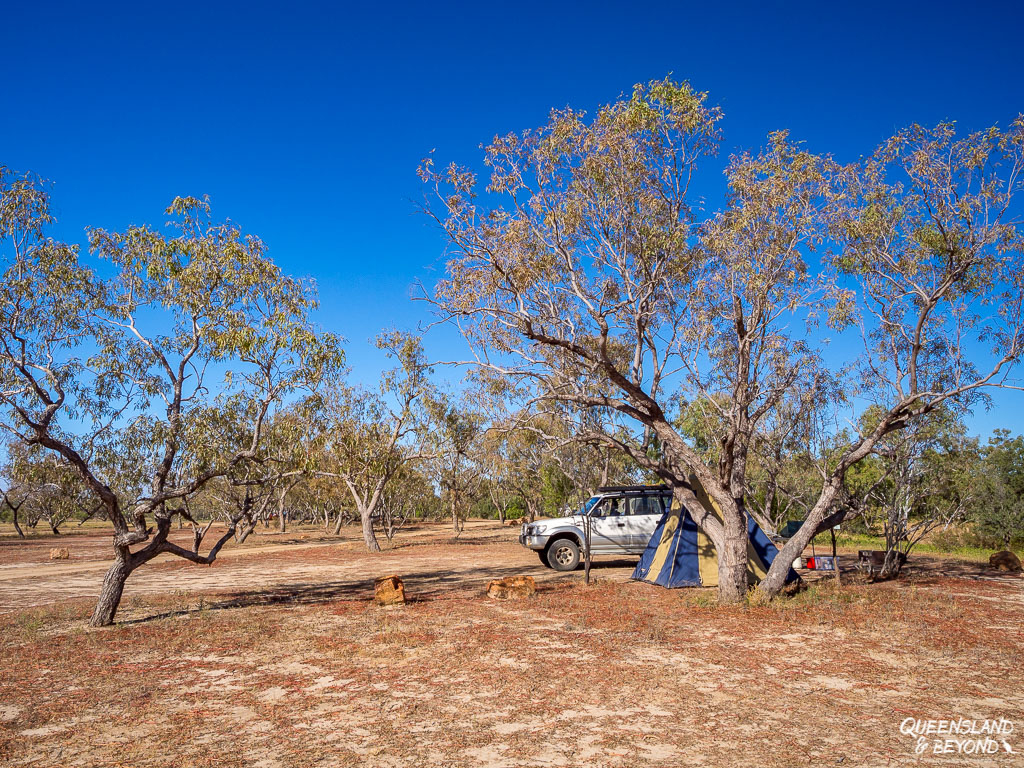 The other option is to stay in Windorah (85km away), which has a caravan park or along the Thomson River outside of Jundah (45km).
TIPS FOR VISITING WELFORD NATIONAL PARK
Travelling this far out west requires at least some preparation. Here are a few tips:
Carry sufficient fuel: The nearest fuel stations are in Jundah (45km) and Windorah (110km), and you don't want to run out while you're enjoying a leisurely scenic drive.
Carry sufficient water: There is no water out here, you will need to bring both drinking water and water for washing. At least 5-7L per person per day.
Bring a fly net: Yes, they look a bit stupid but when gazillions of flies surround you and attempt to get into any orifices you have as you try to breath or speak, you'll be thankful you look stupid.
Don't forget sun protection: Even in winter, the sun can still be strong out here. Don't travel without your hat, sunnies and sunscreen.
Bring emergency supplies: While Jundah or Windorah aren't that far, it always pays to have a first-aid kit handy and extra food in case you get stranded. We also carry a PLB (personal locator beacon) when we go out west because mobile coverage is usually patchy, if not non-existent.
---
5 IDEAS FOR EXPLORING WELFORD NATIONAL PARK
As I said, there isn't a heap to do at Welford but if you love isolation and desert-like country, you'll probably enjoy a couple of quiet days here.
1. TAKE A SCENIC DRIVE
Welford offers three scenic drives around the national park. Since there aren't really any hikes in Welford, we spent our days going on drives, exploring a few spots along the way, and relaxing back at the campsite.
The River Drive is 2WD-accessible (in dry weather) but for the other two drives, you do need a 4WD as there are lots of sandy patches, especially along the Desert Drive.
DESERT DRIVE | 22km (one-way; ~1.5 hours)
The Desert Drive is quite stunning as you drive through gorgeous desert country of red sand dunes, spinifex shrubs and plains.
Along the way you can stop at a desert waterhole (pretty reflections in the morning), climb a deep red sand hill for some nice views, take a look at an old oil bore (and learn surprisingly little about its history), and see some old pastoral stock troughs.
Remember to leave historical remnants as you find them.
Apparently, someone bored for oil here in 1986 but the bore ended up being used for sub-Artesian water flowing into stock troughs. That's about as much as we could find out about the oil bore…
We left relatively early in the morning for the drive, a) for nice soft light, and b) to avoid the middle of the day with the sun beating down on us. We had well and truly finished the drive before 10am.
Queensland Parks & Wildlife Service advises that you should plan around 3 hours for the drive but you'd have to be driving at snail pace and spend hours exploring the sand hill and pastoral remnants to be taking that long. It took us about 1.5 hours, and we spent more than enough time roaming around the sand dune and exploring various other spots.
MULGA DRIVE | 71KM (circuit; 3-4 hours)
Unlike the Desert Drive, the Mulga Drive leads past river flats, Mulga shrubland and salt plains.
We probably enjoyed the Mulga Drive best but you do need to plan a bit more time for this drive. We left around 3pm and with the sun setting at 5:45pm, we ended up rushing towards the end and got back to our campsite in the dark.
That said, watching the sunset over the salt plains was terrific!
You could stop at Frances Waterhole or Trafalgar Waterhole.
Or if you want, take a quick walk up to Sawyers Creek Lookout (1.2km return) on Welford's north-eastern escarpment.
I can't say that it's much of a lookout as the mulgas have really grown, making it hard to admire the expansive views. The purple flowers along the path were gorgeous though!
You could also stop along Sawyers Creek, which looked quite pretty in the late afternoon light.
Plan at least 3 hours for this drive, more if you like to get out and have a look around.
RIVER DRIVE | 12.3km (one-way; ~0.5 hour)
The River Drive is an alternative route to Welford's camping area. To be honest, it's really just an alternative, there isn't much to see along here at all.
Half-way through the drive, you could stop at The Jetty at the Barcoo River (no, there's no actual 'jetty' there) for some bird watching or just to climb over the rocky outcrops leading into the muddy river bed.
2. RELAX (OR KAYAK) ON THE BARCOO RIVER
The rivers out here are usually muddy and it's no different with the Barcoo River. They don't say 'come and jump in for a swim' to me (unless you fancy mud swims) but they are great for spotting some birds, going for a paddle in a kayak or canoe, or even some fishing.
The banks of the Barcoo are pretty slippery and very steep so getting a kayak in and out could be quite a challenge.
3. WATCH THE SUNSET FROM A SAND DUNE
Welford boasts a few lovely deep red sand dunes along the Desert Drive, one of which you can climb easily. You'll get 360º views from the sand hill, and sunset is just perfect from here.
Apparently, these sand dunes are Australia's most easterly desert dunes, and the one that you're allowed to climb is very pretty.
Like anywhere in the bush or outback, do watch out where you're stepping if you roam about. We saw snake trails and various other tracks, although we didn't actually run across any critters here. Also, desert plants are fragile so try not to disturb them.
4. ENJOY BIRD & WILDLIFE WATCHING
We didn't see a ton of birds at Welford but we certainly heard them in the mornings!
There was a group of avid bird watchers in the camping area who spent hours at The Jetty, and who mentioned that a couple of weeks later a bird watching association was going to camp here so clearly bird watching is popular!
If you're lucky (the waterholes are your best bet), you might spot emus, Major Mitchell's cockatoos, various kinds of parrots, brolgas or kites. On our way to Welford, we had so many kites flying overhead that at some point we stopped counting!
We were lucky enough though to come across a bearded dragon on our desert scenic drive, and of course, the ubiquitous kangaroos are never far away.
5. LEARN ABOUT THE PASTORAL HISTORY
Unlike Currawinya National Park, Welford doesn't have offer a heap of pastoral history but you can see some remnants of feeding troughs, stock yards and windmills along the Desert Drive.
You can also learn about the homestead's history (at the start of the Mulga Drive), built in 1882, but only admire it from afar. Unfortunately, it's not open to the public as it's currently used as staff quarters by Queensland Parks & Wildlife Service.
---
SUMMING UP
The sand dunes and salt pans at Welford make it quite a special national park to visit. If you're an avid bird watcher, you can probably spend hours at the waterholes watching birds.
Even though the campground wasn't empty, we never met anyone on our drives and enjoyed a serene sense of isolation out here.
MORE INFORMATION
Queensland Parks & Wildlife Service has more information on Welford National Park, including how to organise your camping permits and what to do in an emergency.
For more information on the camping area at Welford, check out my review.
---
MORE POSTS ON OUTBACK QUEENSLAND
I've got a few articles on travelling and camping in Outback Queensland.
Before heading to Welford, check out my camping guide to Welford. I've also got an overview of what you can do at Idalia National Park as wel as a camping guide for Idalia. And a guide to camping options at Currawinya National Park.
To get a sense of how we strung the three national parks together and our highlights from along the way, read my 10-day itinerary for Outback Queensland in winter.
And while not technically in the Queensland outback, Mount Moffatt also gives you that remote feeling and is a great destination for any winter camping trip.
---
PIN ME