I acknowledge the Kabi Kabi and the Jinibara peoples as the Traditional Custodians whose lands and waters we all now share on the Sunshine Coast.
---
At heart, both the husband and I are budget travellers.
Not 'budget' as in staying at the cheapest of the dingiest hostels for the sake of saving a few dollars but 'budget' as in free and fun.
Good thing that most outdoor activities are naturally free (once you have the equipment, that is), or I'd have serious budget headaches!
So, what can you do for free on the Sunshine Coast?
Quite a lot, it turns out.
---
FREE AND FUN ACTIVITIES ON THE SUNSHINE COAST
There are lots of free and fun things to do on the Sunshine Coast, and the good news is that these are not just outdoor activities. Though a lot are, let's just be upfront.
I've listed them in random order, whatever popped into my head first.
1. VISIT A MARKET
I love strolling around markets, preferably those that sell yummy food (fresh and prepared) and not just random junk. I've picked up some of the best pickles, jams and biscuits at markets over the years.
So, you could visit Eumundi Market, arguably the Sunshine Coast's most famous, for a bit of both (random weird stuff, some great craft and artists' work, and lots of food).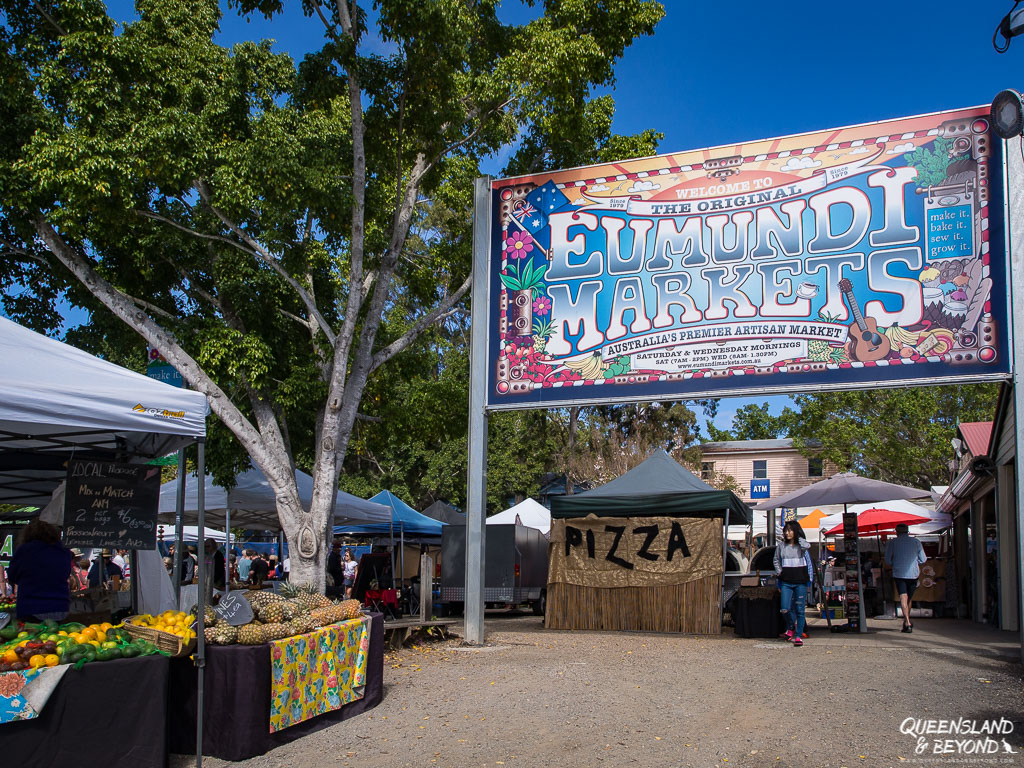 Or try Cotton Tree Market for an abundance of knick-knacks and a little bit of food. This is where I go to buy local soap bars. 😀
If a farmers market is more your thing, I really like the Kawana Farmers Market. It's got a great locals feel. The one at Fisherman's Road in Maroochydore isn't half bad either but gets very busy and there can be a lot of rusty junk there, too. I've also heard good things about the Noosa Farmers Market but have never been myself.
The Caloundra Street Fair is on every Sunday but I'm still to have a wander there myself. On the last Friday of each month, there's also a twilight market in Caloundra.
The night market at Ocean Street in Maroochydore used to be a fabulous one too but it hasn't been on in ages.
2. STROLL THROUGH A BOTANIC GARDEN
There's not just one botanical garden on the Sunshine Coast, no, we have three. Two of them are free and fun while the Maleny Botanical Garden is private and thus fee attached.
Maroochy Bushland Botanic Gardens, Tanawha: Quiet and a great spot if you want more of a bushland experience. Has BBQs and a fun kids walk.
Noosa Botanic Gardens: A more "manicured" and varied botanic garden, and beautifully situated at Lake MacDonald. The grounds make for a great stroll around, including to a lily pond, an amphitheatre and lots of spots for picnics.
Which leads me to my next freebie activity…
3. HAVE A PICNIC
I love picnics.
I think it's because we didn't really go to restaurants much when I was a child, and we'd always bring our own food on outings and eat outdoors.
And somehow food always tastes better outdoors. Unless it's off, of course.
So here are some of the places that I like for having a picnic. They all have public BBQs. (And no, no beaches, I don't like sand in my food, thank you.)
Wappa Dam, Nambour: A personal favourite. I really like the park and I've had some great laughs there with friends.
Buderim Village Park: Great views and lots of lawn to lounge around. I'm also partial to the Lions Park in Buderim (more great views and picnic tables).
Cotton Tree Park: A very popular park, rightly so, along the Maroochy River.
Glass House Mountains Lookout, near Beerburrum: Not a ton of space but fabulous views of the Glass House Mountains. Skip the walk unless you need some exercise.
Alexandra Headlands Park: Very popular spot these days, particularly for sunset drinks.
Mary Cairncross Reserve, near Maleny: A great park with even greater views of the Glass House Mountains.
4. HIKE TO A WATERFALL
The Sunshine Coast doesn't have the incredible waterfalls that the Gold Coast Hinterland boasts but we still have some lovely ones. They're best after rainfall, otherwise all you might see is a tiny trickle.
Kondalilla Falls, near Montville: The largest of the falls on the Sunshine Coast, can be gushing after heavy summer rainfall. There's a rockpool you can swim in (if the water is flowing). The hike to the base of the falls involves many steps and is about 5km around.
Serenity Falls, Buderim: If it's quiet, they're beautiful but these falls are well-known so it's unlikely that you'll be there by yourself. Some gorgeous rainforest though and a pretty bridge from which you can admire the waterfall.
Gherulla Falls, near Mapleton: Not as spectacular as either Kondalilla or Serenity Falls but if you want a longer hike, this is a good choice. Definitely more than a trickle after heavy rains.
5. CLIMB A MOUNTAIN
Since we're talking physical exercise, climbing a mountain on the Sunshine Coast is nowhere near as strenuous as you might expect. You don't have to tackle the hard ones like Beerwah or Tibrogargan (both can be dangerous and should only be attempted if you have rock scrambling and climbing skills).
Instead try Mount Coolum (easier than you might think), Ninderry, Beerburrum or Mount Ngungun in the Glass House Mountains.
For something really easy, give Mount Tinbeerwah near Noosa a go, it's only 1km return.
6. MARVEL AT THE RAINFOREST
There are pockets of beautiful rainforest all around the Sunshine Coast, and you don't even have to work hard to see it.
Some of my favourite short rainforest walks include:
Rainforest Walk at Mary Cairncross Reserve
Wompoo Circuit, Mapleton Falls National Park: You get dry sclerophyll forest as well as rainforest here.
7. VISIT A MUSEUM
So what do you when it's raining?
Well, rainforests are pretty great in the rain, too, minus the leeches, they can be pesky. If you want to stay indoors, you could visit a free gallery or historic museum.
8. LISTEN AND LEARN AT A TALK AT THE LIBRARY
Going to a talk or workshop at the Sunshine Coast Libraries is actually really great.
I've learnt heaps about digestive and other health issues, photography, reducing waste, and more at talks at the library. I've even spoken about my life in Australia at a multicultural workshop once.
Events filled up quickly so you do need to pounce as soon as talks and workshops are announced. But if you're not too concerned about the location, you can often get a spot at some of the smaller branches, e.g. in Beerwah.
To attend, you need to be a library member but it's free and you can easily sign up online when you register.
Find out What's on at the Sunshine Coast Libraries.
9. GO ON A LONG (OR SHORT) HIKE
We have a fair few short and long hikes on the Sunshine Coast, and obviously they're all free. There should be enough to keep you busy for a few days!
If you just want a stroll, anywhere along the Coastal Pathway is great but I especially like the Caloundra to Currimundi section, Mooloolaba to Cotton Tree, or around Coolum Beach. The boardwalk section there is great!
If you want a longer hike, you can't go past the Coastal Track in Noosa National Park or Trachyte Circuit in the Glass House Mountains.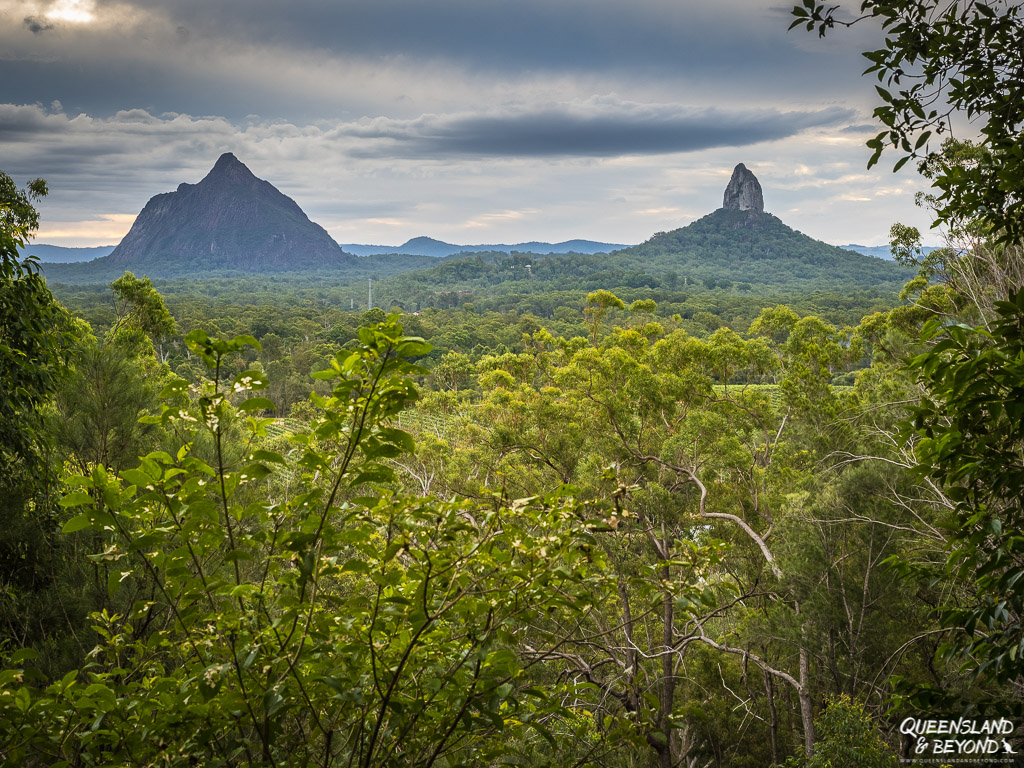 There are plenty more so check out my posts below if you want to tackle a few.
10. TAKE A SCENIC DRIVE
If hiking is too much exercise for you (or it's just too hot), go on a scenic drive around the Sunshine Coast.
Glass House Mountains: Meander around the volanic outcrops better known as the Glass House Mountains; you can take in some viewpoints and stop at a café or two for a coffee and more.
Blackall Ranges: To see some fantastic views of the coast from the hinterland, do the Blackall Ranges scenic drive that takes you into Mapleton, Montville and Maleny.
Mary Valley: For a scenic drive that explores more of the rural hinterland and heads out towards Kenilworth (great cheese there!), explore the Mary Valley Tourist Drive.
11. SEE A BIG "P" THING
If you're a collector of big things, here's your chance to see the Big Pineapple or the Big Pelican.
Located at Woombye near Wildlife HQ Zoo (Nambour Road), the Big Pineapple was once the showpiece of a giant pineapple plantation. Open every day (9-4pm) but sadly, you can't climb to the top at present. That's really the best part. 🙁
And while we're talking pineapple, you should probably try some local ones (though, admittedly, they're not generally free).
The Big Pelican is found along the Noosa River in Noosaville's Lion Park (along Gympie Terrace).
12. GO FOR A SWIM
Needless to point out that are a million and one spots for having a swim or a surf on the Sunshine Coast.
But I'm neither a water baby nor am I into swimming in the ocean. Plus, the open beaches on the coast can be quite rough and full of gutters.
That said, I do also like to cool down on those hot summer days so here are some of my favourite places for a cooling but calm swim:
Cotton Tree Park / River: Possibly one of the busiest spots these days but swimming in the Maroochy River here is so much easier and calmer than around the corner at Maroochydore Beach.
Chambers Island, Maroochydore: Also on the Maroochy River but further upstream (off Duporth Avenue); very popular but great fun and accessible via a foot bridge.
Currimundi Lake: Further south towards Caloundra, Currimundi Lake is a good spot for a calm swim.
Kings Beach Ocean Pool, Caloundra: Public tidal pool with sun shades and a water fountain for kids, open 4:30am-9pm
13. WATCH THE SUNRISE OR SUNSET
I've seen some pretty amazing sunsets on the Sunshine Coast, there are just so many great spots.
Obviously, you won't see the sun setting unless you're facing somewhat west but you can still get some gorgeous sunset hues over the ocean.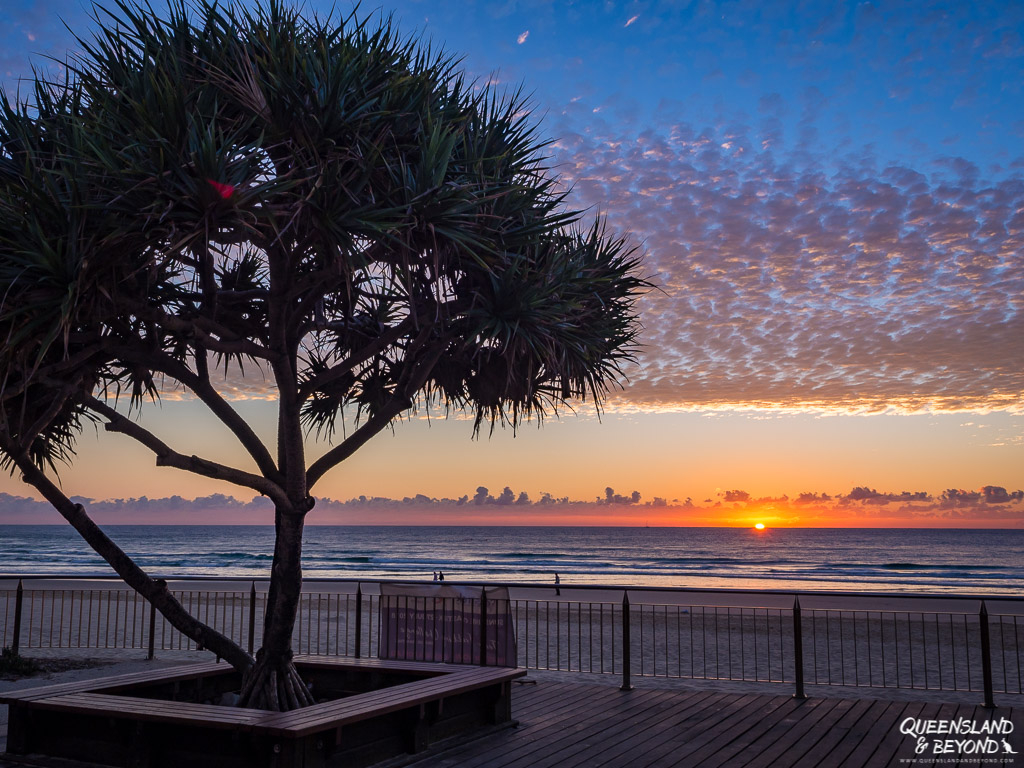 Try these sunrise or sunset spots on the Sunshine Coast:
Mount Tinbeerwah, Noosa: Depending on the time of year, you can see the sunrise. Generally good for sunset.
Mount Coolum or Mount Ninderry: Sunrise or sunset. Bring a torch to avoid stumbles.
Alex Headland Park: Very popular for sunset drinks, especially on weekends.
Maroochy River Mouth, Cotton Tree: Another popular spot for sunset drinks.
La Balsa Park, Buddina: Great spot for both sunrise or sunset.
Mount Ngungun, Glass House Mountains: Popular for both sunrise and sunset, bring a torch.
Wild Horse Mountain Lookout (Bruce Highway): Panoramic sunset views over the Glass House Mountains.
14. GO KAYAKING
Obviously, kayaking is only free if you already have a kayak (or canoe / SUP). But if you do, here are some fabulous places for paddling on the Sunshine Coast.
You can also rent kayaks in Caloundra and Golden Beach, Mooloolaba and Maroochydore, and Noosa.
Noosa: Noosa River, Noosa Everglades (Cooloola), Lake MacDonald, Lake Cootharaba, Lake Weyba
Mooloolaba/Maroochydore: Maroochy River Canoe Trail, Maroochy Water Canals, Mooloolah River (incl. Mooloolaba Canals and Kawana Canals)
Mudjimba: Twin Waters Canals, Bill Kear Waterway
Landsborough: Ewen Maddock Dam
Maleny: Baroon Pocket Dam
Caloundra: Currimundi Lake, Pumicestone Passage
15. GO FOR A BIKE RIDE
The Sunshine Coast isn't as incredible for recreational bike riding like places such as Melbourne or Vancouver might be. But there are still plenty of routes you can explore, whether you're looking for an easy ride or more of a challenge.
The best place for fun bike riding on the Coast is the Coastal Pathway.
This track stretches from Pelican Water (in the south) to Tewantin (in the north). Some sections are really fantastic but other bits aren't quite properly connected (yet).
The best thing is to just pick a starting point and start riding as far as you want, then turn around.
If mountain biking is more your thing, there are a fair few trails in the hinterland. Check out the Bushrangers (Sunshine Coast MTB club) for more details.
---
SUMMING UP
So, that's it, 15 different kinds of activities you can enjoy for free on the Sunshine Coast!
If I've missed your favourite activity or place, do let me know in the comments below. 🙂
---
MORE POSTS ON THE SUNSHINE COAST
I've got a few posts on what to do on the Sunshine Coast, from hiking, scenic driving to visiting local attractions. Here are a few to get you started:
---
PIN ME