I acknowledge the Butchalla People, the Traditional Custodians of K'gari, and their connection to land, sea and community, and pay my respects to their Elders past and present.
---
K'gari (Fraser Island), the world's largest sand island stretching along 123km, is amazingly popular.
It's some 300km north of Brisbane and gets swamped by Queenslanders, interstate and overseas visitors. K'gari means paradise island, which should tell you enough.
As it's only accessible by 4WD vehicles (tour buses included), camping and 4-wheel-driving on the beach is what you do. It has plenty of other "attractions" though and you can easily spend a few days on the island. In fact, since you'll be paying a minimum of $140 for the shortest return barge trip (car included), you probably should.
As part of our see more of Queensland goal, we decided last October that it was high time we actually visited Fraser. The husband had been to Fraser Island twice already, though some 20 years ago, and loved it.
With Christmas falling smack-bang in the middle of the summer in Australia, the husband decided that Christmas was as good a time as any. The crowds would be huge but we should just go and not worry too much about that. We'd already let three years slip by and every time we think of having a week off, we want to go inland for another crazy road trip into the Outback.
So on Christmas Eve we packed the car and set off to camp on Fraser Island for seven nights. This gave us plenty of time to explore the island without rushing around whilst also being able to relax and do nothing.
---
ONE WEEK ITINERARY FOR FRASER ISLAND
You can either start your Fraser Island explorations in Hervey Bay and catch the ferry from there, or approach it via the barge from Rainbow Beach (head to Inskip Point).
DAY 1-3 | CENTRAL STATION
We drove up to Rainbow Beach and then onto Inskip Point from where the barge takes only 10 min across to Fraser. The sea was a bit choppy on our way over so the 10 min was just about enough for me without getting seasick! 🙂
Our first campsite was at Central Station campground in the heart of Fraser.
To get there, we went up to Dilli Village along famous 75-mile beach and then took the inland track, stopping at tannin-coloured Lake Boomanjin along the way. Driving on the inland tracks is pretty bumpy and slow-going and so it probably took a good couple of hours to get to Central Station.
The first two days at Central Station were pretty quiet and relaxing since it was Christmas and only a few people were around. Whilst it rained for most of the morning on Day 2 (Christmas Day), the weather cleared up in the afternoon so we went for a walk to crystal-clear, almost invisible Wanggoolba Creek.
We had just enough light for a quick drive to picturesque Lake McKenzie. Of course, after Canada, any lake is going to have a hard time to impress me but the white sand and the turquoise water of Lake McKenzie are pretty cool.
We spent most of Boxing Day (Day 3) driving around inland tracks, hopelessly attempting to get to Lake Garawongera but getting lost on the myriad tracks again and again. At some point we turned around and had a look at Kingfisher Bay instead.
Kingfisher Bay has a fairly big eco-resort and this is also where the ferry from Hervey Bay comes in. There are a few shops but overall the place looked pretty sleepy to me. I met my one and only dingo on the beach at Kingfisher Bay – score on the wildlife front! 🙂 It looked young and scrawny, and fortunately, was entirely disinterested in humans.
There are currently some 200 dingoes on Fraser, and after some fatal attacks in the early 2000s, several campgrounds are now fenced in.
Signs about dingo safety abound and the rangers are keen to instill a sense of respect for dingoes in everyone. Since we only saw one dingo, I never felt threatened. If you want to find out more about the dingoes on Fraser, check out the dingoes of Fraser Island brochure. I read it cover to cover, of course. 🙂
We left Central Station on the morning of Day 4, heading back towards 75-mile beach.
On the way, we stopped for a swim at Lake Wabby. It's famous for its emerald green water and slowly getting eaten by the massive Hammerstone Sandblow but it just looked creepy to me. I really only went in because it was hot and I was super sticky from the humid weather. But little fish soon started nibbling on me so I didn't stay in for very long…
DAY 4-6 | WADDY POINT
Waddy Point (Top) was our northern-most campground so we had a nice smooth drive along 75-mile beach, and then back inland at Indian Head, a massive headland jutting out on Fraser's east coast. The inland tracks around Indian Head and Middle Rocks have soft squishy sand and so we saw a few people getting bogged there. Our rusty but trusty car made it through without any worries – I'm getting quite sad thinking about saying goodbye to her as she's rapidly nearing retirement now. 🙁
There are two camping areas at Waddy Point, top (fenced) and beach (open), and far fewer boofheads stayed in the fenced campground away from the beach. The husband thought it might be really awful staying in a dingo-deterrent fenced-in campground but it really didn't feel cage-y. They are pretty open-spaced.
We mostly relaxed at Waddy Point, just went for a walk out onto Waddy Point headland one night and scrambled around a sandblow the next. We had a look at Champagne Pools one morning but we were there at the wrong time and they didn't look real flash at high tide.
After doing not much for a couple of days, we drove around the northern tip of Fraser Island, Sandy Cape, to the now unmanned Sandy Cape Lighthouse.
To get there, we had to get through Ngkala Rocks where we got stuck behind a few other cars for an hour and half. Eventually the driver managed to blast his way through the sand and off we went.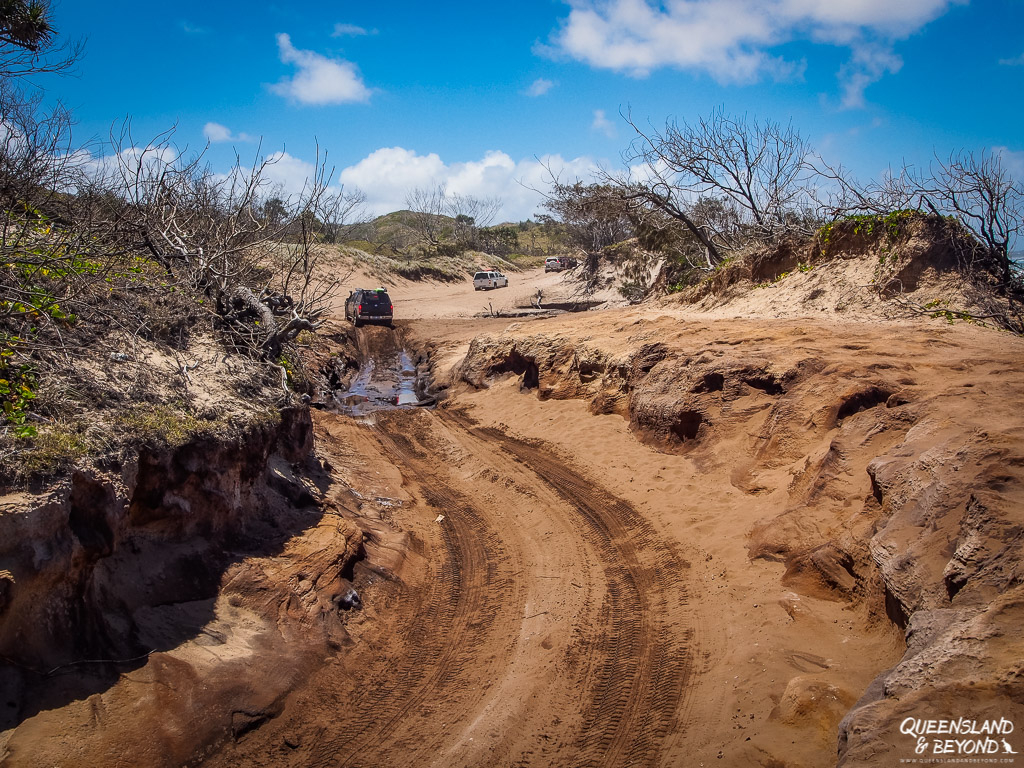 As we got closer to Sandy Cape, the water became utterly mesmerising. I just couldn't get enough of the turquoise! You can beach camp (no facilities) at Sandy Cape and it looks like the best spot (minus the marine stingers… 🙁 ).
To get to the lighthouse we had to hike up a good kilometre whilst I got to listen to the husband's stories of buying sausage rolls there some 20 years ago. I'm not sure he wasn't secretly hoping that the lighthouse owner wouldn't still be there and offer him a sausage roll for a $1 like in 1993…
You can also see some remnants of WWII bunkers near the lighthouse but there isn't much left these days so give them a miss unless you're a total history buff. Oh, and put sandals or thongs or whatever on, the sand is incredibly hot here.
DAY 7-8 | DUNDABARA
We packed up at Waddy Point on Day 7, stopped again at Champagne Pools (this time approaching low tide and thus full of people) and then made our way back to the eastern beach.
We set up camp at Dundabara, scored a pretty neat campsite that was somewhat away from most of the crowd.
By Day 8, we were getting pretty sticky again so we drove inland to Lake Allom for a dip in the lake. We got there relatively late in the afternoon so it was nice and quiet, and no fish were interested in nibbling on me this time. Tons of mozzies though so be prepared if you want to take the walk around the lake. We skipped that due to said insect infestations.
We had saved a few sights along the eastern beach for the last couple of days such as the coloured sandcliffs at Red Canyon and the Pinnacles.
Eli Creek, another crazily popular place, is also just around the corner and pumps massive amounts of freshwater into the ocean, letting you float down the creek in the current.
Close by is the Maheno Wreck, also on everyone's must-see list of Fraser. It is actually pretty cool. Most of the ship has sunk into the sand now but you can still see enough of its body to be amazed by it.
Next morning we packed up, got back on the beach around lunch time once high tide was receding, and drove a couple of hours along the beach highway back to Hook Point at Fraser's southern end. Back on the barge with more choppy waters and then we were off on the home stretch.
---
SUMMING UP
I really wanted to love Fraser, and I almost feel bad for not toeing the Queensland tourism line here, but I kind of didn't. There are some beautiful spots, especially around the northern end of the island, and I would definitely take visitors there and enjoy it. We had a good time, I just didn't love it.
Plus, the novelty around beach driving has worn off after trips to Bribie Island, Rainbow Beach and the Burrum Coast. Well, ok, planes landing on 75-mile beach highway in front of us was pretty cool!
That's the problem with travel, it opens your eyes but the more you travel, the harder it is to be "impressed" as well… I've been thinking about this for some time now, and maybe I just need to learn to enjoy places for what they are.
That said, being surrounded by a party crowd isn't really my idea of a good time, no matter where I am.
Lastly, one thing that really irritated me on Fraser was the fact that people seemed to be incapable of recycling so that Queensland National Parks have had to put a stop to all recycling efforts. Now, how bad is that?!! Not recycling gets me totally riled up! It's not that hard.
If you want to visit Fraser when it's not crazily busy (i.e. over December/January), make it May or November. Or August if you're into fishing. One of the rangers said that these months are quiet and you get to really enjoy the island then.
MORE INFORMATION
For more information on 4WD-ing, camping at Fraser, dingo safety or tidal charts, check out the Queensland National Park K'gari (Great Sandy NP) resources.
Have you ever been to Fraser Island? What was special (or not)? Do you find yourself comparing places as you travel or do you see each new place with fresh eyes and simply enjoy it for what it is?
---
PIN FOR LATER