Mount Kaputar National Park is on Gamilaroi Country. I acknowledge the Traditional Custodians of this area and their connection to Country, and pay my respects to their Elders past and present.
---
Mount Kaputar National Park near Narrabri feels fairly remote even though it's only 560km north-west of Sydney (or some 630km south-west of Brisbane).
And it's probably not the most popular national park in New South Wales, or even the New England region, compared to the lures of the Blue Mountains or Kosciusko National Park. But it's a fantastic spot for some hiking, especially if you don't want to meet too many people.
And the good news is, camping is also rather glamorous here.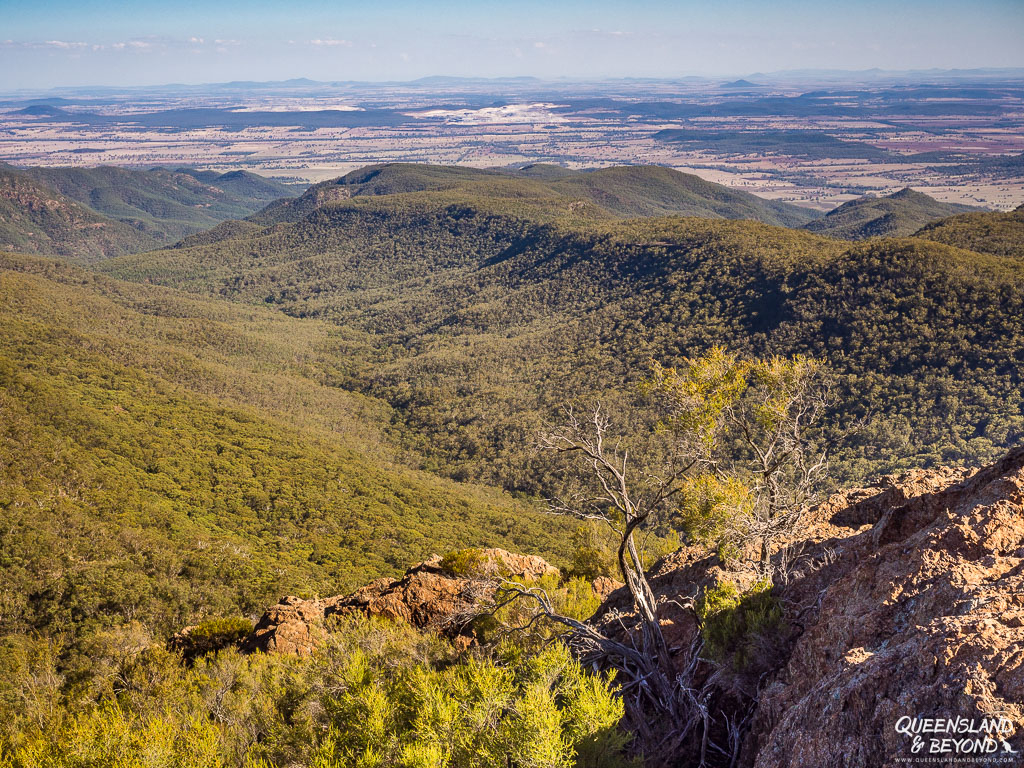 ---
CAMPING AT MOUNT KAPUTAR
Since the pandemic, you now need to pre-book your camping spot at Mount Kaputar National Park. Previously, you would just rock up as early as possible and hope for the best.
We actually had no idea how busy it would be over the Easter long weekend.
It turned out to be fairly packed but most people only stayed a night and then moved on. A couple of people actually said that they had never seen either campground as busy as they were over the weekend. So my guess is that if you come outside of school holidays or long weekends, you'll be fine and may find yourself being the only one here.
There are two designated campgrounds at Mount Kaputar: Bark Hut and Dawsons Spring. Both camping areas offer camping in a bush setting with tall trees surrounding the area.
Bark Hut is probably a better setup for groups but since Dawsons Spring was completely packed, we squished in at Bark Hut for our three nights in the park.
BARK HUT CAMPGROUND
Bark Hut has been reduced to 9 camping spots now. There aren't really individual bays (my preference) and the camping area is mostly one large area with picnic tables and fire pits in random spots.
Of the two camping spots, Bark Hut offers much less privacy, and is probably better suited to groups.
It's all a bit slopey though you can find some flatish areas where people have clearly set up tents before.
Given the elevation (about 1,100m for Bark Hut) and the bush setting, the campground stayed fairly nice and cool though it was nowhere near as cool as I had expected for early April.
Down in the flatlands, the temperatures were easily in the mid 30°C during the day but you couldn't really tell how hot it was if you just stayed in the campground. (Going for a hike was a different story.) And even at night, the temperatures never dropped enough for me to pull out long pants.
But the only time I'd really avoid this area is during the (long) summer as they're just brutally hot here.
The best part about camping at Mount Kaputar, however, is that for $6 per person per night (April 2018), you not only get a campsite but you also have access to hot showers!
The amenities block in itself was a bit unusual in its open-air design but to have unrestricted hot showers in an area that looks so drought-stricken just seemed impossible. So if you're after some glamping, here's your opportunity!
Just a note on the water pressure: there is none.
The water is sourced from a spring (Dawsons Spring) and gravity provides all the water pressure you can expect. I didn't mind and just enjoyed being able to wash my hair after some hot and dusty hikes.
We had certainly expected a more rustic campground and less fancy facilities so having a) flush toilets and b) hot showers was a complete surprise, and made it feel quite luxurious to us. We are easily pleased. 🙂
MOUNT KAPUTAR (BARK HUT) CAMPGROUND AT A GLANCE
PROS: Easily accessible (2WD) from the Newell Highway at Narrabri (about 50km in); clean, flush toilets; hot showers; shady spots under large gum trees (watch for branches dropping); a few picnic tables (but not enough for every site); electric BBQ; rubbish bins including recycling bins (!); no mozzies, in fact, not many insects in general
CONS: Little privacy as sites are in a group area (except for one or two smaller spots); the camping area is quite slopey though if you only have a small tent you're probably fine; cars parked off to the side (depending on your tent spot, your car might be 10-20m away)
COSTS: $16 (2023) per site/per night; pre-bookings only
Not sure what the tents and mozzies mean? Check out my tents and mozzies guide.
---
DAWSONS SPRING CAMPGROUND
Dawsons Spring is a bit bigger and more popular than Bark Hut with now 17 sites.
It's similarly set up as Bark Hut in terms of amenities but without the single large tent area. Camping spots are somewhat separated and camping next to your vehicle is possible in some sites.
It's probably also slightly more shady than Bark Hut.
---
MORE INFORMATION
Mount Kaputar has some really fabulous hiking trails. Find out what to expect in my Mount Kaputar hiking quick guide.
There may still be pay stations at each campground but remember that you will need to pre-book your campsite before you arrive. Mobile phone coverage here is patchy.
While there are rubbish bins here, remember to camp responsibly.
Find more details about camping at Bark Hut or Dawsons Springs on NSW Parks & Wildlife Service.
---
MORE POSTS ON CAMPING IN REGIONAL NEW SOUTH WALES
While we haven't had the chance to camp in quite as many national parks in New South Wales as in Queensland, here are a few spots we've really enjoyed.
Gibraltar Range National Park near Glen Innes is beautiful spot to relax. At the height of summer, Kwiambal National Park with the camping areas right along the Severn River is just about perfect for a couple of lazy days.
Closer to the Queensland border, Bald Rock National Park doesn't have the most scenic camping area but the views from Bald Rock make up for that.
---
PIN FOR LATER