I acknowledge the Traditional Custodians of this area and their connection to Country, and pay my respects to their Elders past and present.
---
I had almost no expectation of Nuga Nuga National Park but this off-the-beaten-path spot surprised me with a cracking sunset and sunrise, a gazillion birds, and kangaroos lapping up water straight from the lake.
Auburn River National Park is pretty tiny as far as national parks go but Nuga Nuga National Park is even smaller. It's essentially a (seasonal) lake with a few camping spots but that was all we needed for a relaxing stopover on our way to Carnarvon Gorge.
---
NUGA NUGA NATIONAL PARK: TIPS FOR YOUR FIRST VISIT
There really isn't much you need to know about Nuga Nuga since there really isn't that much to do here. Relaxing and birdwatching are the most popular activities.
The wildlife is indeed prolific, and if you're an avid birdwatcher, this is as good as it gets. The lake is dotted with dead trees and a crazy number of birds, all in all more than 150 different species.
The lake is much larger than you might expect, and is fed by a couple of creeks when there's been sufficient rainfall.
We camped at Nuga Nuga in July and there was plenty of water in the lake, inviting more than just a few ducks, egrets and magpie geese to create a cacophony for us.
GETTING TO NUGA NUGA NATIONAL PARK
Located about 215km north of Roma along Arcadia Valley Road, Nuga Nuga is very easy to find.
If you're coming from the north, drive about 58km south on Arcadia Valley Road until you see the national park sign. Turn right into Lake Nuga Nuga Road and five minutes later you're in the national park.
From the south, it's about 83km along Arcadia Valley Road until you hit the turn-off to Nuga Nuga National Park.
The road into the national park is dirt (like parts of Arcadia Valley Road) but would be manageable in a 2WD-vehicle if it had a little bit of ground clearance and there hasn't been any recent rain.
I assume that if you've ventured this far west (being some 680km from the east coast) and actually found Nuga Nuga on a map, then you're probably already well-prepared for an outback trip (if not, please make sure you are prepared and self-sufficient!).
BEST TIME TO VISIT
I think the best time to visit is in winter but that's because I don't like the heat. In July, it was nowhere near as cold as I had expected but it wasn't exactly warm either.
In winter, the nights are fresh out here but the days are beautiful with blue skies and balmy temperatures.
Birdwatching is obviously going to be the most amazing after decent rain, which usually occurs over the summer months. But then you'll also have to deal with much higher temperatures (35°C and more).
CAMPING AT NUGA NUGA NATIONAL PARK
Camping at Lake Nuga Nuga feels quite serene.
There was only one other couple (in a caravan) but we camped so far away from them, we didn't even know they were there.
According to Queensland National Parks, there is space for 40 people but it's a bit of a free for all as there are no specific campsites. There is general camping area marked on the map at the information shelter, with the best sites on the little island in the lake.
You can make out spots where people have camped previously (built firerings etc.) but there's nothing much marked as such.
We found ourselves a great spot directly at the lake with gorgeous sunset views over Lake Nuga Nuga and Mount Warinilla.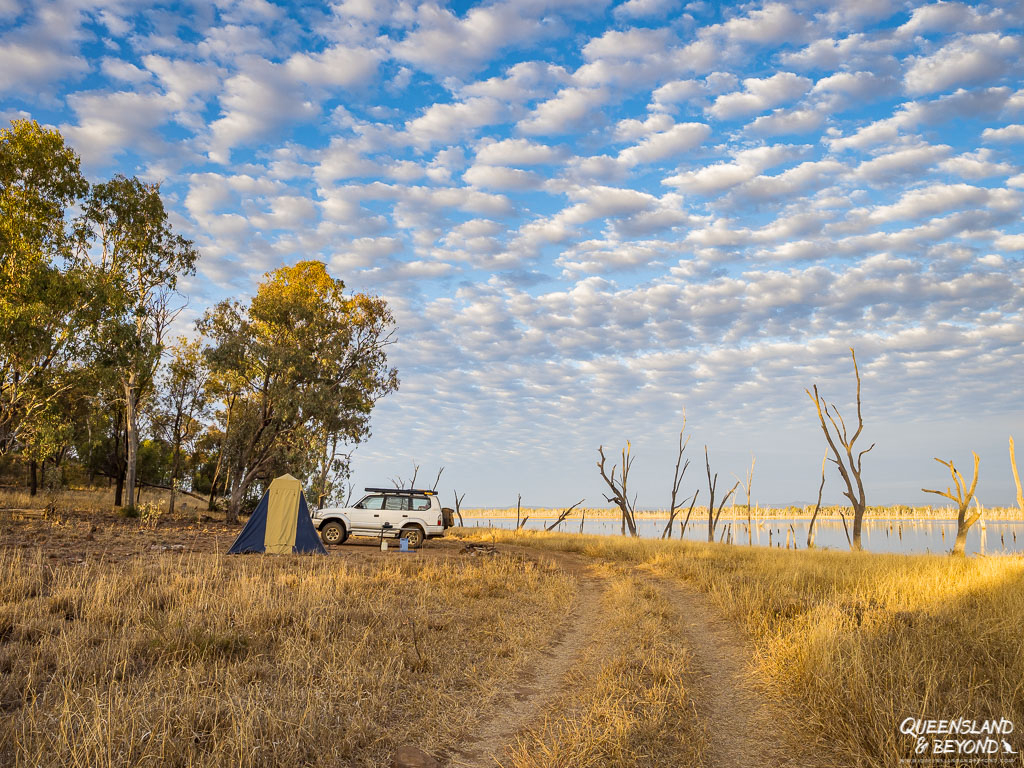 The only negative about the camping spots on the island was that it is quite rocky. We had to dislodge a fair few small rocks so we could put our tent down and not sleep on a bed of rocks.
The main thing to know about camping at Lake Nuga Nuga is that there are no facilities (ie. no toilet, no water, no walking tracks). So if you camp here and don't have a toilet, please make sure that you walk at least 100m away from the lake before digging a deep hole.
And remember to pre-book your camping spot.
---
SUMMING UP
We had planned to arrive in the early afternoon so we'd have some time to relax but a shortcut that turned out not to be a shortcut derailed our plans, and we only had a few rushed hours here.
Lake Nuga Nuga is a beautiful spot if you want peace, quiet and a million birds to watch.
MORE INFORMATION
Check the Queensland National Parks website for more information, including booking a campsite or if you want to download a map of the area.
---
MORE POSTS ON
Carnarvon National Park isn't far from here and neither is Expedition National Park. Here are a few articles you might find helpful:
---
PIN ME