Cairns and the places around Cairns we visited are on the traditional land and sea of various Aboriginal groups. I acknowledge the Traditional Custodians of all these areas and their connection to land and water, and pay my respects to their Elders past and present.
---
Travelling within Australia isn't without its challenges at the moment (let alone attempting to leave or enter the country). Flying is stressful and cross-border travel from Queensland is still mostly out of the question.
On the flip side, given the lack of international tourism, many spots in Australia are delightfully peaceful at the moment. Since I'm not one for crowds, we thought now would be a great time to explore a tiny slice of Far North Queensland, and in some ways, it really was.
---
With only 4-5 days available, our recent trip to tropical Cairns wasn't our usual trip.
In hindsight we should have organised this mini holiday as a road trip instead of basing ourselves at a hotel in Cairns. But that's what you do when you think you have a few too many Qantas Frequent Flyer points and wonder how long they will stick around in your account…
Since we only had four and half days on the ground, all we had time for was to venture north of Cairns.
We saw pretty much nothing of the Atherton Tablelands or anything south of Cairns, which is a shame because there are some great waterfalls to be explored. Something for next time…
So here's my very subjective appraisal of what we liked and what we weren't so taken with up in steamy Cairns.
---
CAIRNS: TOPS
Not surprisingly, our highlights mostly involve nature and being outside.
Like other regions in Australia, Far North Queensland is suffering from the ban on international arrivals but slowly tourism operators are starting to open up again if not for all those Queenslanders who can't travel elsewhere at present. I'm fairly certain that we enjoyed the region so much because it is so peaceful and there were no crazy hordes of tour bus groups.
If there'd been tons of international tourists, I probably wouldn't have visited Cairns in the first place or would have put much more thought into where to go.
1. MOSSMAN GORGE | DAINTREE NATIONAL PARK
There isn't actually that much to explore at Mossman Gorge but somehow we still managed to spend three hours here.
To get from the carpark to the start of the walking track (2km), you'll need to take the shuttle bus ($12.30 p/p – 2020). Since you pass by the Aboriginal community, walking to the start of the gorge is not allowed at present to protect the community. Everything here felt very COVID-safe (from taking our personal details, to the constant cleaning of toilets, spacing on the shuttle bus, etc.).
Mossman River winds through the gorge, and cascades down boulders and rocky outcrops. At this time of the year, the river was calm and clear, and oh so inviting for a quick swim.
The Rainforest Circuit is only 2.4km but we took ages to walk it as we kept going off the track to explore the river and little waterfalls.
And then there's the slightly elevated boardwalk section through some beautiful rainforest at the start. As far as I'm concerned, boardwalks make any walk better, they just make me a happy hiker!
2. BOARDWALKS AROUND CAPE TRIBULATION | DAINTREE NATIONAL PARK
On the spur of the moment, we decided to take the ferry across the Daintree River and drive up to Cape Tribulation where the sealed road ends.
The Daintree rainforest really is quite stunning, and in hindsight, we wished we'd stayed the night.
There are several boardwalks here, which take you through some amazing rainforest with massive strangler vines, flowers that grown on tree trunks, gorgeous fan palms and plenty of fungi. Even the mangroves look interesting (and not too stinky) at this time of year.
3. PALM COVE BEACH
For a gorgeous sandy beach with turquoise waters close to Cairns, Palm Cove is ideal. It's one of the prettiest 'holiday resort beaches' I've seen with palm trees lining the beach, mountains as a backdrop, a lovely esplanade walk and plenty of cafes across the street.
I probably wouldn't like it much if it was really busy but on a Tuesday afternoon outside school holidays, it was reasonably quiet. The other downside is that you might find crocs or stingers in the water, especially during summer months.
4. FLYING OVER THE GREAT BARRIER REEF
Anyone who knows me knows how not fond I am of boats so snorkeling out on the reef isn't really on my bucket list. Just the thought of being on a boat for a couple of hours to reach the reef nauseates me.
The husband always says though that I'd love snorkeling because it's like being in an underwater garden; I can spend hours in parks and gardens looking at flowers and birds.
So my only option to see the Great Barrier Reef is a scenic flight.
We had planned to do this on Hamilton Island a few years ago but the weather was decidedly against us. This time, it played along nicely.
We went with Daintree Air for our 30 min scenic reef flight, which gives you a good taste of the reef surrounding Cairns. They recommended 11am for high sun without too much glare yet but I'm still not convinced that this was the best time for photos.
The reef did look stunning though!
5. DELICIOUS COCONUT
Tropical Queensland and tropical fruit naturally go hand in hand so what better way than to gorge on some fresh coconut flesh, coupled with tropical fruit and coconut yoghurt. Delicious.
I was so happy to stumble upon this refreshing (and gluten-free + dairy-free) snack at Rusty's Market that I went back an hour later to get a second helping. 😀
At Kuranda, vegan eatery Fruibies served up a delicious salad with carrot-based falafel and papaya slices. Yummy.
CAIRNS: FLOPS
It's not that there were big, fat flops on this very short trip, it's just that in insight we'd make other plans or skip some of these things as they weren't really as exciting as we'd hoped.
1. NOT HIRING A CAMPERVAN
A couple of weeks before we were due to fly up north, we briefly entertained the notion of hiring a campervan and cancelling the hotel booking. But it seemed a bit silly to do that for five days, and I was kind of keen to stay in a fancy hotel for once.
Well, of course, we came to regret that decision once we got there.
We had to return to Cairns each night instead of finding a quiet campground and enjoying the outdoors. The air-con in the room and outside party noise drove us spare, and not having access to a kitchen was just daft (my bad, why did I book a hotel room and not an apartment?!). Having to book in for à la carte breakfast at inconvenient times was probably the icing on the cake.
The whole experience was a great reminder of why we don't like staying in hotels more than a night or two.
The only positives about the hotel stay were the bathtub, the views from the balcony and the rather comfy bed. 😀
2. KURANDA SCENIC RAILWAY
If you're expecting the world's most scenic rail journey, you'll be disappointed and should skip this. But if you want a very, very leisurely train trip up into the mountain range west of Cairns, hop on the Kuranda Scenic Railway, especially if you keep your expectations in check.
I actually enjoyed the train trip to Kuranda. The train meanders along at snail pace but it's quite peaceful and relaxing.
Stoney Creek Falls are impressive and there are some lovely views into Barron Gorge along the way but most of the trip takes you through bush country, which isn't the most exciting.
It's so ridiculously quiet in Cairns at the moment that relatively few people will be on the train, and on the way back we had the whole compartment to ourselves.
There are far fewer views along the trip than I had expected, and it's a little boring having to take the train both up and down again. The Skyrail still isn't running, which would make for a much nicer round trip to Kuranda and back to Cairns.
If you're pressed for time, skip the train to Kuranda day trip idea as it'll take the whole day, and it really isn't as exciting as it's made out to be.
3. BIRDWORLD, KURANDA
Yeah, we probably should have skipped this in the first place.
Birdworld in Kuranda is a free-flying aviary full of various parrot species, ducks and even a cassowary. Unfortunately, the birds are very habituated and almost aggressive if you don't feed them.
The one positive is that I could practise photographing birds and some parrots looked amazing. But Birdworld is reminiscent of the wrong kind of wildlife encounter and left us with a sad aftertaste. We didn't research it and expected something different.
If you do decide to go, leave your backpack or bags at the counter as the macaws are very keen to pick and claw on anything, and indeed poked a hole into my backpack, yay.
Also, don't wear merino tops or in fact anything that you care about.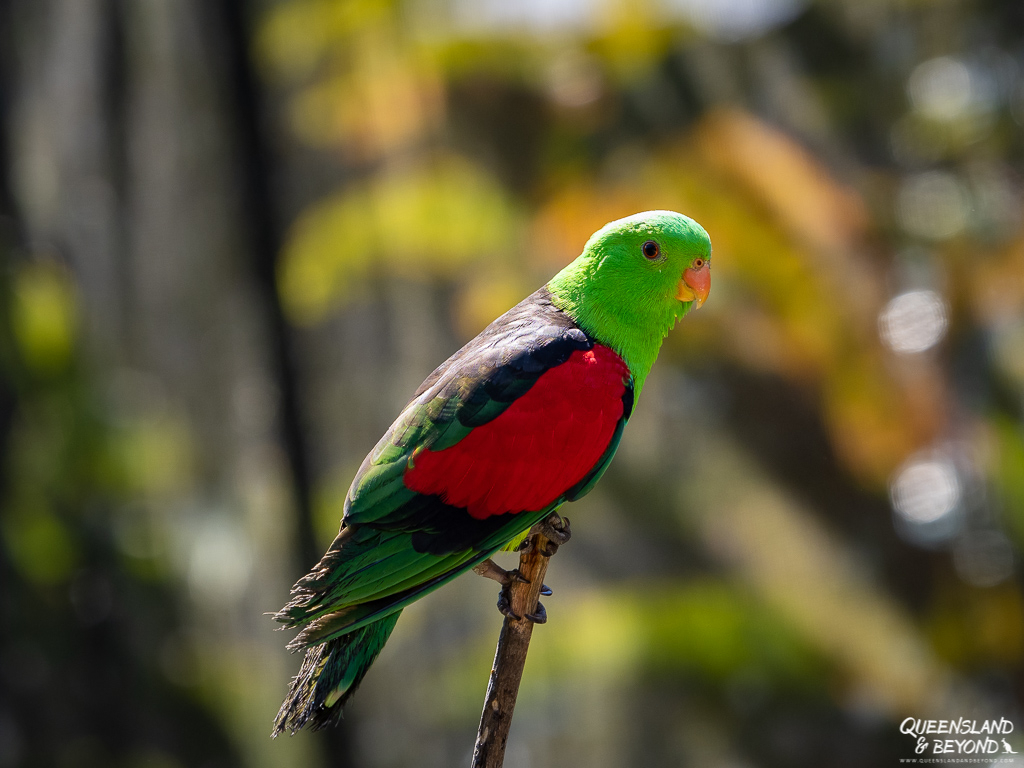 ---
SUMMING UP
With a bit more planning, i.e. turning the short holiday into a road trip, we would have had an amazing time up in tropical Queensland.
One reason why we love road trips so much is that you don't have to pre-plan everything and can just go where the road takes you. Only being there for four days and staying in a hotel made that impossible, and left us with a lot of headaches and decisions to make in advance (e.g. when to book the scenic railway, the scenic flight, etc.).
I still had a great time and would definitely return to Cairns but in a much more free-styling way.
---
PIN ME