Hamilton Island is probably best known for being a gateway to the Whitsunday Islands and the Great Barrier Reef just off the coast of Central Queensland.
It's a popular tourist spot, and with accommodation options typically starting upwards of $400 a night, nothing feels particularly cost-effective here. Except maybe the bakery.
Hamilton Island is obviously not our usual getaway location.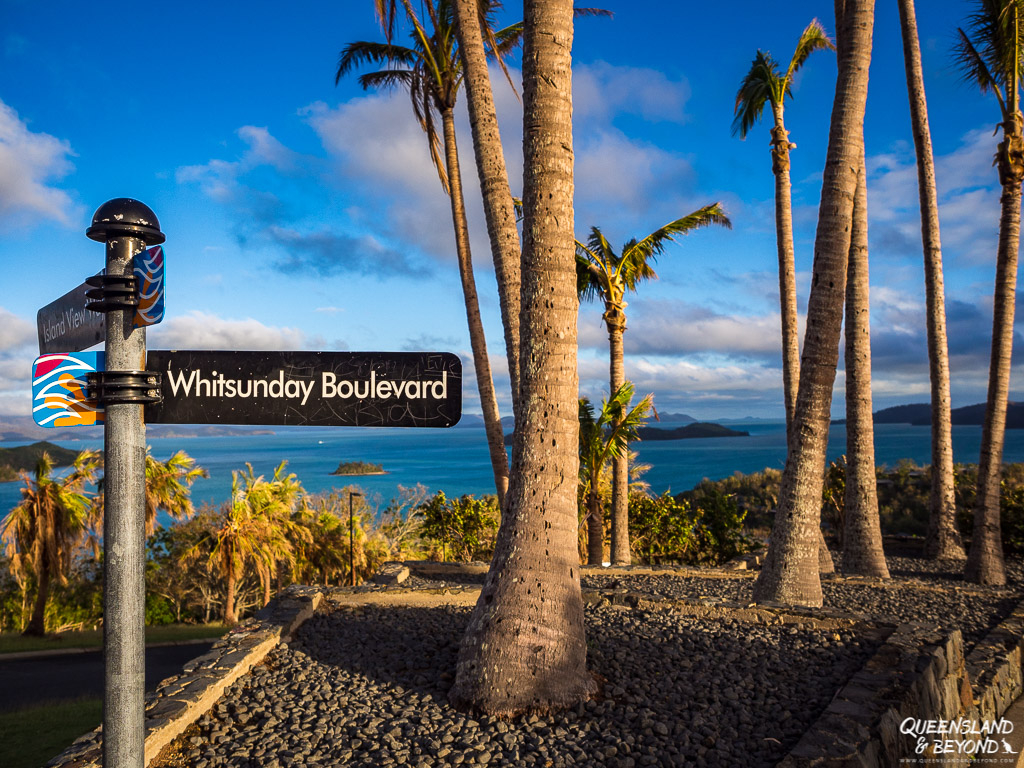 We're roadtrippers and campers, and usually keep things fairly low-key. Our car is so old, it's literally falling apart. And by campers, I definitely don't mean glampers. 🙂 We tend to be more on the minimalist side of things with a tent, two chairs and a rickety table.
But, in an attempt to explore more of Queensland this year, we decided to splurge some frequent flyer points on flights to Hamilton Island.
---
HAMILTON ISLAND: GATEWAY TO THE WHITSUNDAYS
The plan was to book ourselves into some of the cheapest accommodation we could find (well, we didn't exactly find any), and have a mini-holiday in the tropical Whitsundays in early May, just for something different. By then, the weather on Hamilton Island should be pretty much perfect!
Who could have known that a cyclone would destroy much of the island in March that year, and it wouldn't exactly look like a lush tropical paradise!?!
What I failed to realise is that Hamilton Island is just one giant resort. It is literally an island designed for tourism, and most of the hotels, shops and restaurants are owned by the Oatley family (who, in fact, purchased the whole island in 2003)! A bit more research beforehand wouldn't have done my expectations any harm.
For people who usually spend their holidays in national parks or on the road, this was a bit of an odd experience for us. The only time we've ever stayed in some sort of resort was on our honeymoon, which lasted a whole two nights. So staying on a 'resort island' was different. No matter whether you went to the bakery, the supermarket, the souvenir shop or the hotel, everybody seemed to look the same in their Hamilton Island uniforms and big smiles.
We ended up staying in the Palm Bungalows, which worked out quite well for us since they come with a kitchenette and I got to cook my own dinners for a couple of nights. It's nice when I don't have to worry about food contamination.
That said, they aren't fully stocked kitchens because, clearly, nobody really expects you to make dinner. That's what the restaurants are for – duh!
On the last night we did actually eat out at coca chu and to say that I was nervous about indulging in Southeast Asian fusion cuisine would be an understatement.
I can't remember the last time I had Asian food (other than Indian) and things went well. But… coca chu have an entirely separate Coeliac menu, and the food was ridiculously delicious! Totally worth the splurge, and I waddled back to our bungalow very full and super happy! 🙂
Apart from the "resort-y-ness" of the entire island, the weather in this picture perfect tropical paradise was also decidedly against us.
---
5 THINGS TO DO ON HAMILTON ISLAND WHEN IT'S WET AND OVERCAST
Since I have an enormous dislike of anything resembling a boat on open water, my only option for seeing the Great Barrier Reef was going to be a scenic flight. Flying over Heart Reef would have been incredible but the weather decided not to play along.
During our five days on Hamilton Island, we got to enjoy ridiculously low clouds, fog and rain on an almost constant basis. Talk about drab looking Whitsundays…
So what do you do when the weather isn't exactly inspiring you to splurge your money on trips out to the reef?
1. TRY OUT SOME WATER SPORTS
If you're staying at the Reef View Hotel, the Palm Bungalows or the Beach Club, you'll have free access to all non-motorised water sports equipment, including kayaks, SUPs, catamarans and snorkeling gear. All you have to do is rock up on Catseye Beach at high tide, don a fine-looking rescue vest if you're as uncertain in open water as I am, and off you go.
Being the water wussbag that I am, I didn't try out SUP-ing (plus, it looked like way too much effort given the swell) but I got to explore the bay around Catseye Beach in a double kayak with the husband a couple of times.
I kept forgetting to paddle though because I was too busy staring at all the cyclone-destroyed properties! In fact, I was so busy staring at houses along the shore that I missed out on seeing a turtle. Or so I am told. I'm still not sure that the husband really saw one since the water was so murky from the bad weather so who could really tell.
The husband seriously got into the whole SUP-ing thing, and I can see how that would be a lot of fun in calm waters.
Oh and – why has nobody ever told me that you need abs for kayaking?!?!
2. WANDER AROUND THE ISLAND
Ex-cyclone Debbie swept through Hamilton Island in late March, and whilst island staff have been busy cleaning up, they've still got a fair way to go. Many of the (million dollar) holiday houses are partly or even completely destroyed, including a couple of restaurants. Coca chu's beachfront property pretty much got destroyed and they're temporarily operating out of the function centre.
In the spots where the cyclone hit hardest, the vegetation looks bare with stacks of trees cut down, bushes cut back and palm trees left without fronds, leaving you to imagine that lush tropical setting by yourself.
In a tropical climate, the vegetation will grow back relatively quickly but it'll take a fair bit of time (and some serious money) for some of the accommodation to re-open.
3. GO HIKING
Besides being focused on yachting, sailing, water sports and lounging by the pool, Hamilton Island does offer some non-water based activities. This made me pretty happy and in light of the unappealing weather, we explored a few of the hiking trails.
You could quite easily spend 2-3 days just traversing the island and poking around some of the coves and bays. And if you're there outside of stinger season, you could even have a cool dip along one of the more isolated beaches.
And the best part of staying on land? Everybody else will be busy taking reef tours and scenic flights, and you'll mostly get the walking trails to yourself!
4. READ A BOOK
I brought three books to Hamilton Island. I'm not sure what possessed me to think that I could read three books in five days, not to mention encumbering my carry-on luggage with all that extra weight. I'm an excruciatingly slow reader, at least compared to the speed reader husband.
Whilst I did get a chance to read a bit, one book was more than enough.
In any case, a holiday wouldn't be a holiday without a bit of reading, and Hamilton Island was pretty perfect for that. It's a relaxing sort of place, and spending a morning reading didn't make me feel like I was missing out or should be doing something, which is what I often feel (justifiably or not) when exploring uncharted territories.
5. DRIVE AROUND IN A GOLF BUGGY
I'm only including driving around in a golf buggy because it seemed utterly ridiculous to me yet it's really popular. In fact, it is the thing to do on Hamilton Island and relatively few people appear to walk. Keep in mind that the overall landmass of Hamilton Island is less than 5 km2, so it's not exactly far to walk to… well, pretty much anywhere.
But instead, everybody seems to drive around in these golf buggies. And while they're electric, I still found them annoyingly noisy and hence somewhat spoiling the relaxed setting.
Plus, we didn't think $87 in hire costs for 24 hours was a particularly useful way of parting with our money. But then again, we are cheapies, and others might find it money well spent for a bit of fun.
---
SUMMING UP
No matter what weather you'll have on Hamilton Island, there's always something you can do to occupy your time.
Wishing you pleasant weather should you ever visit Hamilton Island, or indeed the Whitsundays, but if not, now you know how you can occupy yourself for a few days! 🙂
Or maybe you've got some suggestions for me – fire away!
---
PIN FOR LATER!