These amazing camping areas are on Indigenous Country. I acknowledge the Traditional Custodians of all these areas and their connection to land, sea and community. I pay my respects to their Elders past and present.
---
It's no secret that I love camping in spots that are at least further than an hour away from home on the Sunshine Coast, and ideally are in a national park.
We'd never choose a caravan park as a destination unless it happens to be in/near a national park (e.g. at Cania Gorge) or if we need a convenient overnight stop (or simply a shower) on a road trip.
Easter is one of the most popular times for camping in (southeast) Queensland so planning ahead and pre-booking a site is key. Campgrounds book out weeks and months in advance (though we've snatched up sites at the last minute; people do cancel so keep checking for available spots, you never know what might open up).
Another option is to go into northern NSW, which we have also done. Since pandemic, you now also need to pre-book your site in NSW. But, that at least minimises the risk of camping areas being full or nearly full by the time you arrive.
---
BEACH CAMPING OR MOUNTAINS?
We've done both: the relaxing camping weekend by the beach where we pretty much did nothing beyond look at the beach, maybe go for a surf, read a book, eat, sleep and repeat.
And we've spent the Easter long weekend at a national park that involved plenty of hiking and walking, and much less reading and doing nothing.
So if you're after either type of camping destination in a national park, here are a few ideas for:
[Note: All distances / travel times given are from Brisbane]
BEACH CAMPING
It goes without saying that camping on or near the beach is a pretty perfect combination in Queensland, or really anywhere in Australia.
For all the spots mentioned here, you'll need a 4WD vehicle to access the camping areas or at least a very robust AWD that can cope with sandy conditions.
In addition to camping fees, you'll also need to organise a 4WD vehicle access permit for some of these national park areas.
1. BRIBIE ISLAND NATIONAL PARK | ~80KM / 1.5HRS
Only a bit over an hour north of Brisbane, Bribie Island is understandably a popular camping destination.
You've got the ocean, sand 4WD-ing, lagoons, WW2 remnants, and generally a fairly relaxed vibe on the island. It's not the kind of place I'd come back to again and again but if you haven't been and want to relax, it's not a bad spot to camp.
There's camping along the beach (bring your own toilet) or within a clearly marked camping area that also offers toilets and cold showers.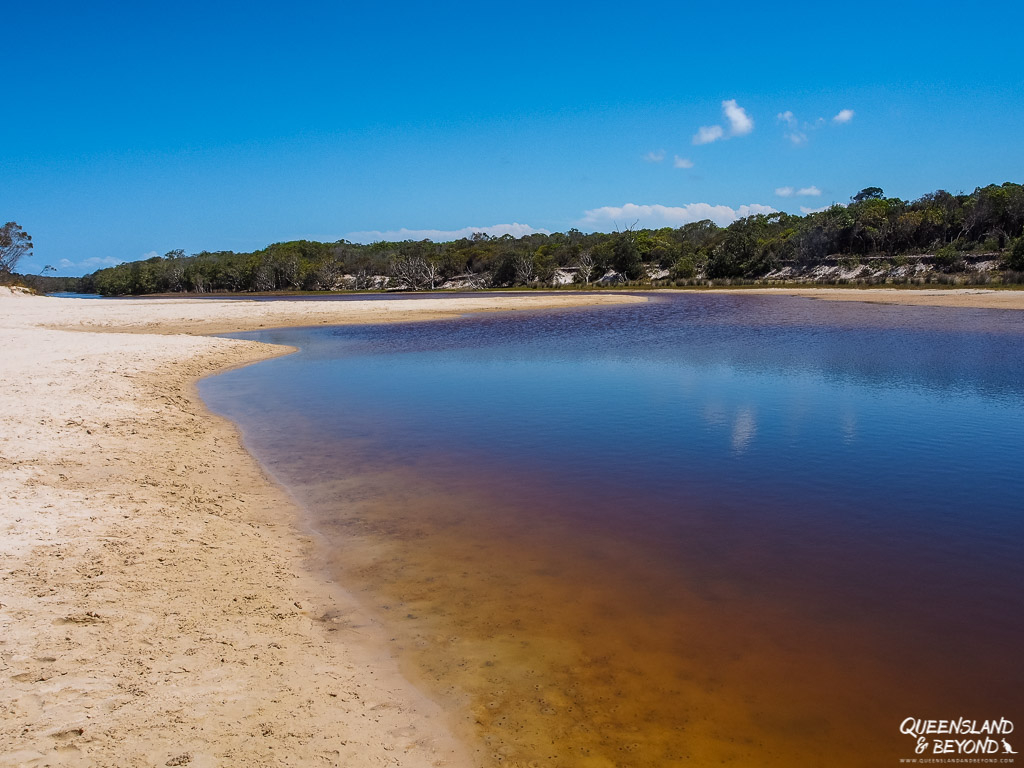 2. MORETON ISLAND NATIONAL PARK | ~40KM (OFFSHORE)
Unlike Bribie Island, getting to Moreton requires a ferry ride. But once on the island, you've got a fair few camping areas to choose from. However, I can't comment in detail as we still haven't managed to explore Moreton. Something else always seems to come up…
Despite its allure of white sandy beaches and gorgeous coastal scenery, I can only conclude that we haven't explored Moreton yet because it's not exactly cheap to visit given the ferry ride and 4WD permit that's required.
Note: Since February 2020, the camping areas and vehicle permits are no longer administered by Queensland National Parks but Mulgumpin Camping (owned by Quandamooka Yoolooburrabee Aboriginal Corporation).
3. RAINBOW BEACH, GREAT SANDY NATIONAL PARK | ~240KM / 2.75HRS
Rainbow Beach, just north of the Sunshine Coast, is one of the most popular holiday spots over the summer. But even at Easter, or any long weekend, it still gets busy with campers and daytrippers.
If you just want to fish, read or do nothing much, it's an ideal spot but it's not isolated so don't expect total peace and quiet over a long weekend. If you want to be a little bit active, you could explore the Carlo Sandblow, take a walk up to the lighthouse at Double Island Point, or run around the beach all day.
You can't actually camp on or just behind Rainbow Beach but you can plonk your tent or caravan down at Inskip Point Recreation Area, Teewah Beach or Freshwater camping area. That's about as close to camping at Rainbow Beach you're going to get!
4. K'GARI (FRASER ISLAND), GREAT SANDY NATIONAL PARK | ~250KM / 3HRS (PLUS DRIVING ON THE ISLAND)

You won't really escape the crowds and noise over Easter or on any long weekend camping on K'gari (Fraser Island) but the white sand, spots like Lake Mackenzie, translucent Wanggoolba Creek or the rather cool Maheno Shipwreck are hard to beat.
What you also have on Fraser is a myriad of options of camping areas, including some with toilets/showers, some without (e.g. behind the dunes), some inland, some close to the beach, some with "dingo fences", some without.
Plus, there are a couple of commercial campgrounds that offer small convenience stores and full amenities.
5. BURRUM COAST NATIONAL PARK | ~350KM / 4HRS
This national park covers four different sections along the Burrum Coast but you can only camp at two of them: Kinkuna and at Burrum Point near the township of Woodgate.
If you're completely self-sufficient, including a toilet, Kinkuna might be a great option. The camping area spreads out and you can find some nice spots within the dunes and scrubs. Just like at all the other beach camping areas, you will need a high-clearance 4WD to access it.
Burrum Point has toilet and cold shower facilities and you don't actually need a 4WD unless you want to go driving on the beach near Woodgate. We've only come up here once and the campground was completely empty until two very quiet cyclists turned up on the second day.
There's a few short walks at Burrum Point but none of them left a lasting impression. They're more exercise than experience.
6. DEEPWATER NATIONAL PARK | ~470KM / 5.5HRS
A couple of hours north of Bundaberg, Deepwater National Park is a bit of a drive away but it's also one of our favourite beach camping getaways.
Wreck Rock camping area is just a short walk from the beach, there are cold showers here, and it's somehow a really relaxing spot. The two camping areas tend to book out early so plan ahead.
You're not far from Agnes Water and 1770 so if you're hankering after a 'city outing', it's easily accomplished.
CAMPING AND HIKING
Apart from sand and beach, southeast Queensland also offers some fantastic hiking trails and camping within two hours from Brisbane.
On the downside though, because you're so close to Brisbane, you won't be alone so be prepared to share the campgrounds and tracks with plenty of people who had the same fabulous idea.
7. SPRINGBROOK NATIONAL PARK | ~110KM / 1.5HRS
Springbrook is one of the three amazing rainforest national parks in the Gold Coast hinterland. It's also the only one where you can currently camp in the national park.
It's a popular spot but as long as you come with the expectation that it'll be busy, you'll enjoy it. Purlingbrook Falls are spectacular as are other walks (e.g. to Twin Falls). You've got lookouts, waterfalls, rockpools, rainforest, a glow worm cave at Natural Bridge… plenty to explore for a few days.
The campground is relatively small so plan ahead, especially for busy times like Easter.
8. MAIN RANGE NATIONAL PARK | ~120KM / 1.5HRS
Further south along the Scenic Rim is Main Range National Park. Main Range has four sections and plenty of walks that will keep you busy for at least two weekends away.
There's a campground at Spicer's Gap (apparently 2WD accessible but I wouldn't trust that given the very rough condition of the unsealed road) that's the best option if you want to hike at Cunningham's Gap.
Even further south there are two camping areas at the Goomburra section, where you'll also find a few walks (though none of these are quite as spectacular as the ones at Cunningham's Gap). You can easily access these campgrounds in a 2WD.
9. BORDER RANGES NATIONAL PARK (NSW) | ~145KM / 2HRS
The Border Ranges are exactly that: They border the Scenic Rim between Queensland and New South Wales.
There are lookouts, a number of walking tracks through rainforest and ferns, and a scenic drive to do.
You didn't use to have to pre-book a site here but as NSW Parks is introducing more and more online booking, you now need to book your spot before you come. Until May, the larger campground, Sheepstation Creek, remains closed but you can still stay at the smaller camping area Forest Tops.
Also be aware that there's a motor vehicle entry fee ($8 per day); it usually works out much better if you buy the annual pass.
10. CROWS NEST NATIONAL PARK | ~160KM / 2HRS
Crows Nest is a tiny, tiny national park north of Toowoomba.
The campground only has 13 sites and half of those are unavailable due to COVID distancing rules at present. The camping area isn't on my list of favourite campgrounds ever – it's set up in a circle with central views of the toilet block – but it's full of kookaburras and who can say no to those beautiful birds!
There are a couple of short walks to rockpools (check water levels first, if stagnant, don't swim) and not much else to do. That's kind of the charm though as it means plenty of time for relaxing.
11. BUNYA MOUNTAINS NATIONAL PARK | ~240KM / 3HRS
The Bunya Mountains are a plateau that offers fabulous views (and sunsets) out west.
We spent Easter here a few years ago, and while the campgrounds were busy, the tracks never felt crowded, especially those on the western side.
Aside from the sprawling views into the flatlands and a couple of (very small) waterfalls, one of the highlights here is no doubt the abundance of wallabies that roam the campgrounds and adjacent areas. If you don't want to camp, there are also plenty of cottages and B&B's.
12. GIRRAWEEN NATIONAL PARK | ~250KM / 3HRS
If boulders, rocky creeks and granite country are more your thing, Girraween National Park is a paradise. Located southwest of Brisbane near Stanthorpe, Girraween is easily reached by 2WD.
We only had two nights here a couple of years ago, and ended up speed hiking most of the trails. We didn't realise quite how many there are! So far, Girraween is one of our favourite camping and hiking experiences.
There are four sections with various walking tracks, two of which can be accessed from the campgrounds.
Because of prolonged drought, the showers remain non-operational in both campgrounds but there are flush toilets and potable water available.
13. BALD ROCK NATIONAL PARK (NSW) | ~250KM / 3.25HRS
Instead of exploring Girraween, you could also head to Bald Rock National Park on the NSW side. It's the same area, just across the border but with slightly different scenery.
There are fewer walks at Bald Rock but the climb up Bald Rock is both exhilarating and achievable, and offers fabulous views all around. Sunset from up there is rather nice.
The campground is also much smaller than its Girraween counterparts, and unlike at Girraween, you don't need to pre-book. Keep in mind though that the camping fees are higher at Bald Rock and there's an additional motor vehicle entry fee to be paid.
14. GIBRALTAR RANGE NATIONAL PARK (NSW) | ~410KM / 5HRS
Located in northern NSW, some 100km west of Grafton, are two national parks that are adjacent to each other: Gibraltar Range and Washpool.
There are plenty of nice walks and a couple of waterfalls and cascades here. You could camp at either national park but we loved staying at Mulligans Campground because it's so close to beautiful Little Dandarah creek.
Like at Bald Rock, you don't need to pre-book your site. Just pay your camping fees at the campground entrance when you get there (plus the motor vehicle entry fee). At Mulligans, there's even flush toilets and showers.
---
LOCATION MAP OF THE NATIONAL PARKS
MORE INFORMATION
---
PIN ME