Rainbow Beach and Great Sandy National Park are on Kabi Kabi and Butchulla Country. I acknowledge the Traditional Custodians of this area and their connection to Country, and pay my respects to their Elders past and present.
---
Rainbow Beach isn't really rainbow-coloured, everybody knows that. But there are some coloured cliffs and amazing sand dunes to discover. And, of course, the obligatory driving on the beach experience that is ever popular in Queensland.
Rainbow Beach is about 250km north of Brisbane, and somehow I still think of it as part of the Sunshine Coast. Maybe because it just seems a hop across from Noosa.
To get to Rainbow Beach, you can approach it via Teewah Beach from Noosa Heads or stay on the roads (via Pomona) and first head into the town of the same name.
So, if you want to explore the actual Rainbow Beach, camping is a great way to do that. But you'll need to know your options because it gets seriously busy around there, especially at Christmas and school holiday time (and we all know what a fan I am of "busy camping" experiences).
The good news is you've got plenty of options for camping near Rainbow Beach.
---
CAMPING AT RAINBOW BEACH: FOUR (PLUS ONE) OPTIONS
Rainbow Beach is part of Great Sandy National Park, which includes Teewah Beach and parts of Noosa North Shore, sections of the Noosa River, parts of Tin Can Inlet, and also Fraser Island.
Altogether they make up the Cooloola section of Great Sandy National Park, except for Fraser Island, which is part of the K'gari section and not Cooloola. If you're headed to Fraser Island, head over to my post on the best spots for camping on K'gari (Fraser Island) for more information.
Remember that if you want to camp in a national park or recreation area in Queensland, you must pre-book your camping permit.
In terms of camping at Rainbow Beach, the sad news is that you can't actually camp there. Or maybe that's good news since there's enough traffic along the beach as is. You also can't camp around Double Island Point but there are plenty of spots along Teewah Beach if you do want to do beach camping.
Be aware that all camping areas in Cooloolah are accessible only by 4WD vehicle (or walk-ins) and that a lot of sand or beach driving will be involved.
So, where can you camp?
OPTION 1: TEEWAH BEACH (NOOSA NORTH SHORE)
If beach camping without facilities is your thing, set up camp somewhere along Teewah Beach, 20km north of the third cutting. There's a 15km camping zone with no defined sites so whatever looks good to you is yours.
The whole camping area is set up for 2,200 people so just picture that amount of people spread over 15km in your head. Pretty picture, right?!
Since you'll be driving on the beach to get there, you'll also need to organise a vehicle access permit (about $37 for a week) in addition to your camping permit. Be aware that parks services now have automatic number plate recognition cameras set up to check for permits.
The important thing to remember here is that you must bring a portable toilet.
A word of warning: While we haven't camped there, I've seen how packed it can get even in late November. I have no trouble imagining what it's like to camp here over Christmas and the summer holidays, and I doubt I'd recommend it to anyone. I've also heard plenty of horror stories about toilet waste everywhere… Delightful, people. Delightful.
That said, we know several people who love camping here, and yes, even over Christmas.
Alternative: If you don't like the idea of bringing your own toilet, you could camp outside the national park area at the private Noosa North Shore Beach Campground.
OPTION 2: FRESHWATER CAMPING AREA
Unlike Teewah Beach, Freshwater is a formal campground with defined sites and toilet/shower facilities.
There are quite a few sites (around 60) but you don't book a specific site here. We drove around the campground a couple of times before settling on the one we like: Close to the toilets but still somewhat away from other people.
Being there outside of school holidays meant that it wasn't really all that busy, except for a steady stream of cars in the morning and evening to use the toilets and showers. And that was really my main gripe with this camping spot.
FRESHWATER CAMPING AREA AT A GLANCE
PROS: Campsites with lots of shade; toilets and hot showers (for $$); away from the strong winds of the main beach; clean, flush toilets
CONS: Steady morning and evening traffic of people wanting to use toilets and showers; would be insanely busy during holiday season but probably alright in the off-season during the week
COSTS: $7.25 pp/pn (2023); pre-bookings required
We didn't have any trouble with biting insects but we were there in September. I can imagine that later in the year or during the wet season the situation might be less pleasant.
Not sure what the tents and mozzies mean? Check out my tents and mozzies guide.
OPTION 3: POVERTY POINT CAMPING AREA
If you want to stay at the Tin Can Inlet side of the Cooloola Recreation Area, Poverty Point might be an option. It's a small, open space camping area set up for about 24 people.
Like camping at Teewah Beach, you'll need to bring your own toilet as there are no facilities.
The good news: You're pretty close to Rainbow Beach township so if you've forgotten anything, it'll only be 20km up the road to the next supermarket.
OPTION 4: HARRY'S HUT CAMPING AREA
If you don't care about being near the beach but prefer to paddle the Noosa River, Harry's Hut would make for a great weekend camping spot.
We still haven't paddled the Noosa River (hard to believe after 5 years up here!) but we've been out to Harry's Hut a couple of times. It's not the most picturesque campground but it provides super easy access to the river.
The Cooloola Wilderness Walk also passes through this camping area, and there's a few other hikes in the area you could do. At present though, they're closed due to storm damage.
The campground at Harry's Hut includes compost toilet facilities and well-defined campsites, some of them with picnic tables. It's relatively small with only 10 vehicle sites (+ 7 river access sites) but on weekends there are plenty of day visitors and paddlers so this spot never seems as quiet as you might imagine it to be.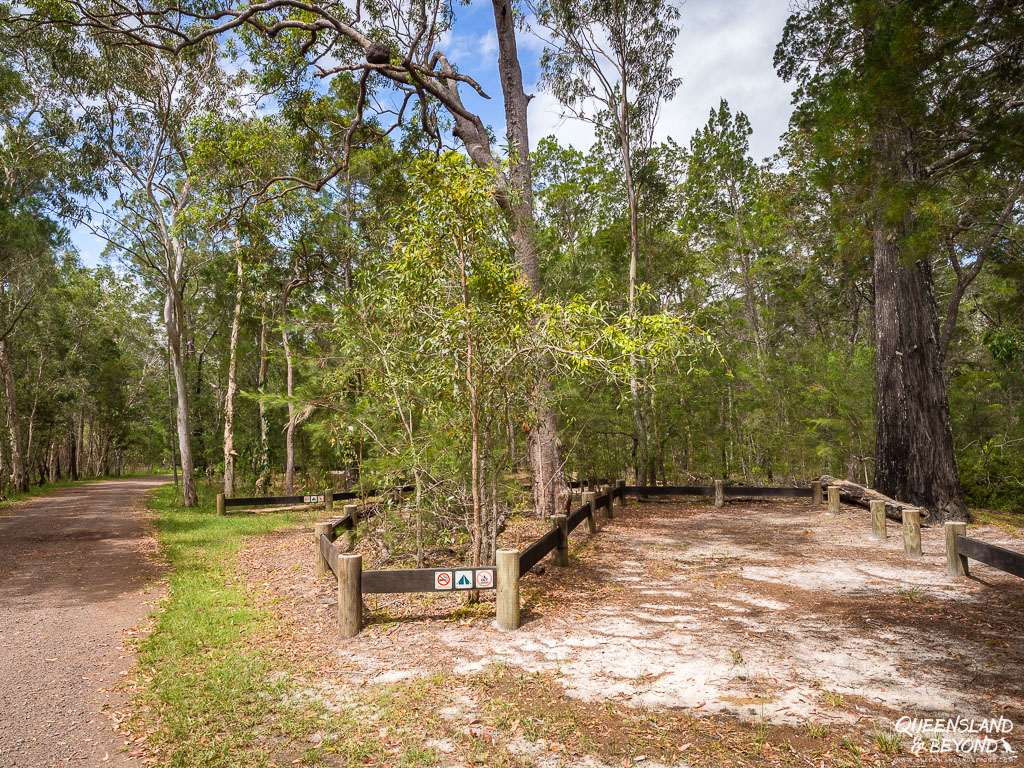 This camping area is probably the furthest away from Rainbow Beach so if you're planning on spending most of your time at the beach, choose one of the other spots.
ADDITIONAL OPTION: INSKIP PENINSULA RECREATION AREA
Camping in the coastal woodland and shrubs around Inskip Point is super popular. You're more or less on the beach and not far from Rainbow Beach.
The Inskip Peninsula Recreation Area is not part of the Cooloola Recreation Area (Great Sandy National Park) but you can book it like any other campground in Queensland's national parks.
There are five different camping areas, and, as you're mostly camping on sand, you'll need a 4WD vehicle to access them (except for the M.V. Sarawak camping area that's 2WD).
There are toilet facilities in each camping area; no doubt, this is why this whole area is so popular.
---
SUMMING UP
If you want to camp at any of these camping spots, come outside peak season (Christmas/summer holidays). That way, you'll get to enjoy Rainbow Beach at a quieter time of the year and won't feel like you're packed in like sardines.
If you come in winter (some time around May – Sep), you'll also get clearer views from Double Island Point, the Carlo Sandblow and of the coloured cliffs as there'll be less moisture in the air.
The township of Rainbow Beach also has a couple of formal caravan parks if full amenities is more your cup of tea.
But no matter where you camp, make sure you practise responsible camping.
So there you have it, your options for camping at Rainbow Beach!
MORE INFORMATION
Here's a quick guide on things to do and see around Rainbow Beach, including Double Island Point and Red Canyon.
For more information on the various camping areas at Cooloola, including tidal warnings for beach driving, check out the camping information for Cooloola Recreation Area. To get an idea of where the camping areas are, have a look at the Cooloola Recreation Area map.
The Inskip Pensinsula Recreation Area website has more details on the camping zones at Inskip Point, including how to book, access points and what to bring.
---
MORE POSTS ON BEACH CAMPING IN QUEENSLAND
If you can't get enough of beach driving or beach camping, Bribie Island is a neat camping spot close to Brisbane.
And of course, there's ever popular Fraser Island, which has 45 different camping zones! Here's an overview of the best camping spots at K'gari (Fraser Island).
If a 5-minute walk to the beach is still beach camping in your book, Deepwater National Park north of Bundaberg is a great spot.
---
PIN FOR LATER