New Zealand is the land of campervans.
There's no shortage of campervans on the roads, at campgrounds, in shopping centre carparks, at viewpoints, hiking trails, and sadly, local neighbourhoods.
With the onslaught of intrepid travellers and working holiday makers over the last few years, New Zealand has also seen its fair share of environmental abuse, and has almost abolished freedom camping now.
It is a small country and there's only so much space to deal with the influx of people wanting to live and travel on a budget, and ideally not pay for camping. New Zealand is beautiful but it isn't cheap, and this includes campgrounds.
We've stayed at some stunning camping areas in Canada (also not cheap), across Australia (usually very cheap), Germany (reasonable) and Spain (also reasonable).
New Zealand, on the other hand, surprised us because most Department of Conservation (DOC) sites we camped at weren't that exciting and often involved a hefty price tag for what was offered.
That said, we did manage to find some gorgeous camping spots in New Zealand.
---
CAMPING IN NEW ZEALAND: 8 PICTURESQUE CAMPGROUNDS ON THE SOUTH ISLAND
Camping isn't about getting a free site for us.
Though we've done freedom camping on occasion, it's much more about staying in a relaxing, peaceful and ideally scenic spot away from civilisation. And better yet, with clean toilets.
It's also no secret that we love staying in national parks (or similar).
So my criteria for a top campsite are really simple:
peaceful and quiet,
stunning surroundings (whether that's by a lake, facing mountains, near the ocean or along a river), and
'leave no trace' principles observed.
Most of the campgrounds in New Zealand we stayed at have fallen short because they generally felt like gravel carparks, often without even being graded or sometimes having no clearly defined camping area.
For most of these campsites, it was more a case of 'park your van on whatever flatish spot you may find', which is fine if you then didn't also have to pay top NZ dollars for these higgledy-piggledy sites.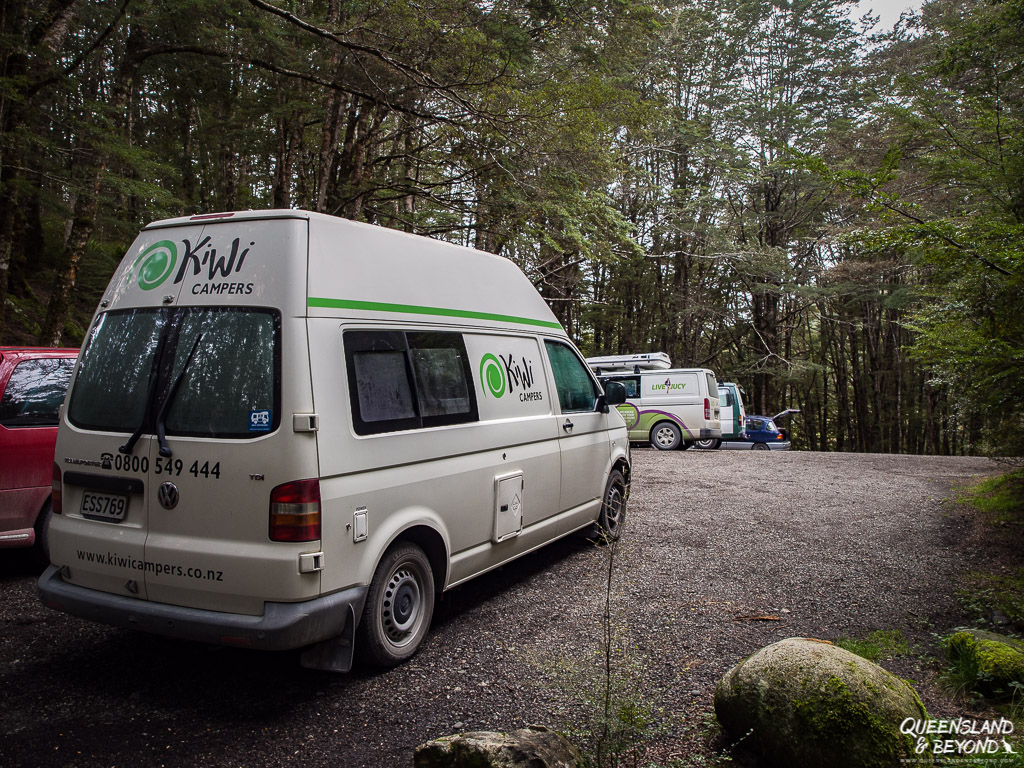 But we did find a few spots for camping in New Zealand that hit all the criteria.
Prices mentioned are in New Zealand dollars. Be aware that many DOC campsites now need to be pre-booked. While prices have increased over the last few years, DOC now also offer a campsite pass. It's fantastic value if you're planning on staying in DOC camping areas for more than 5-6 days.
1. RAKAIA GORGE CAMPING GROUND | CANTERBURY
Rakaia Gorge Camping Ground was our first camp spot on our April road trip in 2019, and probably also my favourite campsite on that trip.
In fact, we enjoy staying here so much that we've returned on subsequent trips.
Rakaia Gorge is a non-profit campground that certainly feels like a low-key community campground.
It's grassy with individual bays and an open area overlooking the stunning glacial Rakaia River. The toilets and bathroom facilities are always very clean, and outside the main season and long weekends, the campground tends to be fairly quiet.
If your van is small, like ours generally is, chances are that you'll score a sight overlooking the river, especially if you arrive during the low season.
You won't find powered sites but that didn't bother us in the slightest.
Just across the bridge from the campground is the great 5km Rakaia Gorge Walkway track that takes you to two lookouts. Don't miss it!
BASIC FACTS
Location: Rakaia Gorge, along Rakaia Gorge Road (~75km from Christchurch)
Facilities: 59 unpowered sites; flush toilets + hot showers
Price: $20 p/p (2023); $10 p/p during winter; first come first served
Open: October to April (full facilities); May to September (limited facilities, no showers or hot water)
More information: Rakaia Gorge Camping Ground
2. PURAKAUNUI BAY | OTAGO (CATLINS COAST)
This DOC campground at Purakaunui Bay is not a secret (despite what plenty of blogs tell you).
Located close to the Catlins in the Southeast, it's off the main road and down a long gravel road. It's right on the beach and the cliffs surrounding it are quite something.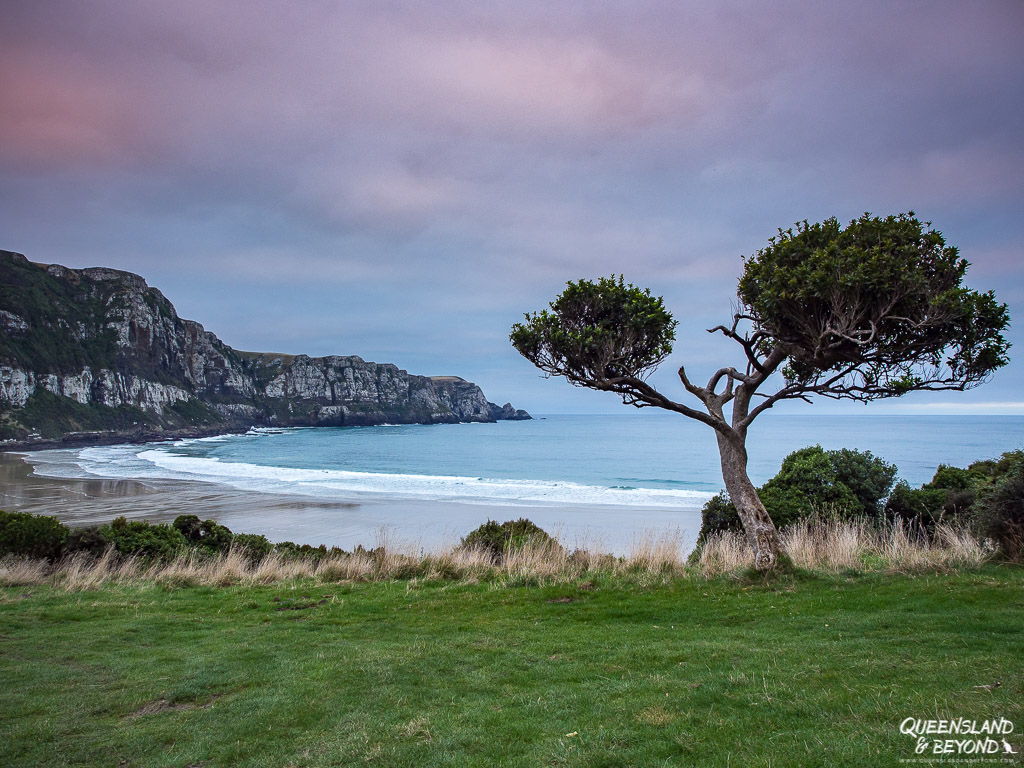 And like with so many DOC campsites, there are no marked areas so whatever looks good to you is fair game, I guess.
While everyone set up camp at the edge of the beach and behind the dunes, I didn't feel like sardine-treatment so we ended up a bit further away on the hill. This meant a long walk to the (not great) toilet but in return, we had peace and quiet, and great views overlooking the bay.
There are no hikes within walking distance but a stroll along the beach is a pretty nice option here. Or just hang out for a few days, the views are spectacular (even if the toilet isn't).
BASIC FACTS
Location: At the end of Purakaunui Bay Road (~130km south of Dunedin)
Facilities: 40 unpowered sites; compost toilets
Price: $10 p/p (2023); pre-booking required
Open: year round
More information: Purakaunui Bay Campsite
3. HANS BAY, LAKE KANIERE | WEST COAST
Another DOC campground, this time on the West Coast.
The Hans Bay camping area is beautifully situated on Lake Kaniere, even if it's right next to the Hans Bay township and barely off the road. But it's a backroad and bit of a trek inland so it wasn't exactly overcrowded when we camped here.
One of the reasons I wanted to stay here is because I read The Luminaries earlier that year (the lake area plays a bit of a role), and I wasn't disappointed. The lake is stunning.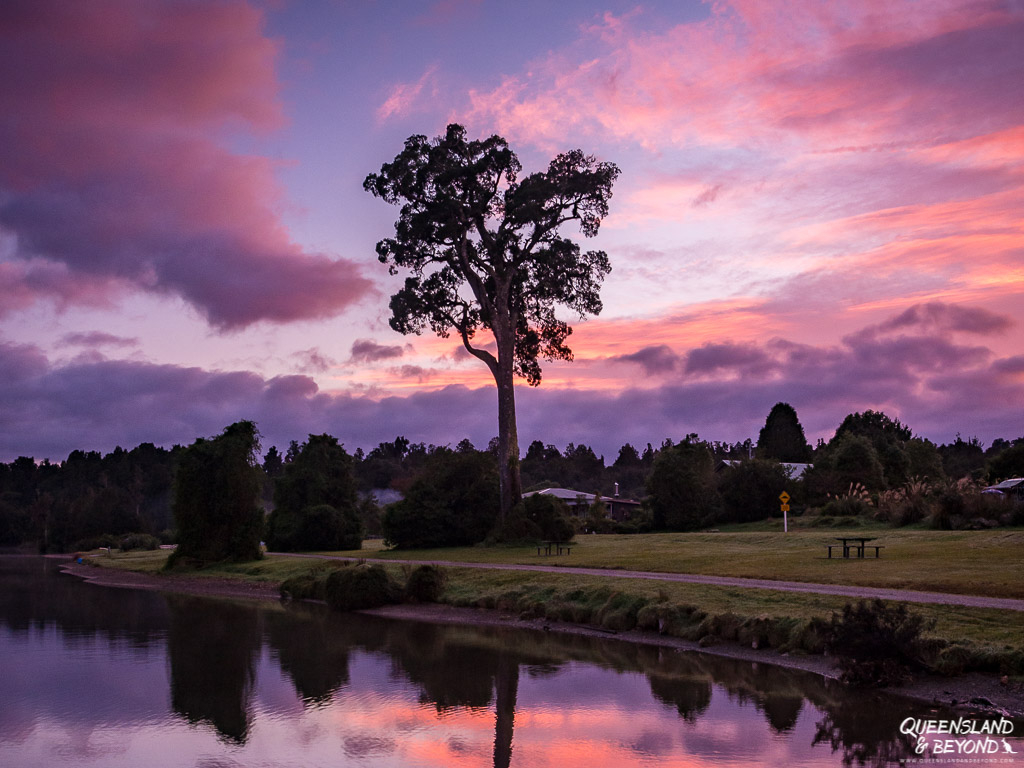 It was fresh enough for me to not be tempted for a swim, though the husband jumped right in! It all just depends how thick that dirt is caked on, I guess.
And as so often, we arrived late and didn't score the best site but the incredible sunrise the next morning and picturesque location totally made up for it.
Being so close to a town, the amenities were clean as was the campground.
BASIC FACTS
Location: Along Dorothy Falls Road (~20km from Hokitika)
Facilities: 40 unpowered sites; flush toilets
Price: $10 p/p (2023); pre-booking required
Open: year round
More information: Hans Bay – Lake Kaniere Campsite
4. MARBLE HILL | LEWIS PASS
The Marble Hill Campground is just off State Highway 7 in the subalpine Lewis Pass Scenic Reserve area.
This camping area actually offers individual (gravel-based) bays flanked by mountains and overlooking subalpine shrubs and paddocks. Sites are nestled into the forest and probably best for vehicle-based camping.
There are several hiking tracks, including overnight hikes, in the area but unfortunately, the weather didn't play along for us to feel like much exploring.
Instead, we went to the nearby Maruia Hot Springs for the afternoon, which were a little less luxurious than I'd expected but still enjoyable.
The mineral water is quite sulphuric and can leave black residue on swim wear (and which never comes out) but at the end of our road trip, I really just enjoyed relaxing in the hot artisianal water, despite the constant rain.
BASIC FACTS
Location: Along State Highway 7 (~7km from Spring Hill)
Facilities: 20 sites; compost toilets
Price: $10 p/p (2023); pre-booking required
Open: year round
More information: Marble Hill Campsite
5. KENEPURU HEAD | MARLBOROUGH (INACCESSIBLE)
[2023: Due to severe storm damage in 2022, the road to Kenepuru Head campground remains closed to non-residents at present.]
After hiking the Abel Tasman Coast Track on our second trip to New Zealand, we had about four days to recover and relax.
Kenepuru Head turned out to be a brilliant camping spot for a rainy day but in good weather, it'd be even more beautiful.
Located at the end of picturesque Kenepuru Sound, the campground is one big grassy area. It's not entirely flat but individual bays and clean facilities make up for that.
There isn't a lot of walking in the immediate area but after our 5-day hike, we were kind of in the mood for reading and relaxing anyway.
The sound changes dramatically with the tides and we spent a couple of hours beachcombing at low tide.
Kenepuru Road is very, very, very windy, and it takes much longer than you may think to get to the campground. Don't come here if you only have one night, the road's just too painful to drive and you should really give yourself at least two days to get over it!
BASIC FACTS
Location: Along Kenepuru Road (~40km from Linkwater)

Facilities: 19 unpowered sites; flush toilets
Price: $10 p/p (2023) off-season, $15 p/p high-season; pre-bookings required
Open: year round
More information: Kenepuru Head Campsite
6. MILFORD SOUND LODGE | FIORDLAND
There's only one option for camping around Milford Sound, and it's a pricey one.
There's no DOC campground and freedom camping is expressly forbidden. Your only option is to stay at the Rainforest Campervan Park at Milford Sound Lodge.
As I've said elsewhere, we don't often stay in tourist parks but Milford Sound Lodge is a great one, especially after hiking the Routeburn or the Milford, and being in desperate need of a shower and rest.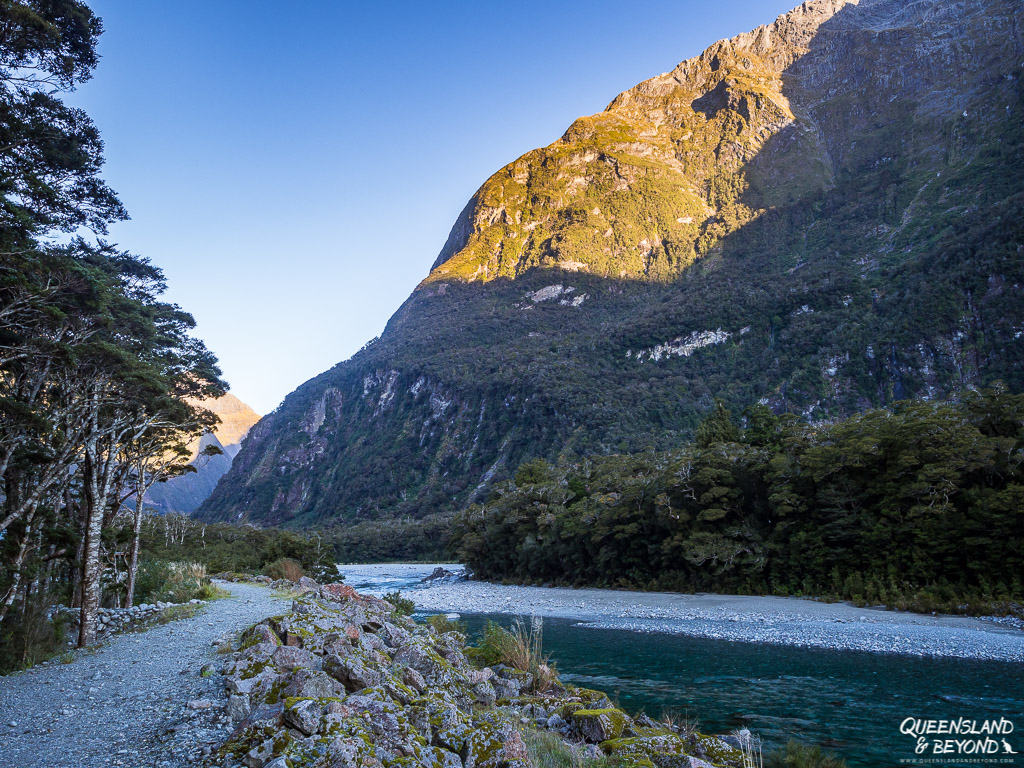 It is best for campervans and motorhomes as sites are on gravel pitch, and as with most caravan parks, there's little privacy.
The lodge backs onto the Cleddau River where you can go for an easy stroll, and campervan sites are nicely situated in the rainforest (though somewhat open). The amenities are top notch (though the WiFi can be a bit patchy), and we especially appreciated the kitchen and lounge area, and having access to a laundry.
In fact, we enjoyed staying here so much that we not only extended our stay the first time we came but returned again after hiking the Milford Track this year.
I highly recommend booking in advance as it is a popular place.
BASIC FACTS
Location: Along State Highway 94 (just outside the Milford Sound township)
Facilities: 50 powered sites; flush toilets, hot showers + coin laundry
Price: $70 p/n (2023); bookings strongly recommended

Open: year round
More information: Milford Sound Lodge
7. MARFELLS BEACH | MARLBOROUGH
Marfells Beach was a standout campsite on our second road trip in 2019.
We chanced upon it on our way back to Christchurch and would have loved to stay a couple of nights.
While sites aren't particularly private, the beach is right at your doorstep. We had an absolutely glorious sunset and sunrise here!
Amenities weren't super new but fine for what they are.
BASIC FACTS
Location: At the end of Marfells Beach Road (~40km south of Blenheim)
Facilities: 41 sites; flush toilets + cold showers
Price: $10 p/p (2023); pre-booking required

Open: year round
More information: Marfells Beach Campsite
---
8. MOKE LAKE | OTAGO
On our most recent trip to New Zealand, we had a couple of days up our sleeve before embarking on our Milford Track hike. So we decided to camp at the DOC campground at Moke Lake near Queenstown (since camping at Twelve Mile Delta had not exactly impressed us on a previous trip).
The camping area is quite large but finding a flat spot for a van is a bit tricky. We found closest to the lake was best.
The facilities were clean, thanks in large part to the lovely campground host, no doubt. Over the spring to autumn season, Moke Lake has a campground host who will seek you out and make sure you pay your fees (I'm a fan!).
Moke Lake also has a kitchen shelter with benches, sinks and cold water. Very convenient.
It can get busy on weekends and over the summer since it's very close to Queenstown. We were here during the week in April and while it wasn't empty, it was very quiet.
Side note: The Moke Lake walk is fantastic and definitely worth doing.
BASIC FACTS
Location: At the end of Moke Lake Road (~13km west of Queenstown); can be tricky with large campervans as the road is quite narrow towards the end
Facilities: 50 unpowered sites; compost toilets + kitchen shelter
Price: $15 p/p (2023); first come first served
Open: year round (no water in winter)
More information: Moke Lake Campsite
---
SUMMING UP
Over the last few years, we've spent a number of weeks campervanning across New Zealand's South Island now. Our trips are usually in the shoulder seasons, generally April or September, so we have not experienced what camping in New Zealand feels like during the height of summer.
We loved camping at these spots, not only because we had no issues with noise or neighbours but they were all in gorgeous locations or great for what they offered.
That said, it'd be fair to say that we'll return to New Zealand for its hiking trails, not the outstanding campsites.
---
MORE POSTS ON NEW ZEALAND
If you want to know what we really loved about roadtripping in New Zealand, take a look at my tops and flops in New Zealand. Our second trip was pretty much all about hiking the Abel Tasman Coast Track.
---
PIN FOR LATER