Friends had been suggesting for some time we should go to New Zealand. After all, it's right next door, right?
We preferred to take off to Canada or Outback Australia but then earlier this year we made a more or less snap decision to head to New Zealand's South Island for three weeks.
We came back having enjoyed New Zealand but not having loved it (for a number of reasons). But now I almost want to laugh at that as we've just come back from another 10 days on the south island. Twice in one year is a little ridiculous when you haven't loved a place!
To be honest, we've basically discovered New Zealand for its fabulous hiking, a bit slow on the bandwagon, I guess.
In April we hiked the breathtaking Routeburn Track, and now in September, we returned to hike the 5-day Abel Tasman Coast Track.
---
ABEL TASMAN COAST TRACK: A GORGEOUS GREAT WALK
Whilst not magnificent in the same way that (sub-)alpine areas can be, Abel Tasman National Park is a really gorgeous part of New Zealand.
Right at the top of the south island, it's in a sunny and relatively protected part of New Zealand that feels almost tropical.
The Abel Tasman Coast Track is one of ten Great Walks in New Zealand, and if the Routeburn and Abel Tasman hikes are anything to go by, then they all offer excellent facilities (huts, campsites and toilets), well-graded tracks and take you through fantastic scenery.
They really are great walks (unlike the ones in Queensland, to be honest).
Being a coastal walk, the Abel Tasman Coast Track winds around cove after cove, taking you from rainforests across tidal inlets, out onto headlands and back down to golden beaches. The scenery becomes especially pretty when the sun pops out and starts to sparkle on the clearest aquamarine water you've ever seen.
---
HOW TO HIKE THE ABLE TASMAN COAST TRACK
The Abel Tasman Coast Track is a bit unusual for a multi-day hiking track as you've a myriad of options on how you can tackle it.
You can walk the whole track (in either direction) with a bus or car shuttle at the end to take you back to the start. You could walk the entire track, add in a loop section and then take a water taxi out (which is what we did). Or you could just walk a section of it, and either return the same way or take a water taxi in or out.
So many options…
On paper, the Abel Tasman Coast Track is about 60km with minimal elevation, which is easy enough if you spread it over five days like we did.
Of course, what's not included in these 60km is the high-tide tracks you may need to take, plus any side trips or if you do the additional Gibbs Hill loop. The husband's a great explorer and except for a couple of beaches right at the start, we traipsed to every single beach along the track and did pretty much all the side trips.
Though the elevation isn't much on this track (between 100-200m), the trail is not flat. Since you spend your days heading from beach to beach, you also climb up one headland and ridge after another. So all in all, I felt like I was going up and down all day.
A younger version of the husband would have hiked the entire trail in 2-3 days but I'm kind of grateful that he's a bit older now and has slowed down his hiking voracity. I definitely couldn't keep up as I'm terribly slow both up and downhill.
Plenty of people do hike the trail in three days though, and if you don't mind hiking 20-25km each day and having little time for side trips, then that might be a good option.
The main factor for how or when you hike the Abel Tasman is the tides.
Awaroa Inlet turns into a kilometre-wide river at high tide, and there's no bridge to cross the inlet or a high-tide track around it. Even at low tide, you'll need to wade through water so you'll need to check the tide timetable to find out when you can actually cross.
HOW WE HIKED THE ABEL TASMAN COAST TRACK
The decision on how to tackle the Abel Tasman track was pretty much made by how the tides occurred during the few days we had available for doing the hike. Plus, I struggle downhill and want to enjoy myself as well so skipping huts wasn't really an option for me.
So we did:
5 days, starting in Marahau
Stayed in all four huts, one night at each
Took the (additional) Gibbs Hills Track to the last hut (Whariwharangi) and then looped back to Totaranui on the last day
Caught a water taxi from Totaranui back to Marahau at the end
I investigated bus transfers and car shuttle options but the (tourist) season doesn't quite kick off until October/November in this part of New Zealand so it was going to cost a fortune to have our car moved from Marahau to Wainui carpark at the other end. Instead, we opted to loop back to Totaranui, the last water taxi pickup point and got back to Marahau by late afternoon.
We debated taking the water taxi first and then walking back to Marahau as this would have worked better with the tides, but I'm also prone to getting seasick and didn't want to start the hike feeling nauseous. In the end, we decided that it'd be better to do the water taxi at the end, and we'd just have to deal with a long day when it came to crossing Awaroa Inlet around lunch time since low tide was in the early afternoon.
DAY 1: MARAHAU – ANCHORAGE HUT | 12.4KM (WITH SIDE TRIPS: ~18KM)
Day 1 started off with drizzle and low clouds but nothing serious enough that would warrant getting my rain jacket out. Just like on the Routeburn hike a few months earlier, the weather forecast promised that it'd clear up and we'd have better weather over the next few days. And true enough, it did.
We left our campervan at The Barn Backpackers in Marahau (which, literally, is the closest accommodation to the start of the track), and started the hike around 11am after mucking around getting ready for hours.
If you start from Marahau, your first day will be the busiest on the trail as there are plenty of people doing day walks. In early September, it wasn't busy enough to bother me but I can imagine what this trail would be like in summer (no fun).
As a boardwalk fan, I was delighted to start the hike by crossing the Marahau Causeway on three boardwalks – yay!
From there, the trail gently winds up and around to Coquille Bay and then to Apple Tree Bay with a few lookout spots along the way. The weather wasn't looking too inspiring so we didn't linger too much at any of them.
The track passes along a few streams and gullies, and mostly meanders through beech forest here.
If you're just out for a day walk, Apple Tree Bay would make for a nice lunch spot. There's a toilet there and a couple of picnic tables as it's also a campsite. It was a bit windy so we ended up heading to the next cove at Stillwell Bay and had lunch there instead.
Stillwell Bay is just a small little bay with a private house on it.
That's one thing that's so remarkable about the Abel Tasman track, there are so many private houses and even a couple of settlements along the track. You're never really far from civilisation (though in September, everything was still very sleepy).
Our last little side trip before taking the turnoff to Anchorage Hut was to Watering Cove, a short but steep little track down to an inlet and a bay that looked gorgeous even with overcast skies.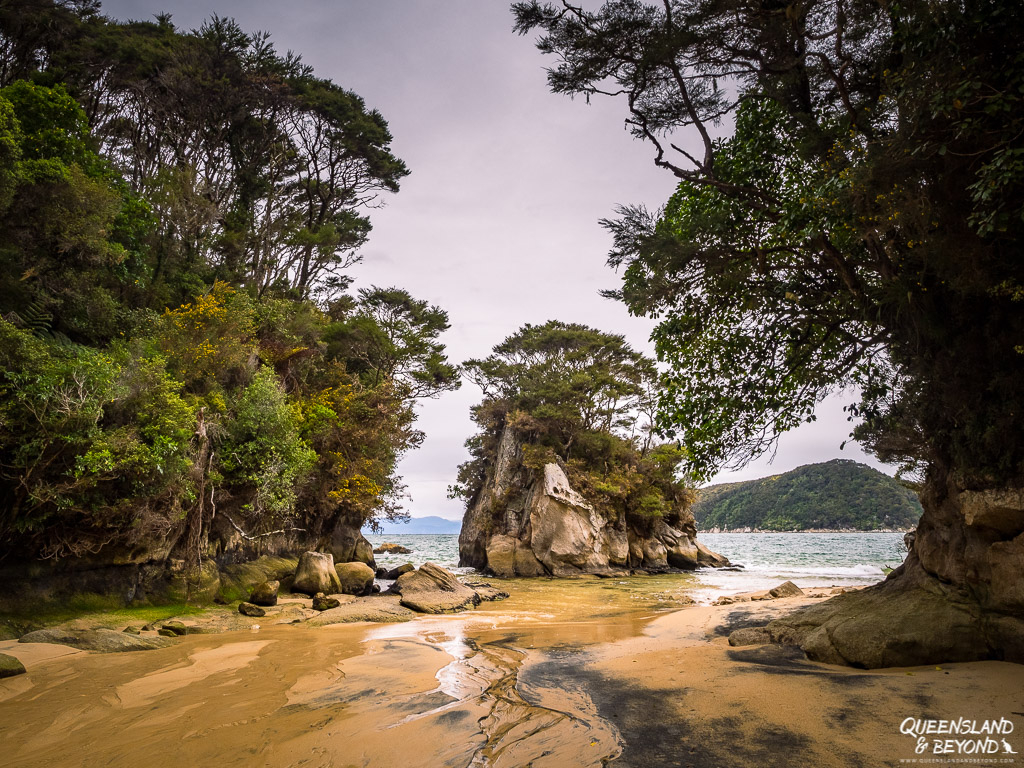 None of the side trips to the beaches on Day 1 were really that far (between 0.3-0.5km one-way) but we still dropped our packs before heading down most of them.
If you're heading to Anchorage for the night, the track then takes a right turn and winds down to the beach relatively steeply. By then my right knee was hurting enough that I more or less crawled down the hill and was very glad to get to the beach and the hut around 4:30pm.
If you're off to Bark Bay, you'd skip Anchorage Bay and take the left track staying up on the ridge. You'll miss out on some beautiful views into Anchorage Bay though. Alternatively, you could go down to Anchorage Bay, walk along the beach and join the track at the end again.
ANCHORAGE HUT (34 BUNKS)
Anchorage Hut is a fantastic hut.
It's located just off the beach. You'll fall asleep with the waves gently lapping up on the shore, and in the morning, you'll eat breakfast staring out onto golden sand and a gorgeous bay.
There's one big common room with plenty of cooking space and sinks, a fireplace, and tables and benches. You'll find four spacious bunk rooms, sleeping 8-10 each, and, of course, flush toilets. You won't even have to put your boots on to get to the toilets as the walkway is covered.
Solar-powered lights came on in the main hut about 6/6:30pm and unlike on the Routeburn, they had motion-sensors and never seemed to turn off. You can also charge your phone or other USB-powered devices at the charging station in the main hut – never seen that before!
Of the four huts, Anchorage is definitely the "luxury hut".
And at this time of the year, the Abel Tasman track is nowhere near booked out. There were only three other young Kiwis at this hut with us. We had a bunk room all to ourselves, felt like total bliss!
SIDE TRIPS
Apart from the side trips down to the beaches and coves along the way, you could also head to Te Pukatea Bay (1.6km return) from Anchorage. Te Pukatea Bay has a small campsite, just off the beach. Beautiful location.
For a longer walk, you could do the Pitt Head Lookout loop (3.3km) but the lookout at the head really isn't all that's cracked up to be. Views are only in one direction so don't expect too much.
But there is another lookout along the way looking into Anchorage Bay and that's gorgeous. So all up, it's worth it, even when I was fairly tired at the end of the day and just wanted to enjoy a cup of tea and rest at the hut.
DAY 2: ANCHORAGE HUT – BARK BAY HUT | 11.5KM VIA HIGH-TIDE TRACK (WITH SIDE TRIPS: ~16.5KM)
Unlike Day 1, we woke up to gorgeous blue sky on Day 2.
Anchorage Bay looked magnificent, and with only three other hikers around, life felt quite serene.
It was almost 9:30am by the time we left Anchorage Hut, it was just too peaceful to leave this spot.
The track starts right outside the hut on the beach. Cross the beach and at the other end, the track climbs steadily over a low ridge where you can then either drop down into the Torrent Bay Estuary or continue along the ridge on the (3km-longer) high-tide track.
Keep in mind that you can only cross the inlet two hours either side of low tide. This would have worked for us but we wanted to do the side trip to Cleopatra's Pool, which is off the high-tide track.
I have no regrets about taking the high-tide track. Yes, it's longer but it's a really nice walk around Torrent Bay and passes by the clear Torrent River. Halfway, there's a picnic table in a perfect location for looking out onto the estuary. I would have loved to stop but it wasn't exactly close to lunch time when we came by so we kept going.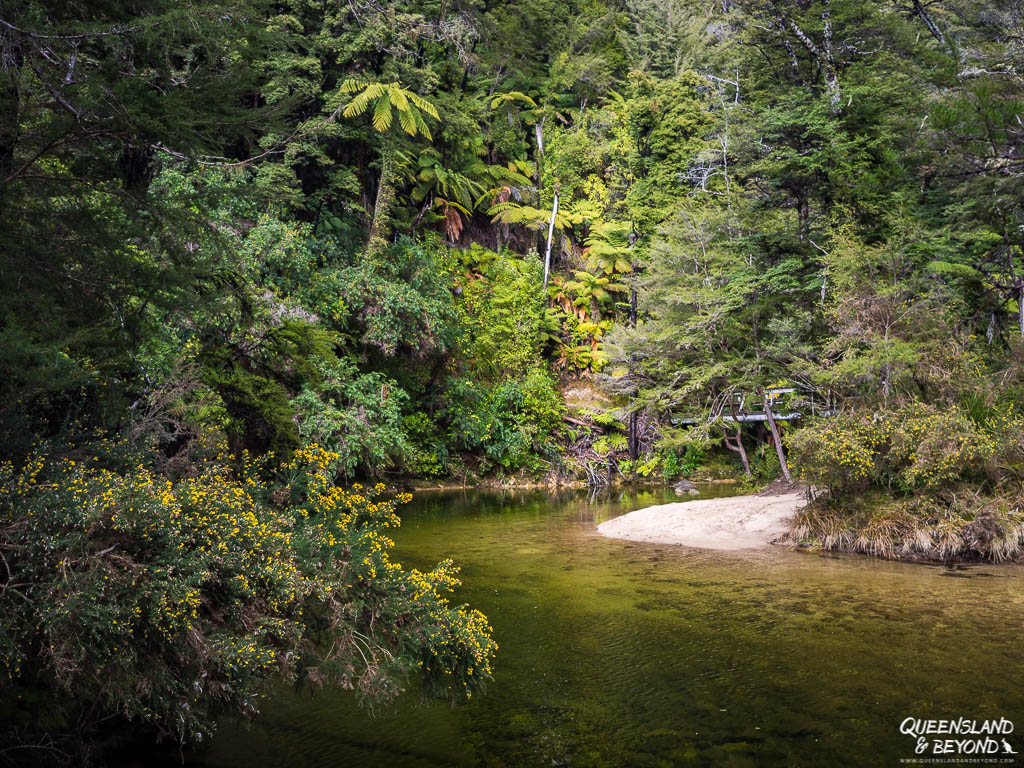 We stopped for lunch at the Torrent Bay Village campground, just outside the settlement.
Walking through very sleepy Torrent Bay Village was a bit surreal. I've never hiked in a national park where there are summer settlements and private houses. There are about 50 odd holiday houses at Torrent Bay Village, including two streets and a jetty.
The village looked really quaint and very much locked-up still but I can imagine that come summer, there would be a fair bit of life here. The bay is so gorgeous, spending summer here as a child must be peachy.
At the northern end of Torrent Bay, the track climbs up steadily. You get some fantastic views into Torrent Bay but gee, I was puffing a bit. From there, it's a bit up and down, and mostly through forest with intermittent views of the coast and the occasional private house.
The track eventually drops down to Falls River with its 47m suspension bridge. One thing that New Zealand does really well is the abundance of suspension bridges, I love them!
By the time we got to the suspension bridge, I was well and truly ready to drop my pack and rest with a cup of tea. But the track takes a few more (uphill) turns before you get to Medlands Beach Lookout. You can pop down to the actual beach, it's only 50m.
Once you've reached Medlands Beach, you're almost there. The sign here may say "460m" but don't be fooled, it's about another 800m to Bark Bay Hut. I couldn't wait to get to the hut by that stage and kept thinking that it was around the corner. Signage and distances seemed to be a little all over the place but eventually we got to the hut just after 4:30pm.
I think all I did was boil the billy, have a cup of tea and put my feet up (while the husband got the fire going – I'm so lucky!).
On another note: The Bark Bay Campsite sits on a windy beach with the most scenic toilets I've ever seen. I'm convinced that if you use these toilets, you should definitely leave the door open!
BARK BAY HUT (34 BUNKS)
Bark Bay is a more traditional hiking hut, hidden slightly in the vegetation but looking out onto Bark Bay Estuary.
It's cosy and there's sufficient space for cooking and eating, and a small fireplace area with a drying rack.
Two bunk rooms (sleeping 14 each) are part of the main hut (we left the door open to ours to warm it up a bit) while there's another bunk room on the outside that sleeps six people.
We had two other couples with us at Bark Bay and so each couple got their own bunk room, pretty special to have that much space.
Like Anchorage, Bark Bay Hut has solar-powered lights with motion-sensors in the common area. I stayed up reading until after 10pm and had to wave my arms about every minute to keep the lights on.
SIDE TRIPS
Day 2 doesn't have as many side trips to beaches but there's tranquil Cleopatra's Pool, a rock pool with a natural slide.
It's only 460m (one-way) off the main coastal track but you have to be on the high-tide track around Torrent Bay to reach it. Apparently, it can get very crowded in summer but mid-morning in September, we had it all to ourselves.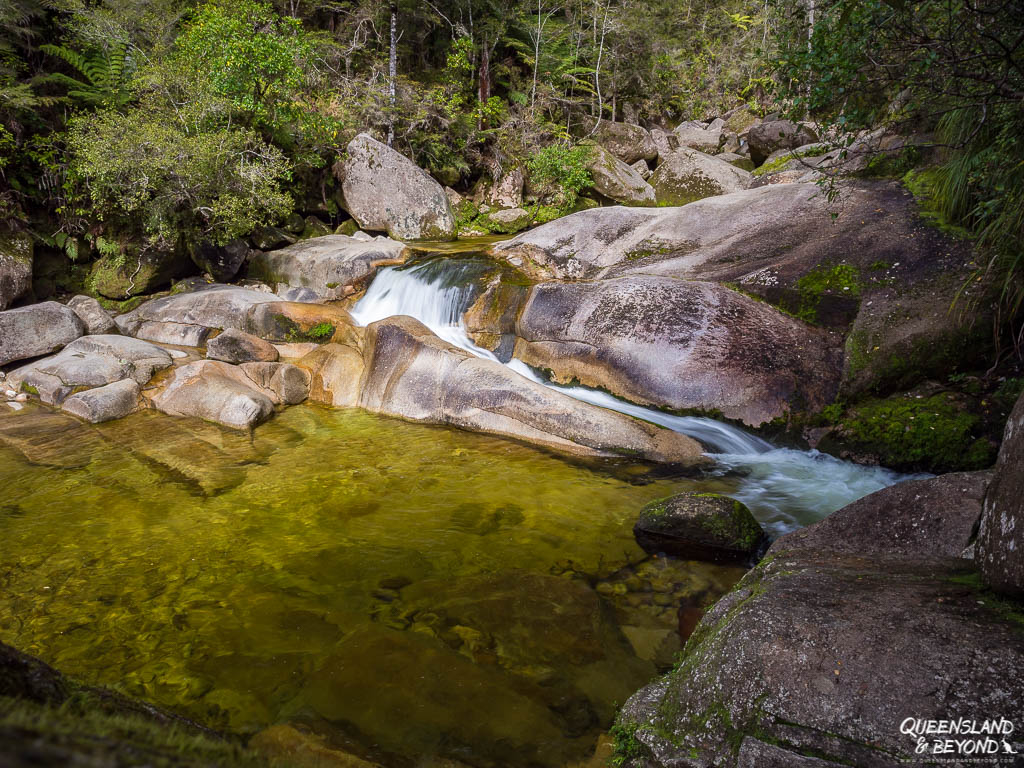 Another side trip that's also on the high-tide track around Torrent Bay is to Cascade Falls (1.5km one-way). It's a narrow and steep track, and I didn't fancy the extra downhill so I gave it a miss. The husband speed-hiked to the falls while I sat in the sun reading my book. I think this was literally the first hike where I had a moment to read a book!
Towards the end of the day, there's a steep track down to Sandfly Bay (~500m one-way) but we didn't bother making it all the way as you can't actually get to the beach very easily and end up being stranded on boulders.
Medlands Beach, some 500m from the Bark Bay Campsite, is the last little side trip you could do. It's an easy 50m to a beach with a picnic table. I imagine this would be really lovely on a warm, sunny day.
DAY 3: BARK BAY HUT – AWAROA HUT | 13.5KM (WITH SIDE TRIPS: ~14KM)
Day 2 had ended with windy and partly cloudy weather but Day 3 began as yet another glorious day.
I got up almost in time for sunrise but not quite. And even though I got up early, we still didn't manage to get going before 9am.
Again, instead of getting our feet wet, we stayed on the high-tide track around Bark Bay inlet, which only adds another 15 minutes and takes you across two bridges, including a suspension bridge, and a boardwalk! Couldn't have been happier.
As just like on Day 2, once you cross the inlet, you'll climb up onto the headland and reach a saddle. This climb is one of the steepest ones you'll do on this hike but you'll get some nice views over Bark Bay along the way.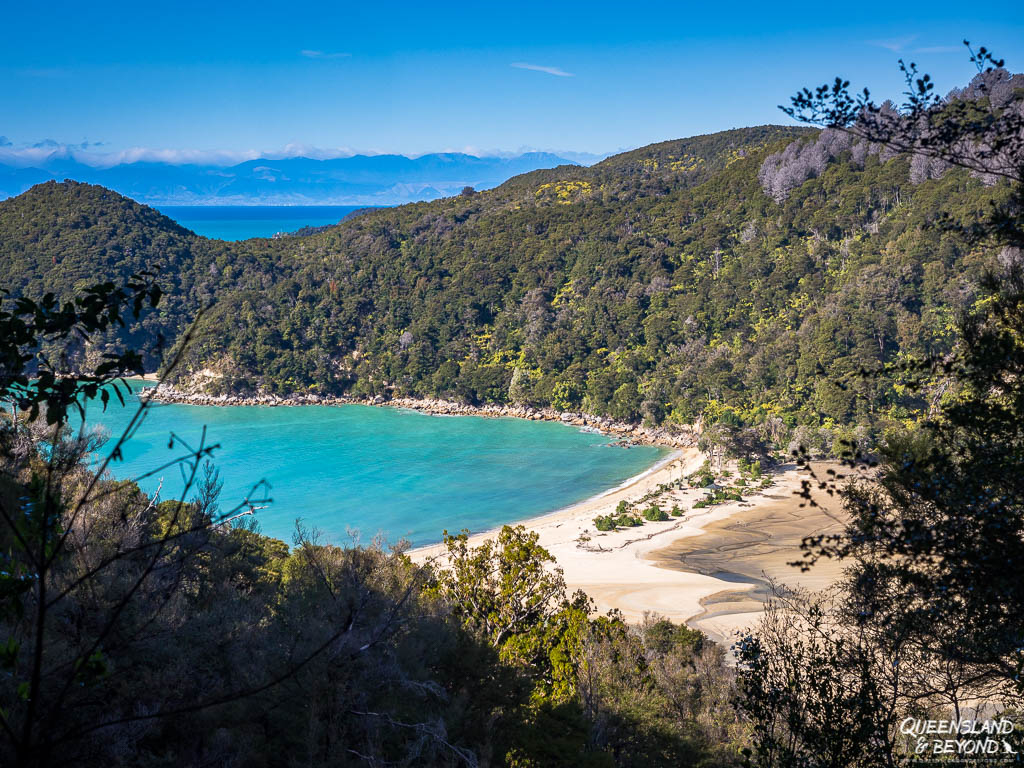 Before the track drops down to Tonga Quarry (4.4km from Bark Bay), it meanders through some stunning fern gullies. They are so tall and beautiful here, we had to stop ourselves taking more and more photos.
The beach at Tonga Quarry still has remnants of its past as a stone works site. Blocks of granite were cut here in the early 20th century and then shipped to Nelson and Wellington. Hard to imagine when you stand on such a peaceful beach.
From Tonga Quarry, it's only 1km to the expansive Onetahuti Beach. There's a campsite here with a kitchen shelter (seriously), and it must be absolutely divine camping here when there's no-one else around.
You used to have to cross the Onetahuti Estuary (all the maps and brochures still reference this) but there's a new bridge and an amazing boardwalk now, taking you right across the inlet. No need to worry about the tides now.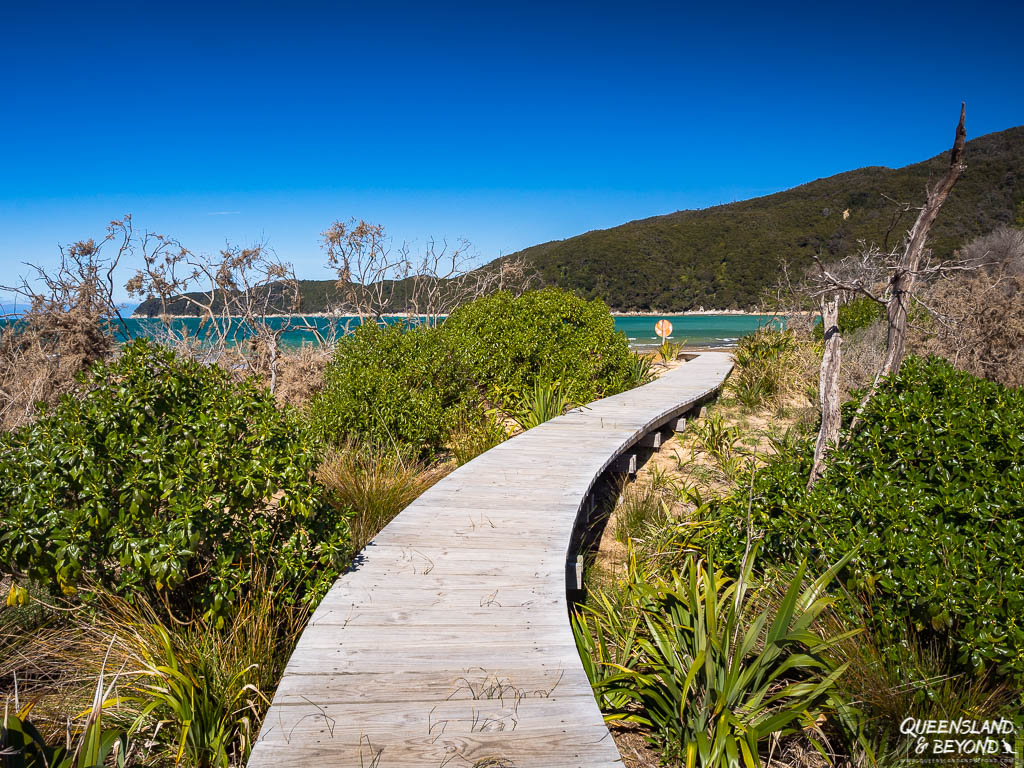 As you leave Onetahuti Beach, the track slowly takes you uphill again but I didn't find this too strenuous (compared to the climb out of Bark Bay). The track leaves the coast but you still get some intermittent coastal views.
About halfway between Onetahuti and Awaroa Beach, our destination for Day 3, we found a bench in the perfect spot for lunch.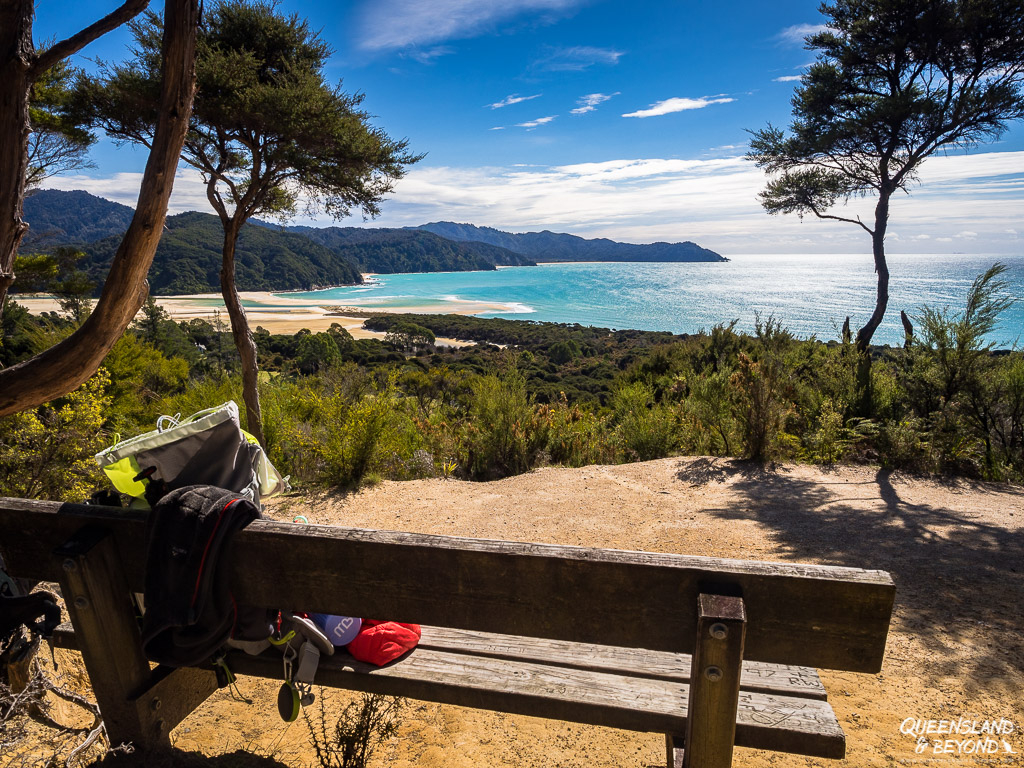 Part of the track towards Awaroa has been destroyed and a new track has been built that goes up onto the ridge and then drops steeply onto Awaroa Beach. The elevation profile doesn't reflect this new track yet, and I found it quite steep in sections. It's also fairly exposed and I ended up feeling a bit cooked by the time we reached Awaroa Beach.
The new track is also much longer (not reflected in the track notes yet) as you hike around the bay, instead of skirting along the beach.
That said, you get some brilliant views of the Awaroa Inlet as you come around the bay.
AWAROA HUT (26 BUNKS)
Just like Anchorage Hut, Awaroa Hut is in a gorgeous location.
It's situated directly on the Awaroa Inlet, with views both of the river and the beach. Sunset disappears behind the hills but sunrise happens directly in front of you, provided you're up, of course.
It's a small hut, with outdoor sinks and no lights (so bring tealight candles and a torch) but it's a very warm hut as it faces north. We didn't end up lighting a fire until 6pm, it was so toasty in the hut.
Two bunk rooms open directly from the common area with another bunk room (sleeping 4) accessed from the outside. We wisely chose that room.
If you fancy a shower, there's a cold one a few steps from the hut towards the camping area.
We got to Awaroa so early (just after 2pm) that we explored the river inlet (how deep would the water be at low tide?) and I spent a good hour sitting in the sun, reading yet again and feeling the bliss of being outside on a stunning day.
By 3:30pm two American girls had joined us at the hut, and we were hoping for another quiet night.
Unfortunately, we had heard some rumors that the hut was completely booked out (!) that night. I was hopeful, the husband less so, and at 6:30pm the hordes started to arrive.
26 soccer players from Argentina, Uruguay and Chile! Boisterous, loud, with copious amounts of alcohol, shopping bags, guitars, a soccer ball, and without any concept of how to share a hut or shut a door quietly.
So much for a quiet night.
I'm not sure how many slept in the tents or actual bunk beds but I saw plenty of people lying on the floor around the fireplace in the main room the next morning. The whole hut looked like a bomb had been dropped.
Despite my lack of sleep, I was very grateful that we had to get going early to meet our boat ride at 7am. It was such a lovely hut but the situation made me incredibly anxious and I really just needed to get away from the madness.
Apparently this only happens once or twice a year, and then usually in summer. An opportunity to remain calm but one that I don't think I rose to very well.
SIDE TRIPS
There's really only one side trip on Day 3, and that's a brief skip to Onetahuti Pool (200m one-way). The path is just behind the campsite kitchen shelter on Onetahuti Beach. It won't take more than 5 minutes.
Another side trip you could do is to wander along the beach past the holiday houses at Awaroa Beach (a famous, crowd-funded beach). There's also a lodge and a café at the southern end that you can reach at low tide. You can also get to the lodge via the coastal track but that would be a significant detour, just for a coffee or pizza.
I had considered staying at Awaroa Lodge for a night but the lodge only opened for business mid-September and was still closed when we came past.
DAY 4: AWAROA HUT – WHARIWHARANGI HUT | 18.1KM VIA GIBBS HILLS TRACK (WITH SIDE TRIPS: ~19KM)
After a more or less sleepless night, we were up early on Day 4 to catch our boat ride across the Awaroa River.
The night before the husband met a super nice guy who agreed to take us across the inlet on his way to work (by boat!), provided we were at the pickup point by 7am. Given that our only other option to cross the inlet was to wait til low tide (earliest crossing around 11am), we grabbed this chance with both hands!
We shaved a kilometre of our hiking distance and were safely deposited on the other side by 7:10am. What a blessing!
Since we'd skipped breakfast, the next achievement was to find a nice spot to cook some delicious rice porridge. Well, the beaches along the Abel Tasman Coast Track are all pretty spectacular but the first beach we came across after Awaroa has since been known as "beautiful breakfast beach". For other people, it still goes by the name of Waiharakeke Bay.
From Waiharakeke Bay, the track climbs to a low saddle and then drops down to yet another gorgeous beach, Goats Bay.
It was only just after 9am when we got to Goats Bay but the day was turning out to be really warm. Time to strip off all unnecessary clothing. I think for me that meant three layers, I'm a layers' lady…
The rest of the track into Totaranui is a pretty quick affair, minus a gazillion stops for taking photos of the absolutely stunning beach at Totaranui. The quick side trip to Skinner Point is definitely worth it to see the bay in all its glory.
Totaranui is a huge campground (850+ campers) and accessible by road. It's also the last point from where water taxis pick up / drop off as they don't go further north. It feels like you've kind of hit civilisation again once you get here.
In September, the campground was still very quiet and we didn't linger too long as we'd be back the following day for our water taxi pickup anyway.
If you're not finishing your hike at Wainui carpark at the end but want to loop back to Totaranui, you can take the coastal track to Whariwharangi Hut and then the Gibbs Hill Track on your way back, or vice versa.
Given my hip and knee situation (I was on anti-inflammatory medication and painkillers by then), I was keen to avoid as much steep downhill as possible. So based on ranger advice, we decided to take the Gibbs Hill Track to Whariwharangi Hut, and return to Totaranui via the Abel Tasman Coast Track and Separation Point the next day.
This turned out to be a smart decision as Gibbs Hill is much steeper coming from Totaranui. There is one steep section on the other side (towards Wainui) and I gingerly stalked my way through it but the rest of it is a gentle downhill meander.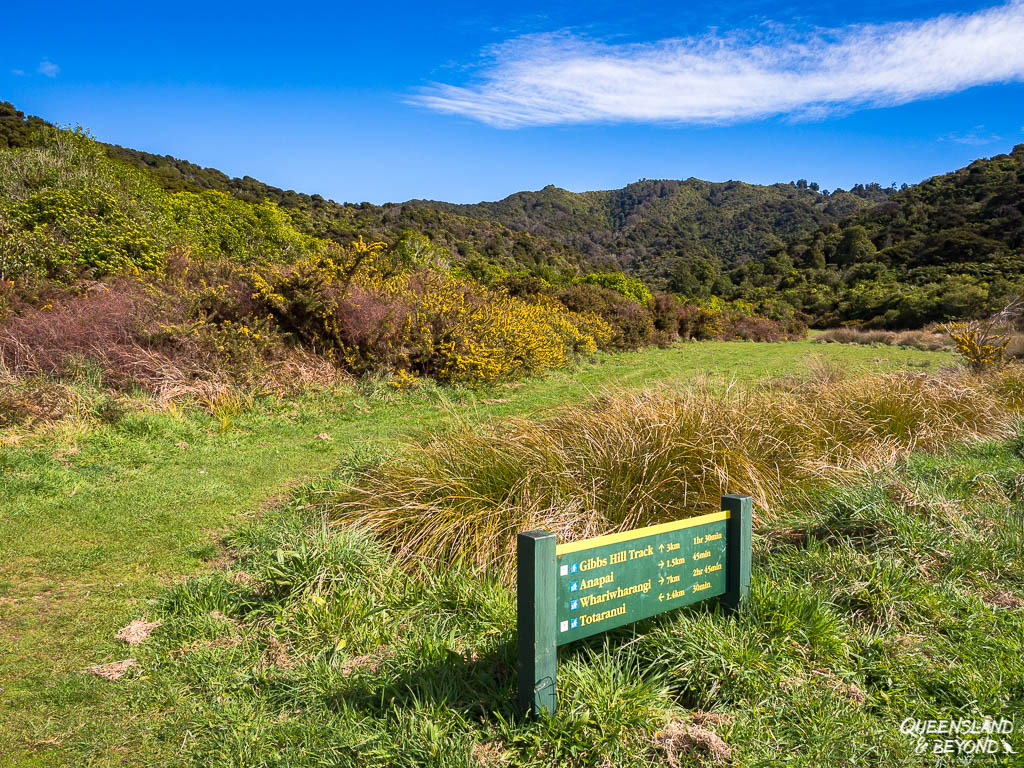 If you're adding the Gibbs Hill Track, your highest elevation point will now be 406m. The views along the ridge are superb though. In early spring, we could see snow-covered mountains in the distance framed by palm trees and yellow bushes. Slightly surreal.
Not being part of the Abel Tasman Coast Track, the trail across Gibbs Hill is much less maintained and covers anything from a wide fire trail to a narrow, single-file track.
The Gibbs Hill Track joins the Abel Tasman track some three kilometres shy of Whariwharangi Hut. The downhill meander continues into forest until you reach the hut in a grassy clearing. Whariwharangi Hut is the only hut that's not on or just off the beach, though Whariwharangi Beach is still only a couple of minutes away.
Day 4 was our longest day of hiking (in terms of distance) and we got to the hut just after 3pm all thanks to our kind Mr. Boat Ride.
WHARIWHARANGI HUT (20 BUNKS)
Staying at Whariwharangi Hut is a rare treat.
The hut dates back to 1898 and began its life as a farmhouse. After 1926, it became a stockman's hut and eventually transferred into DOC property. And now it's used as a hut for hikers on the Abel Tasman. Amazing.
It's obviously the smallest of the four huts, sleeping only 20 people. But there are four rooms to choose from, and with only five of us staying at the hut, we all had a room to ourselves (obviously, the husband and I shared a room). Upstairs are two bedrooms and they were so incredibly warm that this night ended up being the warmest.
There isn't a heap of cooking space but it's enough. With 20 people there, I'd guess it'd be pretty cosy and perhaps a bit cramped but then people go to bed at different times and it may not be too bad.
The one thing that didn't work so well was the historic fire stove. The husband kept it going and going but not much heat ever emerged. Oh well, it was very cosy upstairs so perhaps that's where all the heat went.
SIDE TRIPS
There are only a couple of short side trips between Awaroa and Totaranui.
You could pop down to Waiharakeke Bay, I quite enjoyed the quick stroll over the bridge and along the beach.
For magnificent views over Totaranui Bay, head to Skinner Lookout, a mere 100m off the coastal track.
DAY 5: WHARIWHARANGI HUT – TOTARANUI | 7.5KM (WITH SIDE TRIPS: ~10.5KM)
And just like that Day 5 arrived and we were on our way back to Totaranui, this time on the coastal track.
We had meant to leave at 8:30am to give us plenty of time to explore Separation Point and spot some fur seals but for once I was the chatty one, and kept talking and talking with the lovely Canadian hiker we shared the hut with the night before.
With time getting tight, we were finally on our way at 9:20am to hike up to Separation Point. With Whariwharangi Hut being almost at sea level, it's a steady climb up to the headland and then out onto Separation Point.
If you're lucky you can watch the fur seal colony who lives at Separation Point and it's definitely worth the detour. But if you're short on time, you can shave off an hour by going straight to Mutton Cove.
After spending a good 20 minutes watching seals, time was ticking away and we really needed to climb up from Separation Point and make our way to Totaranui via Mutton Cove.
Mutton Cove is reached via a beach and then a little rocky cove from which you then tumble out onto sandy Mutton Cove beach and the campsite.
This is where the Separation Point detour meets the Abel Tasman Coast Track again. At the southern end of the beach, the track winds out up onto the headland towards Totaranui.
The distances here are really weird – the sign at Mutton Cove campsite said "Totaranui 4km 2 hours" so we thought the track must turn into something incredibly hard but not so.
After hiking steadily upwards through forest, we had yet another drop to a beach, this time Anapai Bay. And from there, we were finally on the home stretch, somewhat up and down, but nothing exceedingly strenuous to the point where you'd need 30 minutes for a kilometre.
We reached Totaranui within 1.5 hours (from Mutton Cove), and I was very, very slow going downhill given the state of my knee. There's also no way we only hiked 4km within that time, the distance was definitely greater. I can only guess that DOC have re-aligned tracks and signage doesn't reflect that.
Since we'd already walked the high-tide track around Totaranui the previous day (as that's where the Gibbs Hills Track starts from), we decided to cut back to Totaranui on the low-tide track. It was early afternoon so we figured we should be ok crossing the inlet given the tides.
Well, there was still sufficient water swirling around the estuary that the husband had to take his boots off, ferry the packs across and then piggy-back his wife. A special birthday treat! 😀
Back at Totaranui, we ate our last food and then hopped on the water taxi at 2:45pm, which brought us back to Marahau just after 4pm. Fortunately, the ride was relatively smooth and I didn't get seasick (though I did put my seabands on and munched on ginger the whole time).
Side note: Have you ever sat in a boat loaded onto a trailer, pulled by a tractor out of an estuary and then pulled through the streets in a village? Well, that's how you get to your drop-off point in Marahau. It was the weirdest experience, sitting in a boat and going over dry land…
I don't mind these sorts of boat trips, I must say!
SIDE TRIPS
Separation Point (3.5km) is the biggest side trip on the Abel Tasman Coast Track, and will add about an hour to your hike.
If you have the time, it's a great spot to watch some fur seals frolicking in the water or sunbathing on the hot rocks. We saw one seal splashing around doing donuts in the water, and another family feeding their baby seal.
My only regret is that we didn't have enough time to sit and watch them play for longer.
Close to Whariwharangi Hut, you can pop down to the beach by the same name. It looked gorgeous from far away but up close it wasn't half as attractive. Being a more northern beach it's a lot more windswept, and the beach itself was messy with a ton of driftwood stranded on it.
---
SUMMING UP
Hiking a Great Walk in New Zealand is one of the easiest ways to do a multi-day hike, especially if you're flying in from another country. The facilities are just superb, and in most cases all you need is your sleeping bag, food, clothes and whatever other paraphernalia you take along.
The Abel Tasman Coast Track really is a gorgeous 3-5 day hike, and staying in the huts makes hiking it so easy. It was my first 5-day hike and I'd do it again in a heartbeat.
Apart from the overcast weather on our first day, we were blessed with incredible conditions. Relatively little wind and mostly sunny. The sun does miracles for turning grey-blue water into aquamarine sparkles and lifeless sand into golden beaches.
My favourite parts were crossing the swing bridges, looking back over Torrent Bay, crossing Onetahuti Estuary on the gorgeous boardwalk, eating breakfast at Waiharakeke Beach, marvelling at the stunning golden curve of Totaranui Bay from the lookout, walking through fern gully after fern gully, and enjoying serenity at Awaroa Hut before madness descended.
At the time, I was in a lot of pain (extremely tight muscles / ITB injury) but all I can remember now is the stunning scenery, the glorious weather and how peaceful the hike was (I can even laugh at the Argentinian invasion now…).
---
KNOW BEFORE YOU GO: ABEL TASMAN COAST TRACK
Here are a few things to keep in mind when planning your hike:
Key consideration: Check the tide schedule so you can work out when to cross Awaroa Inlet. Tides are between 3-4m and you don't want to swim across it with your pack, I'm sure. All other tidal crossings (Torrent Bay Estuary, Bark Bay Estuary, Onetahuti Inlet, and Totaranui Inlet) have high-tide tracks you can use, and all of which are picturesque detours.
Work out your transport options, direction and distances: If you want a bus transfer / car shuttle at the end, or prefer to take a water taxi to your starting point, you'll need to organise this before you start your hike. This walk is so flexible, you can pretty much do whatever you want and in whatever direction you want. Low tide times might dictate how best to approach it though. We booked our water taxi ride with Abel Tasman AquaTaxi who do pickups / drop-offs at Anchorage, Bark Bay, Onetahuti, Awaroa and Totaranui. If the weather is less than ideal (i.e. strong winds and big swells), they may not be able to land at Totaranui and drop you off at Awaroa instead. This happened to the two American girls we met on the trail. If you're meant to catch the water taxi out from Totaranui, apparently they'll send a bus if the weather is making pickup impossible.
Cooking facilities are not provided in any of the huts along the Abel Tasman so you'll need to bring or organise a hiking stove + gas beforehand. Or eat only cold food as plenty of people seem to do. I need a lot of tea so I couldn't hike without a stove for five days. We only have a fuel hiking stove, which you're not allowed to fly with so we ended up renting a gas stove from The Barn in Marahau.
There's cleaning liquid provided at all huts, which can double as dishwashing liquid. Some also had cleaning cloths but we always bring our own to avoid any food contamination and because sometimes they can be a little on the unsavoury side.
Filtered water is available at all huts but not necessarily at all campsites.
Sleeping mats are provided at all huts. Anchorage and Awaroa had new mats while the other two huts had slightly older ones. I was comfortable every night but the husband picked a worn-out mat at Bark Bay (or rather, I picked a bad one for him 🙁 ).
Only Anchorage and Bark Bay huts have lights, the other two huts are candles and torch-light only.
If you prefer to camp, there are so many campsites to choose from! In the off-season, we saw no-one camping but the temperatures weren't that bad in September that I wouldn't consider it were it not for the comfort and ease of staying in the huts. The campsites at Te Pukatea Bay, Onetahuti Bay and Mutton Cove looked especially inviting to me.
I always worry about toilet access but there are so many on this trail that you're really never far from one. Every hut and campsite has toilets (plus a few others in-between), and the only ones I didn't appreciate were at Bark Bay campsite. I've never seen a more mozzie-infested toilet in my life! We brought spare toilet paper but there was plenty available (might be a different story in summer). Please use the toilets, I hate coming across toilet paper and worse (happened only once along the trail to Separation Point).
Like on any backcountry hiking track, the Abel Tasman Coast Track is pack in pack out – take all your rubbish out with you. We didn't come across a single strewn about wrapper, I was seriously chuffed to see no rubbish lying around!
The Abel Tasman Coast Track is open all year round but fees vary depending on the season, the accommodation option (hut or campsite) and on whether you're considered residing in New Zealand or not. September was a great month to do this hike (temperatures were around 15-16°C during the day), and it's still in the off-season so prices are low (NZ$32 per person/hut). This goes up to NZ$75 during the Abel Tasman peak season (1 Oct – 30 April) for international visitors, and that includes Aussies! 🙁 That said, it's definitely worth it even for $75 a night. Check the fees and booking options.
There are quite a few accommodation options in Marahau but you could also stay in Kaiteriteri (catch the water taxi from there) or even Nelson (e.g. via shuttle bus). We stayed at The Barn in Marahau, which is about 300m from the start of the track. Very convenient but also full of backpackers (which didn't bother us too much since we were in a campervan). The Barn also rents out various hiking gear, from sleeping bags, cutlery and dishes, to hiking stoves and more. The stove we rented cost us NZ$5 per day (cooking gas extra, which we'd already bought).
For more information, check the Department of Conservation (DOC).
---
MORE IDEAS FOR OVERNIGHT HIKING TRIPS
If you're keen on a long-distance hike, the 230km Larapinta Trail in Central Australia is magnificent. Hiking in Australia at its best!
A few years ago we hiked into Carnarvon Gorge in Queensland. The entire Carnarvon Great Walk is about 5-7 days but we only did the first night to see spectacular Carnarvon Gorge.
I didn't have to carry a full backpack but my 4-day hike in the Andes to Machu Picchu, Peru, was still one of the hardest hikes I've done. This is a personal account of the four days along the Salkantay Trail.
---
PIN ME