Girraween National Park in Queensland's Granite Belt had been on my list of places to explore for some time. We finally made it out there in April this year.
While it's a bit of a drive from the Sunshine Coast (about 350km), the scenery and hiking opportunities at Girraween make it a fabulous camping destination for a few days.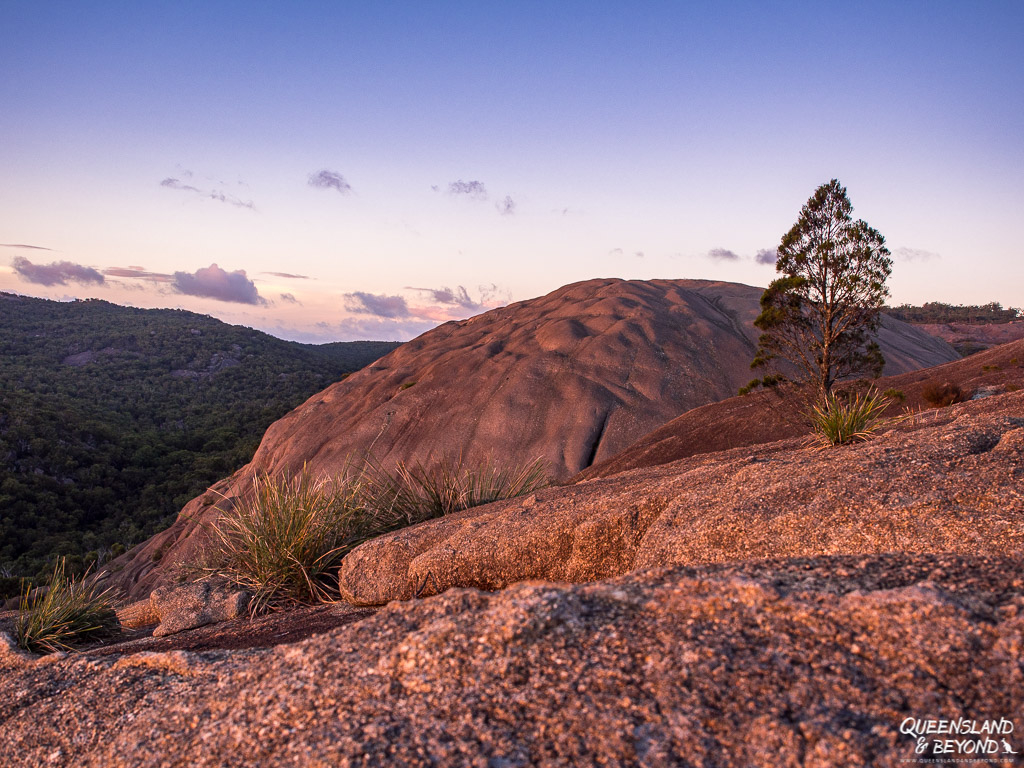 ---
CAMPING AT GIRRAWEEN NATIONAL PARK
There are two developed campgrounds at Girraween. Both cater to similar numbers of campers: Castle Rock is more of an open space camping area while Bald Rock Creek has a few more secluded sites in a forest setting.
CASTLE ROCK CAMPGROUND
We camped at the Castle Rock camping area for a couple of nights just after Easter but still during school holidays. Amazingly, it wasn't anywhere near as packed as I had expected. Nice!
It's not a bad campground but it's also not the most fantastic spot you'll ever camp at.
What makes either camping area good spots is that you're really close to many of the hiking trails at Girraween. If you want to explore the northern and southern trails in the park, you won't have to get in your car at all. They're all right there just outside your tent.
The national park and the campgrounds are also packed with wildlife, and a bunch of kangaroos seems to be living right next to the amenities block. The grass did look rather juicy…
Whilst you have to pre-book your site, there are no designated tent sites. It's pretty much on a first come/first serve basis that you'll score a good site.
But there are 25 designated camper trailer / caravan sites so if you're tent campers like us, you'll need to find an area that's specifically for tents.
Some sites make access to your car easier than others where carparks are relatively close. In any case, there's no direct vehicle access on campsites as such.
I'm usually not a fan of setups where you have to park your car away from the actual campsite. We run our camp light directly off the car and access to the fridge is a bit harder that way.
But we did score a fairly good site at Castle Rock where we could park the car right next to our spot.
Amazingly, the Castle Rock camping area has flush toilets and showers though check with Queensland National Parks first as the showers may not be operating (due to water shortages).
Even during school holidays, we found the campground relatively quiet (though not empty by any means).
It was just what I needed as I'm a little bit over noisy campgrounds at this point. Unlike campgrounds like Central Station on Fraser Island, which are really echo-y, the noise at Castle Rock sort of dissipates into the bush, keeping things a bit more subdued.
CASTLE ROCK CAMPING AREA AT A GLANCE
PROS: Easily accessible (2WD); clean, flush toilets (!); hot showers without timer; close to the southern walking tracks and not far from the northern trails; lots of wildlife; most sites are relatively flat and/or have tent platforms
CONS: First come first serve basis (can't pre-book specific sites); open space area that can feel packed if busy; no tables at individual sites (only in communal areas with BBQs); some semi-shaded areas but very hot during summer without much shade; more suited to groups who want little privacy; no vehicle-based camping
COST: $6.75 pp/pn (2021); pre-bookings only
Not sure what the tents and mozzies mean? Check out my tents and mozzies guide.
BALD ROCK CREEK CAMPGROUND
If you're after a little more privacy, Bald Rock Creek Campground may be the better alternative.
Whilst Castle Rock provides somewhat grassy sites, at Bald Rock Creek they all seemed gravel or dirt-based and surrounded by trees.
It definitely looked like the more popular campground of the two, especially for tent-based camping as there are plenty of sites where you can get your car onto your site.
You'll have access to the same type of amenities at Bald Rock Creek (hot showers, flush toilets, etc.) as you do at Castle Rock. As with almost every national park in Queensland, take your rubbish home. No bins are provided.
Girraween is such a fabulous spot and if we ever decided to explore again, I'd definitely book in at Bald Rock Creek Campground and hope to score a secluded site. Obviously, that's a lot easier outside of school holidays.
MORE INFORMATION
Find more information about camping at Girraween National Park, including water restrictions, weather alerts, directions and how to book online, check out Queensland's National Parks.
---
MORE POSTS ON CAMPING IN QUEENSLAND'S GRANITE BELT
If you want to camp at Bald Rock National Park on the New South Wales side, check out my Bald Rock camping review to find out more.
---
PIN FOR LATER.