Bunya Mountains National Park is on Aboriginal land. I acknowledge the Traditional Custodians of this area and their connection to Country, and pay my respects to their Elders past and present.
---
Bunya Mountains: Ancient bunya pines, valley vistas, rainforest, walking trails, and wallabies everywhere. Sounds like a place made for a relaxing camping weekend away.
And it is.
Since the Bunya Mountains are only some 200km west of Brisbane and cover a relatively small area, a long weekend is all you need to explore them.
---
BUNYA MOUNTAINS: KNOW BEFORE YOU GO
Unlike other Queensland outdoor favourites, like the Gold Coast, the Whitsundays or Fraser Island, the Bunya Mountains are not a tourist magnet (yet).
That said, the centrally located Dandabah camping area is often packed. But it tends to be crowded with locals, and if you came outside of season, you might even have the campground to yourself.
Plan 2-3 full days here if you want to go hiking and also have time to relax. We've spent two long weekends here so far, and that is just about the perfect amount of time.
HOW TO GET TO BUNYA MOUNTAINS
It's not difficult to get to the Bunyas. There's only one road, aptly named Bunya Mountains Road, that takes you onto the plateau.
From the Sunshine Coast, it's just under three hours via Kilcoy and Blackbutt (about 215km). From Brisbane, it's about 240km and around three hours via Toowoomba.
From the north, you'll probably come along the Bunya Highway through Kingaroy.
BEST TIME TO GO TO BUNYA MOUNTAINS
When you want to explore the Bunya Mountains really depends on what you like to do.
If you want to hike, the cooler months might be better, unless you like the heat. The walks on the eastern side are mostly in the rainforest though, so you'd get a fair bit of shade if you're walking there in summer.
Since the Bunyas are on a plateau, the weather is usually a bit cooler than in the flatlands surrounding it. April was perfect for us with warm days and fresh, if not chilly, evenings.
You can camp here year round but be prepared for fog and cool weather in winter.
WHERE TO STAY AT BUNYA MOUNTAINS
If you want to camp, there are three campgrounds in the Bunya Mountains National Park.
The main campground Dandabah is located in the tiny settlement of the same name. This tiny town is literally on the border of the national park, and has a café and small shop, a museum (I think?), quite a few holiday homes, and a picnic area with a couple of trail heads.
If you don't want to camp, there are plenty of holiday homes and other accommodation options available.
---
THINGS TO DO AT BUNYA MOUNTAINS NATIONAL PARK
The Bunya Mountains are an old area, ancient even.
In parts of the rainforest, you walk beneath giant trees that have been growing for hundreds of years. Somehow walking in old forest reminds me of my own mortality. Is it just because some giant branch could fall out of the sky and drop on me?! Or in the case of bunya pines, a bunya cone the size of a soccer ball?!
Thankfully getting hit on the head by a bunya cone is only likely to happen during December to March.
So, what exactly are some things to do at Bunya?
1. SPOT A WALLABY, OR TWO OR THREE…
The Bunya Mountains are the perfect spot for being surrounded by gorgeous red-necked wallabies!
You'll be greeted by them as you crawl out of your tent and attempt to not step into wallaby poo every metre. Or you can ogle at them as they eat and lounge about in the many open grass areas around Dandabah.
I'm sure if you rented a cottage or cabin, you'd find them happily munching the grass in your front yard.
So, if you've never met one of these cuties, Bunya is where you should come.
2. GO HIKING: BUNYA MOUNTAINS WALKING TRACKS
The walking trails are kind of why we went to the Bunya Mountains.
There are 9 walking trails at Bunya Mountains, involving nothing too strenuous and nothing overly exciting. Although 9 trails might sound like a bit full on for a weekend, it isn't actually, as you can easily combine some of the trails.
Unless, of course, you only want to walk 500m.
EASTERN WALKS: INTO THE RAINFOREST
There are two circuits starting from the picnic area at Dandabah, one 4km, the other 10km, plus the 0.5km Bunya Bunya track. You could do them all together though. It's pretty flat around there.
We accidentally walked the 10km Barker Creek Circuit when we had meant to do the shorter Scenic Circuit due to being weirdly navigation-challenged. But it definitely didn't take us 3-4 hours as per the park notes, even with occasional photo stops.
Barker Creek Circuit takes you past a couple of minuscule waterfalls and Barker Creek Lookout that isn't worth shouting about. People were taking photos like they'd never been in a prettier spot.
The thing is that the picturesque valley views are all on the Western side of the Bunya mountain range but clearly not many people knew that.
And don't be fooled by Big Falls Lookout, you won't actually see any falls unless you're there just after heavy rainfalls. That's about the only time you'll see some waterflow. The ranger we asked said that this happens about once or twice a year. So good luck to you!
The 4km Scenic Circuit takes you past Pine Gorge Lookout, and to be honest, I can't remember a thing. Plus I have no photo so clearly it didn't impress me at all. There's a bit of a longer drop at Festoon Falls and a tiny trickle at Tim Shea Falls.
The most impressive sight on this walk is actually where the path goes straight through a giant strangler fig. This enormous tree is quite something.
Other than that, there's not much to see and you should be able to stroll the Scenic Circuit in less than an hour if you're reasonably fit. And since you're walking through ancient rainforest, it's all very shady and cool, which is nice if you're there in summer.
WESTERN WALKS: ALONG THE RIDGES
You've got a few more trail options on the Western side of the Bunya Mountains.
Overall, I liked them much better because the tracks weave in and out of the forest, and you'll get some views over the flatlands. They're also a bit quieter as not as many people explore them.
For the ridge trails, there are basically three sections, starting from the respective carparks: Paradise to Westcott (3.2km), Westcott to Cherry Plain (4.8km) or Cherry Plain to Burtons Well (6km).
There are also campgrounds at Burtons Well and Westcott so if you're camping here, it'd be super convenient to explore these trails.
The only thing with the ridge trails is that they don't loop easily unless you fancy walking back on the road to link back to the carpark from where you started.
We did it for one of them but it's not awesome. For the other two sections, we just walked back the way we came. It's just a little more picturesque.
Of the three sections, I liked the Cherry Plain to Burtons Well best. We did it in reverse, starting at Burtons Well, and then returned via the road (2.4km). It's shorter but unexciting and in fact, seemed incredibly long and hilly at the end of the day.
There's also the shorter Koondaii Circuit (2.5km), which starts at Westcott, and the Mt. Kiangarow track (2.3km one-way) at Burtons Well.
Both of them are quite nice but they won't stick in your memory beyond being pleasant short walks. You'll get some nice valley vistas from the top of Mt. Kiangarow though.
If you fancy it, you could combine the 3 ridge trails into one massive circuit from the Paradise carpark all the way to the Burtons Well picnic area, and then back along the road.
It's about a 19km walk including the 6km return via the road. If you like that sort of thing (the road part, I mean), then you could pretty much cover all the western trails in a day.
3. WATCH THE SUNSET
I didn't even think about watching the sunset until we got to Bunya.
Once we got there and I actually had a look at a map, I realised that the lookouts on the western side are nicely located for indulging in a bit of sunset watching. You'll see the sun get swallowed up by the horizon, which isn't something you'll get to see very often if you're on the east coast.
Because Westcliff Lookout isn't that far from Westcott campground, expect to share that special sunset moment with a few people though. You know, like 6-7 people…
And make sure you grab a torch, the walk back to the carpark / campground will be quite dark.
The other lookout I liked for sunset was Bottle Tree Bluff but mostly because I forgot to bring a tripod and there were some nice rails that I could balance the camera on.
We were completely on our own here – nice!
Mt. Kiangarow would probably make for a nice sunset spot too. And if I recall correctly, there's even a bench there for old people like me.
4. GO TO A CAFÉ AT DANDABAH
You've got the choice of two cafes at Dandabah: Poppies on the Hill and The Bunyas, both very popular, especially on weekends.
I have no idea if either of them is any good though. They didn't seem to have any gluten-free item on their menus so we didn't stop for Kaffee & Kuchen or good, old afternoon tea.
Instead, I boiled the billy, emptied some fancy coffee sachets into our classy melamine camping mugs, and opened my supermarket gf-biscuits. They tasted pretty good. But then again, I find that everything tastes pretty good when you're camping.
5. VISIT THE BUNYA MARKET
On the last Sunday of each month, you'll find a fabulous community market held in Dandabah. Stalls sell anything from fresh eggs, sausages and cold meats, jams and chutneys, to clothes and artsy bric-a-brac.
The last time we were there, I bought so many delicious jars of jam and chutney, I'm afraid my pantry shelves will actually break.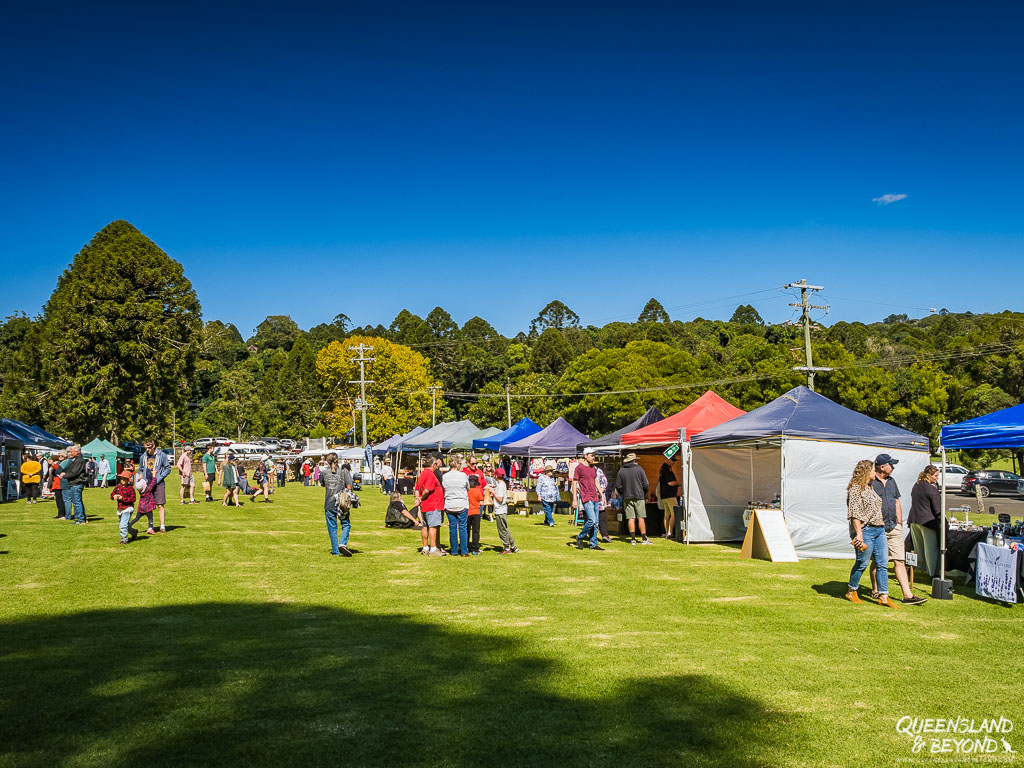 6. DO SOMETHING WEIRD
If none of this appeals, then you could always do something weird like take a horse and cart ride. Yes, it's a thing!
We saw some people on a horse drawn cart, and then I googled it as it just seemed a bit odd to me. Apparently they take you into some private rainforest. It didn't exactly tickle my fancy, but hey, each to their own.
You'll need to pre-book your horse adventure, I think.
Or if you don't have any food issues, go and eat a bunya nut burger at Poppies. Bunya nuts, the seeds from a bunya cone, are mixed with beef into a burger patty… Sounds intriguing, especially since bunya cones can weigh up to 8kg. Now that's a big burger!
---
SUMMING UP
We had three nights at Bunya Mountains National Park and that was more than enough time to explore the various trails. We were actually quite lazy (for us) on this trip, and spent a large part of the weekend hanging around the campground reading.
It's a pleasant spot but not one that you'll want to return to again and again once you've had a good look around.
MORE INFORMATION
Download a map showing the location of the camping areas and trails at Bunya Mountains National Park.
For trail closures or other alerts, make sure you check Queensland Parks & Wildlife Service website before heading out. Be aware that ticks can be found in this area all year round. We didn't have any issues but talk to the park rangers if you're concerned and check yourself regularly.
If you want to know more about the campground at Dandabah or the other two, check out my Bunya Mountains camping guide.
---
MORE POSTS ON HIKING IN QUEENSLAND NATIONAL PARKS
If you love hiking, Southeast Queensland has some fantastic spots on offer.
Try Lamington National Park for some superb waterfall and rainforest trails. Or Springbrook for more waterfall chasing. The Sunshine Coast has both short and long hikes so take your pick.
---
PIN FOR LATER