Washpool National Park is on Bundjalung, Ngarrabul and Gumbaingirri Country. I acknowledge the Traditional Custodians of this area and their connection to Country, and pay my respects to their Elders past and present.
---
Washpool National Park in northern New South Wales, and adjacent Gibraltar Range National Park, form part of the Gondwana Rainforests of Australia.
It's an ancient and diverse part of Australia, full of birds and other wildlife, abundant rainforest vegetation, dramatic scenery, and tons of short and longer walks to explore.
Both national parks are relatively accessible, being located just off the Gwydir Highway some 80km west of Glen Innes.
We spent a few days hiking and camping in the Gibraltar Ranges, including the half-day Washpool Walk.
---
HIKING THE WASHPOOL WALK CIRCUIT
Apart from the overnight Gibraltar-Washpool World Heritage Walk (45km) that links both national parks, the Washpool Walk is the longest, clearly marked trail you'll find in Washpool and Gibraltar Range National Parks. And even though it's the longest, it's still only a half-day walk that you can relatively easily knock over in 3.5 hours.
Though there are initially some uphill sections, I'd say this hike is very family-friendly on the whole. You could also do the shorter loop (900m) if you haven't got the time or inclination for the entire 8.5km loop.
BASIC TRAIL INFO ABOUT THE WASHPOOL WALK
Distance: 8.5km loop with some elevation gain
Difficulty: Easy-Moderate
Time: 3.5 hours (we took 3 hours including plenty of photo stops)
Trailhead: Coombadjha Camping Area, Washpool National Park
Getting there: 80km west of Glen Innes along the Gwydir Highway
The walk starts at the Coombadjha Camping Area (walk-in only).
Note that there isn't ample parking available here. There's probably only space for 3-4 cars but even at the height of summer (mid-January), we had no trouble getting a spot. Maybe because we started the hike before 6am to beat the heat of the day.
In fact, we didn't meet anyone on the entire hike except for the last 200-300m when a couple of families were on their way to some rock pools for some splashing around fun.
The Washpool Walk is pretty much a forest walk so there's lots of shade – great for hot summer days.
It takes you deep into the subtropical rainforest, past giant red cedar trees and just about a million strangler figs. Later on the trail goes through more open, dry sclerophyll forest with the very occasional (and limited) view, and then back into rainforest and along Coombadjha Creek to complete the loop.
If you do the hike anti-clockwise like we did, you'll find that the track initially follows a creek and then climbs gradually uphill for about a kilometer. It's really not that challenging but I was puffing because I'm just a tad unfit at present.
The next section is along a management track. I don't think management tracks are ever really that exciting, and this also applies here. But fortunately, the boring part only lasts some 800m, and from there you're back in the forest and onto more exciting things.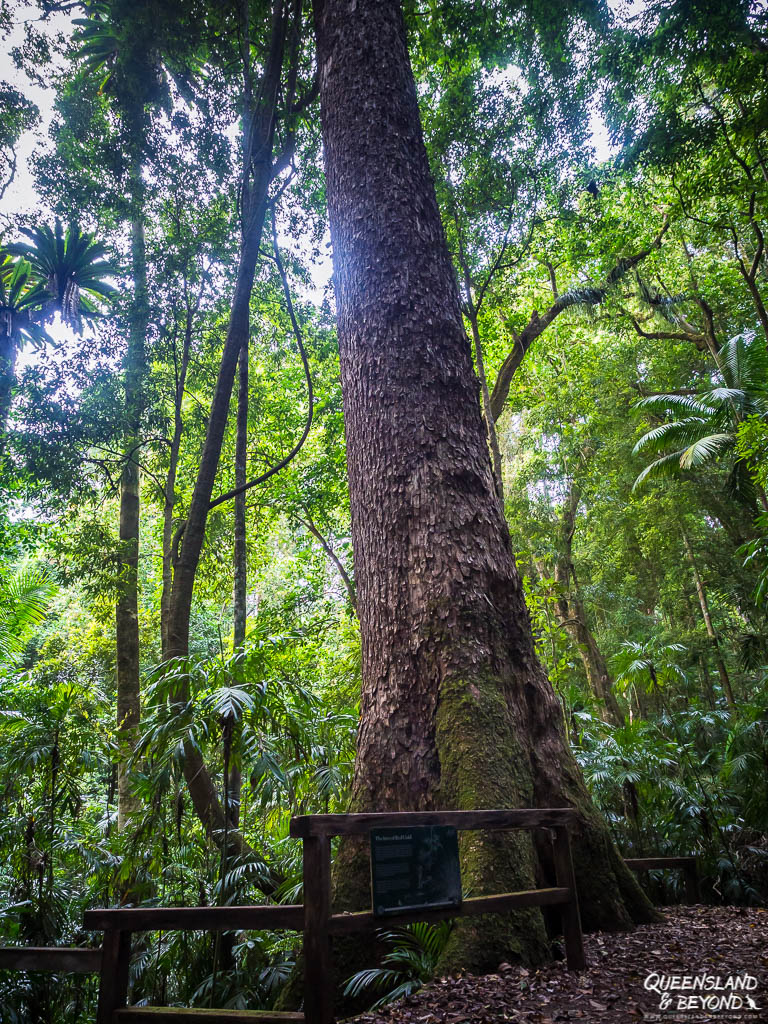 The best part of the Washpool Walk is no doubt Summit Falls.
A quick detour from the main path takes you down to the base of Summit Falls.
We scrambled around for quite a while, exploring and trying to get a few different shots and angles. There's a clearly defined trail to the base of the falls but it's really up to you how much rock scrambling you do beyond that.
The falls should be flowing nicely in summer as this area of northern NSW gets a fair bit of rain during December to February. In our case, there hadn't been much rain in December or January so the flow wasn't as amazing as I'd perhaps wished. Somehow though, we still managed to while away half an hour clambering around.
Once back on the trail, you'll cross Coombadjha Creek at some point and then the track meanders along the creek for the remainder of the walk.
And in no time, we were back at the carpark.
---
SUMMING UP
The Washpool Walk is a pleasant forest walk but nothing truly spectacular.
There aren't any amazing views to speak of but it's a great walk for hot days as there's plenty of shade (except for the management track and parts of the dry sclerophyll forest).
If it's been raining, Summit Falls should be flowing. Cooling down in some of the rock pools in Coombadjha Creek post-hike would be fun on a hot summer's day provided there's been enough rain.
We did the hike in January in the early morning, starting before 6am and had well and truly finished it by 9am. This includes at least 30 minutes scrambling around Summit Falls.
While we didn't spot many birds, birdlife is abundant. At 6am the rainforest was just alive with chirping, singing, warbling and other bird chitter-chatter. I loved that.
If you don't want to do the entire 8.5km circuit, you could just do the 900m short loop. Or for a slightly longer walk, start the hike along Coombadjha Creek (clock-wise) and walk to Summit Falls. That's 2.9km one-way.
MORE INFORMATION
There are a number of camping options in Washpool National Park and also in Gibraltar Range National Park. We camped at Mulligans Campground, a beautiful spot. For other walks and lookouts in Washpool and Gibraltar Range National Park, read my guide to both national parks.
For current alerts on walking tracks, more details on how to get to Washpool National Park or the multi-day World Heritage Walk, check out NSW Parks & Wildlife Service.
---
MORE POSTS ON HIKING IN AUSTRALIA
If you love rainforest hikes, trails in Springbrook National Park in the Gold Coast Hinterland take you past waterfalls, glowworm caves and towering basalt cliffs. Lamington National Park is equally, if not more, stunning.
Mount Kaputar National Park offers some stunning hikes with brilliant views into the surrounding farm country.
And for my all-time favourite hikes in Australia, check out my Top 10 hiking trails!
---
PIN ME!